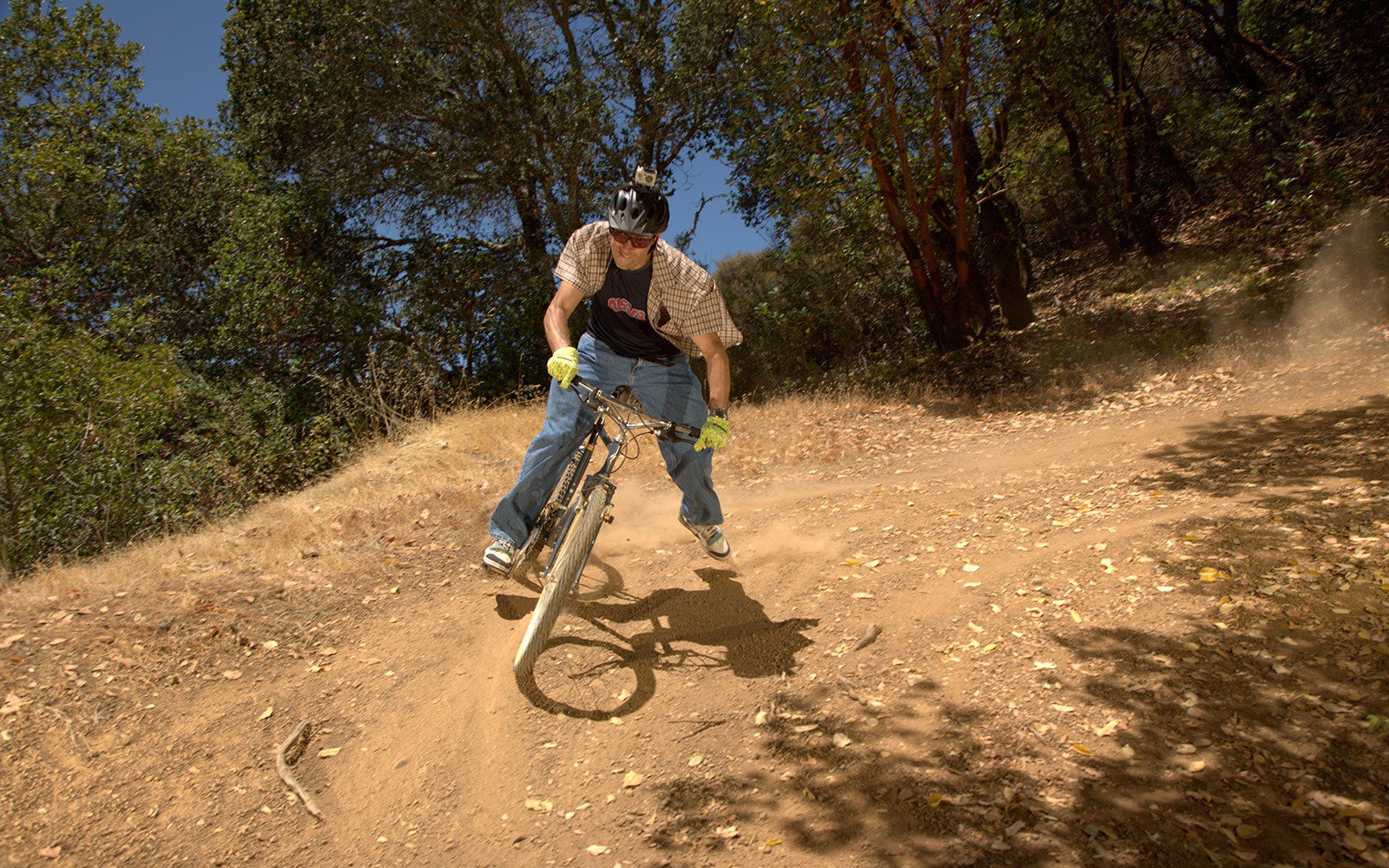 My Mistake History
Dorking Up MTB
On holidays we like to go riding so we sometimes revisit old pieces.. This was first published in 2016 but has since been updated. 
---
Not to brag, but I'm pretty awesome at screwing things up. I'm the Donald Trump of mistakes. Wait… does that work? Maybe not, but my point is that my path to mountain biking mediocrity was a bumpy and circuitous one – largely because I'm a stubborn SOB.
Stubbornness with more than a dash of arrogance are mostly to blame. I held on to the belief that the way I did things was was the best way. Because that's the way I was doing it. Duh. As you can imagine this has often gone badly.
While I was often a pigheaded idiot, there are things I can't really entirely be blamed for – because everyone was botching sh!t. Or there were no alternatives. Here's the list of mistakes I can only take partial blame for – but mistakes are still mistakes when everyone is dorking it up.
Crappy Flat Pedals with Crappy Shoes. Suntour beartrap pedals were pretty much all there was back in the early 80s. And they were slippery as butter on a glass floor. Paired with crappy skate shoes, grip was just a rumour. And then we went to toe clips
Toe Clips. Once you got used to riding with toe clips it wasn't so bad. Specialized made a touring shoe that had a flat area where your cleat would be for pedalling efficiency which was pretty good. But it was a tough balance between strapping down tight and staying in during a crash. Still it was better than the alternative.

Barends. As I mentioned – it's still a mistake if everyone makes it.
Narrow bars. I have no idea what we were thinking, but there was a time when dead straight bars cut so short your brake levers almost touched were CORE!
Long stems. Pedalling efficiency for XC racing? I guess we thought they looked cool as well, but 150mm stems? WTF were we thinking? And these bikes didn't have short top tubes.
Large bikes. I rode a 21" frame. I'm 6' tall. I still have it actually. There is only ball clearance on a cold day. Eventually I overcompensated in the other direction. See below.
Lycra Alll The Time. Bad almost all the time. I used to ride to work when I was a school teacher. I'd walk proudly into the school with my junk on display without a second thought. Before changing for work that is; I wasn't entirely clueless.
Clearly I wasn't a free thinker. But I thought I was. If 150mm stems were cool I wanted a 160. Narrow bars? I'll cut my grips down to make them even narrower. I'll do stupid even stupider than you. Just watch me.
Eventually the dust began to settle and there were more people mountain biking and figuring everything out. And smarter people with more experience began to appear. And publications not unlike this one. This made it easier to identify those f@ckups – but often I didn't listen.
Here are some highlights of my later boneheadedness.
Braking with the wrong fingers. Lots of people make this mistake even now. Their brake levers are mounted too far out so they have no choice but to brake with two fingers. In the age of disk brakes this is a huge error. I was on cantelvers but I still managed to find next level stupidity with a creative twist; I used my ring and middle fingers and hung on with my pointer and pinky. Once I finally listened to someone and went to one finger I became much less crappy on a bike.
Fat grips. Like Donald Trump (insert joke here) I have small hands, but it always seemed like I got sore using thin grips. And then one day on a long hard descent I realized I was having trouble hanging on. It was one of those realizations that is retroactive; I realized I had always had trouble hanging on. I tried a few narrow grips and found some Giant-branded ones I could sink my fingers into and I was off to the races. Again – less crappy. Anybody need some fat grips?

Fulltime Saddle Up Riding. If you are new to riding you might be amazed that there was a time when some of us rode without ever dropping the saddle (I realize some XC riders continue this tradition but they can't be helped). On the North Shore even. I finally relented on a trip to Rossland B.C. with Trevor Hansen. I looked down a particularly steep and heinous line and realized I didn't have a chance with my Flite saddle poking a hole in my sternum. Once I got with the program I had a great day (complete with crazy lettuce) and I rued the unnecessary suffering I'd inflicted upon myself.
Dropper Posts. This was an error of judgement. I knew about the Hite Rite back in the day but never tried it (because I never lowered my saddle – see above). And when Gravity Dropper sent us a press release I thought it was stupid. Why not just stop and lower your saddle? Yep.
Riding the wrong size. I'm a little over 6' tall but for years I rode medium frames with the saddle jacked. There was a time when some bike sales people (myself included) advocated riding the smallest frame you could since a) smaller is lighter and b) smaller is stronger. And maybe even more lively. Sometimes though smaller is stupider.
Suspension too soft. I was once a sag addict. I was obsessed with a supple initial stroke and I often sacrificed ride quality for this 'benefit', and spent too much time riding deep into the travel and bottoming out. And missing out on the actual benefits of suspension.
Not Taking a Lesson Sooner. As mentioned above, it's still a mistake when everyone does it. Why do we think nothing of ski lessons, even at a high level, but rarely consider learning how to ride a bike properly? A half day lesson changed my riding dramatically and permanently (thanks Shaums!) and I'm probably due for another. Do it. You'll thank me.
Not Re-learning to Jump. There was a time when I could jump. Not well. Not with style. But without being terrified. And then I had a nasty crash and some concussion issues and I never got my mojo back completely. Occasionally my wheels still leave the ground but rarely on purpose and not with the frequency, style or amplitude I'd like. Maybe that's what my lesson should focus on. Because what's more fun than flying?
I have some updated mistakes two years later. Of course. Surprisingly I've only got two to add. 
Being lazy about maintenance. In the last year or so I've done a better job at staying on top of bike maintenance. We have a lot of tinkering to do and I like to do most of it myself. I used to leave a tube in a tire for a few weeks before fixing the tire, put up with a noisy derailleur and let my brake pads wear to metal. And I never cleaned my bikes, using the excuse that it was bad for bearings. Now I try to do my maintenance either right after a ride or at some other time well before my next outing. Running a tighter ship has been good for my bikes and my riding. 
Not Being Fussy About Suspension Set up (also laziness related). A busy schedule and tight ride windows are great excuses to let things slide, and like maintenance there was a time when I didn't obsess about my tune. With some help from Arthur Gaillot I am getting better at the process and more meticulous as a result. I still have a long way to go but I try to have a shock pump with me at all times so I can tinker more frequently. 
I could add riding 820mm bars for a time but that process bore fruit so I'll pretend it wasn't an accident. 
Lately I've become less stubborn. At first I wasn't impressed with 29ers, but I didn't write them off  - at least not completely – and now I'm riding one I really like. I gave up my heroic efforts to be the last flat pedal rider in my crew as well, and I'm loving clipping in right now.

All this change in mountain bikes has made open-mindedness a necessity - unless you want to become bitter keyboard warrior who wants to make mountain biking great again. And much of the change I have lamented… Boost for example, has has left a few positives and mountain bikes are more rad than they have ever been. I'll likely never lose the grumpy skeptic that lurks within, but that old bastard isn't quite as crusty as he used to be.
---
When you are done adding to my list please add a few of your own.