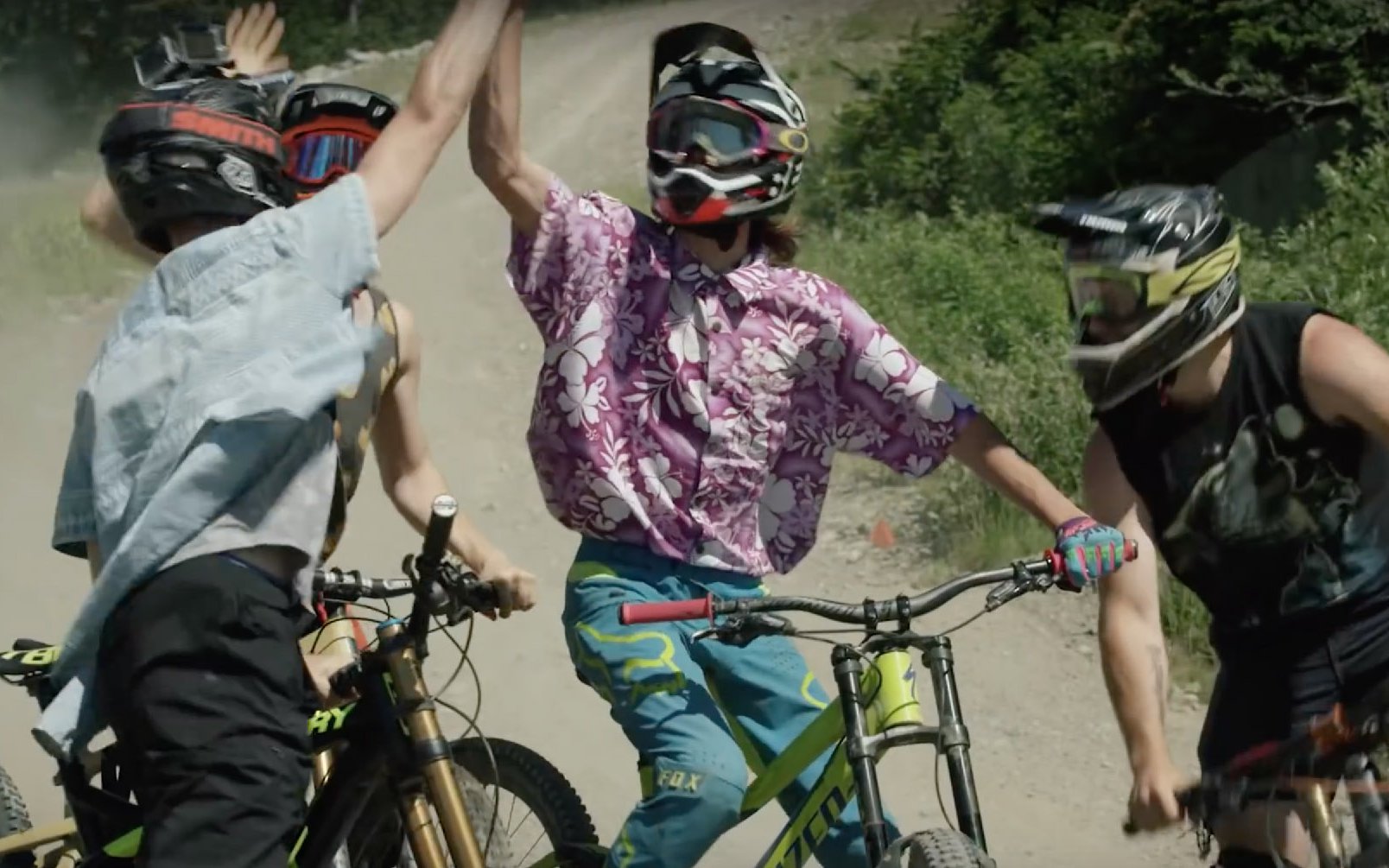 EDITORIAL
Are Mountain Bikers Accidental A-Holes?
If someone calls you an 'adrenaline junkie,' do you want to give them a high five or a black eye? I'm no fan of the term, but I'd be full of shit if I denied that the hormone is one element that keeps many of us reaching for our mountain bikes. Nobody wants to be called a junkie, but the impact of adrenaline on our bodies and brains is largely positive, even after our ride is done. On top of elation and other sweet sensations, it may boost our immune systems and stave off the physical effects of aging.
On the trail our bodies respond to adrenaline, in both subtle and dramatic ways. It increases our heart rate and blood pressure, boosts energy in our muscles and expands our pupils so we can see more. It even decreases our ability to feel pain, for better or worse. Most importantly, adrenaline makes us focus intently on what's in front of us, pushing the hassles and headaches of real life aside. It feels amazing to zero in and forget anything but the trail, but that focus is one reason mountain bikers can sometimes be accidental assholes.
If you spend much time working on popular trails, when they are open and riders are filing through, you may have noticed that some riders respond differently than others. A few pretend you aren't there at all, some might say hello, and some will thank you, give you a high five, or even offer to lend a hand. Humans are different, that's not a big surprise. The shocker is that this response can change depending on where you are on the trail.
When riders are at the top of the trail, just dropping in, I've found they are much more likely to engage builders and give them some love. Toward the bottom of the trail, after they have been given'er and trying to catch their buddies for several minutes, trail builders seem to disappear. Riders will roar right by you without a word and sometimes run you off the trail. Often you'll get a radically different response from the same riders.

In fact it was so dangerous my first impulse was to chase him down and throw him off his bike.
We may not be junkies, but we do get stoned. The intense focus adrenaline produces is often narrow. This tunnel vision emphasizes the rock that might roll under our front tire, or the consistency of the trail surface, so we can make fine adjustments in milliseconds, but it blinds us to much of the information that isn't deemed mission critical, like trail builders or hikers. We don't mean to, but we can become dickheads in these situations.
If nobody's around this isn't a problem for the most part. When mountain bikers are jerks to other mountain bikers, or even trail builders, it doesn't create enemies outside our ranks. But for other trail users, interactions with fire-breathing epinephrine addicts can be very unpleasant.
The good news is this isn't inevitable. Since this realization I've paid more attention to how I might appear to other people in the heat of battle, and this awareness helps me snap out of it. It may kill the buzz a little, but only temporarily, and anything that improves our relations with other humans on trails, is worth the effort.
Accidents Happen
Perspective is everything, and mine has changed recently. For the past year I have spent about an hour every morning walking our new puppy and giving him the chance to wrestle and chase with his pals. I've met some nice people, enjoyed the forest in our local park and started every day a little calmer and more alert. I enjoy it a little more every time.
I walk with several different people and two of them are women who are older than my 54 years. I haven't asked, but one of them is a slim lady who I'd guess is somewhere in her 70s. Let's call her Alison. She's active and fit but very slight, probably weighing no more than 110 lbs and I've noticed there are times when she seems to feel vulnerable. The forested park we walk in isn't a destination for mountain bikers for the most part, but many riders use it as part of their route to and from the trails. I haven't seen many conflicts but one morning I learned something about the impression mountain bikes can make.
Several of us were in the area where we congregate at a trailhead before we do a loop in the park and we didn't leave much room for anyone to come through. At that moment a rider approached. He was going a reasonable pace but since there was no space he rode off the trail and around the group. Alison had her back to his approach but she heard his tires on the dirt and jumped. She was startled because he was so close and, since it seemed there was nowhere to go, Alison felt like he was going to run into her. Standing there with her it I could instantly understand her reaction, and even I was startled. He didn't do anything wrong per se, but he ended up being an unintentional asshole, inducing the sort of reaction that makes mountain bikers feared and reviled. If he had slowed down slightly, and said, 'excuse me please' everything would have been fine. I don't think he even noticed he had frightened Alison.
Assholes By Choice
Over the holiday I was walking with 7 or 8 family members on another forested trail, this time near the University of British Columbia. My mother-in-law was there as well as several nephews who are as young as 6. The trail we were on is leash-optional this time of year and it's multi-use, which includes bikes and horses. It was Christmas Day and the weather was beautiful so the trails were busy with users of every description. Our group, including my 14lb pup, were walking along a section of trail bordered on one side by a wooden fence.
All of a sudden we were surprised by a jerk on a city bike who came barrelling through our midst at high speed. In fact it was so dangerous that my first impulse was to chase him down and throw him off his bike. Thankfully the relations present pushed through my adrenaline response and instead I just yelled "SLOW DOWN," omitting the well-deserved ASSHOLE at the end. He easily could have killed our 14lb pup or injured one of our group, and my brief glance at the look on his face suggested he didn't care at all. This was no accident and there will always be premeditated assholes.
The story of the closure of a portion of theKingdom Trails in Vermont is an egregious example of a-holes in our midst, and one that suggests mountain bikers may actually be worse than other groups. These trails ran through land owned by 97 different landowners, but three who owned some of the largest properties recently cut off access, because of mountain bikers behaving like jerks. One of the three was on horseback on his own land when a rider yelled at him to, "get off the trails!" And there were many other instances as well. Sadly mountain bikers were the only group banned; "The landowners will continue to allow Nordic skiers, snowshoers, runners, hikers and horseback riders to access their property."
The Way Forward
There's nothing we can do about the intentional assholes in our midst, like Jerk on a City Bike, or the vocal minority in Vermont. At best we can try to limit the damage they cause. And say mean things about them on the internet. The optimist in me thinks have fewer per capita than the general population, but any number is too large considering the access challenges and image problems we have. Since we're stuck with the intentional A-Holes, the rest of us need to try to construct a shield of sweetness.
These days when I'm on trails with other users I try my best to over-compensate. I smile and always say hello. I stop and let them pass, and pet their dogs. I'll offer them the squished sandwich in my fanny pack or a suck on my Camelbak nipple. It's possible I go too far on occasion, but my sucking up is strategic.
As any restauranteur will tell you, people are vastly more likely to share a negative experience than a positive one. I've seen that ratio pegged at 10:1 or more. Which means we've got to work ten times as hard at being careful, considerate, and friendly to those we share the trails with. Here's a partial list of strategies for encounters with other trail users that will help polish our turd-like image:
Slow down for everyone
Say hello
Chat briefly with elderly folks or kids
Smile
Get out of the way when that's appropriate
Let them know if you intend to pass
Slow down more than you have to (I know you have excellent brakes but the last bike they were on may have been a Schwinn with a coaster brake. )
Keep an eye out for animals.
Start to notice when you are strung out on adrenaline and snap yourself out of it for encounters with other users.
Change without showing the neighbours the back of your ball sack or boobs
Don't crank Ozzy Ozbourne in quiet neighbourhoods
Pick up litter you see on the trails, particularly when it's clearly MTB-related
You get the idea. Mountain bikers who are aware and informed can't afford to be adequate, or to be unaware when we piss off others on the trail. We need to be more aware and engaged than a Starbucks barista and as friendly as Brett Tippie after his fifth Redbull, because that's what's required to compensate for the A-holes in our midst.
Please feel free to add to the list below.