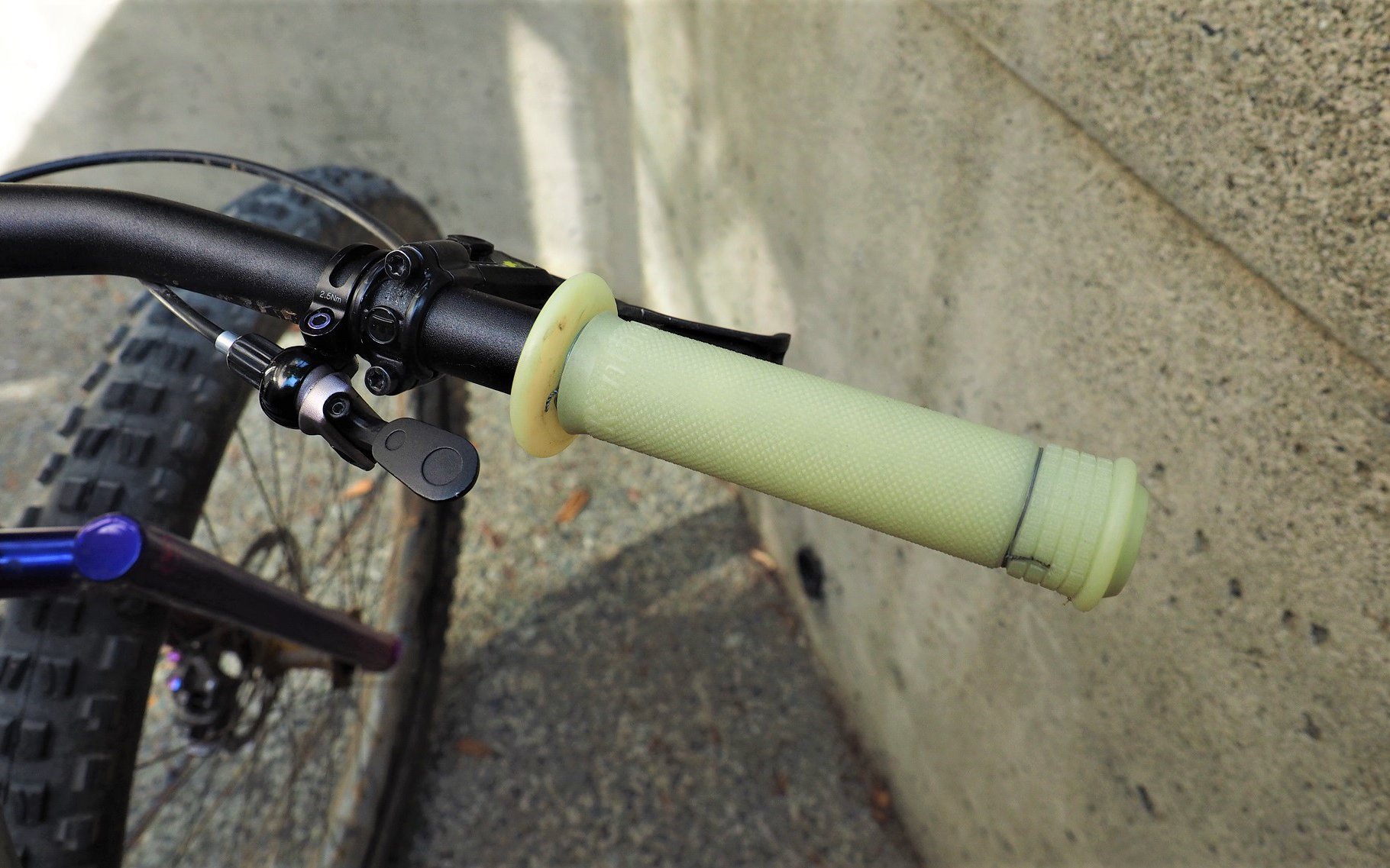 Editorial | Review
Ditch Your Lock-On Grips
Dan-In-Japan
Long before he moved to Japan, my friend Danniel Graham was a mechanic at Cove Bike, North Vancouver's first mountain bike store. In a shop filled with huge personalities he was affectionately known as 'Bland Dan' and whenever I was there on business he was my favourite wrench to bounce ideas off.
I laid out my grip dilemma to Dan. When they arrived over a decade ago lock-on grips became ubiquitous in the blink of an eye, despite ODI being the only game in town. I loved being able to trust that my grips wouldn't spin on my bar in the rain but none of the grip options were great. My ODI Ruffians felt like rubberized PVC pipe, the Rogues were fatter but barely better and my Ourys were too plump.
Dan had this amazing wry smile and it was on display that day. Saying nothing and never looking away, he reached into a drawer, pulled out a small bundle of 22-gauge steel wire and handed it to me.
I remember smiling as he relegated these new fangled lock-on grips with the efficient ferocity of a cornered Luddite. His contention was that locking grips are for the lazy or incompetent. With the added layer of hard plastic between the grip and bar they will never be as comfortable for a given thickness and they're significantly more expensive. Because of carpal tunnel Dan was unable to ride with lock on grips; push ons made mountain biking possible for him.
I ran push-on grips for a couple of years after that and between the safety wire and the cheapest hairspray money could buy I never experienced any slippage. The perfect trifecta of thickness, grip and comfort. Then I joined almost everyone else in lazily turning a couple 2.5mm hex screws any time I needed some fresh rubber.
Fast forward to this summer when my three year old found an old rats nest of grip wire in the back of one of my tool boxes. "What's this for papa?" For me it was perfect timing to re-examine where I'd set the comfort bar. Could I handle the extra install time? What about trusting my bike minus that no-slip hex key grip?
Renthal vs. Renthal
I've long been a fan of Renthal's standard Lock-On grips and more recently I reviewed the aggressive Traction version. Since the Kevlar resin versions of the Push-On and Lock-On grips are so similar it seemed like a great way to get this wheel turning.
Once installed the Push-On grips are immediately more comfortable and conforming. The total 135mm length is 5mm longer overall than the bolted versions but thanks to the absence of locking collars there is actually 25mm more usable grip surface per side. Like both versions of the locking Kelvar grips I've tried, it takes a couple of rides for the grips to show their true traction potential. A few months in and the feel is legendary.
The other revelation is that Push-On grips are half the price of Lock-On models. The total cost of install includes some wire and adhesive, but then I'm also due for a fresh 2.5mm and 3mm hex key.
Glue & Safety Wire
Pick a wire gauge and be a dick about it. I'm using 22 gauge wire and I recently replenished my supply by buying a bundle of stainless steel trap wire at a hunting shop. Some folks prefer a slightly thicker wire, generally 20 gauge, but I find it's a pain to work with.
For the purpose of this test I was using four different adhesives (one per grip): Renthal Grip Glue, Renthal Quick Bond Grip Glue, Gorilla Super Glue and cheap hair spray.
I have lots of sweaty and raining rides under my belt with no slippage issues until a recent night ride when the hairspray grip started to shift around in the center. I managed to get it off at home with rubbing alcohol and a zip tie and I've re-installed with the Renthal Quick Bond.

Install wise the Renthal Quick Bond was the best combination of ease of sliding the grip on before it dried and not waiting a day to ride my bike. Even with a bit of wetting on the bar/grip the Gorilla Super Glue dries f***ing fast!
None of the adhesives are expensive per grip installed and I've also had decent luck using WD40 with some grips, on aluminum bars, although they are an epic pain in the ass to remove after. If you ride carbon bars, Renthal approves their glues for that application. The availability leg-up goes to Gorilla Super Glue since it's in every hardware store.
Caveats & Conclusions
Ride two I had an awkward slow speed sideways fall off a low skinny. Waiting too long to un-clip, I ended up going down with the bike. I put my bar into the ground hard and while the end cap stayed put the grip was pushed up a little bit. It made no difference to performance but it looked crappy. I fixed it at home by re-applying glue around the end of the bar and stretching the grip over it. I'm noting it because it is the sole issue I've had.
During my test period I also had a chance to ride Ergon's GE1 Slim lock-on grips. They're the most comfortable locking grip I've used and a far cry from those early ODI options. Then again they are more than twice as much money as the Renthal Push-On and I find for the initial time investment the performance improvement of the Push-On is worth every second, even compared to the GE1.
With one exception all the controls I have mounted behind the Push-On grips are easily removable without taking grips off and that is definitely a consideration before going down this trail.
Renthal's Push-On Kevlar grips sell for 15 USD. For more information on their grip options and adhesive products please click here.