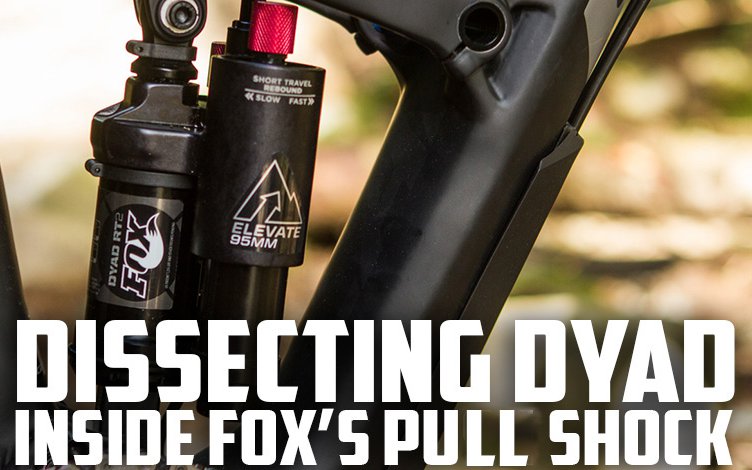 Dissecting The Fox DYAD Pull Shock
By far the most unique feature of our Cannondale Jekyll test bike is the Fox Racing Shox-Cannondale collaboration that resulted in the twin chambered DYAD pull shock.
DYAD equipped Cannondale Jekyll Carbon 2
Pull shocks, like inverted forks, can be a tough sell to the non-converted but it is impossible to argue with the design goals; improved initialization, huge air volume for a coil-like feel in the 160mm setting, better heat dissipation, and two fully functional travel settings with separate, adjustable, damping circuits and air volumes tuned to the specific travel settings.
160mm Flow. Photo – Kaz Yamamura
"95mm Elevate" Photo – Kaz Yamamura
Before I rode the Jekyll I assumed that the effect of pushing the DYAD's remote would be similar to the compression based platform I am used to on other Fox products, or perhaps even the low speed compression and low speed rebound pocket of CaneCreek's excellent Climb Switch, but it is actually something else.
Valves for Positive & Negative air pressure. Photo – Kaz Yamamura
The DYAD uses two positive air chambers and a single negative air chamber. When you engage the remote, one of the positive air chambers and it's damping circuit are closed off, significantly reducing travel and air volume. Since the first Trek Y-Bikes, companies have been promising us "two different bikes at the flip of a switch" but the DYAD really does deliver, giving the DYAD entirely different ride qualities in the 95mm and 160mm travel settings.
Flow for the Enginerds : Both Chambers Open.
Elevate for the Enginerds : One Chamber Closed.
If that all seems a bit techno-logical for you, this handy animation (and riveting techno-pop soundtrack) raised both my understanding an my heartbeat.
In practice, apart from the much firmer spring rate and damping, the Jekyll's handling changes notably as the significantly reduced sag results in a much steeper seat angle, a higher bottom bracket and a steeper effective head angle as rider weight is transferred onto the bars (increasing the amount the fork sags).
Do you remember the days when every full suspension bike, and aftermarket fork, came with a pump?
Setting up the DYAD shock is really simple. Cannondale's base settings are an excellent starting point and I found that, like many bikes/forks I ride locally, that going up one weight category was perfect. Being a pull shock, the DYAD requires high initial pressures and Cannondale provides a suitable pump with each bike.
Input your settings and ride. Cannondale's base settings are an excellent starting point.
Off the bike; Big and Beautiful.
With independently adjustable long travel and short travel rebound damping, a bridge allowing both positive air chambers to be filled from a single valve, there is a lot going on, so I asked our friend James at SuspensionWerx, Cannondale's factory authorized service centre for Canada, to tear one down as part of the long term test of our Jekyll Carbon 2.
Side by side: positive chambers removed vs. complete shock.
The investment in making the DYAD isn't limited to the shock itself. With each of the positive air chambers having its own internal floating piston (IFP) separating oil from air, there are some Skookum tools that have been manufactured specifically for the shock as well.
One for the tool nerds.
The DYAD's steel shaft also acts as the piston for the negative spring and the oil piston for the main chamber, so it has to be very well sealed. One of the advantages of a pull shock, compared to other air shocks, is that most of the internal seals are constantly bathed in oil. Another plus is that on extension the shaft is exposed to air allowing it to cool. A traditional push shock houses the shaft inside the air sleeve where things get hot.
DYAD steel shaft/piston.
All The Bits
All told the DYAD is a made up of an impressively machined set of parts and an equally impressively manufactured collection of tools. A pull shock may not be in your future, and we'll cover off some of the advantages and disadvantages it presents on trail in our long term review, but thus far I'm impressed by the quality and and engineering of this unique damper.
---
Is a pull shock in your future?