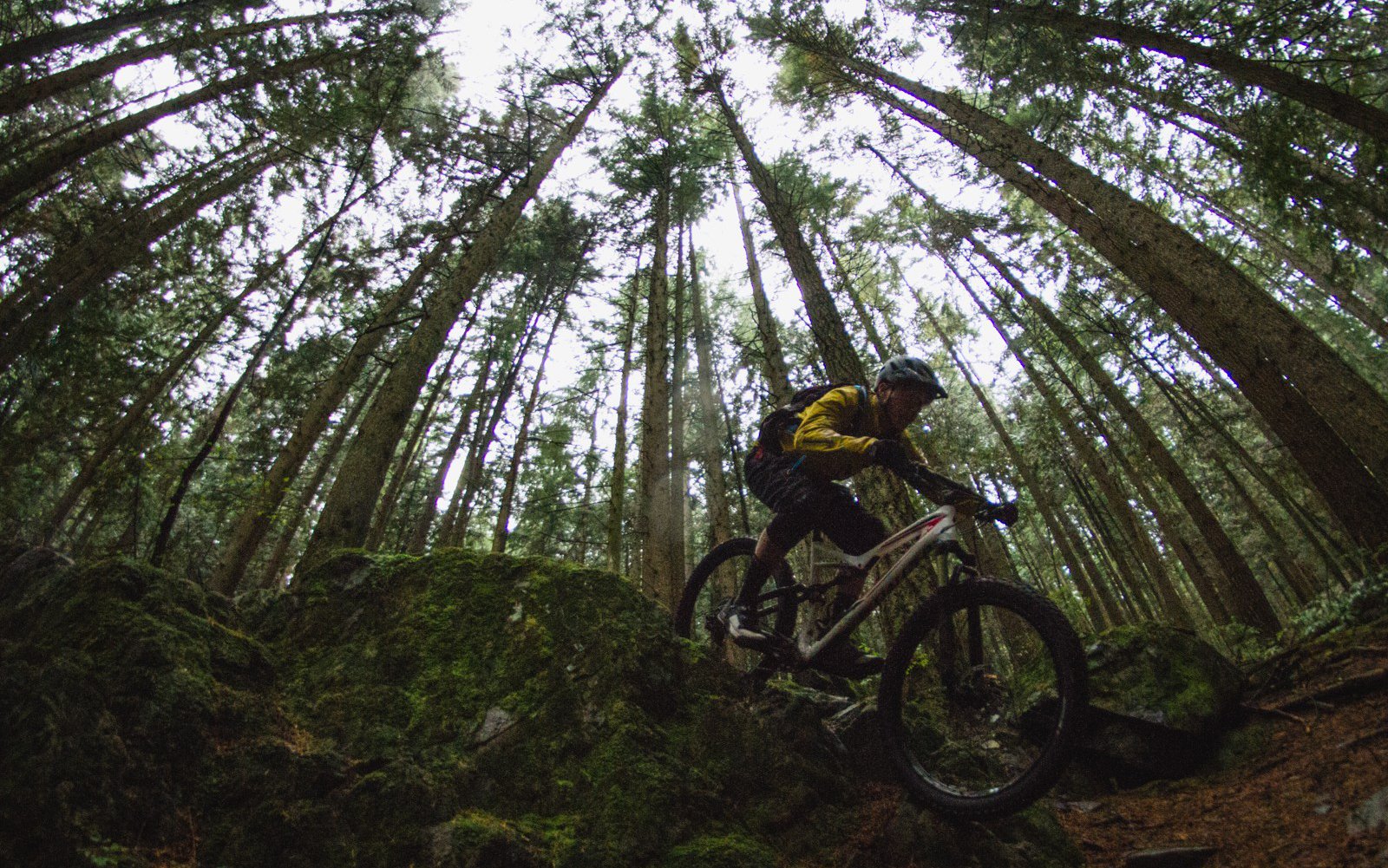 Poor Prep Will Bite you in the Ass
A Disgrace to Mountain Biking
The ride began with a hiccup. His still mounted pedals led me to believe my Bronson tester had been ridden by Pete on the weekend and it wasn't getting into the 50t cog. On some days that would be NBD but Trevor and I were starting our ride with No Quarter. The climbing trail on Mt. Fromme is indeed unrelenting and I needed that dinner plate-sized cog. After a twist of the barrel adjuster, it seemed to work, and then it didn't.
I used to carry spare glasses in my pack but after becoming a bum bag-wearer I slimmed down. Finding the low limit screw proved impossible for this Magoo.* In fact I couldn't find any limit screws without my spectacles. Luckily T-Bone is similarly disadvantaged by aging retinas and he passed me the old man lenses that live in his SWAT compartment. I twisted the hidden limiter appropriately and we were again on our way.
*Mr Magoo was actually near sighted
In the early days of the North Shore disastrous rides were common. Wheels became tacos, V-brake pads wore through sidewalls or even the braking surface, Marzocchi Z1 steerers sheared, limbs were broken; adventure was always at hand and walking out wasn't rare. Bikes are getting so good I can't remember the last time I walked out with a mechanical. This relative security had me betray my inner boy scout. No preparation badge for me.
We emerged from the climber and pedalled up the fireroad to 7th Secret. This trail used to be a favourite and then it became, in my view, over-paved with stone. Armouring with rock is a great way to preserve the trail surface, and it's not bad in the dry, but I'm a fan of soil. Recently however dirt has started to return and many of the corners have been bermed slightly, mostly thanks to Peter Morin, the unstoppable 76-year old who's been building trails on Mt. Fromme since many of you were in diapers. If you see an older gentleman riding a hardtail with bar-ends and custom-made brake extenders (he actually rides down on barends) give him a high five.
Thanks to Peter, 7th is better than it's been since the loam was deep. It also may be the best wet weather trail on the Shore, and it was soggy after the morning's deluge. Emerging from 7th we were jonesin' for something less refined and settled on Crippler. The trail once had a secret entrance off more popular Grannies and while it's now on the maps, traffic seems to have decreased since then. I figured we'd probably be the only ones down it on a Wednesday. Trails benefit from a knobby break and Crippler has re-loamed itself some. It's still tight and technical in places but the challenges are pleasing ones.
At the bottom of the longest steepest chute on the trail I heard a telltale hiss. Air was escaping fast. I fumbled around but finally got the leaky side down and hoped the sealant would do its job for once. It seemed to be slowing and, as I was deciding whether I should use a CO2 cartridge, Trevor realized he'd also punctured. His course of action was straightforward because the lazy ass had a tube in the rear from a previous incident. I decided I could limp on with reduced pressure because of the 2.6" Minions on the Bronson, so while he swapped tubes I went to investigate whether our simultaneous flats had been caused by some misguided trail warrior.
I found a single sharp rock that was likely the villain but when I returned my tire was too deflated to continue. Trevor had swapped his tube and inflated it to discover that his ultra-light spare had been compromised while living in the SWAT cavity of the Specialized. This left his CO2 cartridge spent. I gave him my tube and he went to work while I broke out a cartridge to inflate my sagging Minion. I hate disposables and I only begrudgingly began to carry cartridges recently so I was surprised to successfully cram some greenhouse volume into my rear tire. The increased pressure blew sealant out of the hole but I hoped there would be enough pressure to get me out. Unfortunately removing the cartridge pulled out my valve core and I lost significantly more volume than I'd added. I'd installed the tires so that screw up was on me.
Then I remembered Trevor had a pump. A $15 model he had picked up at MEC here in North Van. I dug around in my pack blindly, eventually found and used the core tightener I'd hoped was there, and then attached his pump. Pumps need to get air into their own chamber so hearing a hissing sound isn't unusual, unless it happens when you are compressing the pump and that hiss is coming out of the wrong end. The cheap-ass pump had a leak*. I did my best to reduce the hiss with positioning and tried 100 strokes. Nada.
*MEC carries many good quality pumps as well and the one Trevor bought no longer seems to be stocked
At this point we had one cartridge between us, a faulty pump and two deflated tires - including one that still seemed to be leaking. I had a 25g cartridge so maybe we could both inflate with it? I had little confidence in that course so I tried the pump again, with similarly shitty results. These two experienced mountain bikers, with 60 years combined experience, were a bloody mess.
I heard a noise behind us and turned to look. I saw nothing and assumed it was a rider on a nearby trail, since nobody rides Crippler. And then young Tomáš appeared, stylishly aired out the move behind us and said an unsmiling but pleasant, "hello." We chatted politely for a moment, patiently waiting to ask; "You don't happen to have a pump?" My hopes were low. It seems that most riders these days come even less prepared than we had. Tomáš' deadpan reply was "10 bucks?" He didn't seem to be kidding but we laughed and he dug out his pump.
We'd just illustrated the wisdom of carrying a crappy pump. I used to carry a Lezyne micro-drive, which is a like a mini floor pump that isn't too bulky unless you wear only a bum bag. Tomáš had a pump that was similar but even bigger and it easily inflated Trevor's tire. Once he was done I asked if I could use it as well. Tomáš pulled out his stock reply; "10 bucks?" We laughed and again hoped he was joking.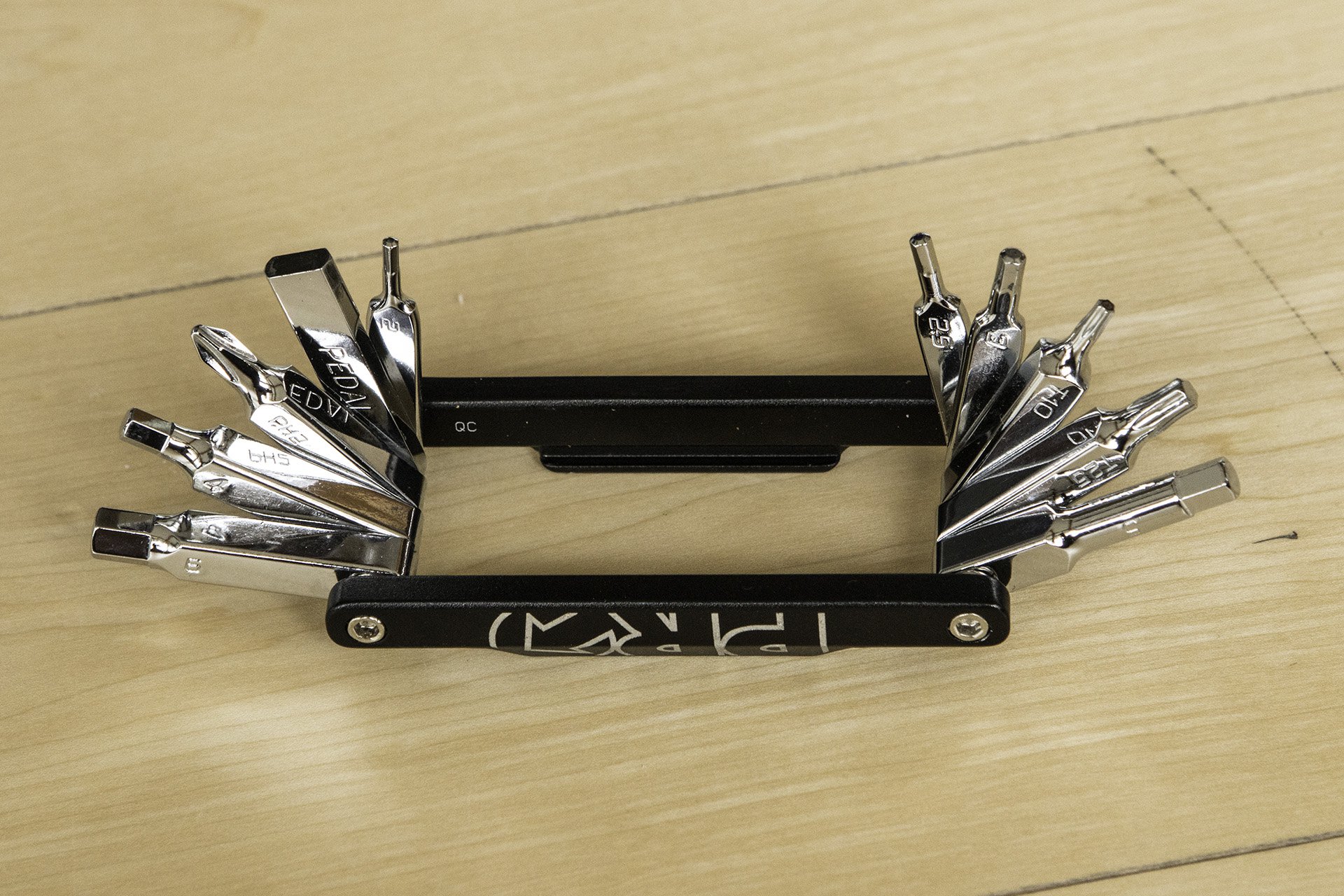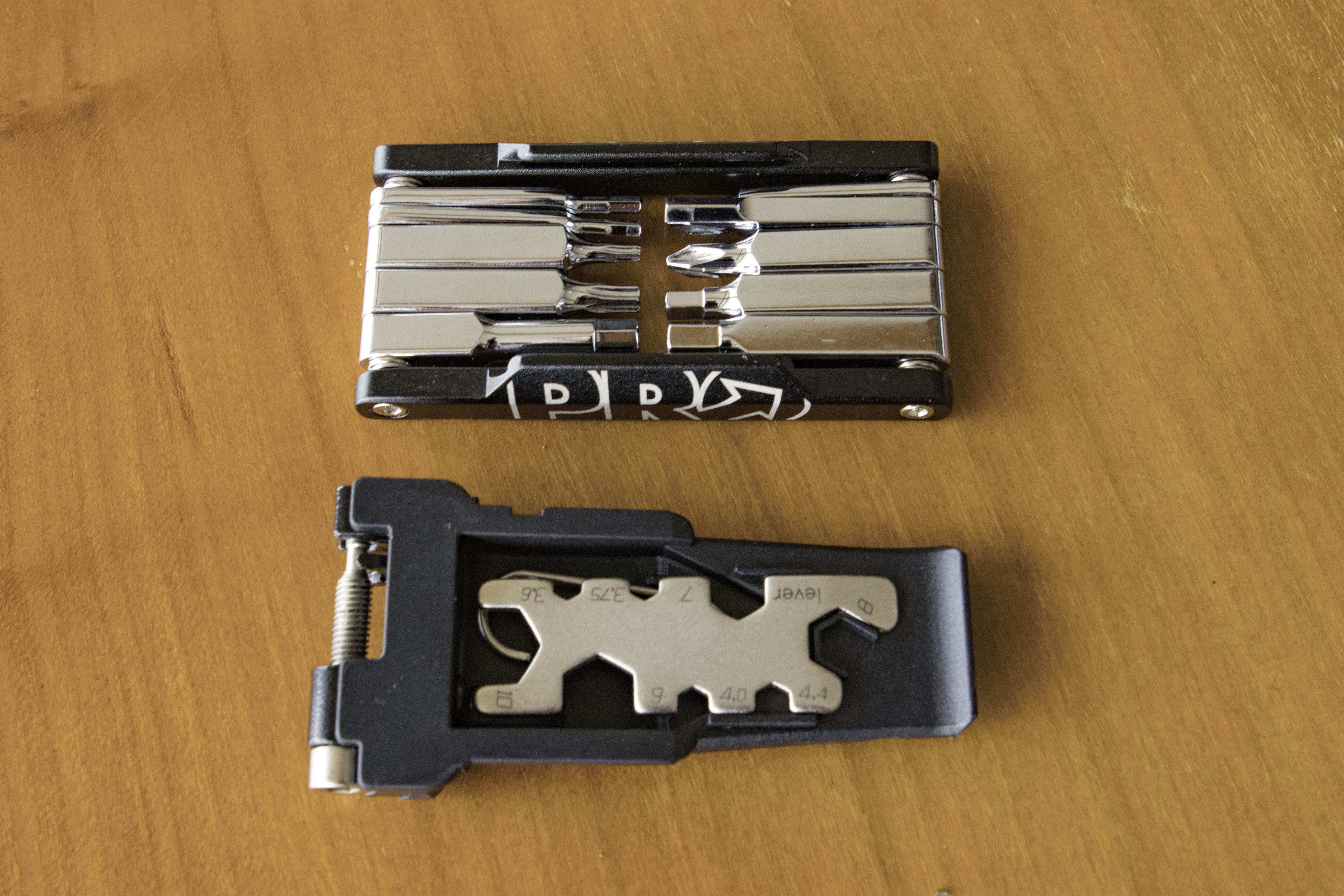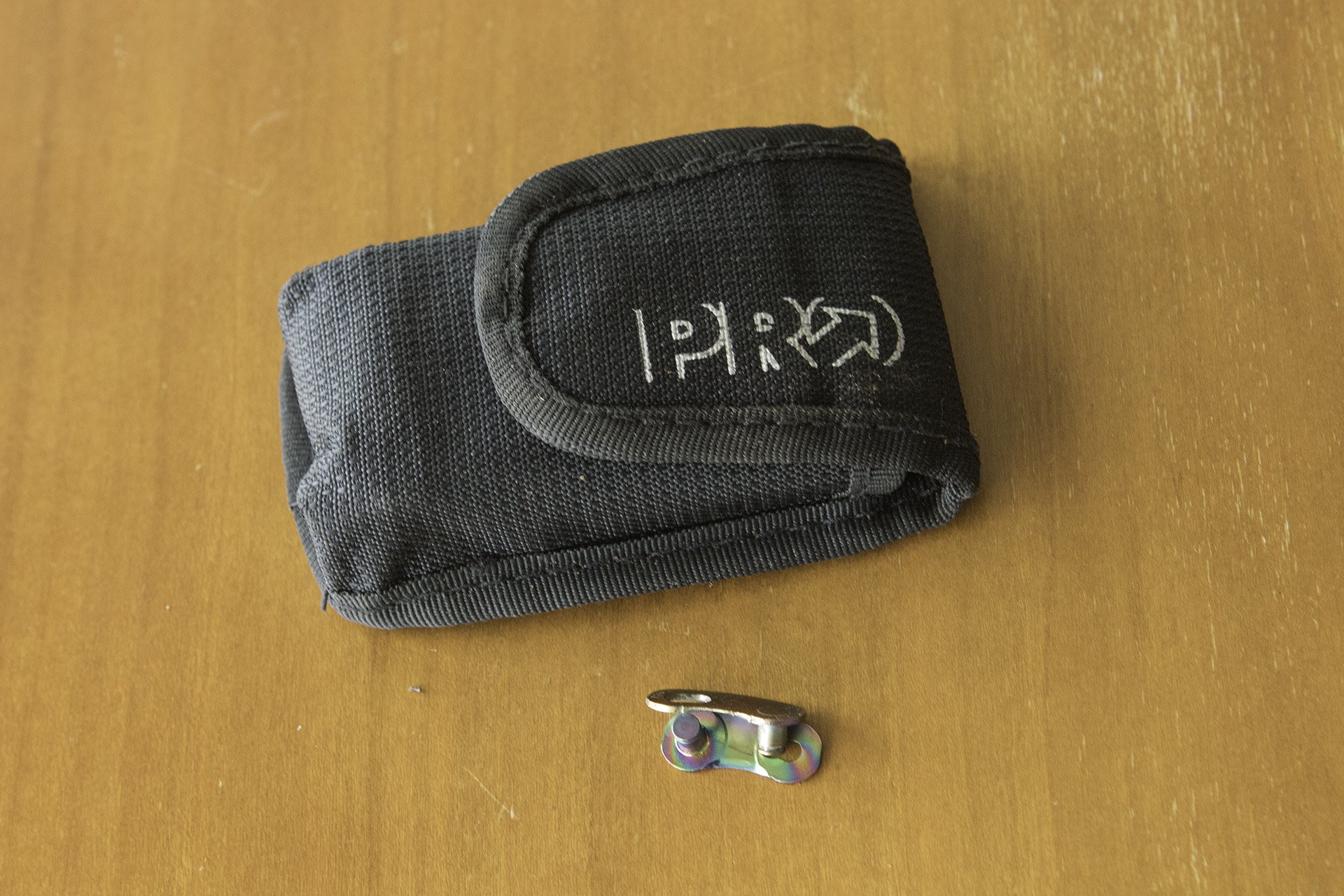 Once inflated we bullshitted a little more and discovered young Mr. 10 bucks was from the Czech Republic. Tomáš told us he moved here 4 years ago, "for the riding of course," as if moving to Canada for any other reason would be absurd. Trevor offered to compensate him by showing our route down the mountain and he got in line. We managed to reveal a few new connectors for him and pounded knuckles at the bottom before parting ways.
Once home my tire had healed itself and I decided to trust the goop, but there was more work to be done. I strapped a new tube to my seat mast and added a tidy OneUp EDC pump to my fanny (after testing its function). Along with going back to carrying a pump, I'm going to add a patch kit* (which can be used on tires in some cases), an old pair of glasses (your time will come) and some duct tape wrapped around the pump. Before this my survival kit had been reduced to 4 zip ties, the core tightener, a multi-tool, two CO2 cartridges, 5(!) tire levers (including the one on my multi tool) and the tube strapped to my bike. I used to have a 12-spd quick link but I used it on my son's 10-spd chain (it worked perfectly) and forgot to replace it so that's going back in as well.

*glueless patches almost always fail - sooner or later - while vulcanizing patches are permanent when properly applied
Travelling light is great and ditching a pack has been a leap forward for my riding, but Tomáš' arrival was a dumb luck. Redundancy is challenging with limited stash volume, but it's essential if you want to end your rides on rubber. Mountain biking has always been about self reliance and back country ingenuity. What is more satisfying than saving a ride with some outlandish solution thanks to the right preparation?T his boy scout is again sorted for local adventures (I think) but there is always more to learn.

Let me know what you'd add (or delete).