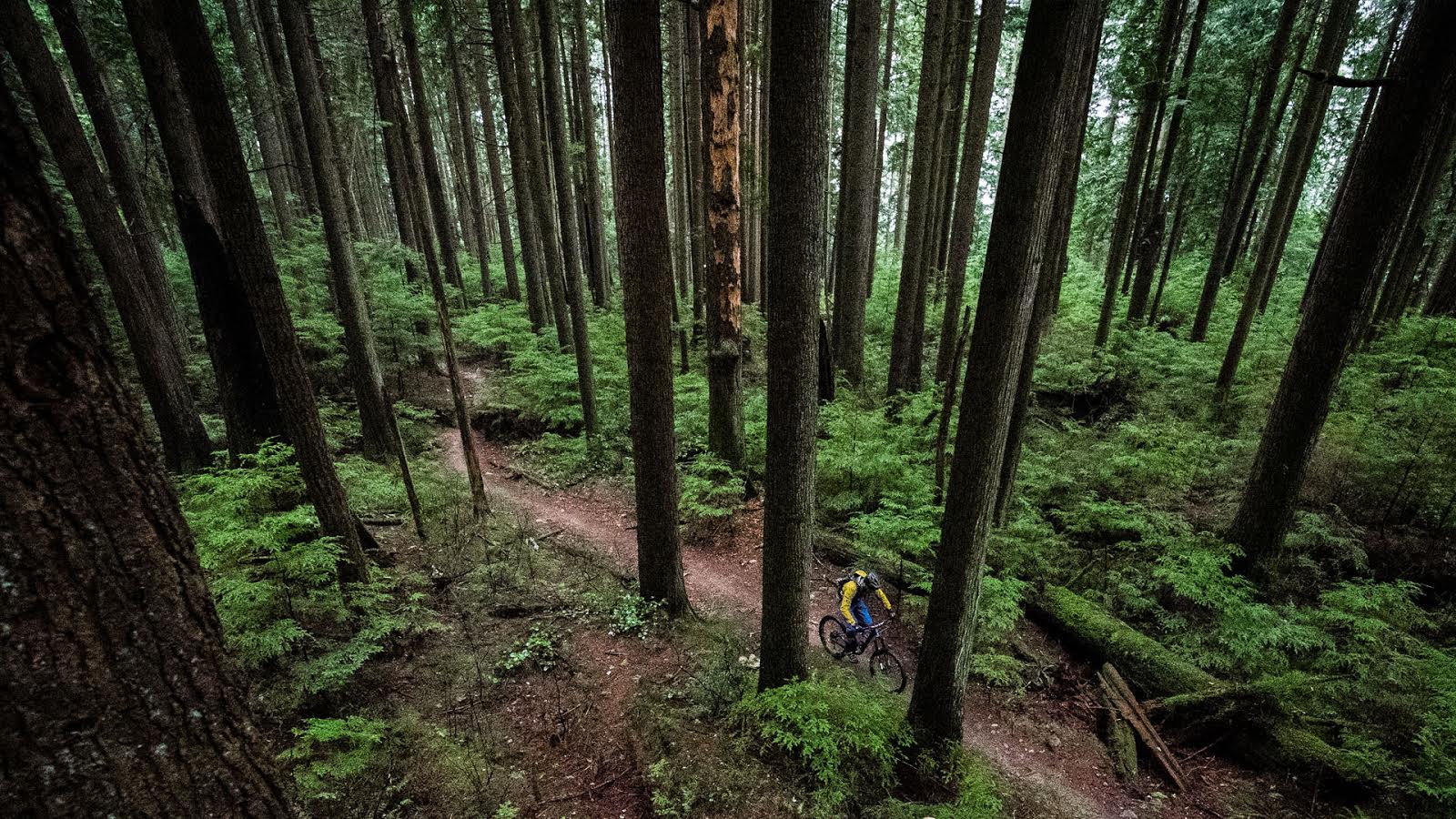 Dirty In Downieville: The new Santa Cruz Bronson and 5010
It doesn't happen every year, but when it does it usually comes surfing in on a thunderous avalanche of desperate future purchases. The launch of a new Santa Cruz bike is a special occasion because usually the bike (or bikes, in this case) seem to instil a perfect sense of the zeitgeist of mountain biking at that point in time.
These bikes don't seem that long in the tooth and it seems like only yesterday that these nearly-identical twins were released. The Bronson has become one of the most recognizable and popular all-mountain bikes on the market, and the 5010, while it always seemed to be a little less favoured than its bigger brother – perhaps exactly because the Bronson appeared to have bigger muscles, and everyone wants bigger bulges – is still one of the most versatile bikes on the market; able to attack backcountry missions with suitable cross-country credentials but also show up supposedly more capable bikes on technical trails. So what was there to fix with these two bikes? Wasn't a new lick of paint and snazzy graphics enough? Well, there's always a few little tweaks that can be focused at any bike because lessons are learned, processes evolve and tastes change.
In the case of these two bikes there's been knowledge acquired from recent releases but also there's wisdom obtained from listening to customers, close confidantes and even the competition. Santa Cruz recognized the potential for incremental advancements, so compared to their first generation brethren the new 150mm-travel Bronson and 130mm-travel 5010 both feature the third generation VPP configuration and a slacker head angle, shorter rear end and longer reach, which should mean that they are more focused on the hard charging parts of trails. Those bits that separate mountain biking from other forms of cycling and where, as mountain bikers, we find the source of our delight in the face of challenge.
In the past some riders have found themselves having to 'size-up' when purchasing Santa Cruz bikes. I myself, at a modest and caucasian-male-average of 5'10", should have been at home on a size medium Santa Cruz but I always found myself going for a large to get the on-trail character I was looking for. But this 'newer' Santa Cruz geometry, which follows in the wake of some very successful experiments by competitors (more on that later), on paper promises to unshackle Santa Cruz riders and allow them to get a little more lawless on the trails.
Furthermore these new bikes also feature a tweaked linkage setup that hides the lower link away behind the bottom bracket and changes the shock rate to make it more supple initially and provide more support deeper into the stroke. It also allowed the rear centre to be shortened a little more (8mm in the case of the Bronson and 5mm on the 5010), making rider inputs quicker and easier to enact.
This all sounds very, very good. It's no secret that Santa Cruz build some of the most reliable, durable and well-thought-out bicycles. Engineering-wise they tend to be playing at the very top of the league, making them the smart rider's purchase. However, sometimes some of their bikes have tended to not always be absolutely the most fun, playful or plain brilliant bikes on the market. It's not like there were major flaws in Santa Cruz bikes but there's always been the feeling that a few little changes could have elevated their bikes from market leaders to absolute dominators. But the excitement, for me at least, is that perhaps these bikes will be more of the riot that I've always admired in other bikes (Kona Process, Evil Uprising, Specialized Stumpjumper and Enduro, for example) and what I always wanted Santa Cruz to be.
So, what do all these changes add up to when out on the trail? Well, Santa Cruz held a ride event in Downieville earlier this week to give media hacks and retailers an opportunity to spend lots of time on the new bikes on the trails that many Santa Cruz employees consider their second home.
Getting down with the new bikes in Downieville
Downieville could perhaps be described as Santa Cruz Bicycles' spiritual home. Or perhaps just the place they go to get more spiritual. They've had links with the town since 1994 when they started supplying Greg Williams (back then a young lad looking to escape somewhere wild on his bicycle and now twenty years later the Executive Director of the Sierra Buttes Trail Stewardship, the organization that make riding in Downieville a possibility) and many of the company's employees come out to this tiny town very regularly throughout the summer months.
The now pint-sized town, nestled in thetight  Yuba River Valley, is extremely pretty and at one point it nearly became the capital of California. Downieville is a relic of the gold rush and like most mining towns what was left behind was a network of trails in the hills. And it's these trails that make Downieville such an important goldfield for mountain bikers and why Santa Cruz decided to launch their new bikes here.
100-150 years ago the trail builders got things right. They kept the gradient to a minimum and found sensible alignments that minimized the need for odd turns. They also did whatever it took to punch a trail through some places. Their trails might have been for transport and commerce but after decades and decades of neglect and erosion they always seem to be the best trails to ride. Wherever I've ridden in the world where there was a gold rush the trails seem to be just about perfect for some high-speed mobbing and long distance traveling on mountain bikes.
The trails in Downieville are wide and often pretty buff (compared to NSMB's local trail networks on the West Coast of BC) which allows the speed to get up above a crawl. And then just when you think you're comfortable at speed a brilliantly nasty, chundery rock garden appears and it's too late to slow down, so you just have to think on your feet, choose a line and commit to it. Add to this that the Sierra Buttes Trail Stewardship have added new sections of trail in the high country and replaced or retreaded the trail in others and it's a recipe for some big grins.
We spent day one riding the new Bronson on Butcher trail, doing two shuttle assisted laps which still gave us a total of 50km of riding in one day and allowed us to explore alternative routes to this main vein (Second and Third Divide). This general route is the course for the Downieville Classic so it was good to see where the all-mountain, all-American elite come to test themselves each summer.
It was hot, it was dry and it was fast. It also had plenty of punchy climbs, flat, pedally sections and trialsy technical moves. The really wild, rocky and fast sections, especially down Third Divide, qualify as some of the best riding I've done, ever. All in all, it was a nice break from the steep and creep of the Sea To Sky (which I love, but sometimes going truly fast is just as puckering and rewarding).
The second day we rode the SBTS's own masterpiece, the 9 mile Mills Peak descent (nothing ever goes wholly down and there were sections of pedalling to link the down) that was handcrafted over a 4 year period by the Sierra Buttes Trail Stewardship trail crew. It's a smart alignment that playfully romps through the forest and has endless lines, 'natural' jumps, and a variety of different radius turns. It's still pretty chunky despite being lovingly crafted by modern minds and  is a real hoot that encourages riders to put an extra pedal stroke between the turns or loft over a few square rocks to smooth it out. Anyone who thinks that low-gradient, rolling, sustainable trails are the devil's dumb work needs to see what can happen when smart minds apply logical building techniques. There is a middle ground between vanilla blue and true black diamond that allows intermediates the opportunity to coast down the same trail that advanced riders will rally and while unlocking new lines every run. It was here that we got to grips with the revised 5010.
On The Trail – Day One with the Bronson
On paper it appears that Santa Cruz has gone about addressing some of the issues that some people have had with previous Santa Cruz models. Some people felt that the Bronson in particular, was a little too upright and uptight. The first Bronson felt like the geometry was holding it back from unleashing its full potential, and the suspension setup felt too firm over small bumps and vague and unsupportive when pushing into berms or preloading for bunnyhops and jumps.
The first generation Bronson was a modest all-rounder that could be pedaled all day without being a drag and summoned to tackle technical terrain when required. However, it wasn't as sporty as some other bikes in the category that seemed to be able to do it all but with a little more zest.
I've spent a lot of time on the original Bronson, including time on the original aluminum mule and pre-production carbon frame, and after a little while playing with other bikes as my main ride I built up the carbon pre-production Bronson again this spring. So, I'd say I'm pretty familiar with the first Bronson and can recognize its strong points and limitations, and compare and contrast with the new and improved version. However, and here's my disclaimer, riding new trails that I'm unfamiliar with means that I'm willing to concede that many of my findings are placeholders until I get to do the same tests as I would on my home trails. There's a lot of variables when you are riding new bikes on new trails.
I was most interested in the changes to the geometry. The head angle of the Bronson goes from 67 to 66 degrees, which gave it a little more composure at speed without raking it out so far as to become vague and unruly to apply pressure when cornering. As I said, the trails were very fast so the slightly slacker HA meant that when braking hard into turns or attempting to float over rock gardens at speed it was easy to stay in a neutral, centered position and not have to lean off the back of the bike. However, there was no steep terrain to test out how the Bronson felt when the gravity really got going and what advantage the new head angle provides.
The longer reach of the front end (the reach of the medium size – 425mm – is what the Large size used to be, and all the size of frames have sized up 20-25mm over the previous Bronson) is certainly noticeable, and as expected it allowed for more room for body english but also more composure so movement wasn't needed all the time. Add to that the shorter rear triangle (now 433mm) and a lower bottom bracket height (341mm) and it was much easier to find oneself in a solid, composed, attacking position that felt balanced and planted between the wheels, resulting in more control and the ability to press the bike harder and harder into turns, hold firm through the rough and then, when required, lift the front wheel and move it from edge to edge on the tires. Basically put, from my experience riding the Bronson, which albeit was a one day affair, there's no questioning the geometry and shape of the new bike. A job very well done because the bike is sportier, while also feeling more calm under fire.
The changes to the suspension were a little harder to clearly and comprehensively determine. I really put this down to the new (to me) trail and very different terrain and topography. The speed and frequency of very square hits and the dry, sometimes unpredictable surface (plus that we were advised to put more PSI in our tires than usual to avoid constant flat tires – which I avoided but other riders didn't) meant that I struggled to undeniably come to a conclusion as to the difference of the new versus the old. Sorry.
There were times that I was able to push into the mid stroke to provide preload and pop for sudden and last-moment hops and hucks, places on the trail where I felt that the previous VPP design would have not given back as much as was needed. However, I'd really need to spend more time on setup and familiar trails to have a definitive opinion on the suspension. One thing is for sure, the Bronson still pedals extremely well and snaps out of turns when you stamp on the cranks.
Overall, my impression of the Bronson is that it wants to take a bite out of the horizon more than it ever wanted to before. It's a bike with more confidence and vim than ever before. It's certainly the bike that will have people really questioning whether they need a trunk full of Nomad because it truly slots neatly into the space for bikes with a fierce thirst for thrills and the manners to quickly get riders there.
Day Two with the 5010
As I said earlier, Mills Peak is a real hoot of a trail. It starts with some awkward rocky sections and close-out corners that were deep in dust but soon the tempo rises and it coaxed me to keep putting in a pedal stroke here and there to keep pushing the speed up when pumping the available trail wasn't enough. The trail flows through the rocks and forest with linking quick lefts and rights; clear lines of sight gave me the confidence to pop over obstacles to link lines up and play with the natural hits that presented themselves. All in all, the trail was great, and the 5010 provided the perfect steed to ride it.
After riding the Bronson the day before the 5010 felt almost like a gossamer thread when I first swung a leg over it. I wasn't the only rider to wonder if we were taking a knife to a gunfight. But we shouldn't have worried, as the 5010 disguises its true potential until you get out on the trail.
All inputs are immediate, whether you're propelling it forward, turning, braking, hopping, or lofting it. Santa Cruz got the BB height right with the first 5010 (and the TRc before that) so it remains unchanged, but the shorter rear end (down 5mm to 425mm), longer front end (the same reach measurements as the Bronson – 425mm on a medium) and one degree slacker head angle (67 degrees) result in this being an absolute menace on the trails. And I mean that in a very, very good way.
This is the sort of bike that you can race cross-country on Sunday morning and not feel like you need much more bike (or less, depending on how you look at these things), but then the rest of the week you can terrorize trails with total abandon; perhaps even more than you can on bikes that are meant to be more capable. This is a one bike solution for anyone with an appetite for exhilaration and a hunger for being as fast and fit as possible.
The Sum Of Its Parts
Both the Bronson and 5010 (and Juliana models – more on them later) have had some additional tweaks to the parts spec and modifications to the frames.
The seatpost diameter goes up to 31.6 to accommodate the 150mm-travel Rockshox Reverb posts that all models are specced with. Also, across the board Rockshox will be providing the front end suspension and Fox Shox will be responsible for the rear shock.
For the wheels, as usual, various options abound for all price points but the biggest change is that the rear end goes to a 148×12 setup. Santa Cruz Product Manager, Josh Kissner, is adamant this builds a stronger, stiffer wheel and is future-proofing the bikes because it is certainly the way things are moving across the board.
Both the Bronson and 5010 come sporting 800mm-wide Santa Cruz branded carbon bars. This is a smart choice because as we all know you can cut bars down but you can't make them wider. A big gold star for Santa Cruz for this.
Other smart finishing touches are internal routing only where absolutely necessary, in this case for the Stealth Reverb and for the rear derailleur. The rear brake is very neatly routed on the top of the downtube, requiring no fussy and complicated bleeding and rebleeding if you want to remove your brakes for servicing.
Also, the bottle cage mounts have been moved further down the downtube so that now it's possible to actually have a bottle cage, with a full size bottle, and a rear shock with a piggyback reservoir. My heart skipped a beat when I saw this. Hurrah!
As usual with all Santa Cruz bikes, the pivot hardware is bombproof and simple, the construction of the frame is confidence inspiring, threaded bottom brackets remain and there's no silly proprietary shock hardware so your bike is relatively future-proofed if you some great new shock comes on the market in a few years down the line. It's the typical Santa Cruz street-smarts (or trail-smarts) that enamours them to so many riders who are tired of shoddy and sloppy design.
Also as usual, the price of the top specced models is astronomical. But it is possible to purchase a Carbon C-model with sensible parts spec (Rockshox Sector fork and mix of Shimano XT and SLX parts) for a very reasonable $3599. That's the same bike as your pals who have enough money to buy the blinging ENVE and XTR version, but for nearly a third the price. It's not bargain-basement cheap, but it's top shelf sexy at an accessible reach.
An Addendum On Juliana
There weren't just two bikes being revealed by Santa Cruz this week, there were four. The Roubion and Furtado are carbon duplicates of the revised Bronson and 5010.
Katie Zaffke, the Juliana Brand Manager, explained that "[Juliana is] not women's specific but for specific women." The specific women she is referring to are ladies who know what they want, and who ride as hard as their male counterparts. And so the bikes have very few differences from the corresponding Santa Cruz models. The geometry and sizing is the same, the spec is the same (with small changes like grips, seats etc), except for lighter wheels (on similar aluminum wheeled models), and there will be C versions of both models – the C models are slightly cheaper carbon versions compared to the CC models).
——
In conclusion, I'm expecting, as is usual when Santa Cruz launches a new bike, for trailheads to be brimming with these new versions. And when riders get to the bottom and load their bikes onto their bike racks, I think they'll have even bigger smiles than usual. 
---
Getting an itching credit card finger?