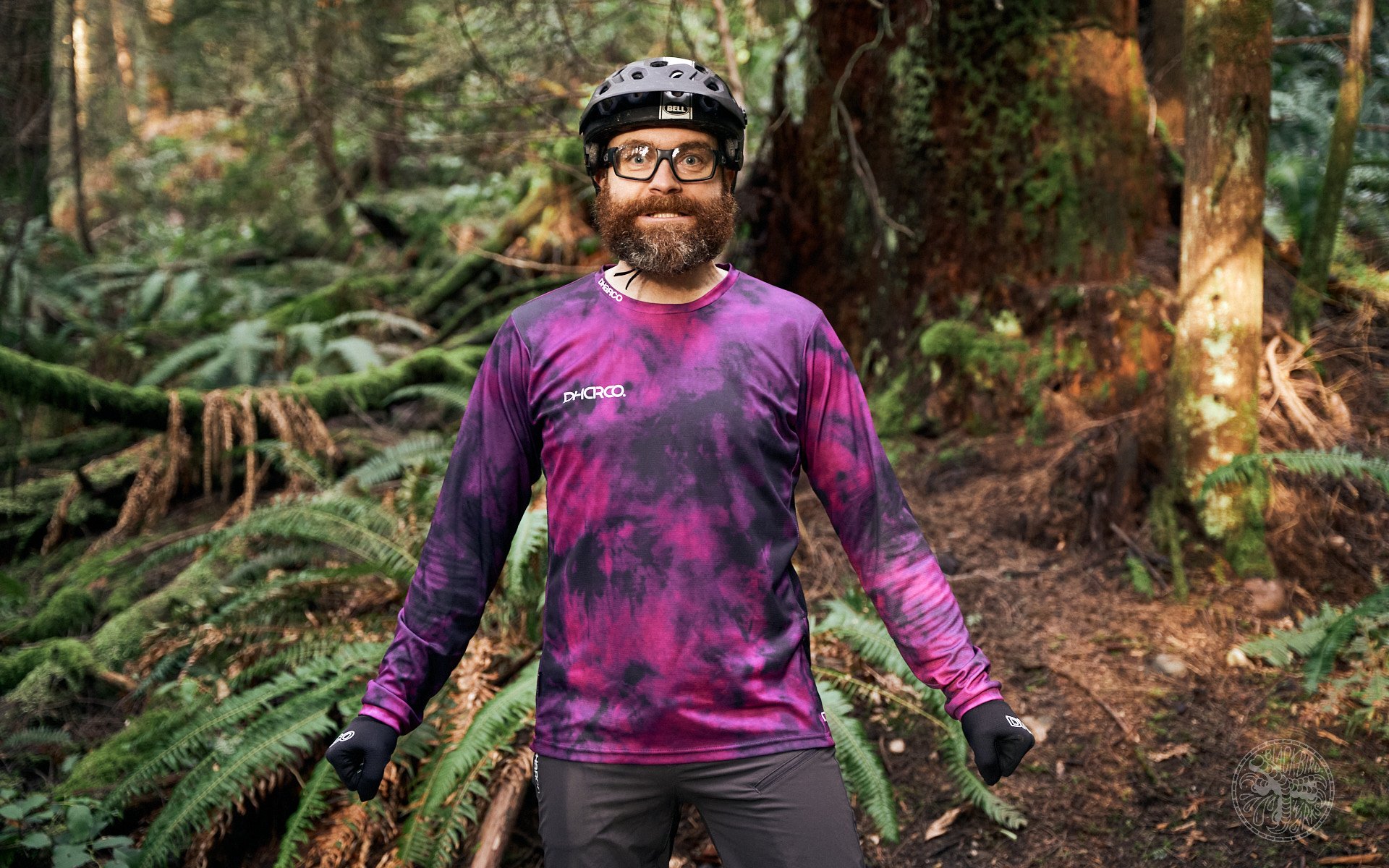 GEAR REVIEW
DHaRCO 2022 Riding Gear
While their lineup of stylish, technical threads may not yet be a common sight in the Sea to Sky region, DHaRCO has plans to change that. The Sydney-based clothing brand has been churning out surf-inspired mountain bike gear for years now, and the fine folks at DHaRCO have decided to put down some Canadian roots, by choosing Squamish, BC as the location for their new warehouse and showroom.
With their unassuming style, you might be surprised to learn that DHaRCO clothes the likes of Connor Fearon, Kyle Strait, Magnus Manson, as well as the fastest goddamn team in mountain biking these days - the Commencal Factory DH team.
It's pretty clear the Aussie product designers at DHaRCO spend far more time in the sun than us vitamin D-deficient rainforest dwellers in the Northern Hemisphere. Embracing their surf roots with bright, punchy colours, and a low-key tropical vibe, the DHaRCO 2022 range is a refreshing contrast to the greyscale, drab tones that dominate the local market. And while those drab tones are often a wise choice when your playground is year-round muck, silt and loam, DHaRCO has managed to pull off several Shore-worthy styles that don't need to be chucked after painting them in mud.
I'm a man, so I'll be focusing on a few choice cuts from the men's line, but DHaRCO also offers an extensive women's line (including women's specific versions of every piece outlined below), as well as riding gear for your groms.
Men's Gravity Jersey
First up is the Men's Gravity Jersey, available in a slew of colours and patterns. I went with the Maribor colourway, because - purple. The Gravity Jersey is constructed from moisture-wicking, recycled polyester, features colour-matched mesh side panels for airflow, and includes a small zipped side pocket for storing your candy. Sleeves are cuffed to prevent them from becoming tiny parachutes in the bike park, and I found the overall fit to be accurate to the sizing guide on the DHaRCO website. The Gravity Jersey is available in sizes from S to 2XL.
DHaRCO describes the Gravity Jersey as a "relaxed fit", and it's designed to accommodate armour underneath. Because my muscles are too big, I found the fit to be a bit slimmer than relaxed - and while I don't wear upper body armour, I certainly wouldn't be able to fit anything too bulky under this jersey without sizing up.
As with any good piece of bike kit, the Gravity Jersey simply goes unnoticed while riding. It offers full coverage, but feels as cool as a t-shirt thanks to the thin fabric and mesh venting. The length and cut work well with any pants or shorts, and the dark purple colourway has proven easy to clean up (translation: hides mud stains) after a sloppy outing. If however, you prefer not to be seen at a mile's distance in the woods, you might want to explore some of the more muted options.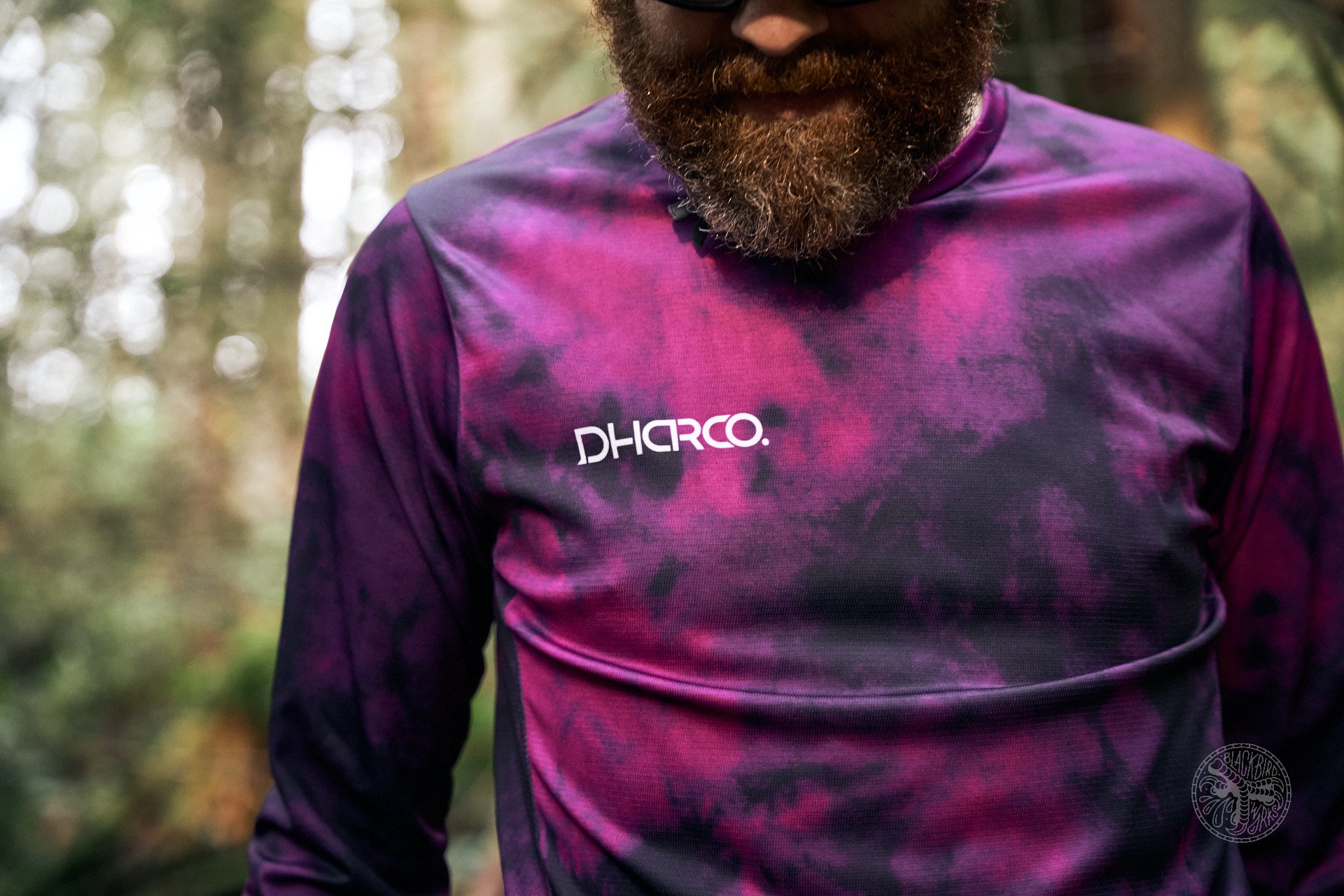 Men's Gravity Pants
Whether you're a racer, a park rat, or just tend to start and finish your rides at a couple red garbage receptacles, you need to have some pants in your rotation. DHaRCO's Gravity Pants come in a bunch of colours, but slate grey goes with everything. I laugh inside whenever I see the term "4-way stretch", because seriously, how many ways can something stretch in 3-dimensional space? As funny as the label is, my hambone thighs appreciate the fact that this physics-defying, wonder material finds its way into the Gravity Pants. Available in sizes from S to 2XL, the fit feels slim throughout, without any spots that feel too tight. There is just enough room underneath for knee pads, and the stretchy material, along with the articulated cut, ensure a comfortable range of motion, even when spending hours in the saddle. There are simple, velcro adjustments to dial in the fit around the waist, while two zippered pockets can be found up front, as well as a small, central pocket out back.
The DHaRCO Gravity Pants have proven to be very comfortable in all kinds of situations - wet weather, dry weather, cold, snow, long climbs, and shuttle days - the Gravity Pants handled them all without complaint. I have yet to wear them in really hot conditions, and while they won't be as comfortable as shorts while pedaling up in +30°C heat, the fabric is quite thin, and I can't imagine they'll be any warmer than most other pants. The Gravity Pants have a water-resistant finish that does a pretty good job of warding off light puddle splashes, and that's all I'm really looking for in an all-season riding pant. It never really rains in Australia anyway, amirite??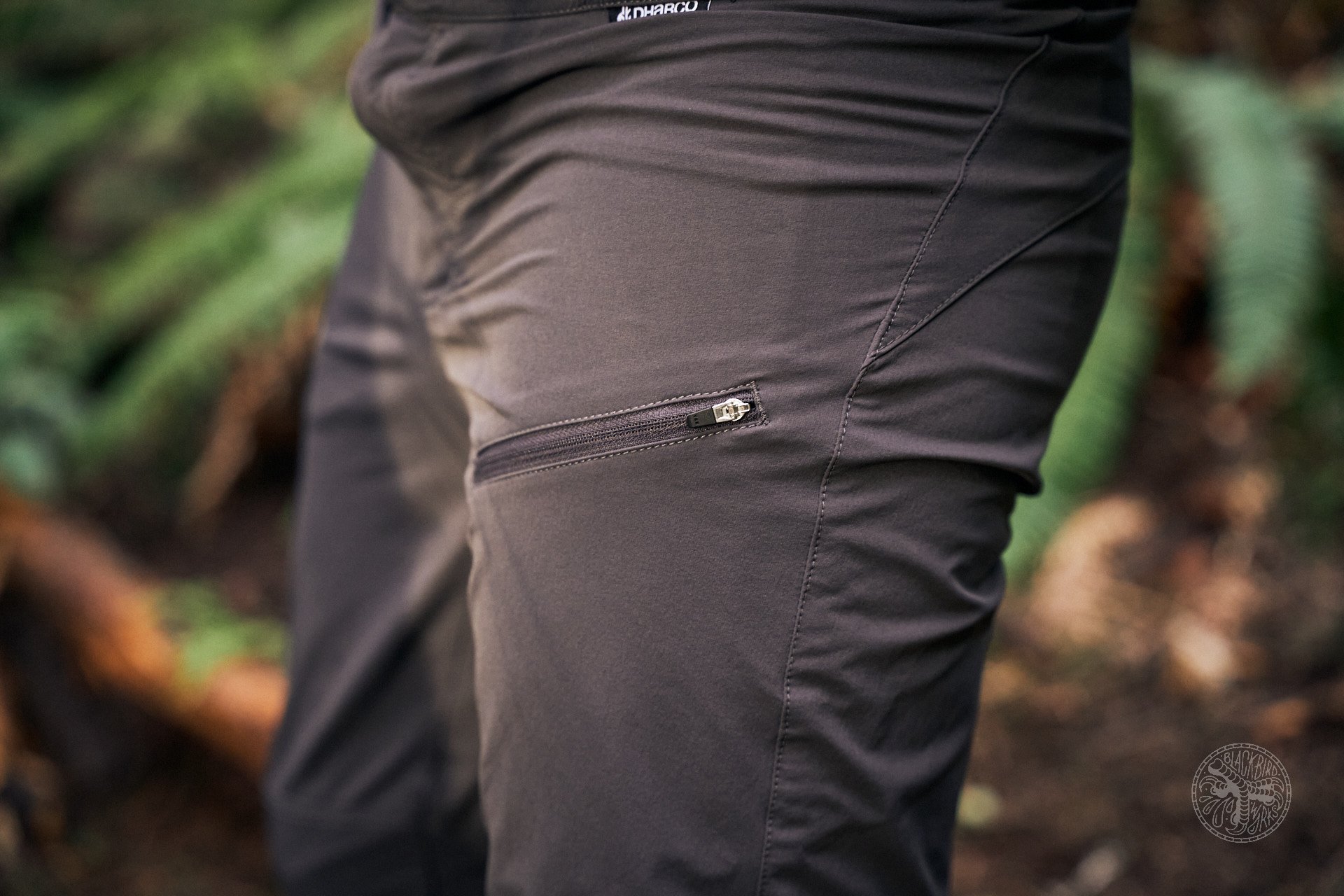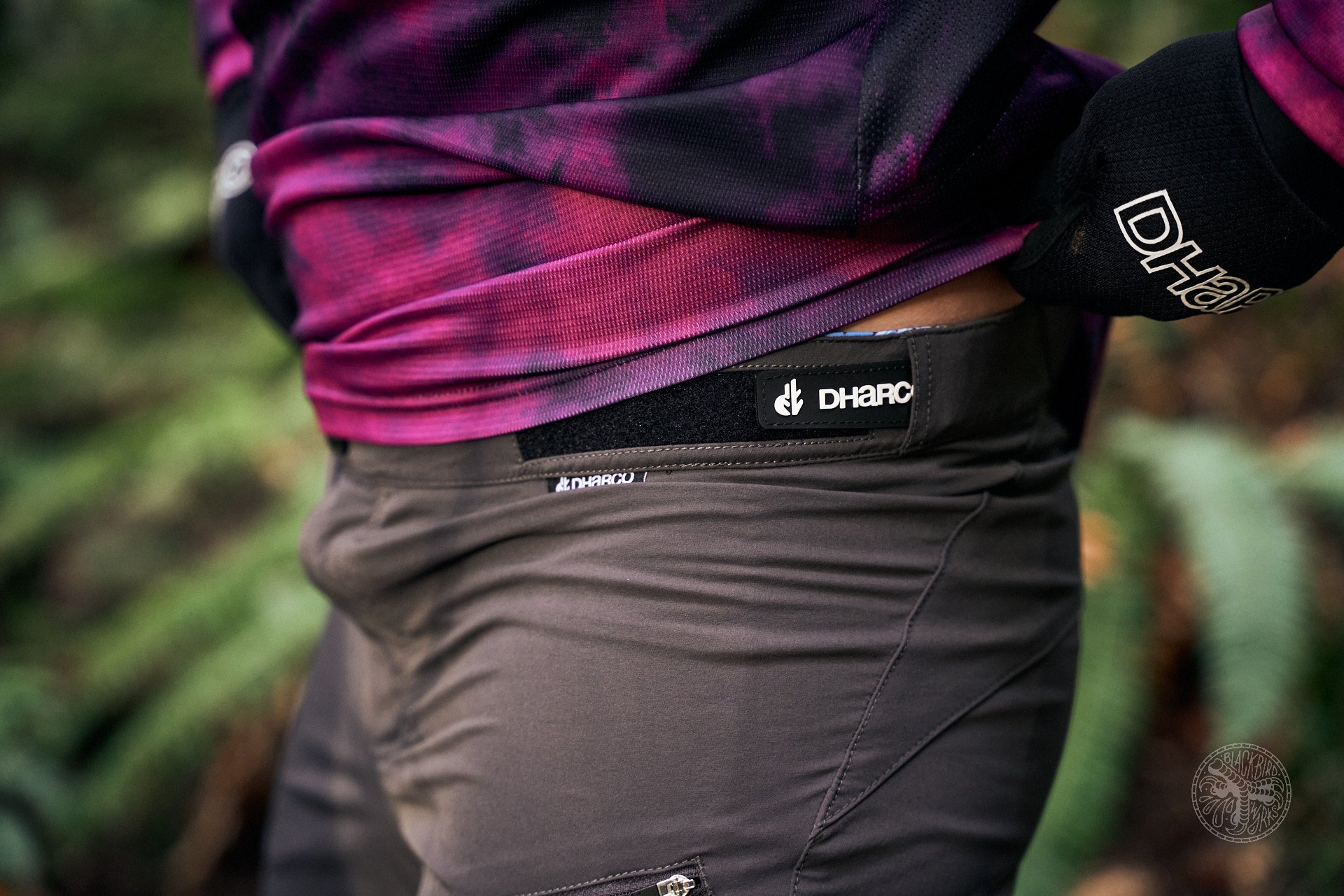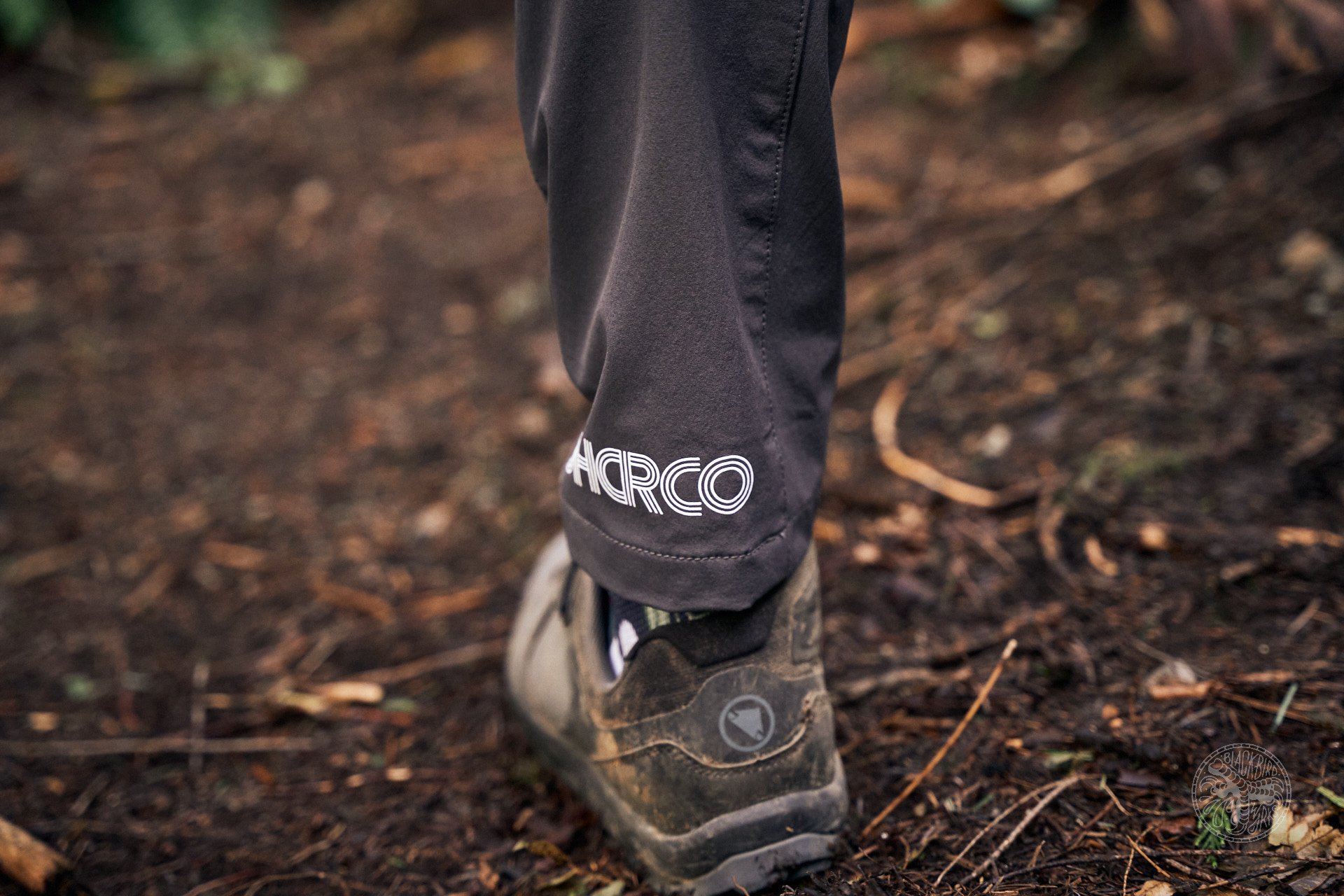 It is worth noting that in really wet weather, the Gravity Pants sometimes develop a squeaking sound while pedaling. I suspect my saddle is at least half to blame for the squeaky crotch syndrome, as I have a pair of shorts from another brand that exhibit this same behaviour. Or perhaps a slightly annoying sound is the price exacted by the Universe for wearing fabric that stretches in too many dimensions? Whatever it is, the squeak is minor, and completely tolerable. Somewhat less tolerable is the size and placement of the front pockets. A bit on the small side, they are both just barely able to swallow my iPhone XR (with a slim case). This could be an issue if you ride with a larger phone in your pocket. Perhaps cell phones are significantly smaller in the southern hemisphere, but these pockets could stand to be a lot deeper. While we're at it, it would be nice to see one of the pockets biased more towards the rear of the thigh, where a cell phone can slip in and go relatively unnoticed while pedaling. The rear, central pocket is the perfect size to hold an energy bar, but I usually use it to hold my car key - although I do wonder about the wisdom of storing a hard, metal, pokey object near the base of my spine, while jumping bikes in the forest.
Aside from the smallish pockets, I got along really well with the Gravity Pants. After several muddy rides and washes, they still look great, with no obvious wear or damage.
Men's ¾ Sleeve Jersey
DHaRCO's ¾ Sleeve Jersey shares many of the same features as the Gravity Jersey. Most importantly, the candy stash is still there. The "Ocean Tide" blue to black fade is North Shore mud-friendly, and unlike the Maribor colour, it camouflages well amongst the ferns and cedars. Available in sizes from S to 3XL, the ¾ Sleeve is a staple for hot, summer days, or when you're just looking to get really weird tan lines in the bike park.
The ¾ Sleeve Jersey fit is similar to the Gravity Jersey, and while it's not designed to accommodate bulky armour, you could probably get away with a compression vest underneath. The sleeves end just below the elbow, and are slim enough that they should stay put, even at bike park speeds.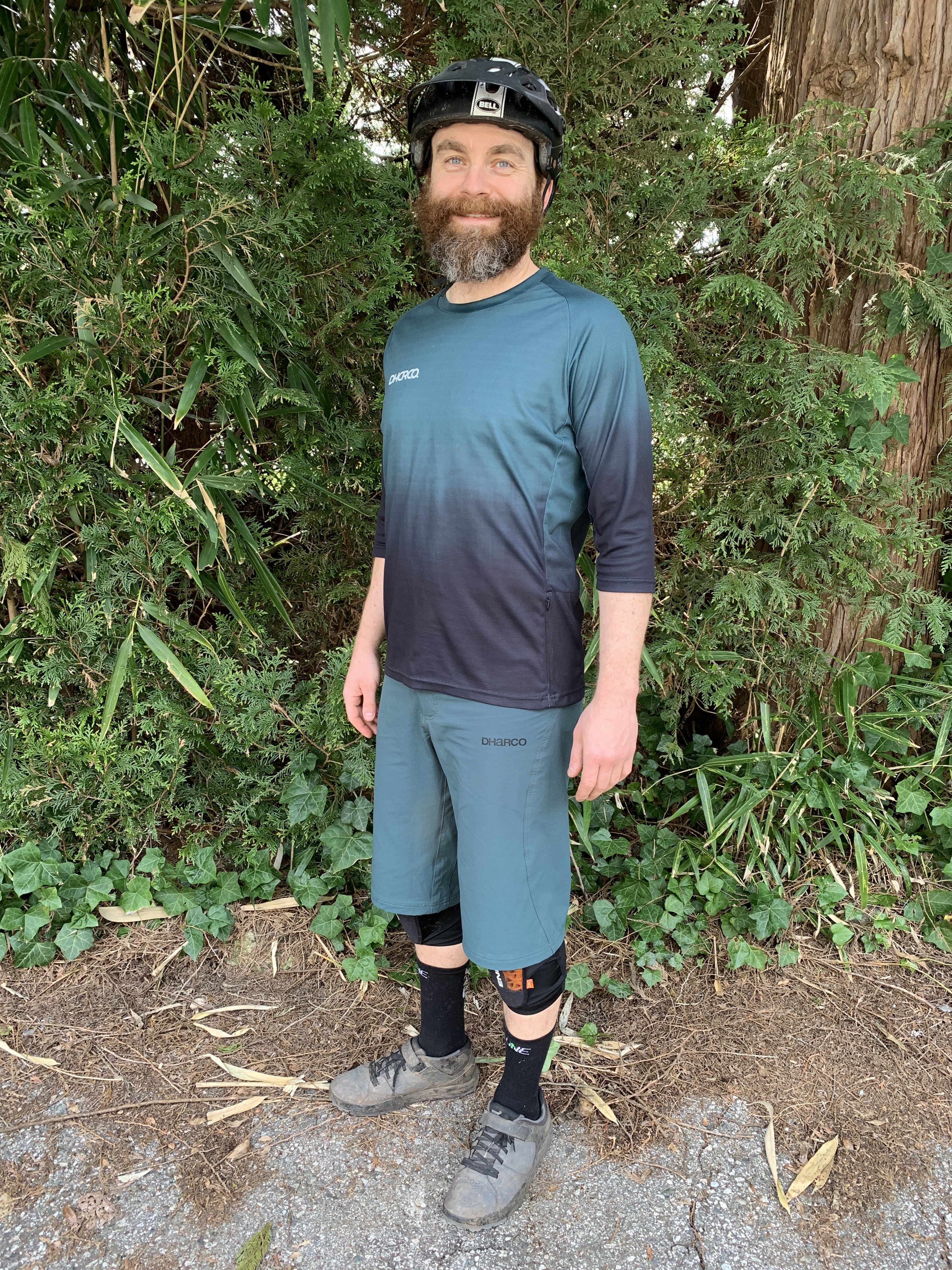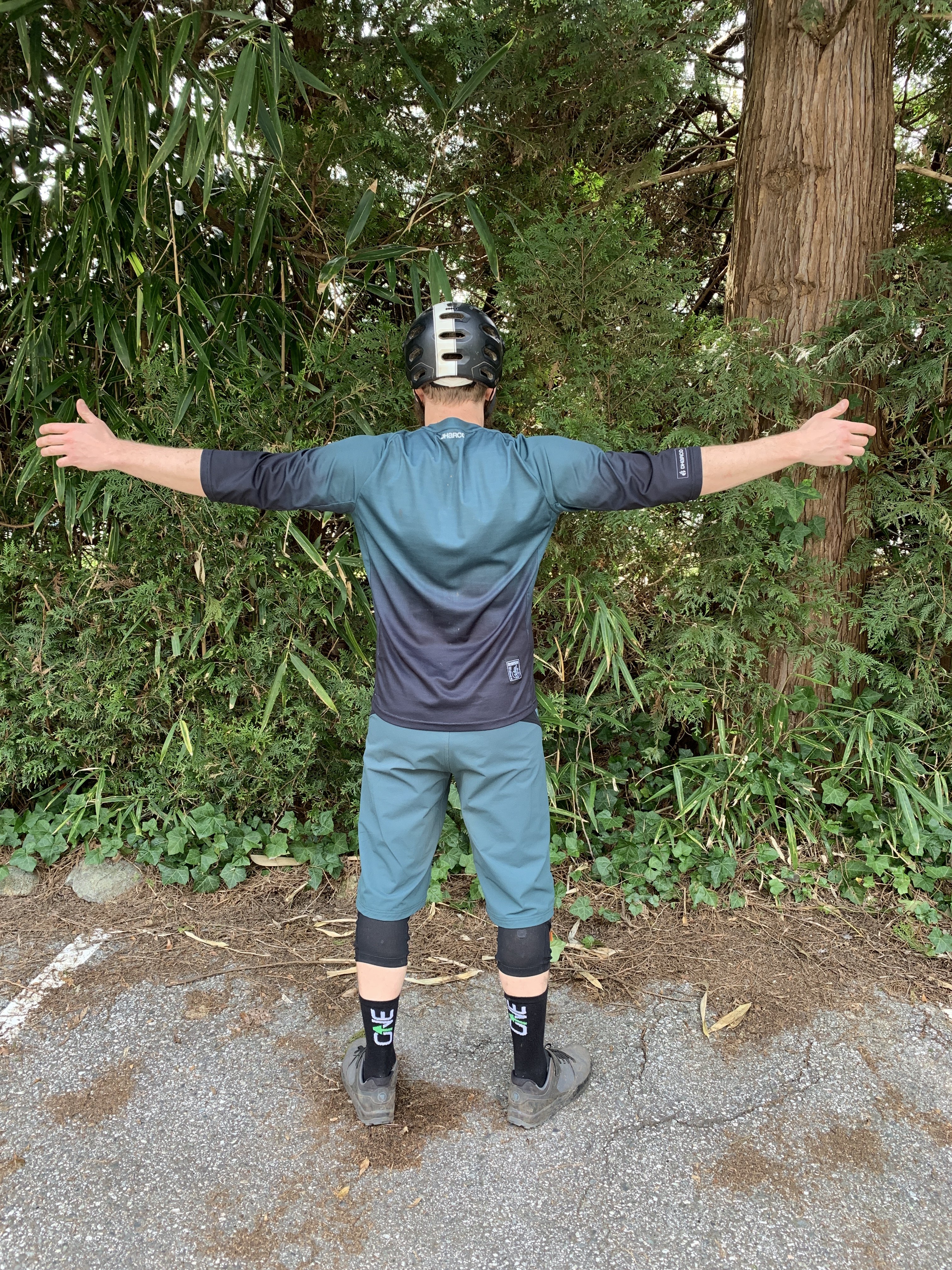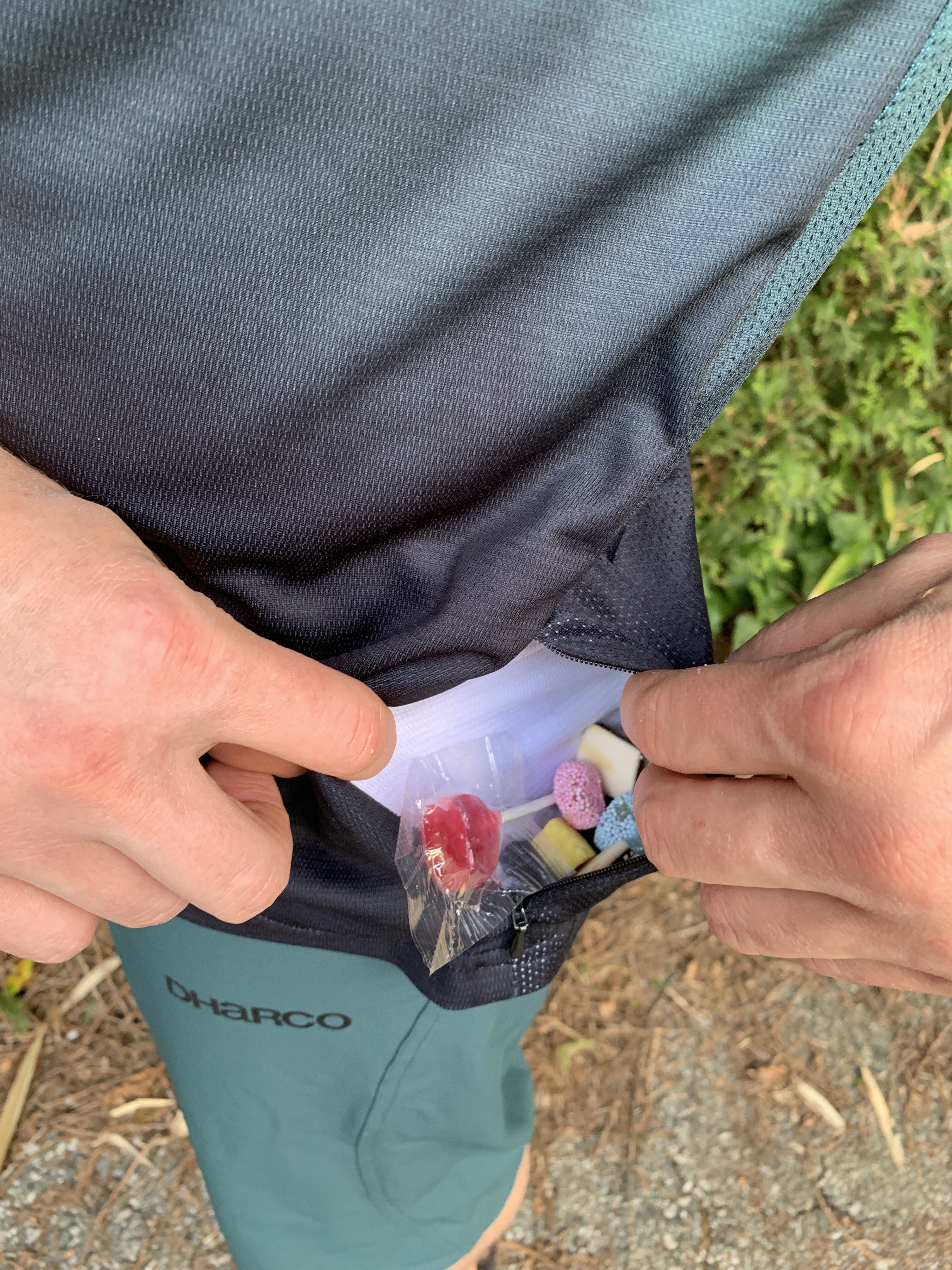 Men's Gravity Shorts
For warmer days, or for the pant-averse rider, take a look at the Men's Gravity Shorts. Available in sizes from S to 2XL, these shorts come in a bunch of colours, and the Forest colourway is a good match to the Ocean Tide jersey. The Gravity Shorts feature the same 4-way stretch fabric, and water-resistant finish as found on the pants. There is one large, zippered pocket on the front right, as well as the small, central pocket out back. While the main pocket is big enough to easily swallow a phone, its location could be better. As with the pants, it would be nice to see this pocket shifted down and towards the rear so that the contents of the pocket don't press against your thigh while pedaling.
The size large Gravity Shorts fit true to the online sizing guide, and like the pants, they feature a velcro waist adjustment to fine-tune the fit. When standing up straight, the shorts fall just below the kneecap, which is exactly where you want them - because nobody wants to see your kneepad gorby gap.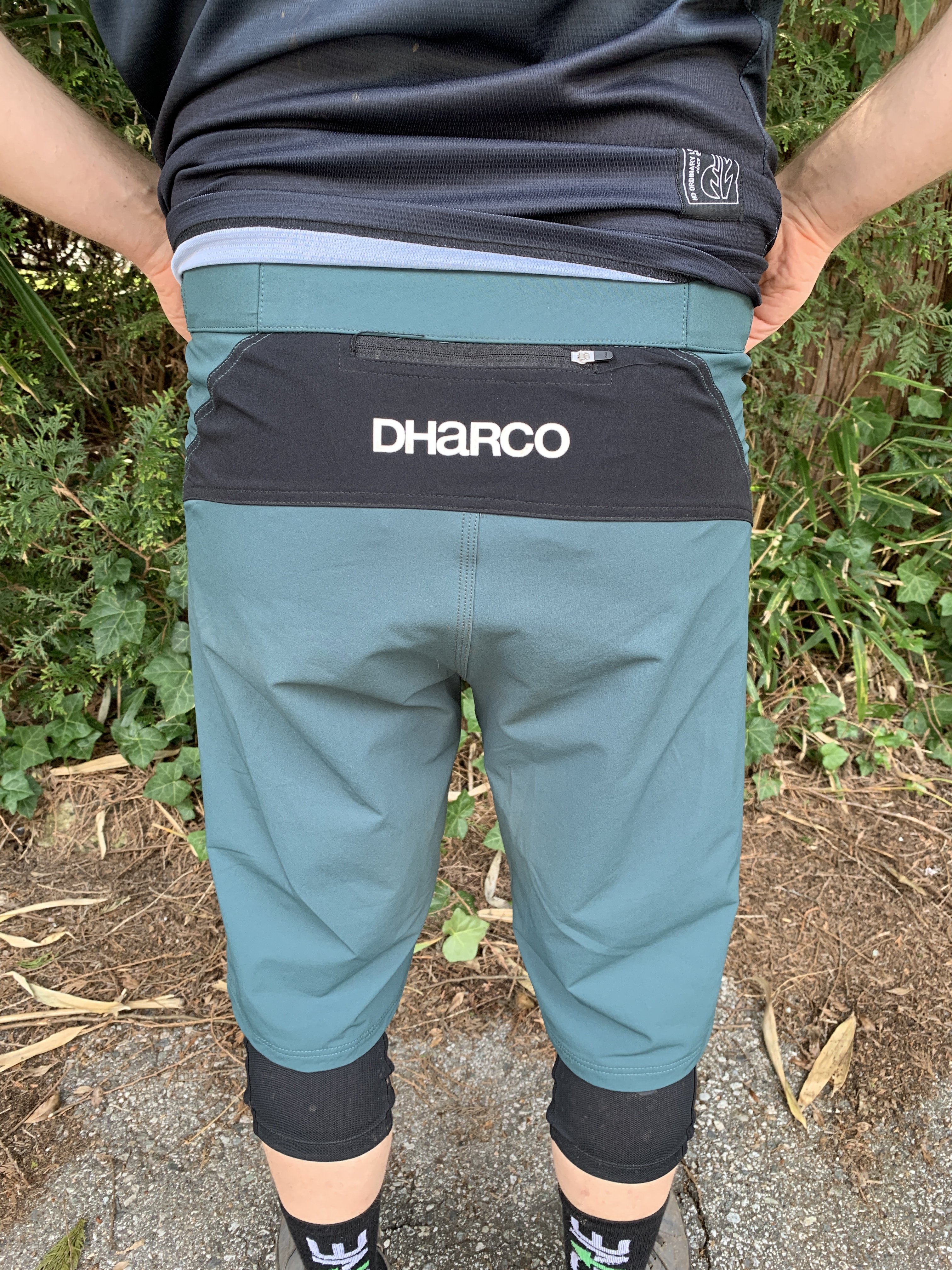 Men's Party Pants
Listen, you either wear a chamois, or you don't. I'm not here to argue one way or the other, but I think we can all agree that the chamois is underwear, and god help you if you consider it an acceptable final layer for riding a bicycle in public.
The DHaRCO Party Pants are designed to be worn under your mountain bike shorts (see, I told ya). The main fabric is thin and super stretchy, and there are strategically placed silicone grippers to keep the shorts in place. The men's-specific coolmax padding is highly breathable, and keeps your junk happy. The Party Pants are plenty comfortable during multi-hour missions, and my only complaint was that I found the legs to be cut a bit longer than necessary, causing them to overlap slightly with the top of my knee pads.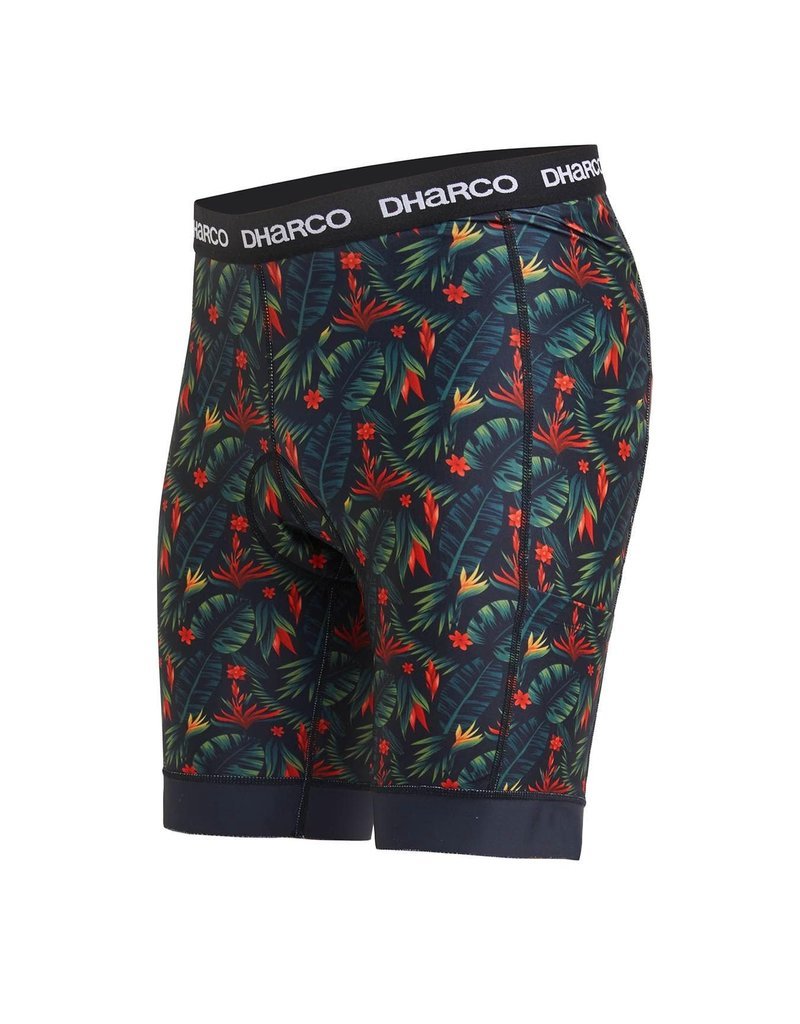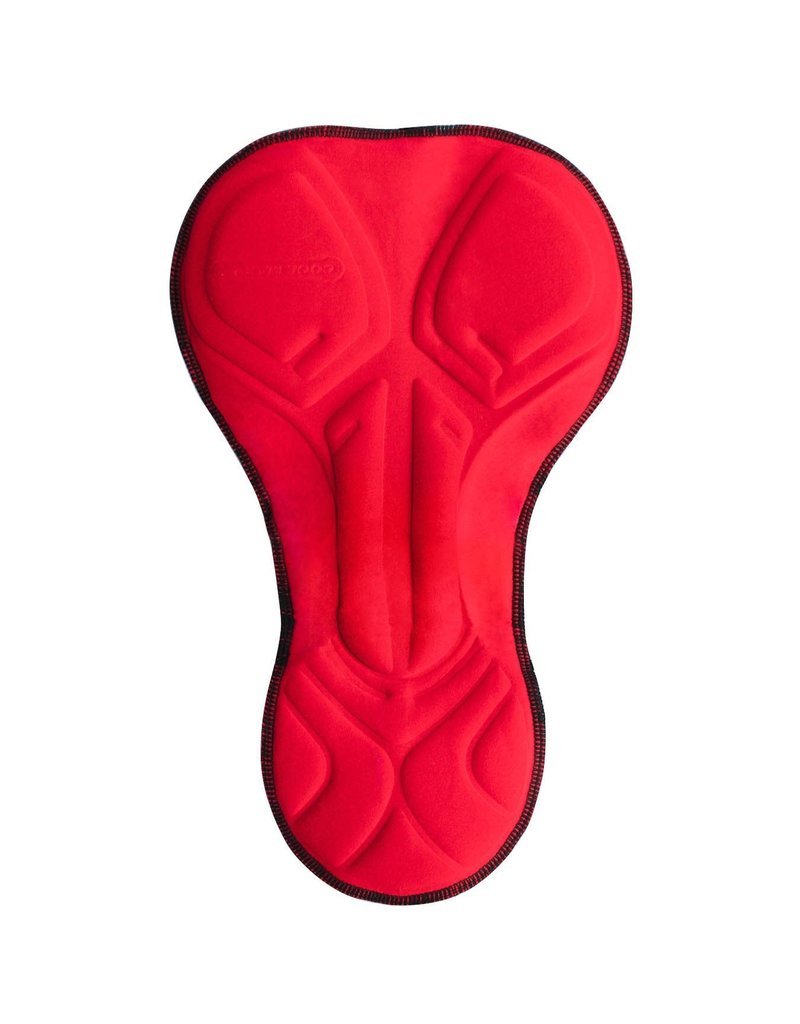 Men's Gravity Gloves
Last up, we have a pair of Men's Gravity Gloves in black - a colour option which incidentally, no longer exists on the DHaRCO website. At publication time, the Gravity Gloves are available in Maribor or White, and come in sizes S through to XL.
If you're a fan of lightweight, minimal gloves, you're going to love the Gravity Glove. With its simple styling and velcro-free wrist, this glove is low on fuss and high on comfort. The thumb and index finger tips are smartphone-friendly, so it's never been easier to text your mom for another shuttle bump from Old Buck. While there is no raised padding on the back of the hand, the materials and stitching seem ready to take some abuse, although chronic hand bashers might want to look elsewhere for more protection. The Gravity Glove is the glove for people who don't like wearing gloves - but if you're looking for something even more minimal, DHaRCO's "Men's Glove" comes with a ventilated nylon upper, for a truly airy feel.
So, there you have it - a sampling of stylish, functional threads from the land down under. Who would have thought that riding gear designed on the eternally sunny, other side of the planet, would work so well in our neck of the woods? DHaRCO's 2022 line of mountain bike apparel ticks all the right boxes, and aside from the slightly diminutive pockets, there's really nothing to complain about here. With their recently expanded presence in Canada, expect to find DHaRCO gear popping up at brick-and-mortar shops. And if you can't find DHaRCO at your LBS, you can easily order from their Canadian website, with orders shipping direct from their Squamish warehouse, and free shipping offered on orders over $100.
Men's Gravity Jersey 85.00 CAD / 70 USD
Men's Gravity Pants 185.00 CAD / 152 USD
Men's ¾ Sleeve Jersey 75.00 CAD / 62 USD
Men's Gravity Shorts 129.95 CAD / 107 USD
Men's Party Pants 85 CAD / 70 USD
Men's Gravity Gloves 36.50 CAD / 30 USD

DHaRCO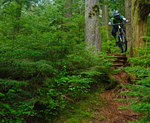 Ryan Walters
Age : 40
Height : 1803mm
Weight : 86kg
Ape Index : 1.03
Inseam : 787mm
Bar Width : 780mm
Preferred Reach : Pretty comfy at 487mm these days.