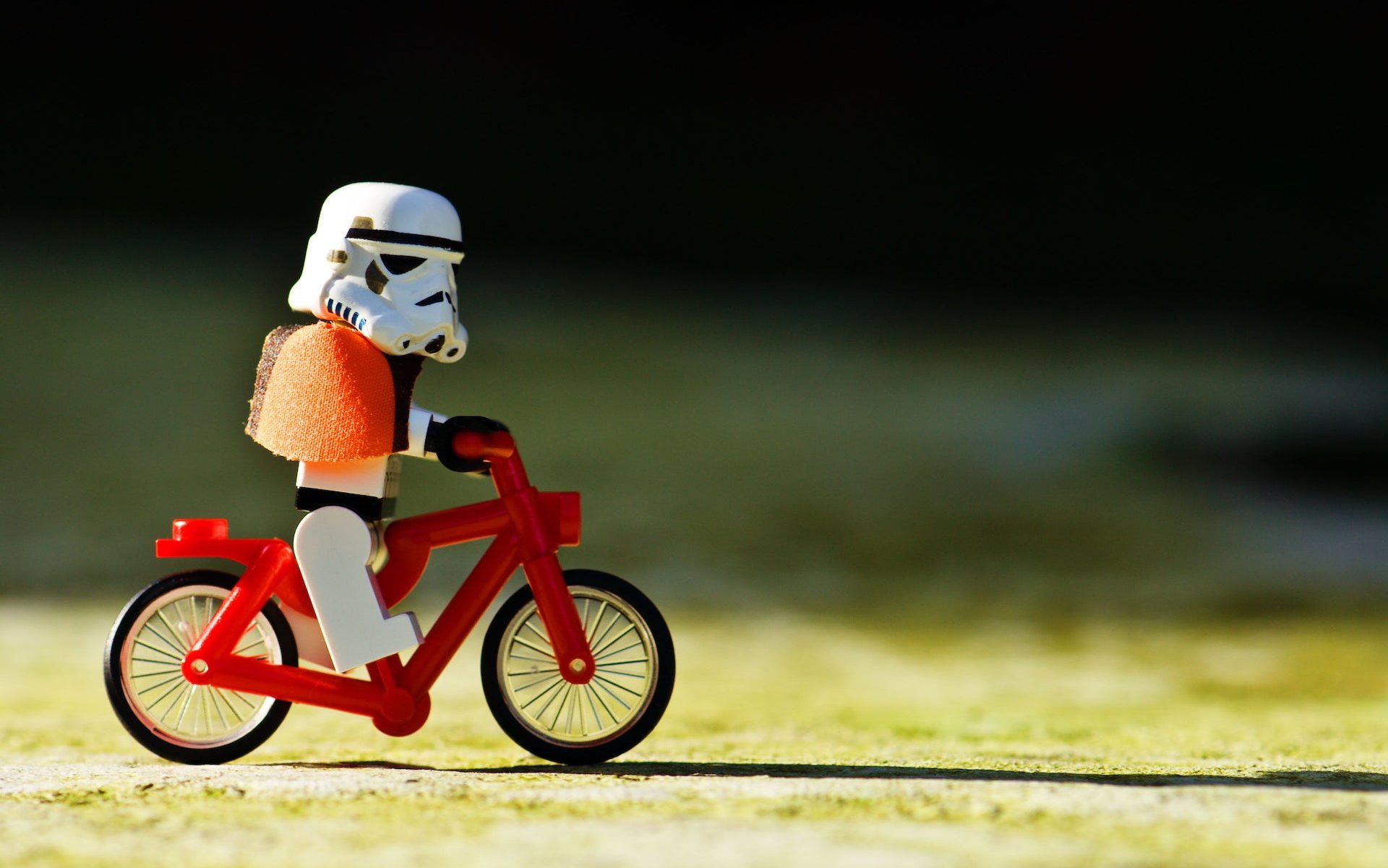 Beggars Would Ride
Detachment Vs Pessimism
That lead photo has nothing to do with this article. I was searching for an image of a mountain biker levitating, and that led to searching for images of levitation, which led to searching for images of Buddha on a mountain bike, then Yoda on a mountain bike, and somewhere after the pictures of Yoda doing Kung Fu but before the pictures of Daisy Ridley levitating, this popped up. So here we are.
But I digress.
SRAM did a masterful job of hogging the airspace last week. The hype machine teased us coyly that something was coming, and we all dutifully lined up with bated breath to see just what was sizzling beneath all that smoke. And the cycling world was bequeathed with…
…wait for it…
A NEW derailleur! And a new shifter, to be fair. Yeah, okay, and a cassette and a chain and a crank. It's all only available as an AXS thingie and it costs a little more than my current test bike, and it isn't really compatible with anything that already exists. And it's apparently called a transmission now. But I'm not really here to talk about that. Because everyone else already has.
On an unrelated note, I've been doing breathwork this winter, and it's entirely possible that it is doing some good restorative smoothing to the jagged landscape inside my head. Whatever the cause, when this new razzle dazzle dropped, my reaction was… muted. I could see the benefits, I could see some drawbacks, I could understand the how and even the why of it, but there wasn't any accompanying surge of excitement.
Once Upon A Time, I woulda been super frothed. Once Upon A Time, I was highly impressionable, stoked about all things mountain bike, and easily excited. I would have thought that this was the definitive changing of the guard, the big leap forward, the improvement that I absolutely NEEDED to bring my riding to a fuller, richer, more rewarding place. This would have pushed all my buttons. Compatibility? Why? All that other stuff is obsolete now, grandpa. Get out of the way or get run over by the progress bus. We're gunning for the future!
Oddly enough, that super excitable young me was on the cusp of learning how to ride semi-fast, and about a year later was working as a bike mechanic and logging about 500 miles a month off road, and every single piece of my bicycle was disintegrating faster than I could keep it running. So, I went very quickly from being bullish on everything new and fresh marketing scented, to being very, very suspicious of everything new and fresh marketing scented. I distinctly remember an uncomfortable phone call with Rob Reisinger at Mountain Cycle, when I was trying to get some replacement parts for my two month old Suspender fork. I was explaining that the axle caps seemed to be working themselves loose from the fork stanchions when Rob interrupted me. "How many miles do you have on that thing? We've never even heard of this happening!" I somewhat sheepishly admitted I'd just rounded out 1000 miles. There was a long silence, then; "Oh. Hmm. Let's send you some new parts. You let us know how long they last, okay?"
The replacement parts were no different than the parts they replaced, and 1000 miles later the fork was falling apart again. I took it off the front of my now twice repaired Yeti FRO and repurposed it on the front of an old Wards cruiser. Then I took off my fancyass Mavic Paris-Dakar wheels, since the rear axle had just broken again, rigged up a beater Shimano cassette hub to run a single cog and installed a much less glamorous set of hoops. Pulled the inner and outer chainrings, said farewell to my shifters and derailleurs, and experienced several years of relative mechanical harmony. This version of me got all kinds of frothy as well, but in the opposite direction from my earlier, boundlessly enthusiastic self. This version of me thought that just about everything new was straight up bullshit.
I had plenty of evidence. Most house brand handlebar/seatpost/stem componentry at that time was incredibly weak. The heavy weak stuff bent. The light weak stuff abruptly snapped. Suntour components had gone from being the bits that ushered in real mountain biking to being the bits that never shifted worth a damn for more than a couple hours on a dry day. Cantilever brakes, no matter how nostalgic anyone tries to get, mostly sucked. The more sophisticated they were in their attempts to generate braking force, the more they sucked ("Self-energizing", my ass). V-brakes came along, and immediately began falling apart and howling like deranged monkeys. RockShox, pick any single model from the entire decade of the 1990s. It sucked. Any full suspension design prior to about 2005? Flexy, fragile, heavy, squeaky; pick any three traits and we'll throw in the fourth for free!
All of that rampant shittiness made me feel at times like the bike industry was either the butt of some cosmic joke, or that mountain bike consumers were actually part of some massive experiment to see just how far recreation-based Stockholm Syndrome could be pushed before everyone quit riding, threw their bikes in the trash and walked off in disgust.
Things change, though. Sometimes it takes stepping off to the side and looking a couple decades in the rearview, but we have come a very, very long way. Our bikes are a lot better now than they were a decade ago, and a whole quantum leap better than two decades ago, and the bikes of three decades ago are basically unrecognizable in the current context of mountain bike technology. Shittiness still lurks in places, but not so rampantly, thank dog.
And not only have things changed, but so have I. Not much about the bike industry really gets me frothed these days. Trail access? I try to get my dander up about rights, but end up feeling like we really exist in a state of privilege. Ebikes? Not my bag, but they don't really bother me, either. Downcountry? Stupid name, but marketing's gotta market. Idler wheels? So long as I don't have to ride them, go in peace. I hear it's a lot like running with ankle weights, and plenty of people still do that. Hell, I'm even learning to tune out the tinny music blaring from all those little speakers that people are carting around in the woods.
Is this detachment, or is it apathy? Or am I just going through the doldrums of late middle-age semi-depression?
Maybe the breathwork is actually paying off, or maybe I've witnessed so much new stuff for so long that I am now immune to the synaptic rush of unbridled consumerism. This bike stuff, it is what I do for a living, so I should get excited about it, right? I should either be brimful of enthusiasm or else warning anyone who will listen to not get suckered; I should have a dog in this hunt, so to speak.
Once Upon A Time, a version of me would have been willing to sell a kidney (who needs two, anyway? Less kidney, less unsprung weight!) to fund a derailleur, sorry, transmission, that I could stand on.
Once Upon A Time, a different version of me would have been screaming at the top of my lungs how this stinks of planned obsolescence and is yet another example of The Man Keeping Us Down.
Now? I feel a strangely serene detachment. New derailleur? Cool. We should know how it pans out in a year or two. My guess is that people who ride a ton will still wear drivetrains out. People who break things regularly will still break things. Shocker.
How's that for 35 years of product wisdom distilled down into one blinding insight? Right?! That's the kinda juice you come here for! Time for my nap now.
When I wake up, a long ride on the one speed might be in order.