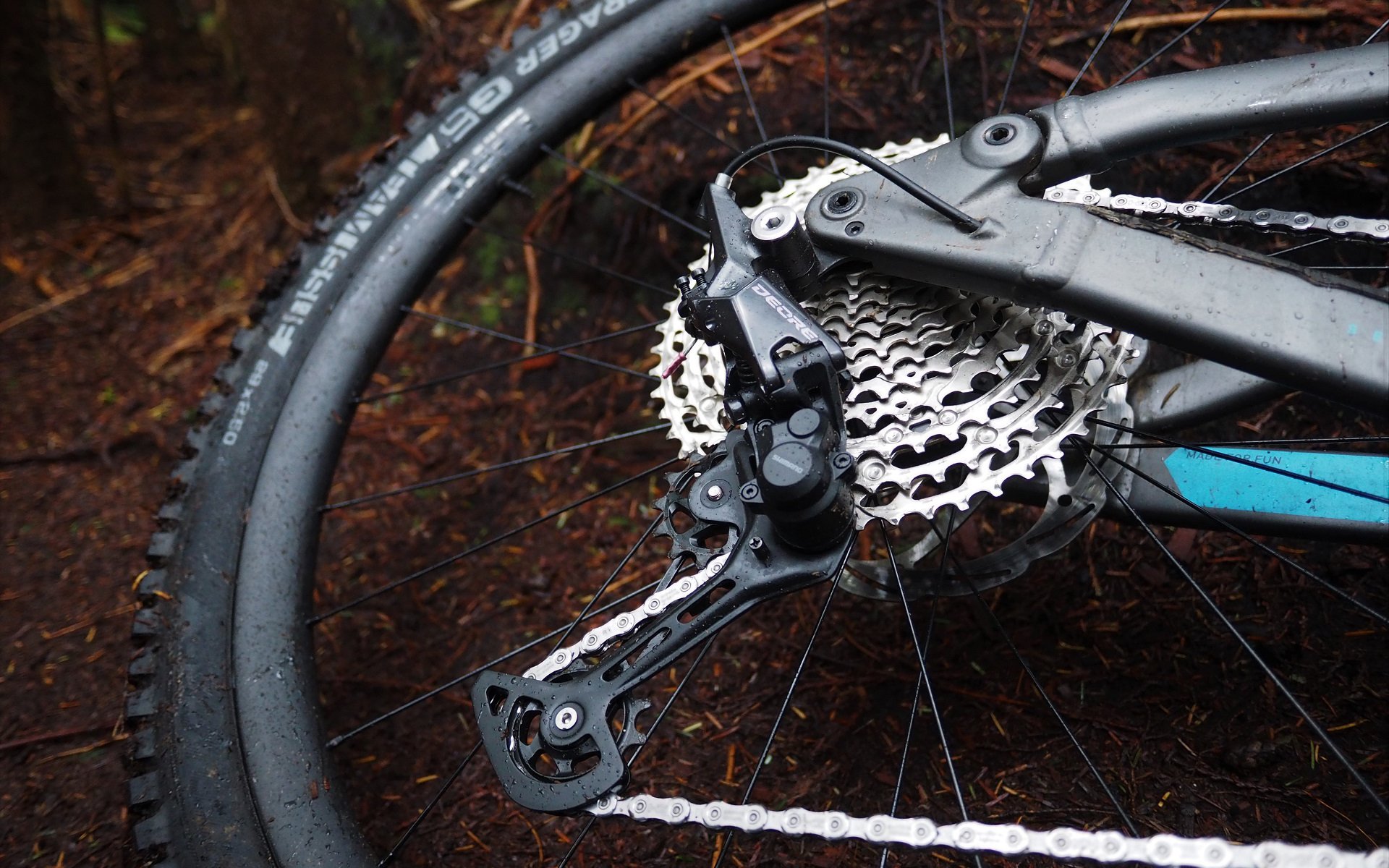 TEARDOWN | REVIEW
Deore M6100: (Almost) The Only Drivetrain That Matters
AJ Was Right
There is, unfortunately, no way to discuss what's beautiful about Shimano's entry-level 'real' mountain bike drivetrain without first eating a bit of crow and crowing a bit about what is ugly about it. I suppose this is as good a place as any to mention that for both what's botched and brilliant this drivetrain review is a sample size of one.
During an NSMB.com content meeting AJ was referring to his Shimano SLX review and, to paraphrase, how much better the drivetrain is with the addition of a Shimano XT shifter. It's not just the ability to punch up two higher gears with a single shift; the general feel at the shift lever is better as well.
It all makes perfect sense. A higher-end shifter delivering higher-end fit, finish, and performance isn't exactly newsworthy considering the M8100 XT shifter at 60 USD is double the price (+30 USD) of the M6100.
I've come around to AJ's way of thinking and if I was assembling my own min-maxed Shimano 12-speed drivetrain it would most certainly feature an XT-level shifter, an M6100 cassette & rear derailleur, and I'd choose a Race Face crankset.
My change of mind came about in a moment, rolling out from the coffee shop on flat flagstones. All I can tell you is the shifter jammed. Fully jammed. No upshifts into a lower gear and hitting the downshift button the lever would move but no cable was released. My first thought was that I've obviously beaten the 'Does The Future Have Fewer Gears?' trope beyond death and the bike-gods were out to get me. My second thought was, "screw this, I'm going home."
In the end, I used a combination of cable tension and limit screws to make it a two-gear day. Pick a ratio for up, pick a ratio for down-and-across, and get out in the woods and have a good time anyways. There are lots of options to choose from with the M6100 drivetrain's spread of 10t, 12t, 14t, 16t, 18t, 21t, 24t, 28t, 33t, 39t, 45t, 51t. It didn't cross my mind at the time, but the choices I made (32x39 | 32x24) align with the range of most commonly used gears I pulled from my friend Duncan's AXS drivetrain for AXS Strikes Back. Whether it was beginner's luck or sage wisdom gained from years riding #1FG bikes, I'd choose these ratios again in the same circumstance.
So WTF happened? I wish I could explain it to you without it sounding ridiculous and made up. I'm not sure I would have believed it myself, having never experienced anything similar, but somehow, remaining 100% inside the shifter, when I shifted, the cable left its captured perch, performed a 180° turn, and jammed itself inside the shifter body. Luckily I took photos of the teardown as I went.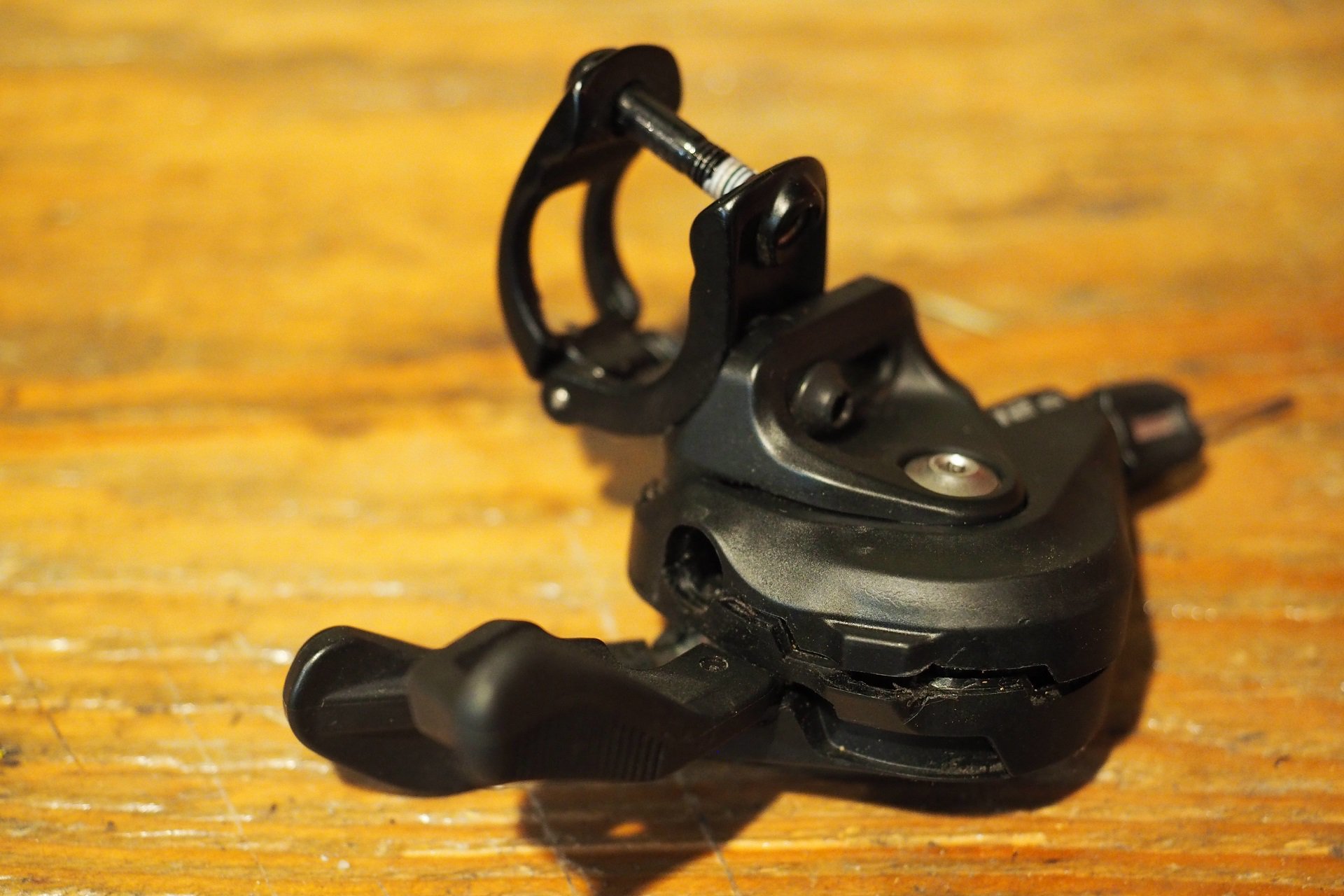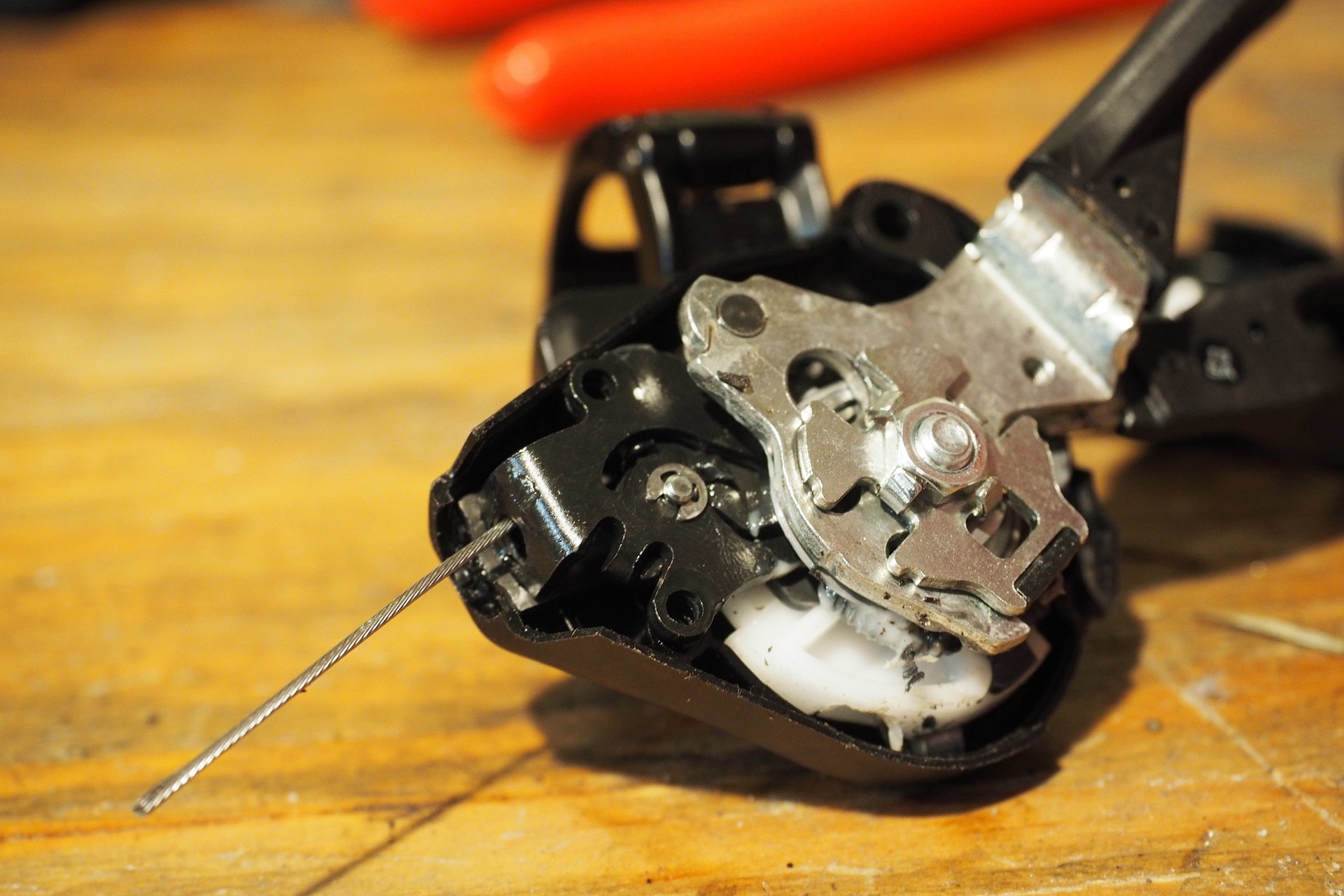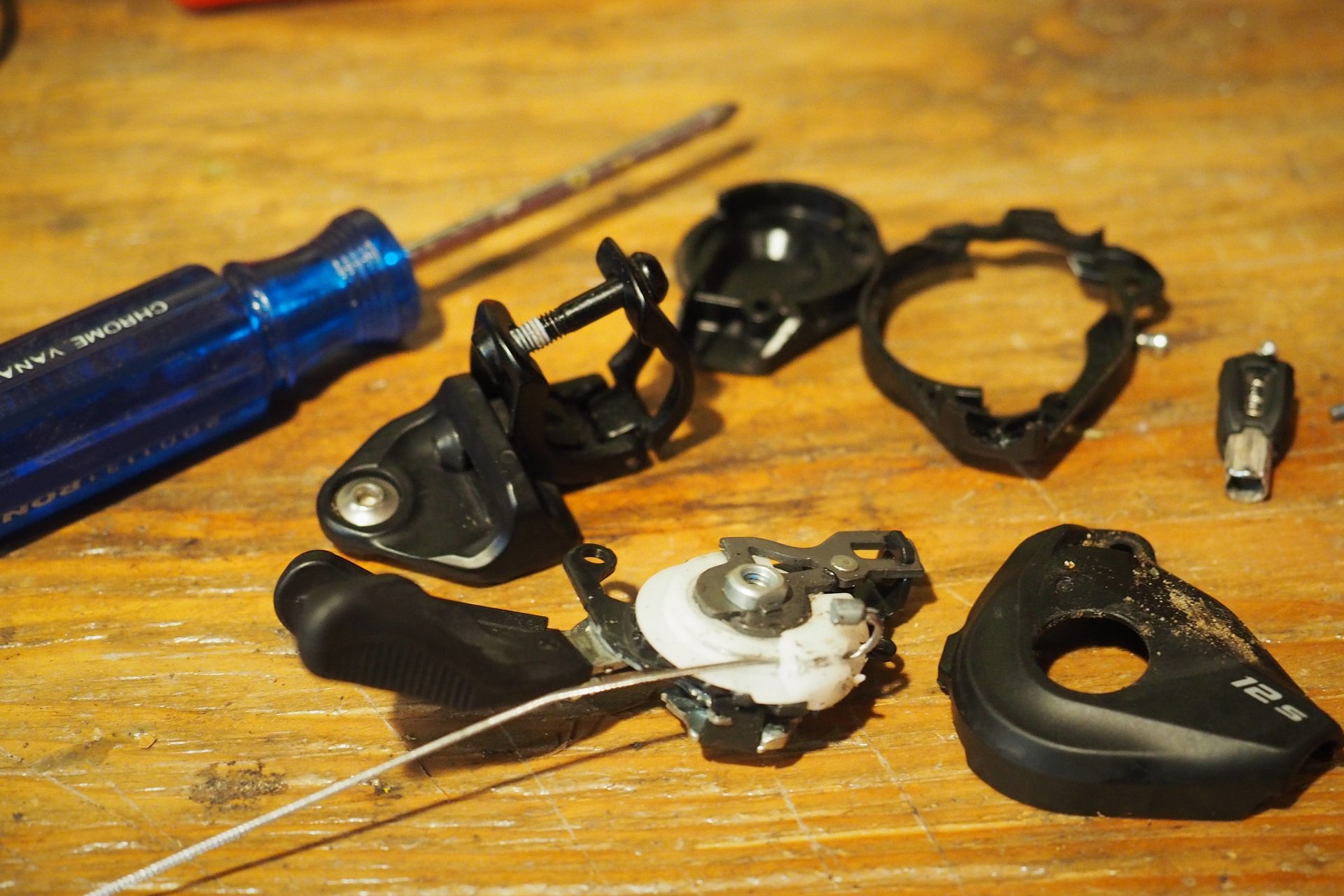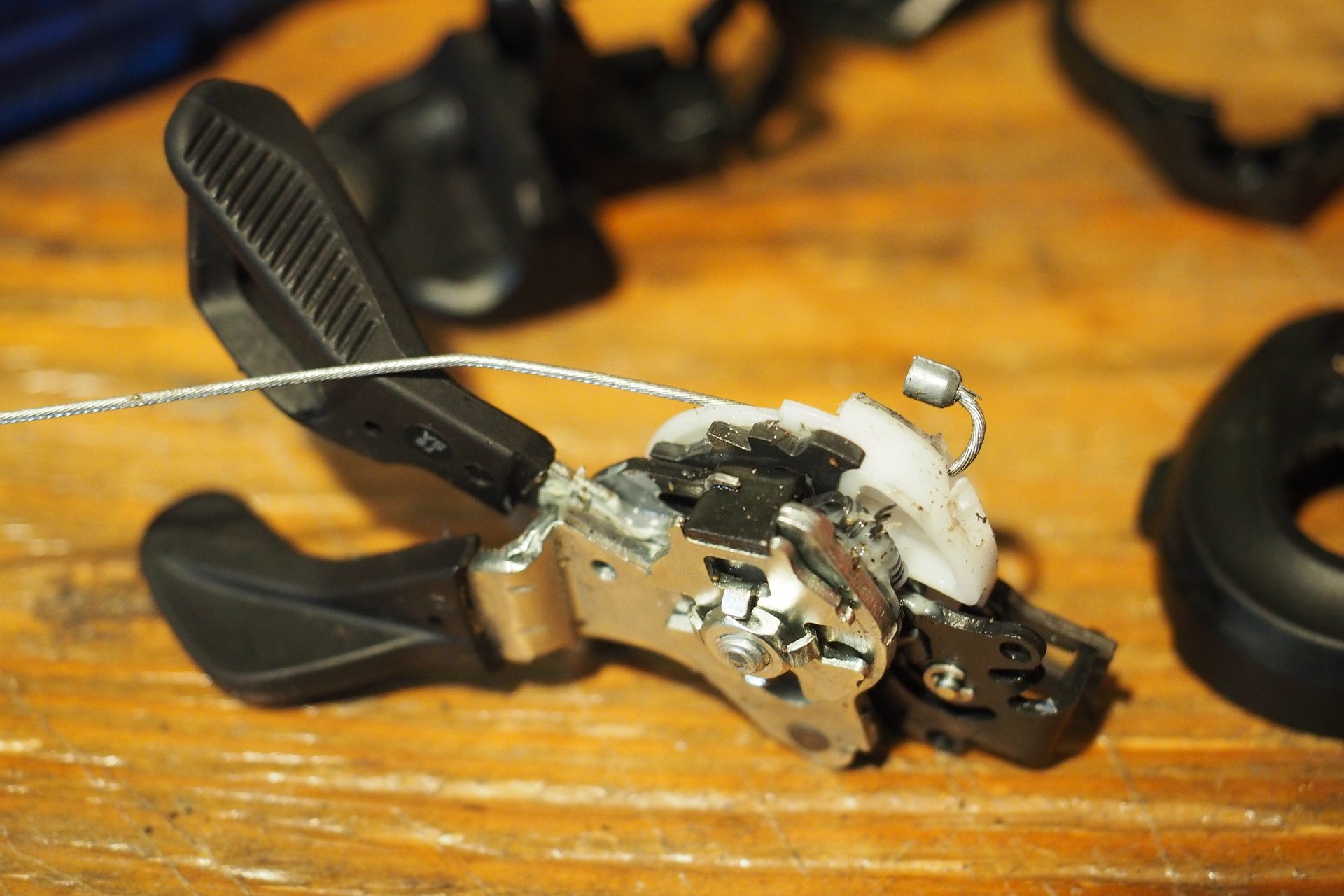 I took the shifter apart, removed the offending cable, reassembled it, and reinstalled it on the bike. It shifts as it did before with precision but not pomp. Between AJ's performance argument, my experiences with M8100, and this unexplained cable inconvenience I'm thoroughly convinced that that running an XT shifter with a Deore drivetrain is a perfect example of an investment in better performance and overall product experience.
Micro Spline
While on the subject of eating crow, I also have to say some good things about Micro Spline though I really do not want to. Frankly, Shimano has released the best driver for the worst reason. On the one hand, I really wish they'd stuck with the thirty-year-old, never did any harm, HG freehub standard over the addition of a 10t cog to their cassette. On the other hand, compared to the way cassettes eat aluminum HG freehubs or the vague installation of XD cassettes the MS system stays surprisingly fresh even against wear from those sharp, angry, independent higher-ratio steel cogs further down the cassette.
I'm not in any hurry to spend money changing out to Micro Spline drivers - especially not looking at the upgrade price for my Chris King hubs - but I'm going to begrudgingly admit that they do represent progress for those looking at a new bike with XD, HG, or MS.
Race Face SHI-12
I'm not certain why Shimano couldn't have just covered regular, Boost, and SuperBoost chainlines by swapping out rings like SRAM, Race Face, and others have done. But for whatever reason, they have not, and instead are manufacturing M6100 cranks with multiple spindle lengths and additional spacers to take up the room between the bottom bracket cups and the crank arms.
Thanks to the longer axle, the Deore M6120 Boost cranks that Shimano sent along for the build have a 55mm chainline and 178mm Q-Factor versus the 52mm/172mm of the M6100 that are compatible with 142mm rear spacing and some 148mm Boost spacing. Thanks to an even longer axle, their Super Boost 157mm compatible cranks have a Q-Factor of 181mm.
Does Q-Factor matter? It totally depends on the rider. I, for example, prefer a wider stance even to the point of swapping pedal axles to get one. Does chainline matter? Here on the North Shore where most riders spend most of their high-torque time in their lower gears having a more inboard chainline is an awesome way to reduce wear and load on a drivetrain.
I bring up the crankset for a couple of reasons. First of all, there is a plethora of SHI-12, 12-speed Shimano, chainrings available to fit any cranksets on the market. Don't worry titanium CaneCreek eeWings guy, even the SRAM 3-bolt standard is covered by the likes of Race Face and Wolf Tooth!
It's also the fact that Shimano isn't forcing OE customers to purchase their cranksets with drivetrains. There is lots of Race Face crank & ring spec showing up on 12-speed Shimano equipped bikes and this is a very good thing for a diverse, robust, bike industry. With everyone and their cousin making chainrings that work great with SRAM's EAGLE 12-spd systems, I'd love to see the other S-brand of drivetrains follow suit instead of continuing to pull a 90's Shimano.
My main reason for swapping to my personal Turbine cranks was to run 175mm arms instead of the Deore 170mm arms that Shimano provided, but for my own bike - where I'm paying for chains and cassettes - the chainline would certainly enter into the equation as well. I had a great experience using Race Face's SHI-12 chainring as well.
That HG+ Shifting
I have no proof that HG+ shifting was invented with e~bikes in mind, but they do have the power to turn what would normally be awful shifts into catastrophic failures by combining bad shifting underload with four times your maximum juice. Through months of testing, on two different bikes, in a wide range of conditions, I never once managed to have a bad shift.
I made plenty of ridiculous, stupid, disgusting shifts under load, that I would never put my own drivetrain through, in the name of science and despite being 'only' a Deore level drivetrain, the M6100 system performed flawlessly, before and after the shifter crapped itself. You can still feel that a bad shift is a bad shift, that an awful shift is an awful shift, and so forth. Hell, some of the shifts I put this drivetrain through made my wallet feel lighter until I remember the drivetrain wasn't mine. But, I had no dropped or broken chains and no pauses in performance.
Try and make good shifts. If you don't, Shimano HG+ absolutely has you covered.
I've seen a few bent cages from multiple levels of the new Shimano rear derailleur architecture. This isn't necessarily due to materials or design as much as how Shimano has roared back with tonnes of OE spec and also how long the cages are to accommodate their 10-51t 1x12 cassette setup. I was comparing a Zee derailleur (max 36t cog) the other day and it really puts in perspective how much longer a cage has to be to run a 51t low gear instead of a 36t.
I've smacked this M6100 derailleur off of enough stuff that I'm confident it's similarly durable to other Shimano 12spd derailleurs. The clutch mechanism came well lubed, is easily tuned, and shifting performance is very good. Like the cassette, I don't know that I'd justify the extra 20 USD for an SLX rear derailleur or a doubling in price to pick-up an XT. The XT is 40-grams lighter I suppose. I haven't tried every combination but to circle back to min-maxing, an XT shifter with a Deore rear derailleur and cassette is probably the winning concoction between feel, performance, longevity, and price. Based on my past experiences I'd be running the XT level chain as well.
I know why the SLX component group exists - hitting price points on complete bike sales - but I also don't understand why the SLX component group exists. Deore M6100 matches all its strengths, even looking at the four-piston M6120 disc brakes, and shares its one immediately notable weakness, which is the feel and performance of the shifter. Never mind the shifter issue I experienced, the performance of the M8100 XT shifter is just that much better.
In the spirit of min-maxing, especially given that the rear derailleur remains one of the most exposed and abused drivetrain parts, I would love to see bike companies finally ditch the upgraded-rear-derailleur program and instead deliver a difference with the shifter itself. Instead of an SLX bike, I would much rather see a Deore bike with an XT shifter and chain.
Aside from my shifter issue, the Deore drivetrain has been faultless and excellent generally for the price. It presents a first-time opportunity for bike companies to hit bike price levels giving up virtually nothing in shifting performance. That cash can go into better brakes, forks, tires, or even wheels where it's going to be much more noticeable than a few grams here and there. Aftermarket custom build on a budget? It's hard to argue with a crate drivetrain for about 300 USD including cranks, chain, cassette, rear derailleur, and shifter. That's more like 330 USD once I add in the M8100 shifter and it's another c-note to jump up to a Race Face Aeffect R crankset and SHI-12 ring but it still adds up to less than what some cassettes cost these days.
I know plenty of riders on M8100 and M7100 setups but have only met a couple of folks who have time on M6100 thus far and I'm very curious to see how other folks' experiences compare to my own. EAGLE and SHI-12 are battling for supremacy at the high end of mountain biking, but performance per dollar in a current 2021 drivetrain, my experience says that M6100/6120 is still the only drivetrain that matters.