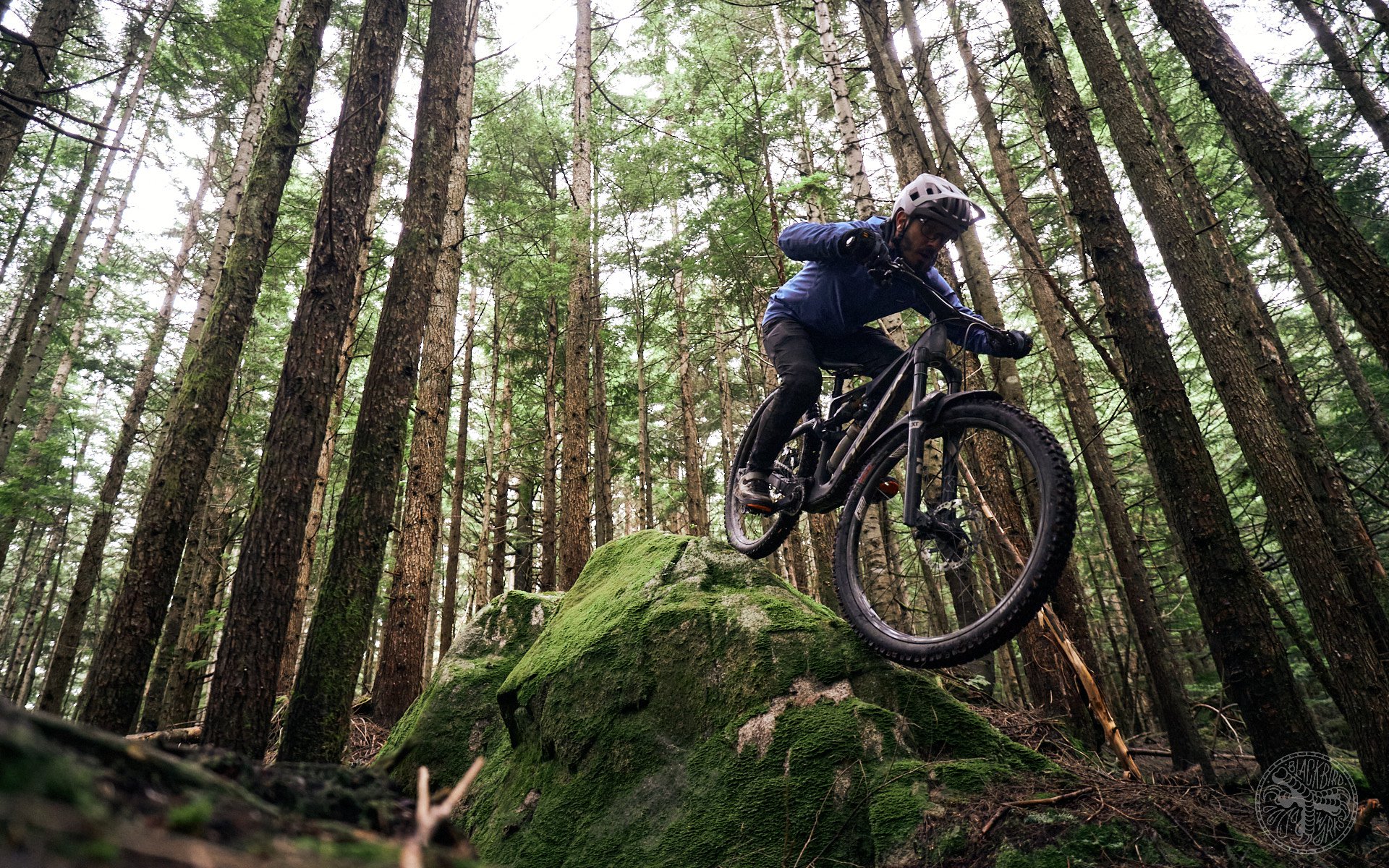 Review
DELIUM Tires - Rugged, Versatile, and Cheap!
Delium Tires Rugged & Versatile Review
It is not uncommon for random boxes to show up at my door. Some of them expected but forgotten about and some catch me by surprise. When a box containing tires from DELIUM appeared a couple of months ago, I was a little surprised. It must have been Pete, doing Pete things and signing me up for an adventure in grip uncertainty. Upon opening the box, I was slapped in the face by a smell of fresh rubber that tingled my speedy senses.
DELIUM it said, on the blue, unfamiliar label. Tire merchandising follows a certain colour coding principle and I failed recognize the palette I was presented with. Accepting this unknown, I did what any normal person would do with fresh rubber; I pulled out the kitchen scale to weigh the tires.
Few things in life are as complicated as navigating the tread patterns, rubber compounds, and casing matrices of tire manufacturers. It's maybe the only reason we still have people working at bike shops; helping us choose between EXOs and GRAVITYs and grips and gripes. Delium keeps things simpler and offers three casing options, each with its own rubber compound.
Light, All-Round, Reinforced.
Dual, Soft Triple and Extra Soft Triple.
Surely this will alienate some people, but there is something comforting about a number of options that doesn't mentally cripple the customer. Here on the North Shore we generally start the tire selection process by picking a compound, then figuring out what casings that compound is offered in. It's a luxury that Maxxis trained us for and it's not healthy. It drives the prices up as more and more SKUs are added to the list every year. We damn well know the chase for more grip psychologically influences the way we ride the bike. I first noticed this last year with my Teravail review. A tire with an impossibly hard compound opened up huge terrain for me even in the dead of winter. While most of the MaxxGrip tires felt dead in the frozen land, the comparatively harder rubber on the Kessels was seemingly unaffected by the temperature drop. When the temperatures rose and moisture levels remained high, the Teravails did not perform their best. I never had MaxxGrip envy during my time on them. I felt comfortable with my tire choice and rode anything and everything my peers did. The MaxTerra DHFs on my hardtail don't hold me back more than the lack of rear suspension. So at times I get confused about what tires to choose and suggest. And this realization got me thinking.
What if the OEM market wasn't entirely saturated with logos we are familiar with?
What if there were other players that offered similar or better performance products that I could bet my limbs on? Maybe even for less money.
Read on…
After weighing the burliest Deliums on the kitchen scale, I popped them onto my We Are One Unions without any fuss. Well, the floor pump couldn't seat them on its own so a shot from an air canister came in handy to loudly pop the beads into place. 4 oz of Orange Sealant later, I had a set of tires that looked as aggressive as a dude in an Ed Hardy Shirt. The Rugged option went on the front and the Versatile on the rear. The tread patterns looked familiar to the trained eye. The Assegai similarity of the Rugged and DHF/Verdict/Butcher look of the Versatile was comforting to me. I'm not sure how the in-house copyright people at Maxxis, Specialized and WTB feel about that but there must be subtle differences that navigate these copyrights while delivering expected performance.
Reinforced casing brings Extra Soft Triple Compound to the Deliums and that means that the Side knobs flex around at 42a rubber and the center knobs at 50a. They both sit atop a 60a base layer that keeps things in order and a Triple Zone Casing adds nice rigidity and damping. These are exactly the same numbers for the MaxxGrip. The 29x2.5 tires came in at 1257 g for the Versatile and 1293 g for the Rugged. These numbers are well aligned with the Double Down or Gravity casings from Maxxis. I was a little worried about having to spin these heavy tires up the hill for everyday riding. Upon leaving the driveway for the first ride, one observation was the lack of sound that dogs the MaxxGrip Assegai on tarmac. The familiar sound that resembles a lazy driver who leaves their winter tires on all year long. You can feel your soul leaving you as you grunt up the hill on suction cups.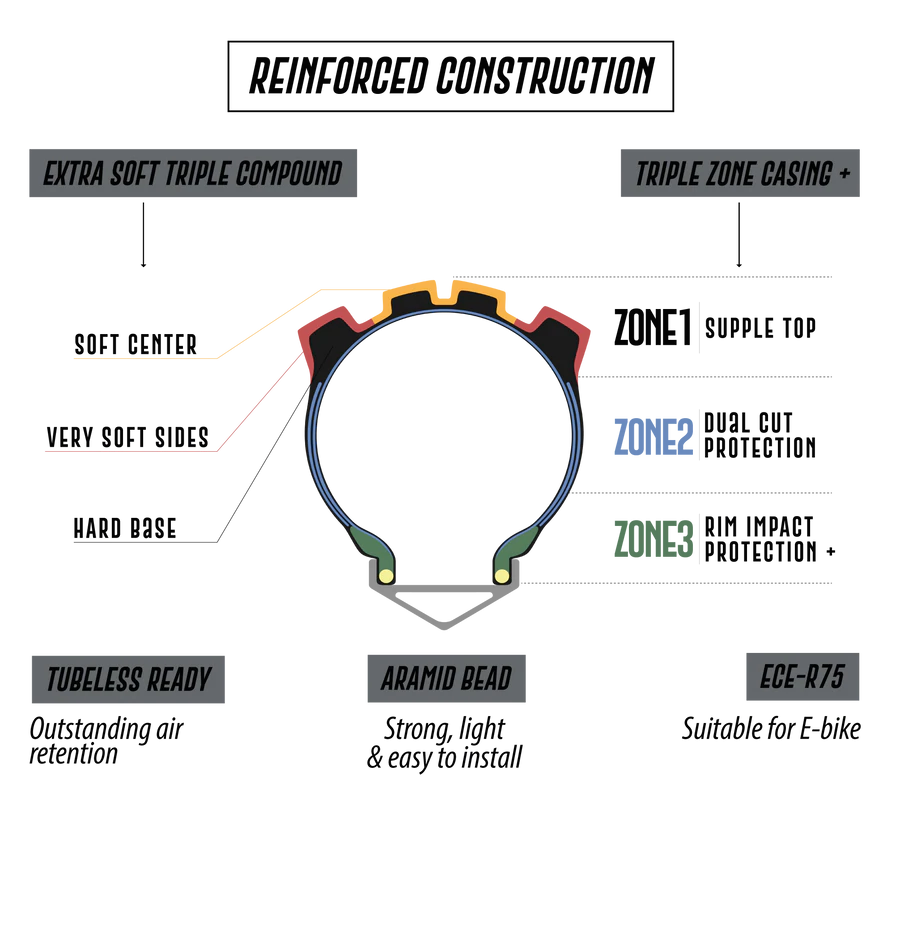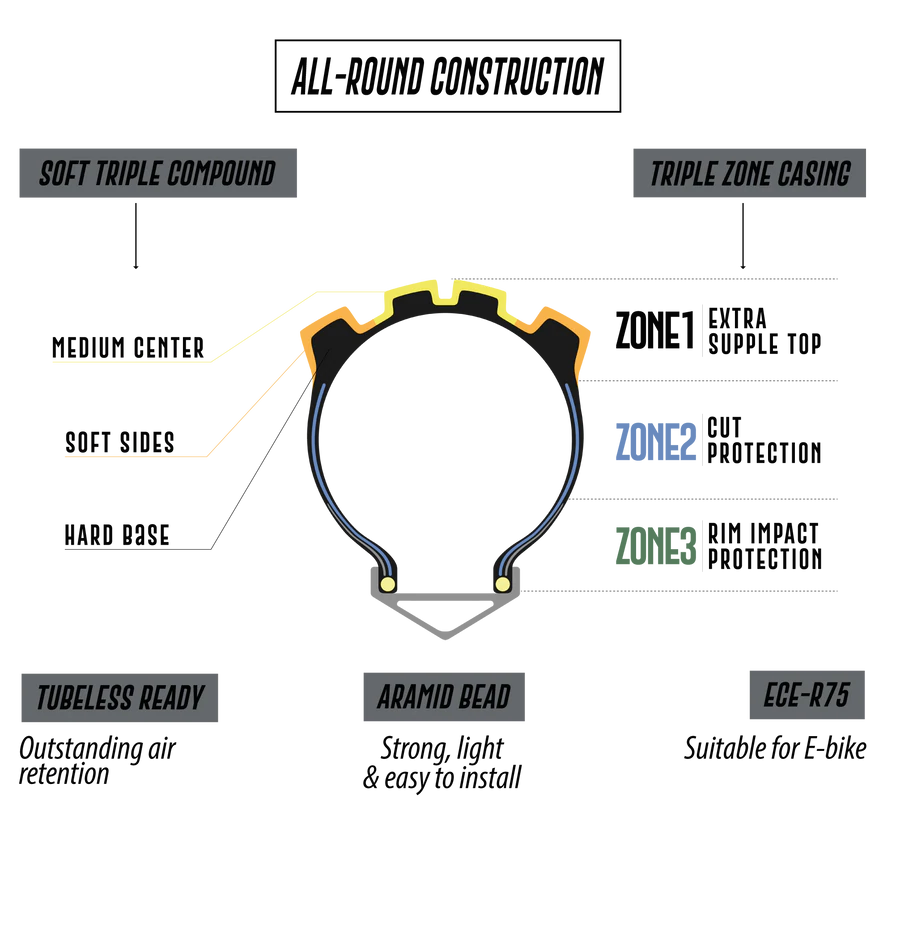 THE CONDITIONS
The 19 psi Rugged tire steered the bike in the direction I needed to go. On technical climbs, the mechanical grip was ample and I could shift my weight around without breaking much traction. Tires were installed on the test bike in early March and the weather has been anything and everything since. Hard snow, soft snow, slush, wet roots along with prime hardpack and moondust. I love testing tires during shoulder seasons to give them the chance to fail at every opportunity. On soft snow, I found the Rugged packed up and jammed the Mud Hugger fender I have bolted to my fork. There is no massive clearance to begin with and if I was rolling slow, the caked snow would pack up easily. This experience didn't fully transfer to the muddy conditions but mud to rock slab transitions required tapping the front end of the bike on the ground to shake some of the mud off. The 6 mm lug depth does wonders for cutting through soft ground and finding grip. Once cleared, infinite traction was on tap for creeping down the steepest lines.
I could push my 165 lbs on the front end hard into the soil and find the firmer surface under all the duff. The round tire profile allows for predictable lean angles. The transition knobs are right in the middle of centre and side knobs and do not require shallow angles to initiate turns. I would consider this an improvement over the Assegai transition knobs that I find sometimes to be floaty. Straight line braking traction is incredible. You can come into a corner as hot as you want and drop the anchors before leaning the bike in. No surprises either when you need to crawl down some steep, greasy slabs. Side knobs have great support under load and do not fold over under pressure. This comes in handy during hard cornering and negotiating off-camber rocks with anaconda-sized roots growing on top. I found the 19-20psi on the front to be the sweet spot for me. Having not bottomed out the tire at current speeds I feel no need to increase pressures. Mid summer pressures may increase to 22 if these tires last long enough
Inflated to 22psi the Versatile felt energetic and rolled along quite happily. On the rear it does everything DHF does while allowing for plenty of speed to clear jumps. I found I have been running slower than I wanted to with inserts in my tires, so I decided to do without them this time and use thicker casings. If I run 22psi in my insert-free tires, I found I needed to up my pressures to 24psi or more with the reduced air volume in the tires due to the inserts. Pumping in and out of corners with the 2.5" wide Deliums seems to generate enough speed to make the sketchy jumps that have been popping up all around the Shore. I still come up short occasionally and test the casing of the tires between the carbon rim and the rocks. So far no flats or burps. My luck may eventually run out at but the fruit is too delicious for me to switch gears now. The muted thud is all I hear when the knife meets to bone.
The Versatile rear breaks traction nicely but does not quite have the straight line braking traction the DHR II offers. Not by a massive amount but the rear fishtails a little more eagerly than with the paddle-like design of the DHR IIs. I think the Versatile would make a great front tire in the muckiest conditions with it's widely spaced lugs. The dirt would clear nicely and dual Versatile tire setup would descend predictably. I am not sure how the deep transition channel would affect the lean angles but I imagine one would need to ride the bike either very upright, or leaned all the way in. Alternatively, the dual Rugged option would also be very fun. For full gravity-fuelled days, the incredible traction these tires generate would be hard to ignore. I'm sure it would also pedal back up to the top without much fuss. Although I would prefer a faster tread pattern most of the time.
So are these tires any good?
Yes. Actually make that GREAT!
Am I a convert? I will definitely keep a couple of these in my regular rotation. You should buy yourself a pair to try out. This is the best part of this word jungle I've put you through. As an Indonesia-based direct to consumer brand shipping from the US, Delium's prices are quite reasonable.
You can go todeliumtires.com and grab yourself a tire in the $45-55 USD range and get it shipped to you well under what a DD Orange label would cost. This is the price point I'd like to see tires at for the next 10 years.
Here's what Delium had to say about tires for those of us in the frozen north:
Regarding info for Canada, for now as a temporary solution so Canadians can purchase, we have added shipping to Canada but it has been capped to $150 usd order due to shipping costs. So someone can purchase 2 Reinforced tires or 3 All-round tires or 4 light tires. Shipping is a flat rate at $18usd. Everything for now is in USD. We have added a note to the shipping for Canada to remind people that they may be subject to import duties. 
Delium is setting up a base in BC for purchases and hopefully will have cheaper and unlimited Canadian shipping soon.