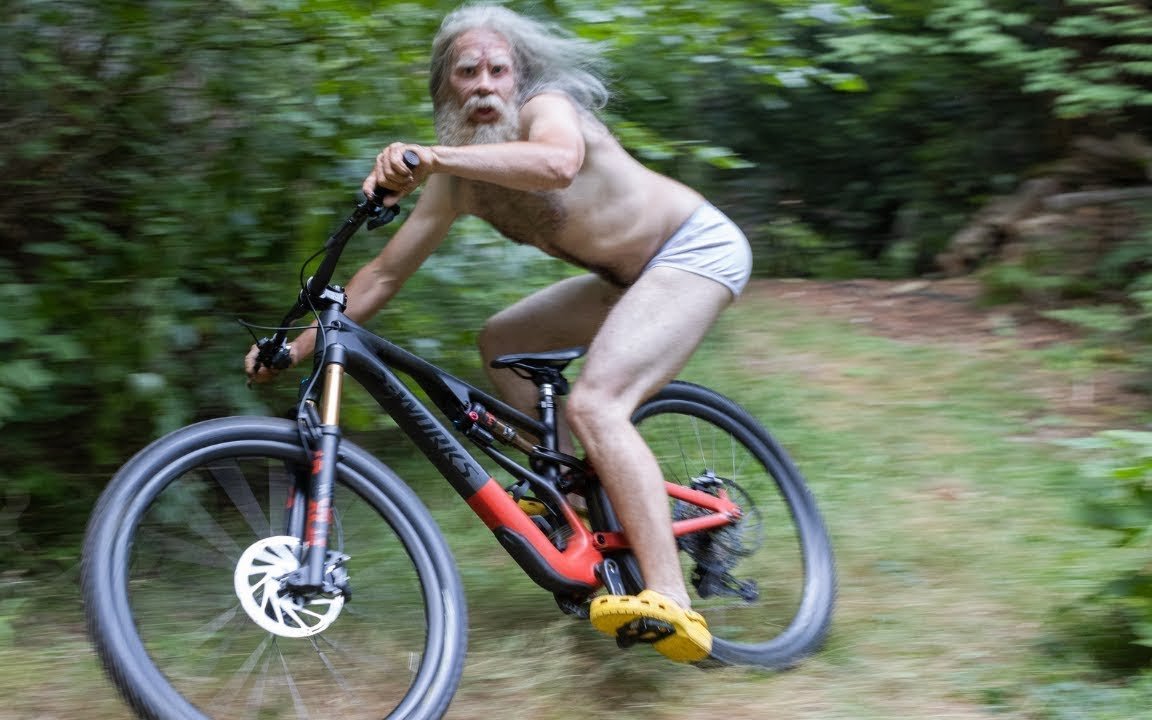 Beggars Would Ride
Deccessorization
Chris Greene, the unofficial mayor of Santa Cruz, was holding court astride the cruiser he had poached from a friend's backyard. His attire consisted of grey wool dress slacks and a dumpster-scored pair of topsiders, no socks, and nothing else. "These things," he said, gesturing with a nod of his majestic blond beard at the shoes, "they paid their way at the Crow's Nest last night. I was partying down with Dan Quayle's people!"
And with that pronouncement, our rag-tag assembly of likeminded fools set off on a 50-ish mile ride through some of Santa Cruz county's finest singletrack. None of the riders were astride anything resembling an actual mountain bike; there were 24-inch-wheeled bmx cruisers, old skip tooth Schwinn Panthers, some fine British town bikes replete with Sturmey Archer 3-speed setups along with chainguards and fenders (that would, as was always the case, be mangled garbage a few hours later), old 27-inch-wheeled road bikes stripped into fixies and a questionable array of other thrift store or trashpile sourced bicycles. This was not a mountain bike ride, even though it took place on trails, in the coastal mountains. Even by the standards of late 1990s mountain biking, we looked woefully ill-prepared for the day ahead. Bowling shoes for some, hunting vests jammed full of beer cans for others, headgear ranging from baseball caps to peaked golf caps to straw cowboy hats. But Chris Greene, the unofficial mayor of Santa Cruz, outshone everyone with his semi-naked sartorial elegance.
"Yeah," he continued, as we rode leisurely across town, "I haven't been riding much. Don't even have a bike anymore. Had to liberate this one from Sully's backyard. Been running a lot lately. Barefoot. There's just a lot less… product… involved, y'know?"
At the time, those words struck me as both odd and prophetic. This was often the case with the utterances of Chris Greene, unofficial mayor of Santa Cruz. He had a way of knifing through to the very center of things with an almost surgical precision of words. This ride, a once in a while gathering of friends that was known informally as "no gears, just beers" (Sturmey Archer 3-speed and Bendix yellow band 2-speed kickback hubs were plentiful exceptions to rules that didn't really exist), was a beautiful relaxation from what, for me, was otherwise a deeply ritualized and accessorized immersion in cycling. So, as someone who proudly wore skinsuits at least three days a week, who shaved his legs, who thought nothing of driving hundreds of miles every weekend to pay money and line up against a whole horde of similarly obsessive skinsuit wearers, it seemed odd to me that someone would want to strip away all that uniform/stigmata/tribal adornment.
But even then, I got it. I was already beginning to feel confusion at the splintering of the defining dress code. And, no matter how confident my strut was, it was always somewhat uncomfortable to duckwalk mid-ride into the bar in, say, La Honda, wearing an iridescent green/blue Lycra skinsuit, road cleats tap-tap-tapping delicately across the wood floor. Meanwhile, at the other end of the spectrum a new status quo was being drawn out by kids wearing baggy motocross jerseys and pants, getting shuttled in big trucks up through the mossback neighborhoods of Ben Lomond and Boulder Creek, emulating their new Canadian freeride idols in look and deed. Different uniform, similar adherence to the dress code of the tribe.
I was obsessed with everything about mountain biking. The rapid technological evolution that was taking place was fascinating, and I drank it all in enthusiastically. The dress code, well, I liked it. I felt like I was part of something. I wanted to look like a cyclist, to announce it to the world.
That was a long time ago. Nowadays, I feel the opposite.
On one hand, I feel like a fraud in comparison to my younger self. Younger me, he couldn't get enough of bikes. He ached to be woven into the tapestry of the sport and he barely had room in his head for anything else. He rode 15 hours a week, he raced every weekend, he worked at a bike shop, he wrote about bikes on the side. Now? If I can get half that much riding in a week I consider it a huge win. I have a garden to plant, gravel to spread on the driveway, trees to buck up, weeds to hack at, dogs to feed; a chore list a mile long. I think a lot about things like global politics and our climate – things I am absolutely powerless to do anything about, things that I used to never really give any thought to at all – and all that thinking kind of crowds out thinking about bikes. Younger me would think I am a fair weather cyclist, and he would be right.
On the other hand, I feel like bikes are finally nicely tucked into my life in a non-obsessive way. I don't resent the chores the way I would have back then. I get shit done. I miss the fitness, the snap in my legs, but I don't miss the knee pain, the constant sore back, or the 5 o'clock shadow on my quads.
And I find myself musing more and more about what Chris Greene, the unofficial mayor of Santa Cruz, said all those years ago, about… product…
Maybe this is the root of my thing for snap button shirts and unobtrusive pants. Increasingly these days, as I recede further from that phase when I would regularly flat out crucify myself on the bike, I find myself disinclined to don the uniform. Increasingly, when I want to ride, I want to just go. Not pack the gear bag, load the bike, get in the car, drive to the trailhead, do the parking lot superman act, kit up, faff about, make sure the eyewear is the correct tint for the conditions, carry the necessities to handle everything from flat tires to mild hypothermia, click into the pedals, bounce around the trails for some predetermined number of hours, then do the reverse parking lot superman, morph back into a civilian, drive home, unload all the shit, clean, tune, repair, blah blah blah, et cetera.
I want to think less about the bikes I am riding, and less about the gear I feel compelled to wear in order to ride. I even want to think less about riding itself. Rather than striving relentlessly to improve, to try and post up numbers that are somehow a measure of physical progress, to pay attention to that never ending dance of numbers, I want to will all that mental noise into silence, and ride. Just ride.
This is probably not the sort of laundry to air here, on a site about mountain biking, where one of my roles is to try and be discerning and critical about… product… A site where almost everyone is steeped in the same developmental tea as I was, and where people come to read about this kind of thing. But then again, maybe it is. One of Tyler Durden's many truly beautiful lines from Fight Club comes to mind: "Advertising has us chasing clothes and cars, working jobs we hate so we can buy shit we don't need, and the things you own, end up owning you."
In honor of Chris Greene, unofficial mayor of Santa Cruz, this is my current trajectory. Call it deccessorization. Nope, not a real word. But a real idea.