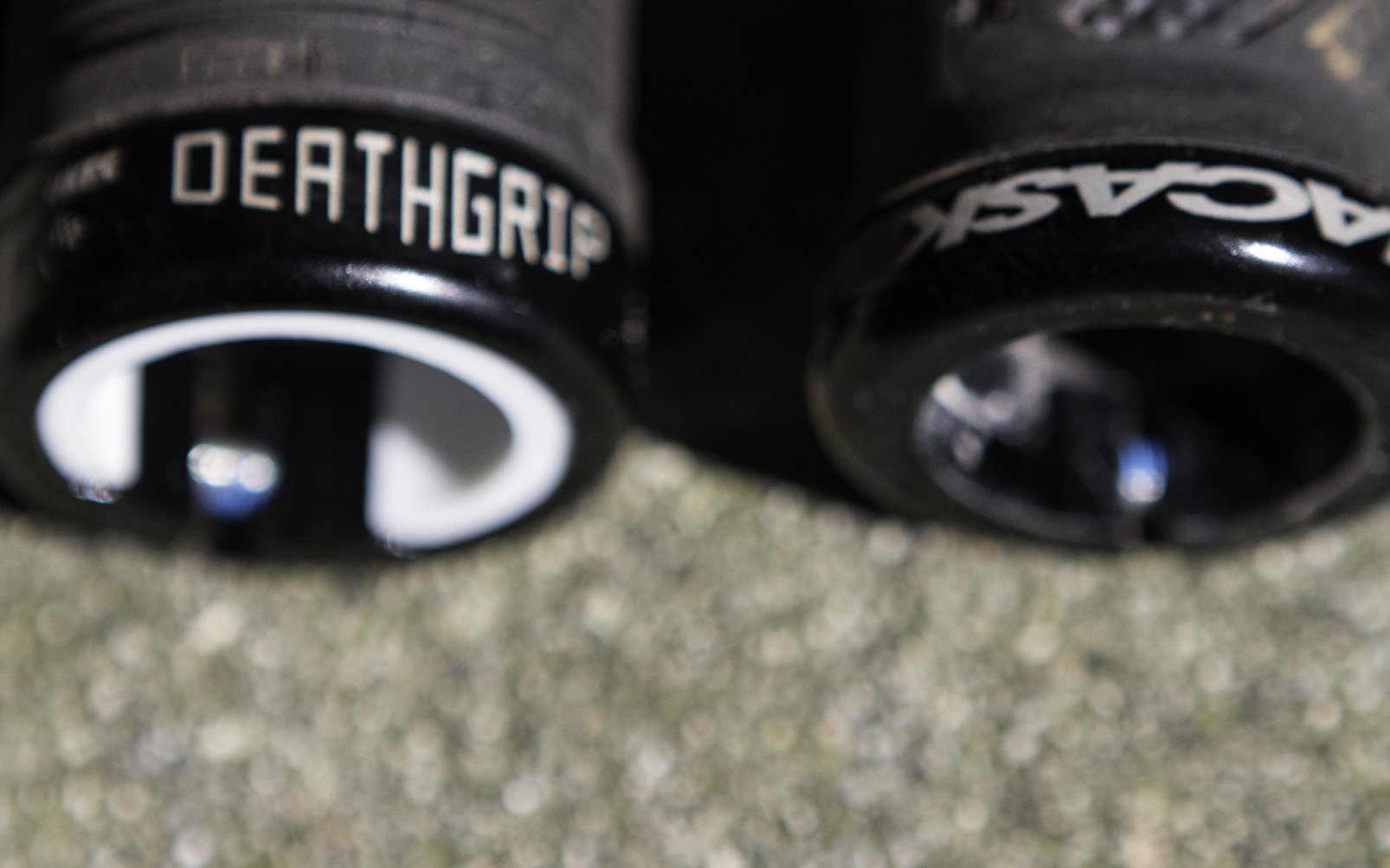 Review
Deathgrips VS. MacAskill Grips - Mano a Mano
Mano a Mano is something new we are trying. We often get asked by readers how products compare to one another, which makes a lot of sense, so here we go. The goal won't be for us to pick a 'winner' because our winner may not be your winner. Instead we'll compare features and let you know how we think they measure up after some significant time on the products.
---
Grips are often overlooked. It's likely that most riders, particularly early on, buy a bike and use the OE grips until they wear out. Handles are one of the most personal choices on a bike and there are many factors to consider; colours, pro-rider affiliation and of course weight. Not really. The factors that really matter are; diameter or thickness, softness, friction pattern(s), flange or flangeless, clamp system or push on and possibly width. Some riders would add shock absorbtion but since I have switched to thin grips I don't perceive much of that at all.
I have warm feelings for both of the grips I have chosen to highlight, but they are quite different in several ways. The fact that they are pro models for Danny MacAskill and Brendan Fairclough is kind of interesting. Each rides in a manner that should tear the bars of their bikes, let alone their grips. Based on their individual riding styles, they might know a thing or two about the best way to hold on.
Preference
Grips are as personal as underwear. If your fussiness doesn't mesh with my fussiness, we may not get very far. Hopefully, at the very least, there will be enough crossover to help you select your next pair. 
I like thin grips, but I used to like fat ones. One day I noticed that I was having a hard time holding on. As I recall my riding had taken a bit of a leap in the rough, fast and nasty department and in those conditions what used to work wasn't any longer. The switch made a huge difference. I like the convenience of lock on style grips and I prefer just a single collar toward the stem. I like a lot of friction. That stickiness can come in different forms. I have used mushroom pattern grips, like Lizard Skins' Charger, knurl patterns like the MacAskill, a dimpled pattern like Answer's Stein or a ridged pattern like Chromag's Squarewave. The amount of grip is not negotiable but the manner it's acheived is, as long as the rubber isn't too soft.
Lizard Skins MacAskill

Danny's lock on grip comes in one compound and pattern and several colours but you can get a push on for 8.99 USD or the lock on for 29.99. The man knows what he wants and doesn't waiver. The grips are nice and thin (29mm in most areas and 30mm towards the ends) and the knurl pattern provides lots of friction. These are not soft compound grips and I appreciate the way they instantly respond to my inputs. I haven't tried the push ons so results may vary there. 
If you've seen any of the outtakes from Danny's videos, or even many of the videos themselves, you know the man dumps his bike a lot. A particular maneuever may require 50 takes, which is going to be hard on a bike. Because of this, the plugs at the end of Danny's grips are made from a hard plastic that doesn't gouge or tear when it contacts dirt, pavement or rock. When the end of your grips split or core sample they are done so this is a nice feature. 
Sadly there is one detail Danny and Lizard Skins missed; the clamps are not mirror images of each other. That means one bolt will face forward, where it's easy to access, while the other will point backwards. Considering it looks much better and is more user friendly, there should be left and right clamps on a 29.99 USD grip. The clamps also use a 3mm head which isn't as robust as I'd like. It does allow the clamp to be tidy and small however. 

The MacAskill's are 137mm long and they weigh 88g a pair. Retail is 29.99 USD
DMR Deathgrips
These are named after the rad movie Brendan made with Clay Porter and the stylish logo is robbed from the film as well. These grips come in two compounds, two thickness and with or without flanges. For obvious reasons we were only sent the thin versions (around 29mm for most of the length and about 32 for the mushroom) and I have tried the soft ('race') compound with no flange and the hard compound with a flange. I normally prefer to avoid flanges because I sometimes like to climb with my hands over inside end of my grips and this isn't comfy with flanges. Unfortunately we weren't sent hard compound grips without flanges. 
The hard plastic sleeve on the inside of the Deathgrips is unusual. Rather than remaining consistent the entire length it narrows towards the end that surrounds the end of your bar. It tapers enough to require a rubber mallet or perhaps a shoe to knock it all the way on. That means that if your clamp comes loose your grips will likely stay in place. Getting them off requires a knock as well but it's easy enough to do. 
The wide clamps are a highlight of Brendog's handles. There is a left and a right, an intended orientation (Deathgrip logo up) and the clamp uses a 3mm bolt but with a more robust collar on the fitting. Besides the logo, the white on black graphics include the man's signature and the torque rating (2nm)

The grips take a multi pattern approach to friction. The top side of the surface from the end of the bar in is knurled similar to Danny's. The bottom adds a waffle for your fingertips to dig into while the last portion, closest to the collar, is mushroomed. 
I assumed, because of the pattern, that I would appreciate the race compound but I actually found it too soft. It felt indistinct, as though I needed to rotate my palms excessively before I could transmit force through the bars. I gave these a good week but it didn't get much better. The hard compound felt great right away and I haven't looked back. I'm not sure I love the mushroom portion because I always keep one finger on my brake lever. This doesn't give me much to squeeze against. It's not bad, but I might prefer the waffle to be a little stiffer or to be removed. I know some riders are big fans of this feature but the jury is out for me.

The ends of the Deathgrip are the same durometer as the rest of the grip. The hard plastic inner sleeve covers the end of the bar underneath but that won't provide any protection for the soft outer rubber. Hard plastic ends should be standard equipment on bikes made for rough play. That's where grips often fail. 
Toe to Toe
Compound - Tie
Clamps - Deathgrip
Pattern - MacAskill
Friction - MacAskill
Durability - MacAskill
Aesthetics - Deathgrip
Clamping System - Deathgrip
Weight -  MacAskill (88g) vs. DeathGrip (100g)
Length - both around 137mm
Price - The MSRP is about the same but the push on MacAskill's can be had for 9 USD.
---
These are both grips I would (and do) put on my bikes. They both do just what I want them to do, providing lots of grip, stabiity and control.  
You can find out more about the MacAskill grips from Lizard Skins here...
And about Deathgrips from DMR bikes here...