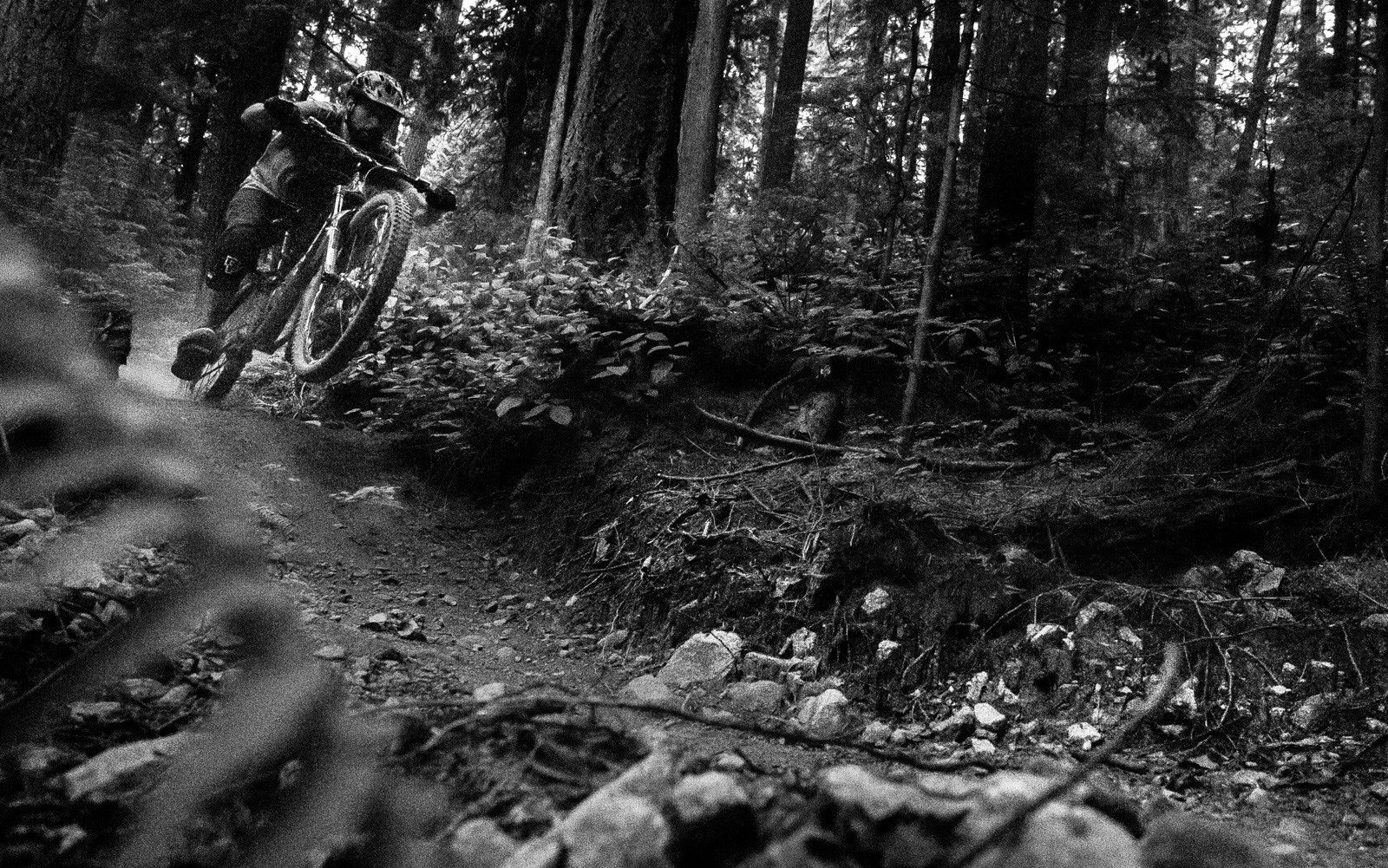 UNCLE DAVE RESPONDS
The Death of Plus Tires, Take II
Oh! So we're using people's words against them now, are we Mike?* We're going to take opinions that were formed and hold them up as beliefs that people once held? Okay. That's fine. This feels like a bold move for the guy with a 30 year writing career. And what is this place now? An infinite loop of dullness, where we all just write new articles commenting on previous articles posted on this very website? I look forward to your response, Michael! I'm already taking notes.
Yes, it's true. At one point I foresaw the widespread adoption of plus tires. I still sort of remember those days and how that felt. It's strange to think of a time when I was excited to talk to people and had something positive to say. I'm sure someday in the future I'll experience that again.
*If you haven't read Mike Ferrentino's column from last week, you might want to give it a look before reading any further.
Now, about that particular Specialized review. I mean…ya…I said those things. I think I was more excited by the idea of plus tires than of that actual bike. Seb hated it and I was the idiot walking around talking about plus tires all the time so it seemed logical that I should provide some sort of counterpoint to that. The Specialized was dropped off for me and I spent a month or two plonking around on it in some North Shore slop. And, actually, it worked pretty damn well in North Shore slop! That thing had gobs of traction and an ability to iron out slow speed chunder.
I also had this to say:
The tire set-up did feel a bit squirrelly at times, much more so than I noticed on the Scott. I didn't put in a whole lot of time on faster trails, but when the speeds went up or the pressure went down was when it was most noticeable. I'll mention it again – I'd really love to see a slightly smaller tire and a wider rim.
Which…in hindsight, I could have maybe been a bit stronger on. As this was one of the first reviews NSMB did on plus tires some thoughts on the general concept crept in. 3.0s on skinny-assed rims weren't the answer for many things other than slow speed North Shore chunder. After riding that bike I really wanted to ride more plus bikes. It's just that all these other bikes kept showing up without them so another opportunity never presented itself. I immediately bought one for my girlfriend though, and she has no interest in going back to skinnier tires.
You'll notice that I throw in a passing reference to a Scott in there, which refers to this article here. If we want to find the root cause of what got me all excited about plus tires in the first place, that was it. To briefly re-tell that story, I showed up in Utah to a fleet full of Scott bikes, and none of them were anything that I wanted to ride. There were no Gamblers, and the Voltage freeride bike that they had was clad in some skinny ass 2.3s. I did a few laps on a Voltage before begrudgingly hopping on a Genius with 2.7s.
The proof though, is in the pudding. While I scoffed at the idea of silly, wide-assed tires on a bicycle, the Genius was everything that the Voltage was not. I couldn't not have fun on that bike. Deer Valley was loose and rocky and that bike made the most of it. I fell in with a group of Kiwis and Aussies and the four of us rode around from first to last chair for two days like a bunch of teenagers who had just discovered the joy of masturbation. Yes, we had to fix an insane amount of flat tires, and somebody burped one pretty much every run, but it didn't seem to matter. It was a gooey, messy period of fun and discovery*.
Also, have a look at that bike. Take a really close look at the tires on that bike and the profile that it cuts and I would argue we're not all that far from where we are today. That 2.7 Schwalbe is closer to a modern 2.5 than it is to a 3.0 plus tire (if you squint a bit). If you really want to get in to why plus tires didn't make it, it's because we didn't need them any longer! Plus tires set the table for their own demise, and I think it is valid to argue that we got to where we are now much faster than we would have without them.
Think back to the first few years of 650b bikes. The industry jumped in on 650b, hard. By 2014, it seemed like nearly everything was 650b, but good luck finding a decent tire for that new bike that you just bought. Have a look at the 2015 Maxxis catalogue and gasp at the lack of choices. Unless you were running a full DH casing, there weren't many good ones. DHF or DHR in a 2.3? High Roller II in a 2.4? I remember at some point in 2014 Morgan handed me a worn out Ardent as an improvement on some piece of shit that came mounted on a test bike. An Ardent! Talk about desperate. Even with the benefit of hindsight it's tough to find a really great tire option in 2015.** For all the talk of wheel size it seems like we ignored a really important part of that conversation. Indeed, stressing about the minutiae of tire specifications feels like a fairly recent development. Back in 2015 we didn't even have the basics down.
Jump to 2016 and you've got all the new Wide Trail tires. DHFs in a 2.5 (plus multiple compounds and double down!) and DHRs in a 2.4. Those were the tires we needed! Those are the tires that many of us are still running! We all jumped so hard into 650b and it took until the very tail end of 2015 before we finally had some tires to do those bikes justice. Do we get there that quickly without companies making bikes with stupid wide tires?
Because of that, I think it's a little unfair to jump so wantonly on the grave of plus tires. Yes, 3.0 was a bit silly, but so was a single compound 2.3! You can't nitpick the faults of the plus tire while ignoring the faults of the rock hard 2.3 that it was up against. You can't judge the plus tire against the rich selection of treads, casings and compounds that we now have (not to mention inserts). So, as is always, context is everything, and the context is that in 2015, tires for 650b sucked. If my choice of 2015 tire is either a 2.3 or a 2.7, I'll take that 2.7. As several people pointed out in the comments of Mike's article, one could argue that would now just be called a "tire" and not plus.

Yes, we had to fix an insane amount of flat tires, and somebody burped one pretty much every run, but it didn't seem to matter. It was a gooey, messy period of fun and discovery.
As with any period of change, it's inevitable that you overshoot your mark before arriving at your destination. We can now laugh at the 3.0 tire, but it didn't exist in a vacuum. Plus-sized tires normalized wider tires and rims and helped to push the industry away from the piddly little 2.3s that were everywhere. Because of that, Mike, I think today should not be a celebration of the death of the plus tire, it should be a celebration of the death of the 2.3. There's a fairly strong argument to be made that the plus tire was one of the larger nails in that coffin.
And the funniest damn thing in all of this…I kind of really want to track down a set of plus wheels to try out on the Ripmo AF!
Sorry,
Uncle Dave
*From all of the sealant spraying all over the place.
**Somebody will chime in with a non Maxxis option here, and I'm not saying that no good tire existed. But this was what the most popular tire manufacturer in mountain biking gave us in 2015. If Maxxis didn't have it, chances are most of us stopped there and took what we could get.