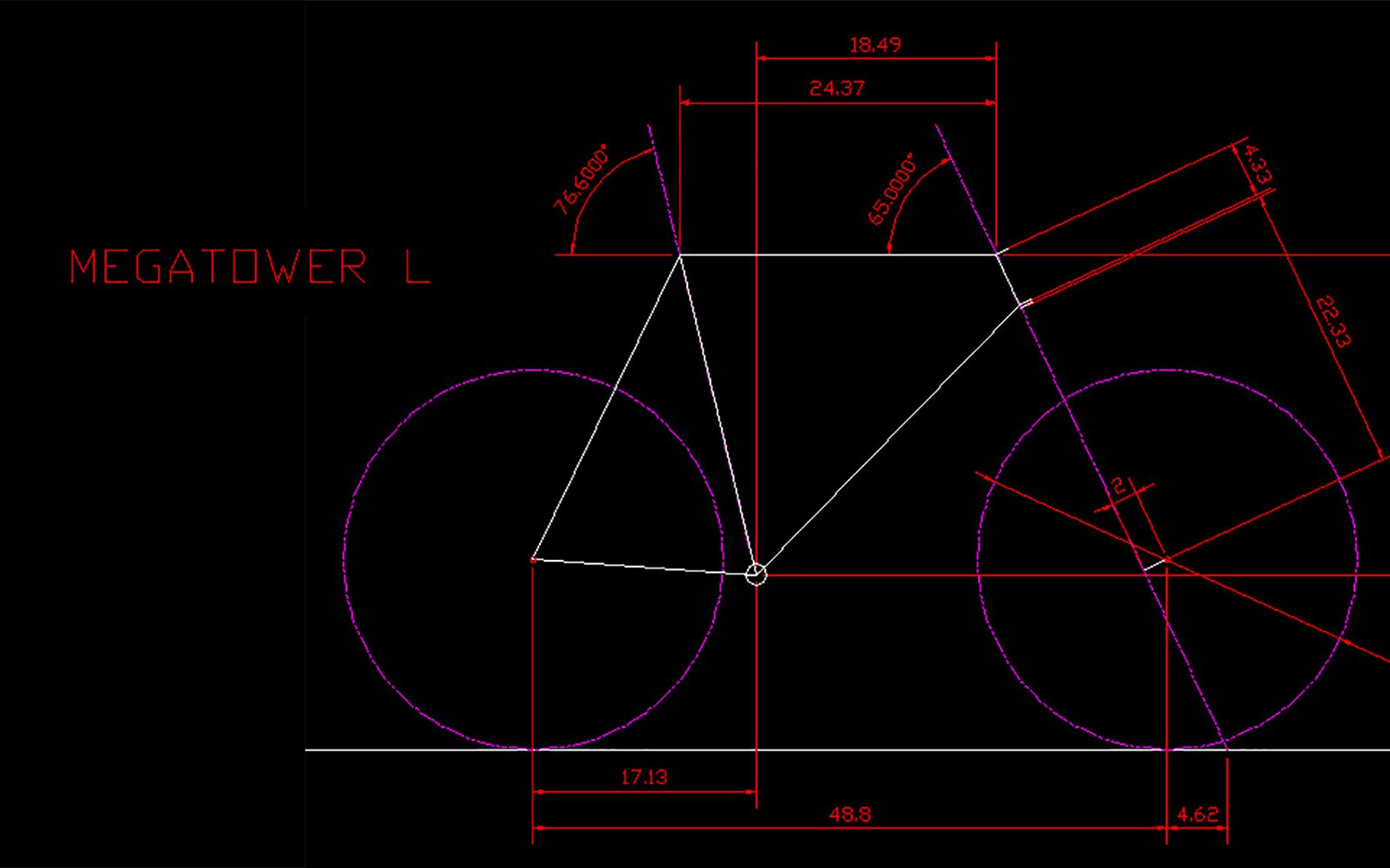 Ask Uncle Dave
Dear Uncle Dave: What's with all this reach and stack nonsense?
Okay...sooooo....oops? I made a bit of a mistake on the original article. I used the wrong fork offset for my Megatower offsets. I definitely searched for this information, but I got it wrong. It's possible that I searched for "Hightower fork offset" and used that? So, really, this is Santa Cruz's fault for their naming convention. Yah...we'll got with that.
Anyhow, drawings are now updated. Text is edited. I've added a couple of other things to better illustrate points. Sorry! (I mean it this time)
Dear Uncle Dave,
I feel lost. I thought I was finally starting to understand geometry. Then I went and demoed some bikes and the first bike I rode reinforced my poorly researched theories. The second one had geometry numbers that were between my bike and this first bike so I thought it would be somewhere in the middle. But no, it felt totally cramped. On the first I felt like I was in a nice aggressive position, but on the 2nd I felt like I was on a 2001 era "north shore" bike with a 180 mm reach, 680 mm stack and 600 mm bb height. I went back to my bike, then back to the 2nd bike and it still felt shorter and taller. I went home and compared the numbers again, but it only confused me even more. It should have felt longer than my current bike but instead it felt shorter. I feel like I can no longer trust reach or stack or seat tube angle are any of these other hocus-pocus ideas. Is it all just made up marketing gibberish or did I miss something? Could it just be this one company posting bogus numbers? Please help.
hugs and kisses,
Geometry is Hard
---
Dear Huggies:
Your question got a few people around the old NSMB watercooler pretty excited. I wasn't one of them, but I'm always keen to play ball. As I dove in, I start to get a bit more interested as this is actually a pretty complicated question. But of course, as soon as I needed a bit more information from you, you decided that this was more of a "take" than a "give" sort of relationship, so we never did discover the 3 mysterious bikes you were discussing. Which is fine, really. Just fine.
Anyhow, this is something that we've all heard, and experienced, before. Two bikes that look the same on paper, but that somehow feel dramatically different when you ride them. For an example, we're going to use the experience of our own Cam McRae to discuss this phenomenon. If you all remember, Cam discovered the gospel of larger bikes with his review of the Santa Cruz Bronson. And then came back down to earth with his first ride of the Santa Cruz Megatower. And now is gushing about a Large Yeti.
All of these bikes look relatively similar on paper, other than the differing wheel size, travel and intention...And we'll throw the Jeffsy 29er into the mix as well, as that's a somewhat similar bike that Cam has been spouting the XL gospel about as well.
So, I took those 4 bikes, fired up the old Autocad (2002, if anybody is looking to understand what cutting edge tools are necessary for such a scientific analysis) and plotted them out to see what we could find. Prepare for some spectacular graphics.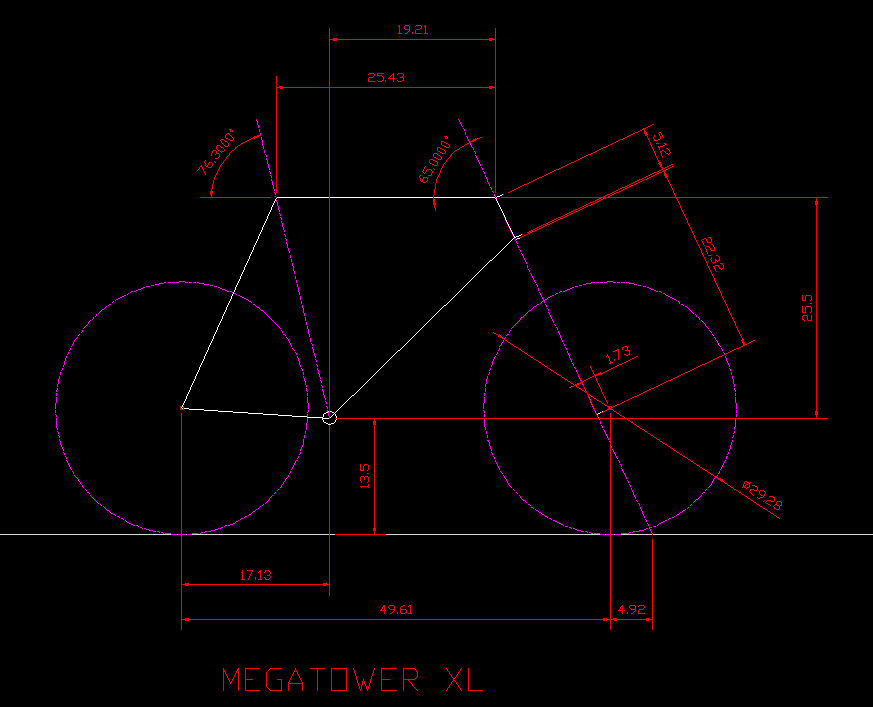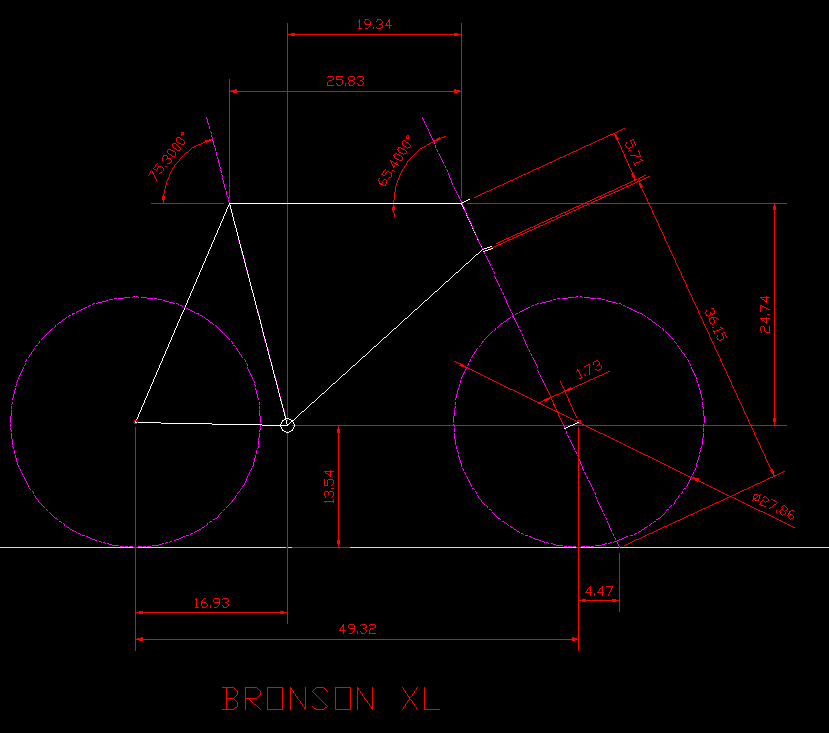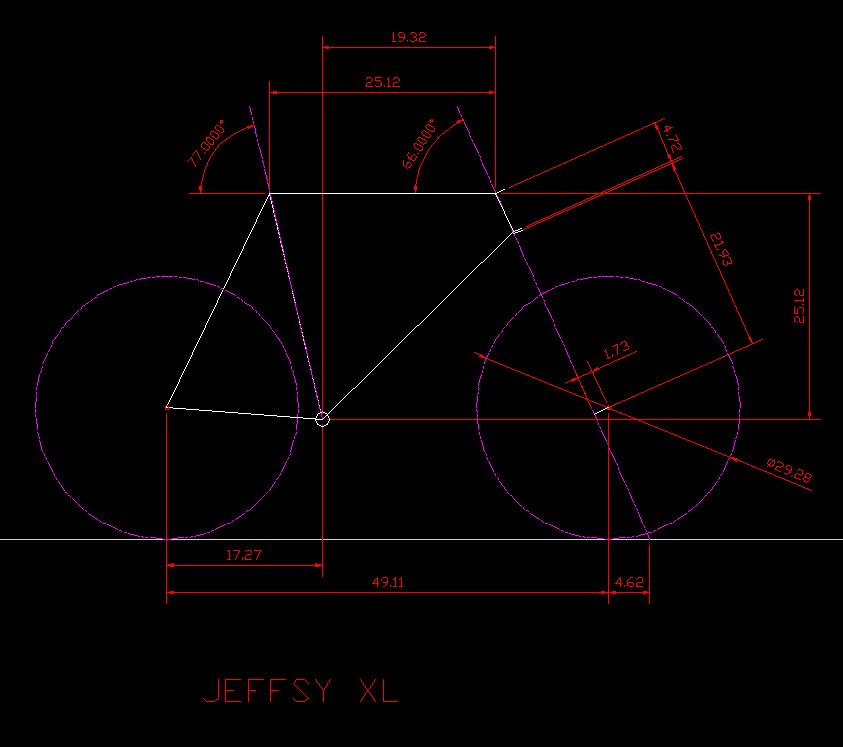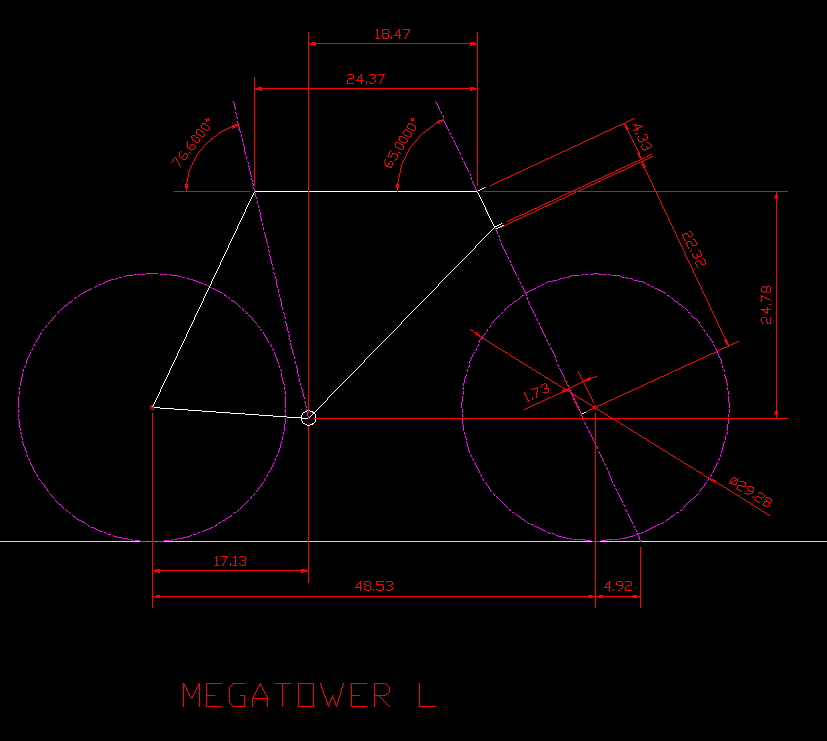 From this, we learned a few things:
My Autocad skills are amazing! My crop skills are subpar.
If modern bikes were built like old school road bikes, they'd look pretty weird.
I built my models using the classic dimensions (top tube length, bb drop, etc). My reach/stack numbers follow from that, and therefore don't exactly match up with what the manufacturers are stating. This is most likely due to differences in fork length and headset stack...but the numbers here are pretty close to those given by each company. (edit - the intention with doing it this was was to double check that the reach/stack measurements from the manufacturers made sense, and that there wasn't some error there that was the cause of what Cam was seeing. They did, and it wasn't)
From a distance, all four of these bikes look pretty similar.
So, nothing really stands out from completing this exercise. We haven't seen anything that isn't on the geometry chart, but we've at least proven the numbers for ourselves. Let's see what happens when we overlay the bikes (bb fixed on the same plane).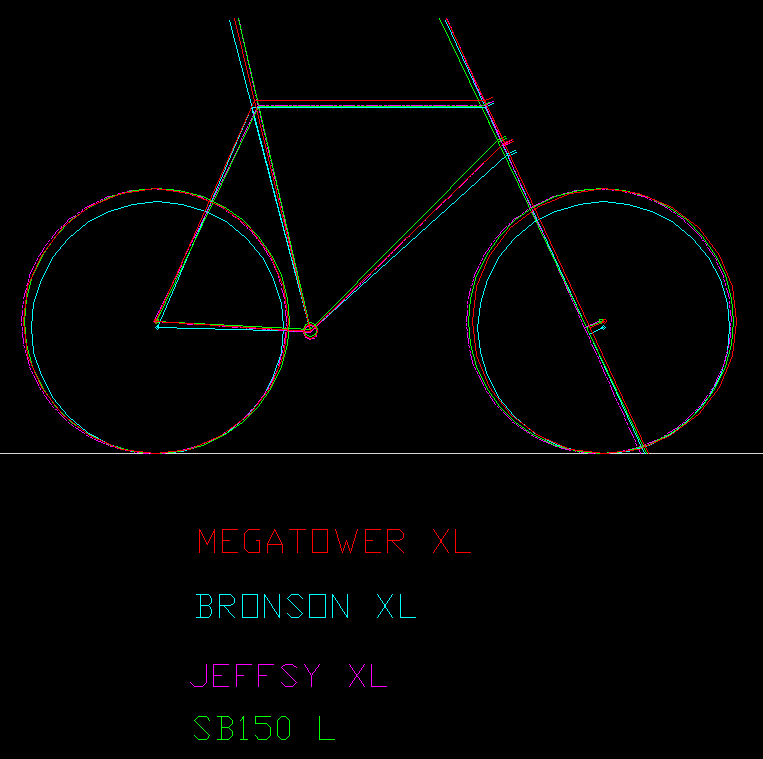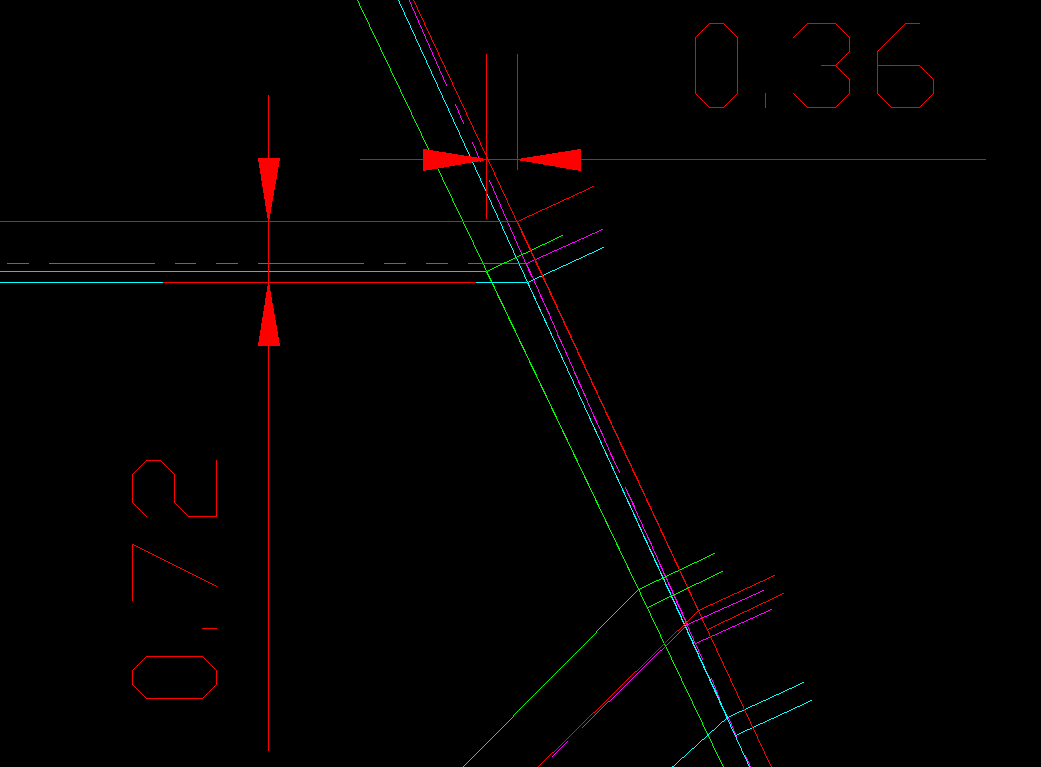 This is definitely a lot more interesting. For me. The Megatower (edit) seems to be the largest (highest stack for sure, and close to the longest reach). The Yeti is the tightest (shortest top tube and reach, plus the steepest seat tube). The Bronson has the slackest seat tube and shortest stack. The Jeffsy floats in the middle. You can start to see how the Megatower might ride larger than the other bikes. All four bikes intersect fairly nicely at the head tube (edit) and wheelbase, and you would think there would be a lot of consistency between how these bikes fit. (edit) Indeed, there is only 0.36 inches (9 mm) difference in reach between the XL Megatower and the shortest bike, and 0.72 inches (18 mm) in bar height (not stack, as the BB heights aren't lined up).
What happens when we do the same comparison with the L Megatower (with everything else kept the same)?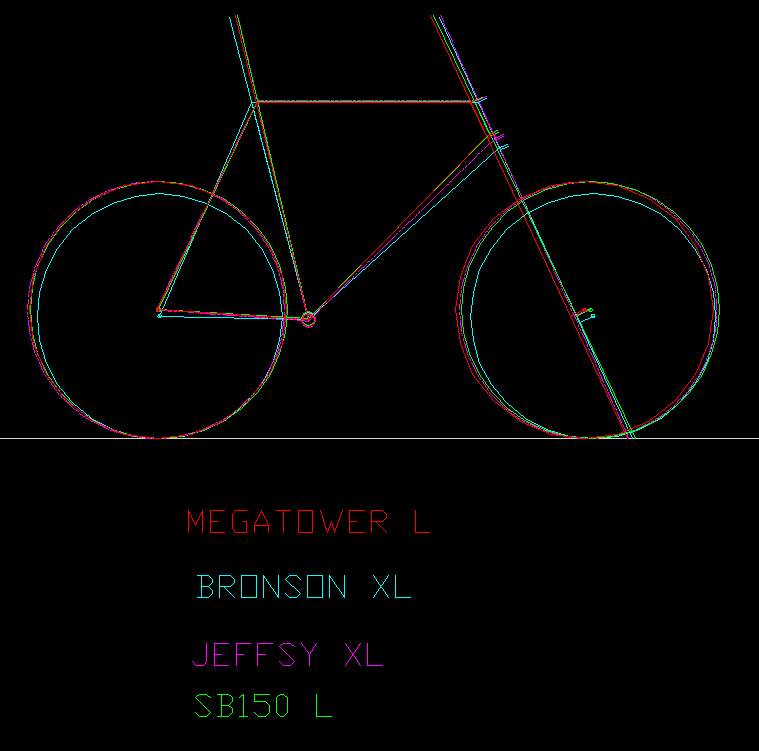 This is also fairly interesting. You can see that the L Megatower shortens up considerably, but (edit) stack comes into better alignment. Indeed, there is now a bit more spread on reach, as the L Megatower is the shortest bike (0.87 inches/22mm between the Megatower and the longest) and the bar heights are much tighter (0.22 inches/5.5 mm from the Megatower to the tallest).
It doesn't slap you in the face that the guy who liked the XL Bronson and Jeffsy would feel more at home on the L Megatower...but you can also just squint a bit and start to see some kind of argument for it. This is why people get angry at one another on the Internet.
So. What is our takeaway from this? Beats the hell out of me. But if forced to make some sense of this:
1 - When we're talking about "fit", we're not really talking about "fit". All the above bikes "fit" Cam, they just ride a bit differently.
2 - If you just shop reach and stack, you might wind up being disappointed. Offset, wheelbase and a whole bunch of other things are going to have an impact on how a bike feels as well.
3a - If you get this "wrong", it's probably not going to be the end of the world, as long as you're within one size of where you think you should be. Probably.
3b - Or...if you get this wrong, it's going to be detrimental, and you're going to ride like crap until you get on the bike that is the right size for you. Maybe.
4 - Even guys who get to ride whatever they want, in whatever size they want, whenever they want, still can't always figure it out exactly.
5 - I'm not totally sure that I believe this myself, but it feels like something that could be true and that maybe needs exploring...but is it possible that the more aggressive the intention of the bicycle, the more likely it is that you might be drawn to a smaller size? The Megatower and SB150 are both pretty aggressive bikes that you need to be on top of...maybe that extra length is a bit too much (for some) when you throw everything together?
6 - It's possible that none of us actually know what we're talking about, so you probably shouldn't worry too much about what people are saying about bike fit. Buy the one that you think is comfortable. Consider that some people are enjoying bikes that are way, way longer than what they used to ride and are getting enjoyment from that. But others are exploring these worlds and retreating to slightly more familiar pastures.
Sorry,
Uncle Dave
---
Uncle Dave's Music Club
I've been slow on the shows lately, but had a few on the go this week. They both managed to blow the doors off in their own special way.
First up, Kevin Morby, who we've talked about a few times here, and who I'd never before managed to see live. He's a flamboyant showman, in his restrained indie rock sort of way. It was enjoyable, but the new album is...a departure. We'll leave you with this one here, as I haven't listened to it enough to find anything else.
On the opposite side of a similar spectrum is Jenny Lewis. Jenny Lewis, who manages to seductively sing about the darker sides of life, and can quietly and beautifully blow the doors off. It was raucous! I've been meaning to talk about Jenny Lewis for quite some time, and then she went and launched a new album and showed up in town, so it seemed like it was finally time.
Congrats Huggies! This week's prize is a monogrammed prize pack from Lizard Skins. Well - the grips will be etched with the message of your choice (up to 14 characters). Also included is one pair of gloves of your choice and Lizard Skins frame protection. Send us an email and we'll get you hooked up!
Got a question for Uncle Dave? Send it along to him here. Next week (or the week after), the reader who successfully tickles Uncle Dave's answer bone will win a 10 L Hydration Pack from Hydro Flask's new Journey Series.