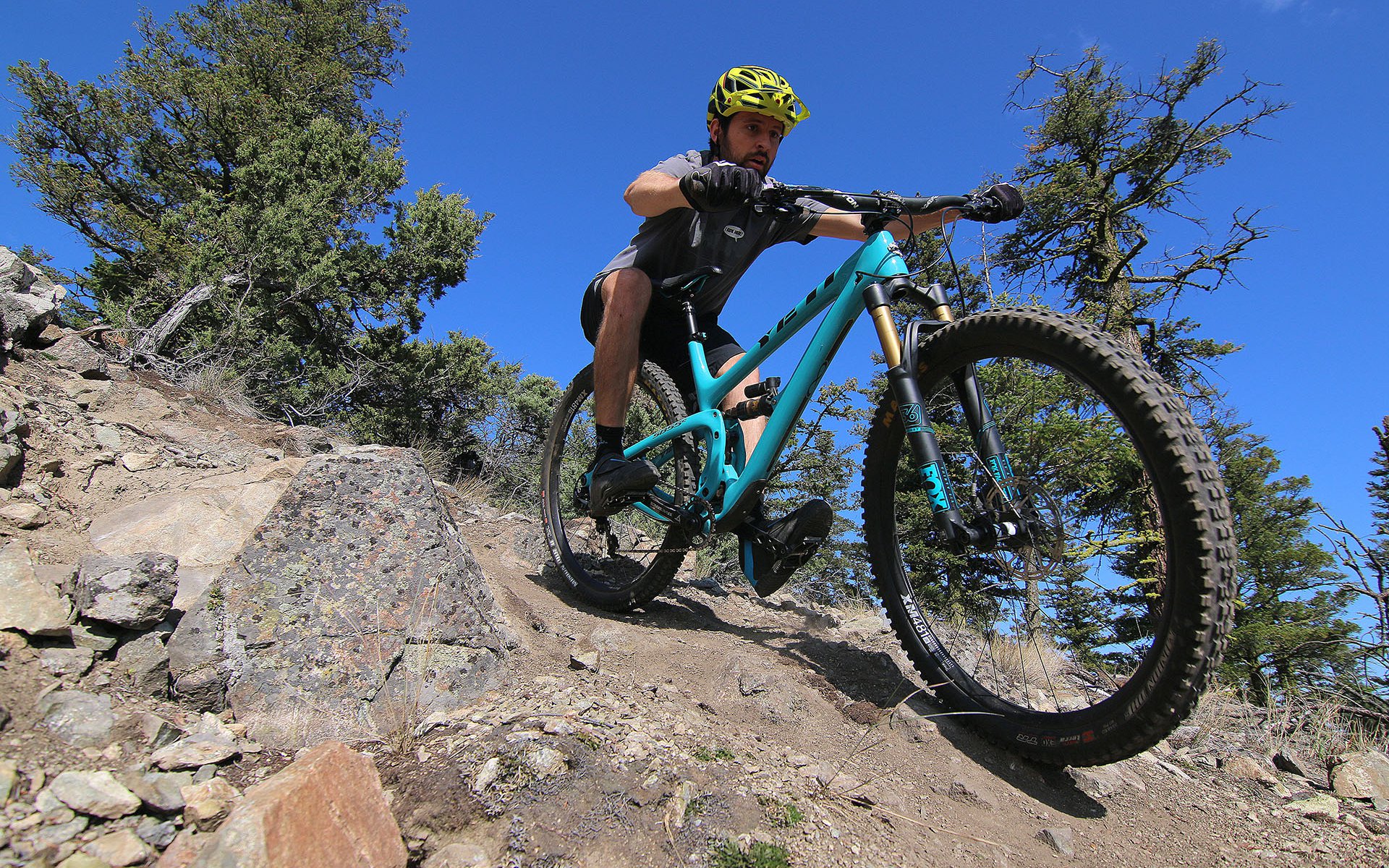 EDITORIAL
Dear Uncle Dave: What happened to "ride don't slide"?
I grew up riding in a time when magazines bombarded you with a healthy dose of "ride, don't slide". Each and every issue, every month, always had at least a page or two talking about the rules of the trail. I would imagine some of this was to pad out the page count, but even so, it did shape the way you thought about a trail and how you rode it.
Even with crappy brakes, steep headtubes, narrow bars and a seatpost at full extension, the guilt was so ingrained that you felt a bit terrible if you even momentarily locked up your brakes on the steepest of your local hills. Back then, it was more about noobs locking up their rear wheel at the slightest hint of danger, and not about throwing a two-wheeled drift through a corner. Indeed, it was developed at a time when we couldn't imagine the speeds we would hit or the control we would one day achieve. But of course, like any good catch phrase, it was about more than just its literal meaning. In a few words, it told you all that you needed to know about respecting the trail, and maintaining our tenuous right to be there.
Part of it might have been that every trail was indeed a precious thing. We didn't have vast networks of purpose built trails, carved out by giant machines or armies of volunteers (more likely, just a lone, rogue weirdo). There was definitely no Trailforks, and there probably wasn't even a guidebook that covered your local trail network. Every trail discovered was a prize, and treated as such. An atmosphere of respect was natural. And because the bikes sucked and nobody else was out there riding them, what drove us out there in the first place was almost entirely different. You were more likely to start riding a bike to experience the trees and to get away from the people, which then lead you to discover how fun these things were. There were no readily available videos to tell you that you were riding slow and kind of sucked. It was a different perspective.
Maybe this is what it means to get old? You stop giving a shit about what is new and you start wondering why nobody cares about the disappearance of what is old. I can see both sides of this. If you look at what exists now, and how prevalent bikes are, it's hard to imagine a world where that wasn't always the case, and difficult to listen to some asshole talking about it. I know that I take it for granted that I can now drive in any direction and find a well-established, bicycle primary set of trails.
This is unquestionably great, but at the same time, I think we may have lost something. As our sport has grown and our influence has gained, our attitude has changed. Somewhere along the line we've moved from a place of privilege to a place of entitlement. With some, it seems like there is a general sense that we can do whatever we want out there, with no regard to consequence, and no thought to others.

Part of it might have been that every trail was indeed a precious thing. We didn't have vast networks of purpose built trails, carved out by giant machines or armies of volunteers (more likely, just a lone, rogue weirdo). There was definitely no Trailforks, and there probably wasn't even a guidebook that covered your local trail network. Every trail discovered was a prize, and treated as such. An atmosphere of respect was natural.
I'm struggling to figure out how that happened. When did our attitudes shift? When did it become less about respecting the trail and more about slaying the trail? Maybe in our shift from print to web, we lost that monthly reminder that we needed to not be assholes out on the trail? Maybe our need for likes outweighs our duty to, first and foremost, preserve the very thing that allows us to be out there in the first place? Or it could be that our caffeine saturated bodies no longer have the fine motor control necessary to feather a rear brake without locking it up? Whatever it is, many no longer seem to give much of a shit.
Part of me wants to put some of the blame on bike parks. Anybody who has ridden a decent bike park can probably remember their very first day at one. That feeling that you were getting away with something. That it didn't really seem right that you could hammer out so many downhill miles without having to climb an inch, and then realizing that it was possible to exhaust your body in a completely different manner. We were like high school kids, experiencing our first taste of freedom, without the hangover or the puke stained clothes. It changed the way we thought and the way we rode.
Maybe though, it was just "freeride" in general. All of a sudden, it wasn't enough to keep our fun down to a dull roar. We had to crank it to 11 and if something didn't create at least a small possibility that it might kill you or an innocent passerby, it probably wasn't worth riding. Everybody was a trailbuilder and it took a government agency equipped with a bunch of chainsaws to put our wheels back down on the ground.
More likely though, it's just the action sports industrial complex in general. We've long grown tired of watching videos of people riding the trails that we ourselves ride. We've moved to a point where our entertainment requires nothing less than a pristine, snowboard sized kicker, massive berms and gallons of roost.
When placed within this context, it all starts to make sense. The bikes are faster. The trails are better and exist in greater number. The skill of the riders is evolving at a breathtaking pace. We can film it with cinematographic clarity with our phones, upload it to the Internet, and then watch it on a different phone, all from the comfort of our toilet (parts B and C, anyhow). It shouldn't be a surprise that as we've grown and taken on more and more and more, a few things have disappeared along the way.
These are not exactly new thoughts. Every time I watch a video where dirt gets thrown or some grassland gets plowed, I feel a tiny little tinge of lurking sadness. None of this is exactly new, so it feels weird that watching videos of dudes blowing up berms on Instagram hits with such ferocity. Like it's personal, or something.
I know this probably all started out with good intentions. It was most likely some pro, somewhere, railing some berm with noble intentions. And then some other pro built on that and so forth. The inspiration from those videos trickled out and now we have dozens of yahoos that have decided to throw some dirt into a berm, then ham-handedly #schralp through it before skidding to a stop under the weight of their own congratulations. It seems physically detached from actual trail riding, and I can only imagine what inspiration the second-tier yahoos are going to take from this crop of videos. I predict that relatively soon we're just going to be watching some shirtless guy guzzling a beer while throwing dirt from a corner into the forest with a shovel.
I think the most surprising thing, for me, is that this is something that people are bragging about! This feels like when some kid posts a video of himself driving 250 km/hour on a crowded highway. Except instead of showing up to arrest the kid, the cops are in the comments telling the kid how amazing he is and shouting down anybody who asks questions about what is happening.
This feels like one of those times where we need to evaluate how we got to this point. We can debate the need for and merit of throwing a bit of roost, or sliding a bit of tire. But as it crosses a line towards wanton trail destruction just for the sake of it, it feels like we've gone too far. I think. It's possible that I'm just some old nutter confused by things showing up on his computer, rather than some old bastard passing on some hard-earned wisdom. It's hard to tell sometimes.
Regardless, I'm pretty sure that we need to start thinking about our trails a bit more, and we need to start treating them with the respect that they deserve. We can't all just go out there and do whatever we want. We can't decide that skill and awesomeness trumps all. At some point, something greater than a small minority needs to take responsibility for what is happening out there, or we're not going to like the consequences.
Sorry, Uncle Dave
---
Uncle Dave's Music Club
After wearing out my hard drive listening to Monomania, I found the last Deerhunter album to be a wee bit depressing, due to its lack of awesomeness. The new one, Why Hasn't Everything Already Disappeared isn't quite a return to form. But it doesn't suck! For this week, that will be good enough.
Rather than Ask Uncle Dave, this was a little more like 'gather round, Uncle Dave needs to rant a little' but really, all that was missing was the question that normally gets him fired up. For next time, we want a question from one of you - and we've got a little incentive: SQlab is going to provide one of their new 6OX saddles to one lucky winner. That means that after measuring yourself with one of SQlab's at-home fit kits to figure out your correct saddle width, they'll send your new semi-custom saddle to you, just in time for Spring. With a form fit shape for most sit bones, a raised back for pedaling support, and perineal relief, you'll have a comfortable start to your riding season, even if you've spent all winter watching MTB Roost vids. Send those questions in right away to askuncledave@nsmb.com.