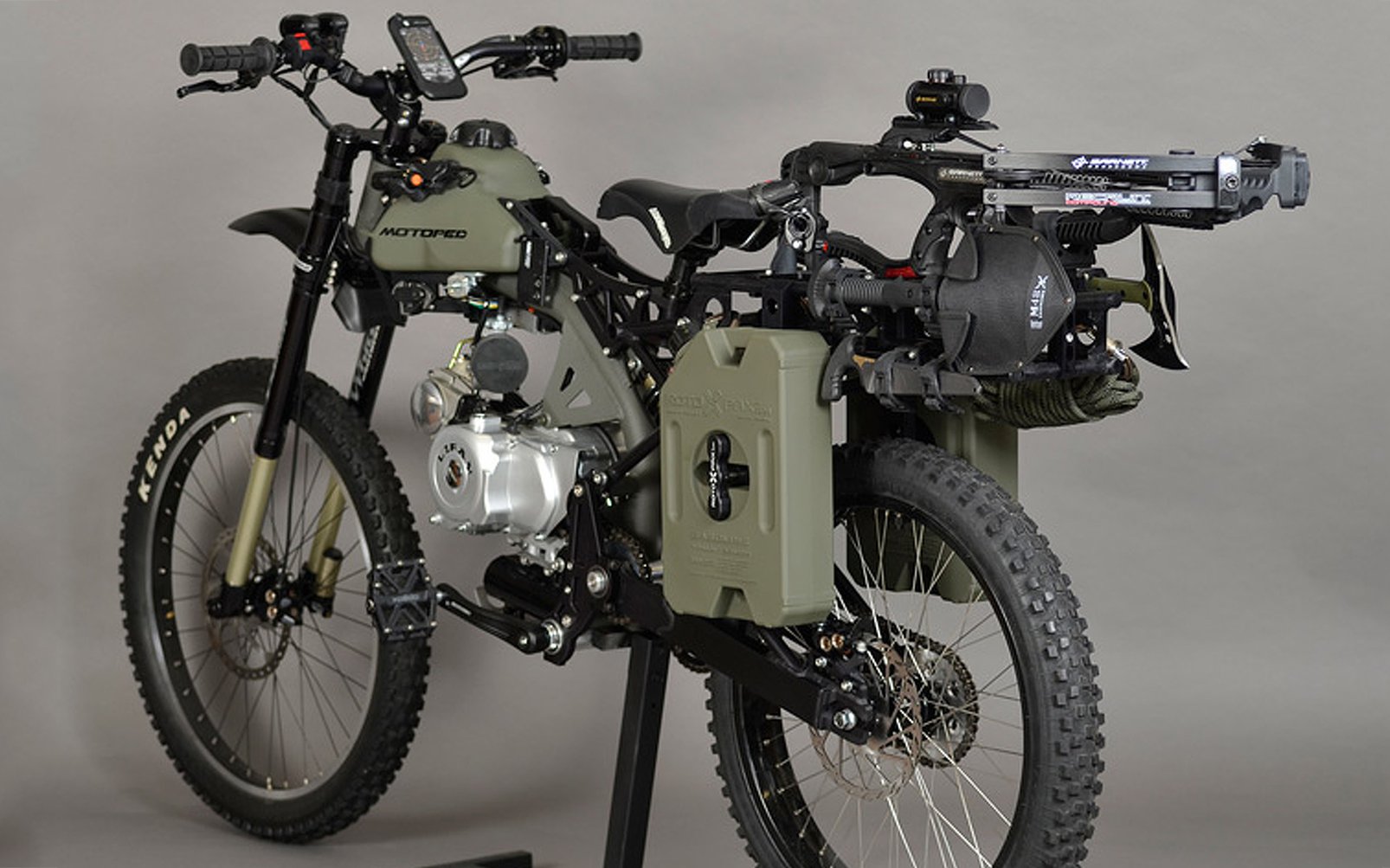 Ask Uncle Dave
Dear Uncle Dave: What is the best bike for the Apocalypse?
Dear Uncle Dave,
I am a nervous Nell up here in the great white north looking at our melting sea ice and tracking the progress of the latest measles outbreak in the most recent gluten free metropolis. As a lover of the outdoors with a penchant for survivalism I am planning on going off the grid with my trusty bicycle when the hordes come for my stockpiled vaccines.
If you are in my bunker when it all goes down, what kind of alcohol have you stockpiled? More importantly, what kind of bicycle do you bring with the knowledge that the power grid will collapse, and that gas only has a three month shelf life?
Here's to the bikecopalypse
-Come with me if you want to live
---
Dear Carumba:
Oh man. You are touching my wavelength! Honestly, these days, I'm barely able to get out of bed due to my overwhelming anxiety over how messed up things are. Every day I'm somewhat surprised to make it home at the end of the day to a house that hasn't succumbed to a meteor strike, over roads that haven't sunken into the portals of hell. I'm shocked that the electrical grid hasn't collapsed under the weight of populist politics and baffled by the fluoride-free drinking water that continues to pour out of my faucets. It feels like it's really only a matter of time until this all goes away. Shopping for a bicycle seems like exactly the right place to start our preparation.
First though, I'd like to talk a bit about the worst possible bicycle for the Apocalypse, because that sounds like more fun, and realistic. Most modern bicycles will leave our future selves weeping on the side of a desolate highway, bloodied and starving, staring at our over-turned (and empty) shopping cart.
We'll start by ensuring our suspension and shifting will be immediately bricked by the electromagnetic pulse given off when Kim Jong finally presses the button.
Frame - Scott Genius w/Live Valve. I think all Live Valve bikes will be susceptible to the apocalypse, but I choose the Scott just because it probably has a few extra levers on the handlebar that might break, or stab us in the body.
Drivetrain - SRAM wireless. This was a tough call. I think either Shimano or SRAM have options that will be terrible for the apocalypse, but I choose SRAM, just because I think they'll figure out a way to keep pumping out new standards (and accompanying obsolescence), even through a biblical firestorm.
Seatpost - Magura electronic dropper. This wins out over the Rockshox option, just so that I can have two incompatible systems, powered by different sets of batteries.
Tires - Soft Compound Schwalbes...hopefully 2.1's or so. Let's get some aggressively knobbed, really narrow, soft compound tires on there. The knobs will start falling off while we're still building the thing, and the narrow width ensures that we're held up by any blowing sand or loose rubble.
Wheels - Crank Brothers - But not for the reason you think. I've actually had really great luck with the last generation of fancy-spoked Crank Bros. wheels. They've held up well and have given me no problems, whatsoever. But just imagine sourcing one of those custom, proprietary spokes at the local apocalypse hardware store?
Brakes - Shimano w/ resin only rotors. The rest of the bike sounds like a nightmare, might as well make sure it won't stop, either.
Pedals - There's a couple of good choices here. We could go with some ultra-thin flat pedal, that rolls on bushings. Or, we could find some rare clipless system with minimal market penetration and poor distribution. Either will probably give us some headaches.
Saddle - I think a carbon fiber saddle is going to be perfect for the apocalypse. This Selle Italia looks really uncomfortable, and the impracticalities of a saddle made entirely out of carbon fiber sounds like an intriguing nightmare. 450 Euros, as well.
I'm sure there are many, many other parts that will give me a similar number of headaches in my apocalyptic future, but this would be how I would choose to make my life even more miserable through those final days. Probably in the lead up as well.
Now, what would I choose to ride off into the toxic sunset? That's a much harder question to answer. First, because apocalypse-compatibility just does not seem to be a thing many companies are thinking about these days. And next, well, I probably need to kiss a few asses based on the people that I angered with my response above. I'm still gonna need that gravy train rolling, even when the zombies are busting through the windows.
Frame - I know a lot of you pooh-pooh the whole plus size thing, but I think the Apocalypse will be a really great time for plus size aficionados. And I'm for sure going with a hardtail, just to keep things a bit simpler. So...Kona Big Honzo in aluminum. It's still going to be fun to ride, and you could probably throw it off a building and be left with a workable frame, just going on the history of Kona hardtails.
Drivetrain - I really, really loved SRAM's 9 speed stuff back in the day. It clicked with authority, and was all sorts of robust. I bought a full 10 speed setup, but before I could get it onto my bike they'd come out with 11 speed. So, I'm going to dig that out of the box where I've hidden it, find a wide range 10 speed Sunrace cassette, and call it a day. I think that's going to be the hot drivetrain for the Apocalypse.
Suspension - Just on reputation alone, it has to be Marzocchi. Although, maybe I'll swing one over to the team that gave us those indestructible Marzocchi forks of yore? I'll hand fork duties to DVO. A Sapphire, maybe? Here's where you tell me they don't make one for plus size. I'll point out that this is a thought exercise, and your reality doesn't actually matter.
Brakes - We were a little hard on Shimano up above...but I really will take every possible opportunity to try to convince them to stop making resin only brake rotors. So, to smooth things over, let's throw some Shimano Saints on our apocalypse bike. All sorts of braking power, and I feel good about my decision to run mineral oil during such stressful times. Look at me being diplomatic!
Wheels - This could go in several directions. Hubs could be either Shimano XT's, because it will be nice to have that re-buildability. Or, I could go with some DTSwiss, as they're one sealed option that has been around forever, and if they do blow up, chances are pretty good I'll find some parts. Rims...I'm either going to go with something from Mavic, just because. Or maybe I'll see if Santa Cruz really will honour that lifetime warranty they keep talking about on their Reserve rims.
Tires - This is a really tough one. We've gone plus sized, which is maybe a little bit limiting. I'm definitely leaning towards something with harder compounds and smaller knobs, just for durability sake. I'm not sure what that looks like, if I'm being honest.
Pedals - I have a set of Shimano PD-M545's from the 90's that are still kicking. They've made it onto one of my commuter bikes. I might just unbolt them from that and put them on the Kona, if I'm going clipless. Of course, I probably want to maintain the maximum amount of both downhill fun/off bike scampering prowess, so flat pedals are probably a good idea. I'll trade a bit of thickness for full bearings...but One Up claims to spin on 4 bearings/no bushings. Maybe I'll give them a shot?
Seatpost - Rebuildability is going to be key. Andrew/Jeff proved that the PNW is fully rebuildable, all the way down to the cartridge, so let's go with that.
Saddle - Tough call. I've never used one, but I feel like my Apocalypse bike could use a bit of Chromag style. Let's go for a Trailmaster in perforated brown leather.
There you have it. You probably disagree, but I'm confident this steed will give me all I need to comfortably rob your village during the upcoming end-of-days.
Oh. Alcohol? Need something that is going to last. Probably some nice gin. Tonic water may be a bit difficult to find, but remind me to tell you about the time I made my own tonic water sometime.
Sorry,
Uncle Dave
---
Uncle Dave's Music Club
If anybody were to ever ask me "what is the weirdest musical event you've ever been to?" I wouldn't even have to think for a moment before answering. It's Jandek. Always Jandek. Not the singer for Guttermouth stripping down naked on stage while talking about how small his penis is. Not the guy opening for Nardwuar singing songs about Nardwuar. Not even Nardwuar himself. Jandek.
It was like we had wandered into a group of musicians tuning their equipment in front of a larger group of people who clapped every once in a while. It went so far over my head, it inspired me to write in the following week to the Georgia Straight to complain about their review. Which, in hindsight, was a pretty dumb thing to do. They chopped my semi-coherent response into a barely-coherent response. It made Adrian Mack, really, really angry. Like, honestly, read some Payback Times. It's light hearted. But Adrian Mack it seems got personally offended by what I wrote (even though he specifically mentions the people walking out during the show...like, at what kind of show do you notice all of the people walking out?). And...they didn't even send me the t-shirt I was promised. Which...I'm sure some Uncle Dave question askers can relate. Anyhow. Jandek. Just...wow.
So, I bring this up because we went to a show the other week and as we were taking our seats, the opener was playing. And for about 15 seconds, there were flashes of Jandek. Three random people on the stage...a couple of them softly blowing on horns...some low mumbling into a microphone. But then it got really, really good. And now, I'm a Helado Negro fan.
---
Congrats Carumba! You have won the SQlab 6OX MTB ACTIVE S-TUBE SADDLE by 'touching his wavelength' or whatever. We're not sure if it will survive The Apocalypse (who's to know really - Dave thinks carbon...) but it may keep your bum happy until then. Send us an email to claim your prize!
If you'd like to win something rad, send a question (on the appropriate wavelength) to askuncledave@nsmb.com.