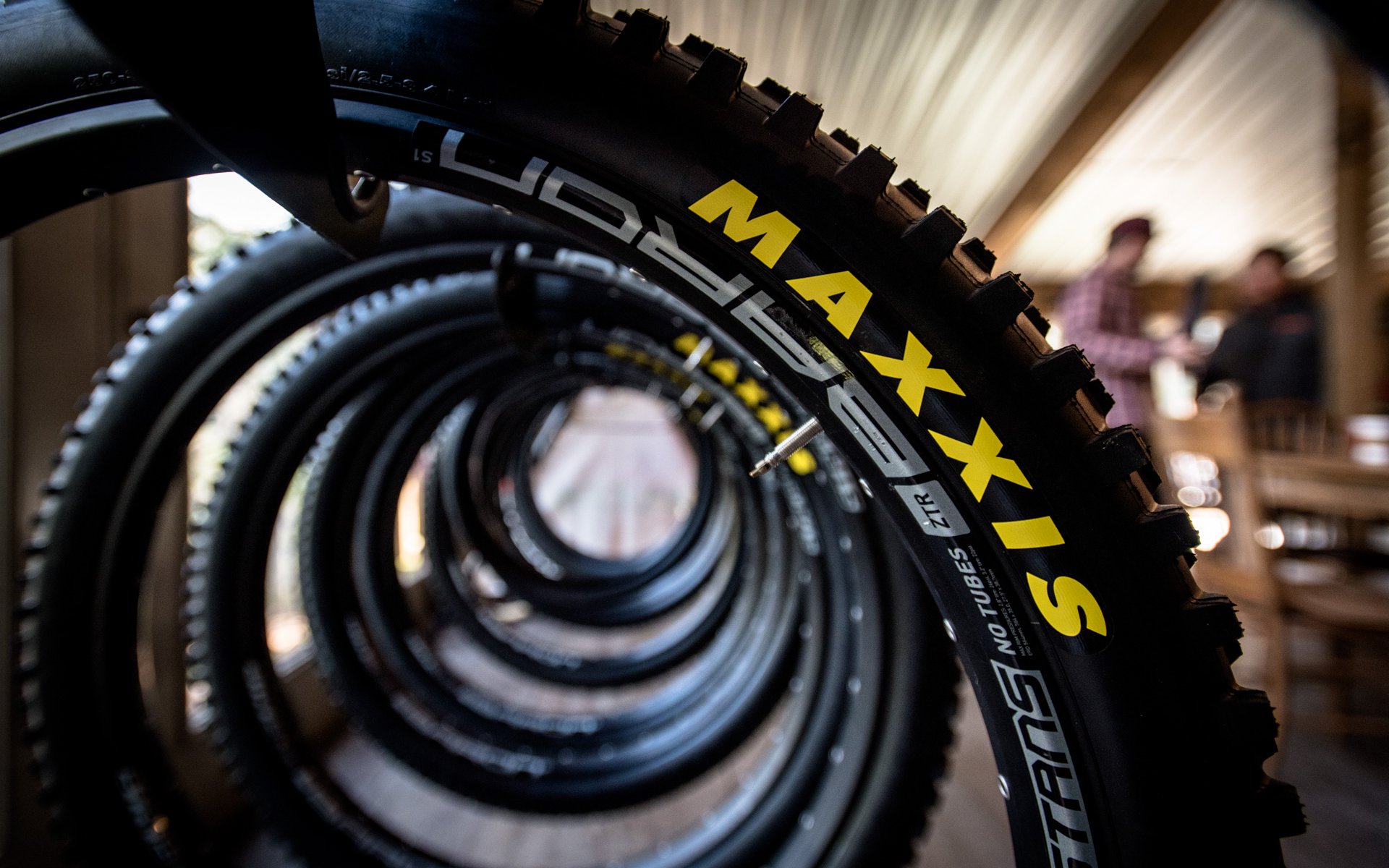 ASK UNCLE DAVE
Dear Uncle Dave: My OEM tires tried to kill me.
Dear Uncle Dave
I think I remember that OEM tires on new bikes, mid-range, maybe circa 2000-2010, were crap. Or maybe I just heard or read "The first thing you should do is replace the stock tires" enough times that I think I remember it. I probably never did it; tires were expensive, and I just blew all my money on a bike. Besides, mountain bikers never let being informed get in the way of sharing an opinion.
I can't forget the ride of the 1.9" Kenda Karma tubeless tire: supple and forgiving like a lawnmower rolling down stairs. But I don't think that was an OEM tire; just a shitty one. (I did love that 2.1" Karma though).
I just got a new bike that came with Minions that feel just like the Minions on my old bike, and I couldn't be happier. The Maxxis lettering is white instead of yellow, but I can't feel that. Maybe I'm just not perceptive enough.
So, did manufacturers spec tires on decent bikes that appeared to be the same model name and width as the aftermarket versions, but were actually inferior? If so, do they still?
It doesn't really matter, I suppose. When my OEM tires wear out, I'll likely put on some aftermarket ones and be just as happy.
Sincerely,
Bored and Tired
---
Dear Boot:
Yes. You remember correctly. Many OEM tires on mid-range bikes from 2000-2010 did suck. This was the era when some financial genius discovered that they could squeeze a few extra dollars out of us by inventing tires that looked a lot like the ones that people paid actual money for, but that lacked any of the features that allowed you to ride them down a mountain without killing yourself.
Now, I'm definitely not going to go so far as to suggest that this sort of thing no longer happens, but as I researched this piece I was surprised by how many new bikes were rolling out of the factory with seemingly usable tires already mounted. But, as you scratch your way down to the lower ends of the line-up you can still find sketchy, tire-shaped objects in place of decent rubber. This is still a topic that warrants discussion.
To get some answers, the plan was to reach out to a handful of bike manufacturers (we decided on Rocky Mountain, Kona and Santa Cruz), and, surprisingly, they all agreed to speak with us! We won't give them names and we'll keep their responses anonymous, in order to give them some level of plausible deniability. But needless to say, they know their shit.
We also reached out to Maxxis, but they didn't feel they had much to add to the conversation, so they declined to comment. I mean...they are an OEM tire manufacture that could directly comment on most of the things addressed below, but what do I know? I wouldn't really want to talk to me either.
Defining the OEM tire
The first thing I needed to grapple with, is what exactly is an "OEM tire". There were some (e-mail equivalent of) blank stares and face palms when I started sending out questions about "OEM tires". For the purpose of this discussion, let's consider something like a 30-60 tpi, non-reinforced casing, single compound rubber tire as the definitive "OEM tire." Not to pick on Maxxis, but in my opinion, the wire bead, single compound, non-reinforced casing Ardent in a 2.25 width is the ultimate "OEM tire." It's got name brand recognition and looks like something that might make it all of the way down a trail. In an informal survey of NSMB bike testers, all respondents agreed that they would immediately remove this tire from any bicycle before riding it on dirt. And it comes stock on a shocking number of bicycles.
The Magic OEM tire list
So now that we know what an "OEM tire" is, where would you buy such a thing? The first two parties contacted implied that they don't have access to any sort of secret list of junky tires only offered to manufacturers. They both stated some form of "we're buying the same tires available to the general public." There was also a fairly consistent disclaimer pointing out that us consumers are generally at the mercy of what a distributor might carry, or what a dealer might stock. So while we're theoretically all shopping in the same place, in reality, manufacturers have access to a larger range of products than a regular consumer.
Except...it turns out that this was a very technical form of the truth. After I wrote the above paragraph our third company got back to me, and they told me all about how Maxxis (and others) will build several custom options into your tires if your order quantity is large enough. So, even though the full Maxxis catalogue is giant and overwhelming, if you have the dollars you can add additional elements of complexity. Or more likely, strip away some of the things that we take for granted in a tire. Which pretty much shot the premise of the remaining sections of this article that I had already written and forced me to start fresh.
Another thing that emerged is a suggestion that there is a lot of back-and-forth between the tire manufacturers and the bike companies, and it's not all that unusual for bike companies to be the ones pushing for new features. EXO+ was mentioned as an example, when a few bike companies wanted something a little bit burlier than EXO, but not quite at Double Down. And I guess once it's on the secret list, you may as well offer it to us regular joes.
The process
So if you're a product manager, and you have a near infinite number of tires to choose from, how exactly do you go about doing that? This was harder to pin down, because there is so much variety in the available tires, terrain, and how people ride, not to mention in the goals of the bike companies selling us these things. Nobody was able to give me a definitive process, or cascading hierarchy of tire attributes which they use to build a spec. So I made one myself, based on what I gleaned from reading tire specs for hundreds of bicycles.
The Uncle Dave Hierarchy of OEM Tire Spec Needs
This is most definitely not scientific, and most probably a teensy bit insulting to all of the product managers out there, but certain patterns emerge when looking at the features of OEM tire specs, and this is my interpretation of their order of importance when specifying.
#1 - Brand - If you're a product manager, this is the most important thing you could do for spec'ing tires on any given day. Throw a big, fat, recognizable logo on the side of your tire and you can probably head to the pub early.
#2 - Tubeless Ready - I'm told this is a fairly cheap option, and almost every tire spec'd on a bike you would think of riding has a "TR" somewhere in the description.
#3 - Dual Compound - I think this must sound sexy to product managers. Not just one, but two compounds. The copy writes itself.
#4 - Tread and Width - You'd think this would come earlier, but it doesn't. On a cheap bike, it's fairly likely that you might end up with a dual compound, tubeless ready, 2.2 inch tire with a tread you've never seen available in a store. Moving up to a 2.5 DHF seems like it might cost some serious dollars.
#5 - EXO Casing - This usually goes hand-in-hand with the above. If you're going to move into a tire that people have heard of, might as well splurge for a decent casing.
#6 - Folding Bead - And the above probably comes with a folding bead as well.
#7 - Triple Compound - If you think people are impressed by two compounds, what's going to happen when you give them three?
#8 - Fancier Casings - This is some doctorate level tire spec'ing, when you get into anything above an EXO casing. Double Down? Silkworm? You're talking dentist spec now.
And that's that. Next step is figuring out what amount of travel to spec on your Reverb.
The price difference
Somewhere between need #3 and need #5, you transition from "OEM tire" into "tire one might purchase in a store." One thing I really wanted to understand is what the actual price difference is when you make this transition. I didn't expect any of the companies to divulge their tire costs, but I did ask them to speculate on what the difference to the final cost of the bike would be, depending on what tire is spec'd. There was a remarkable amount of agreement.
The suggestion was that between the crappiest of crappy and an actual "aftermarket quality" spec, the end difference to the cost of the bike would only be between $100CAD and $150CAD. Which is fairly remarkable, if you ask me. Can you imagine what this spread would be in the auto industry, moving from "oem spec" to "high performance tire"?
But on the other hand...this is sort of shocking, but also makes sense, in a way. You can buy a really nice set of tires for 200 CAD, so it would be strange if the gap was any larger than it is. I mean...you have to assume that the tires that come on your new bike are worth less to the value of your bike than the full retail cost you would pay for those same tires...so if a set of really nice tires only contributes...say...$170 towards the final cost of your decently specc'd bicycle...and the gap between that and a really crappy set of tires is something less than $150...well...that suggests that those crappy tires that we hate so much are costing bike companies a shockingly small amount of money.
And this leads to a dilemma for me. I've spent years cursing bike companies for saving 30-40 bucks on the retail price of a bike by spec'ing crappy tires. Now that I know it might actually be more like 100 bucks, I have both:
a) A better understanding of why they are trying to save that money.
b) An enhanced disgust that they think it's okay to so thoroughly cheap out on something so important.
The point of compromise
This is where things got interesting again. As I flipped through spec sheets, I was surprised by the level of consistency in tire spec between manufacturers (and I'm talking about more than just the 3 manufacturers that we reached out to here). Almost without fail, anything above $4000 was coming with decent tires, and the spec didn't change all that much when you went up from there. Anything less than $2500 was coming with something relatively abysmal. In the space between, there was room for a bit of compromise. A $3200 bike is just as likely to come with something terrible as it is something rideable.
This mid-point feels like the toughest challenge for a product manager. At $4000, there's enough money to throw around to allow for most parts to be reasonable. At the lower end of the scale, there is less expectation that the bike will need to perform at a high level, and compromise is expected. But in this mid-range, you might sell that $3200 bike to a weekend warrior who only hits a gravel path once in a while, or you might sell to a hard charger on a budget. Both probably care about really different things.
One product manager suggested that his goal is to maximize the harder to replace parts (frame, suspension, dropper), with compromise on the more easily replaceable stuff (tires, grips, seats). Reading between the lines, there's an implication that there isn't much credit given by consumers for a more expensive tire spec. We've already accepted that the stock tires might be junk.
This strategy does make a lot of sense. Looking at the numbers from the previous section, you can understand how difficult it would be to justify adding $100 onto the price of a bike when there's a good chance that whatever you spec won't be the right tire for most people, so why not save a few bucks and let the consumer figure it out? I can totally understand this school of thought.
But then again, I find it somewhat shocking that we can spend thousands of dollars on a bike that comes equipped with tires that aren't suitable for purpose. And I think we'll need to talk about this in a bit more detail at some point in the near future.
Sorry,
Uncle Dave
Congratulations, Bored and Tired ('Boot'), you have won a 10 L Hydration Pack from Hydro Flask's new Journey Series. Send us an email with all your shipping and contact details and we'll help get your prize into your hands.
Got a question for Uncle Dave? Send it along to him here. Next week (or the week after), the reader who successfully tickles Uncle Dave's answer bone will win a sweet prize from one of our partners.