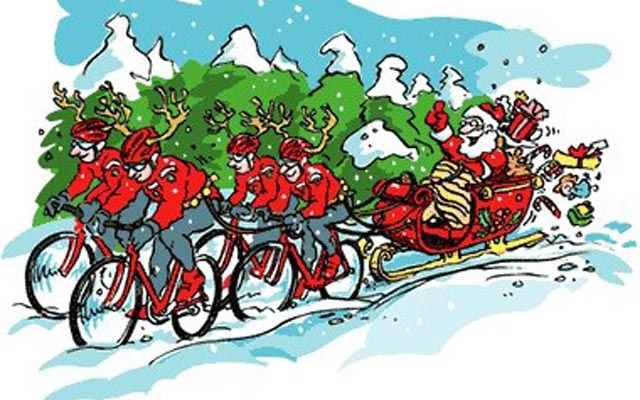 ALL BATTERIES AND WOOL
Dear Santa: Pete's List 2018
Dear Santa,
I know it seems like I only write once a year, but just like drooling dogs, we've been conditioned to write to you around now, and the rest of the time, other than wondering whether I'm on the Nice list or not, I just assume you're not answering mail, anyway. You work like a devil for, what? 2-3 weeks per year, and then what's a red-suited guy do to keep himself busy? Deal with labour disputes? Refine the supply chain? Sled maintenance? Mending the Santa suit? Outsource that shit! But stick with reading your Dear Santa letters, because that's why the kids write to you in the first place. Kids like me.
So, what do I want, really? I'll admit I'm a lucky hombré and especially so since I know that stuff won't make me happier. But I do like scouring the material world to find things that I think people will like, so let's play along, shall we? I knew you'd be up for a little role play, you white-haired devil, you.
Rivian R1T
First on my list is a rather conspicuous item disguised as good for the planet, but I have selfish reasons for wanting it. It's called the R1T and it's not technically on the market yet. In fact, it'll probably be on my list next year, too - and the next - because it's not supposed to be ready until late 2020. However, I'm giving you the heads up now because this is something I've wanted for some time, and I'll gladly forego all other gifts for a few years because this is a big one. If you haven't pieced it together yet, it's an electric pickup truck. Yes, I know. Truck folks are going to bad-mouth it. Trucks are supposed to be big and mean and tough and burn gas, but I know this is the one for me. My wife and I became a one car family over a year ago and in that time our only four-wheeled vehicle has been powered only by volts, and we love it. Except it's not big enough and doesn't have the range to handle longer road trips, and we'd love to be able to take it off-road into more remote areas, and not worry about breaking it. 
The maker is a company called Rivian, and other than a really strange looking front end, it looks ok, but I really don't care how it looks. FOUR motors drive each wheel independently, delivering a total of 754hp / 826lb-ft of torque, which would make even Rudolph blush. It tows 11,000 lbs - what's the tow rating on your team of 12, by the way, Mr Kringle? But honestly, that matters less to me than the range, which goes from 500 - 700 kms, depending on the model. That'll get us plus bikes and camping gear to a lot of places and back - on one charge. And I will say this for electric vehicles in the backcountry - less noise pollution will help everyone enjoy their weekends more. See what I'm saying? This truck is for me, but if we all are driving these suckers in the future, there will be cleaner air, less gas, and a lot of quieter moments. That's gotta appeal to you, even though you're not constrained by things like cost per litre or catalytic converters.
This is a very expensive truck, starting at $69k US, but there are a couple of big butts and I cannot lie: first, rebates and incentives on electric vehicles will bring this thing down by as much as $11,000 in BC alone - even more in Ontario if they kick out that douche named Ford, and many states have more aggressive rebate programs as well. Second, this truck is going to make Elon Musk's truck cheaper. Ditto the future electric trucks from every Ford, Nissan, and Chevy. Hell, even gas-burnig Tacomas might come down in price. Crazy, I know, but we're imagining the future here. So, how about we agree that this one's good for everyone and see what we can do? I'll be patient.

Wool Stuff
I've been a merino wool freak since I got my first 260 weight zip up shirt from Icebreaker...in 2005. I still have it. It is perhaps my single most treasured piece of gear. Certainly the one I've worn the most, often for long periods during critical times. When I first got it, no one believed me when I told them I wore it for 7-day ski touring trips without taking it off, and it still didn't stink. Many people now know about the amazing qualities of merino, but some don't - one of my closest riding buddies just converted this year ("I'm never wearing anything but merino") and others still just don't know. Hell, one guy I ride with still wears a freaking cotton hoodie on some rides. So I now understand how long and hard a road it is to be an evangelist, even if we're talking about spreading the gospel of one of nature's finest materials, and an expensive one at that. But remember I said I've had that first layer for more than 10 years and it's still going strong? I pack it instead of 2-3 others on trips, I don't have to wash it as much, and it's still going strong. So it saves time, money over the long term, and space in my bag every time I pack it. 
Anyway, whether it's a t-shirt, base layer, or long-sleeved jersey, I'll only buy it if it's merino wool, and even then, it should be 60-70% merino or more (90+ is best - and yes, it matters). But I'll pay full price for it and it's worth it. For this year, Santa, my colleague and best man, Mr Cam McRae, may have beat me to the punch about Chromag's wool collection, but it was going on my list as well - however I'm torn between the Roam short-sleeved jersey (the only jersey I need between about May and September, and it doubles as a layering piece when it's colder out) and the Recluse Wool long-sleeved full zip-up. However, since he published first, I'll include a second choice in case you run out of stock: 7Mesh makes the Callaghan hoody, and it's a beauty both on and off the bike.
An Enlightened Community
A common theme this year with our Dear Santa letters was giving back. Thinking of others. Doing something to make someone else's day/ride/life better. And I want to echo that idea, Santa. If every rider out there did one really good thing this year, it would make a huge difference. Buy that trail assoc'n membership*. Take someone else's kid riding. Contribute to a GoFundMe. Set aside $50 or $100, or part of a day to do some digging. Everyone can do that much. Just that much, just once. Do it in January, then try to do it again in June. Even I can see that that would be better than a sexy battery-powered 780 hp pickup truck.
*It is crazy to me that so many people still don't get this. For about 1/2 the cost of one day of skiing, or less than one tank of gas, you can become a member of your local trail association. I helped get some friends into riding a few years ago, and they've gone from zero to giving each other NSMBA memberships as birthday gifts. Now that is awesome.