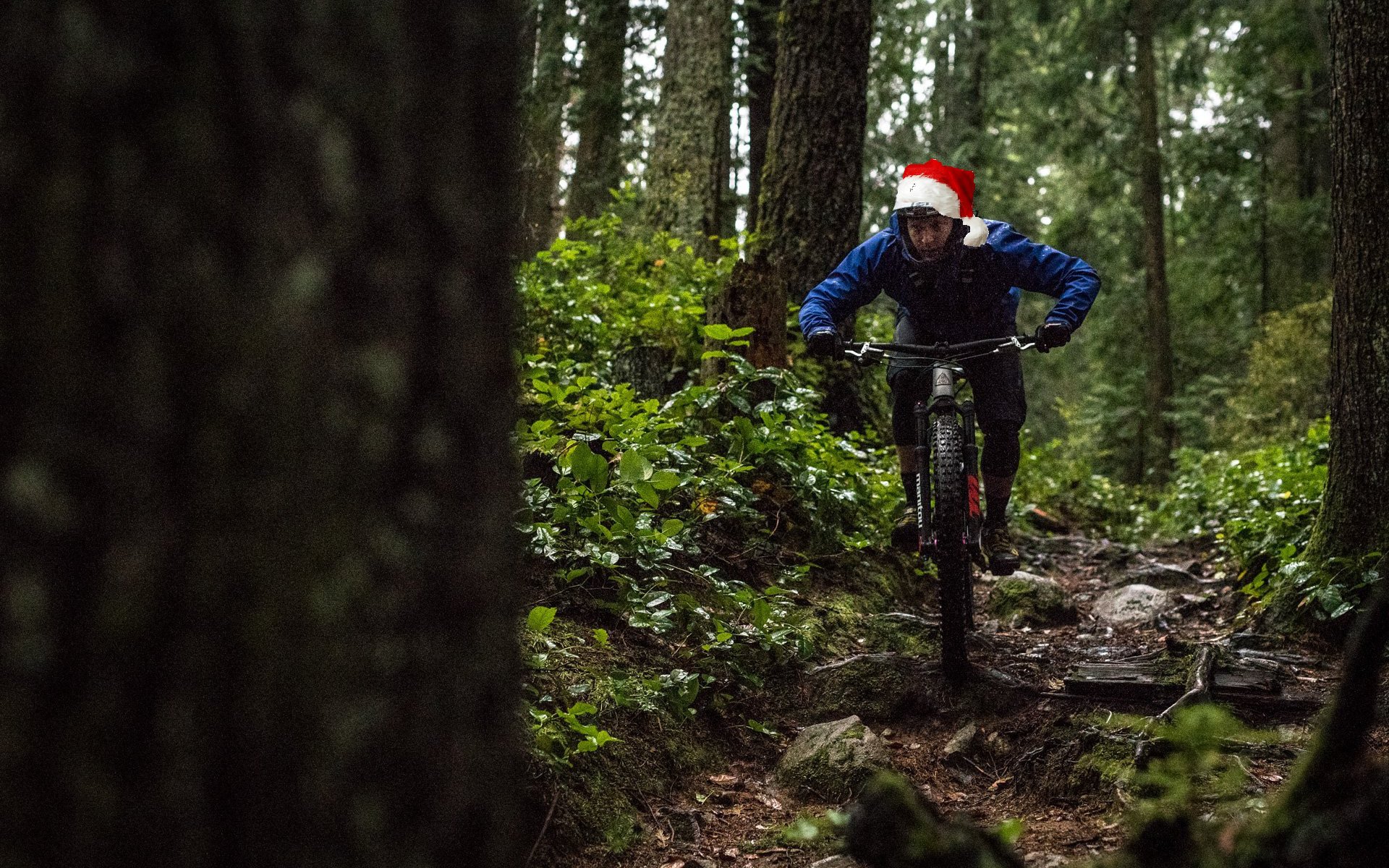 NOTHING WITH BATTERIES
Dear Santa - Andrew's List
Dear Santa
I'm sure a quick Google search would yield some smart-sounding Nietzsche quote about how good and bad are just social constructs but let's face it Santa, you're basically the Judge Dredd of the holidays. The arbiter of presents meting out undisputable judgments from a secret list. How about a little disclosure? What are you afraid of? Sounds like Christmas corruption to me.
Look, everybody has their price. How about I keep a bucket lid on it and in a show of gratitude you throw me these five little bones? I'll even do some extra trail work next year to help you justify it.
All The Magnets
The first time I used the Fidlock helmet buckle on the Leatt DBX 3.0 I was impressed at the intuitiveness but there's no way I would have paid a premium over a regular plastic buckle for what I would have called a champagne feature.
Here's the thing though, the more I use the magnetic Fidlock buckle the more regular plastic clips, and D-rings, seem like an epic throwback to a less evolved time. It's 2018, we have 1x12, pedal-able 170mm bikes, amazing tires* and brakes, bar-sweeps and grip widths that take into consideration variations in physiology and preference, and I'll be damned if I don't want to secure every helmet with magnets.
*There are also sh*t tires, but hopefully I'm in the good-rubber column on Santa's list
I love the admittedly strange looking USWE Airborne 9 hydration pack I reviewed, and I still wear it on almost every ride. Last year I asked Santa for a weatherproof version and he did not deliver, so this year I'm upping the ante for a weatherproof Airborne 9 with a magnetic clasp.
More complicated than the regular clip? Absolutely. Worth it? I think so. This pack has been thrashed and still looks to have years of use left in it, so an extra $10 up front amortizes out to nothing over the course of ownership.
Longer LOOK Axles
If I'm buying SPD clip-in pedals tomorrow they're a pair of LOOK X-Track pedals. I can wax on about the lighter-and-larger bodies of the carbon version, but the hole in my wallet is more right-sized for the 50 USD aluminum version.
These pedals take a beating, are cheap and easy to rebuild and, frankly, anybody can pull them apart to swap an axle. That's important because axles are exactly what I want to talk to Santa about.
I have a fairly wide stance, and one of the things I really appreciate about Crankbrothers pedals is the option to run two different widths of pedal axles. Crankbrothers' long pedal axle kit bumps the Q-Factor up from 52mm to 57mm and the difference is very noticeable.
It's especially a factor since many more aggressive clip-in shoes like to have the cleat centered for best release-results and that's not an option for me with the narrower stance.
I'm not even asking Santa for more SKUs. Ditch the red alloy pedals and the titanium axle option on the carbons and just give me one alloy and one carbon option in two different Q-Factors. Or, sell the axles separately for 20 USD a pair and I'd still think that was a gift.
Plastic Brake Levers
I'm not talking about plastic-fantastic, AKA carbon fiber, I'm asking Santa for some injection molded glass-fiber brake lever blades. With or without an aluminum core, I'll let the engineers figure out what's going to get me the warmest digits for the least outlay with zero loss in feel or performance.
I know it's a big ask, but my brake levers are the one place on my bike that not-metal makes sense to me and if it makes sense to a lot of people then I assume that a company the size of SRAM, Shimano, Magura, TRP, etc. can come up with a lower cost mass-manufactured solution to frozen digits.
I'm always on the fence in naming my favourite brake between the Magura Trail Sport and Formula Cura 2-pot. I ride both every week, they're both great performing, high value, stoppers with solid Canadian support. Affordable less-cold levers could be the deal maker.
Another example is an SRAM Guide or Code aluminum lever blade at <30 USD versus their carbon option at about 60 USD. If I can smoke around a pair of plastic Kona Wah Wah pedals with impunity for half the price of the aluminum equivalent my napkin math has the happier digits of carbon-lever-blade-me at a lower price than the frozen fingers of aluminum-lever-blade-me.
29 x 3" Bontrager SE5
29-Plus is dead? Long live 29-Plus!
Tires in 2.6" width are becoming so commonplace that I wonder if mountain biking is working its way back to a semi-standardized tire size. From fast rolling options like my savory 29 x 2.6" Bontrager SE2 to the new 27 x 2.6 DHF 3C, the pseudo-plus tires max out the safe tire clearance in most non-Plus frames and forks and hit applications from Trail, to bike packing, to aggressive Enduro riding.
27+ is hanging in there since a 27 x 3" tire works in most 29er frames with clearance for 29 x 2.6" tires but with exceptions, like Kona's 27+ Big Honzo lineup, the industry is riding to war in a chariot with 29" wheels.
Where 27+ is becoming increasingly less talked about, 29+ is at risk of becoming an endangered species with just two major players supporting my favourite front tire size.

Their respective states have a college football rivalry dating back to 1890, and, fittingly, Trek/Bontrager, the Wisconsin powerhouse, and their Minnesota competition in QBP/Salsa are the two major players still pushing 29+ development. For Trek's part they sell the very interesting, single-speed-able Stache which I've tested previously, and the new Full Stache 29+ full suspension bikes.

Trek currently makes my favourite 29+ tire, the 29 x 3" Bontrager SE4. Having ridden the 29 x 2.6" SE4 and the new 29 x 2.6" SE5, if the performance boost that the SE5 delivers in winter Shore conditions scales to 3" it's basically criminal that there isn't a 3" version to slap on the front of the Stache - full and half.
I have faith that Santa will tell them they're naughty and get the rubber side sorted.
New NeoShell
I'm looking for the big man's help with a new mountain bike jacket. Polartec NeoShell is bar-none the best material for high-output rain jackets here on the wet coast. Sure, the material just barely qualifies as being waterproof but it's yoga-stretchy and the breathability of this air permeable material beats anything else out of the water, and I've tested the nicest Gore-Tex Active mountain bike jacket available - the 7Mesh Guardian.
Sure, if I look outside and it's raining cats and dogs I'll grab the Gore-Tex every time because I can, but if I had to choose one outer layer and be a dick about it, NeoShell is the only way to go. I'm a sweat factory and I will even wear my NeoShell when it isn't raining but I know the trails will be wet.
The problem is that my first-gen Mission Workshop NeoShell jacket is getting long in the tooth and as much as they are top quality and made in Vancouver I can't personally justify an outlay that's 20% more than the already big-money 7Mesh.
Polartec NeoShell is by no means an exclusive material and it has often appeared on jackets at significantly lower price points. The problem is - and yes this is totally throwing shade - designers and marketers just don't seem to get it.

Sugoi and Louis Garneau* make roadie-cut and styled NeoShell jackets which makes zero sense because the material can hardly be called windproof. I certainly wouldn't want to be breaking the speed limit cruising downhill wearing one on a wet day. In the trees and at off-road speeds I'll take the NeoShell but on a road bike give me Gore-Tex every day.
MEC very briefly offered a nicely featured NeoShell jacket called the Flightcheck with a helmet compatible hood and sleeves that were easily long enough for cycling** but it was marketed for Alpine Touring and Mountaineering where the 10,000mm waterproof rating is highly questionable - Gore-Tex Active is windproof, offers 28,000mm waterproofing, and is highly breathable which makes it a much better choice when you're miles from anywhere in adverse winter conditions.
I'm not saying 300 CAD (~230 USD) is cheap, but with a proper explanation of what NeoShell offers, a slightly revised cut, and an MTB designation I think the Flightcheck could have been a go-to Shore-To-Sky riding jacket.
*Now the same thing
**I do have T-Rex arms for the record
This might be a Christmas miracle but I need Santa to explain to some high-value clothing brands how awesome NeoShell is for mountain biking, get them to make some mountain bike cut and styled jackets out of the stuff, and then explain to their marketing departments how to sell something that barely qualifies as waterproof but is so breathable as to more than make up for it in the temperate rainforest we ride in every day.
Might have to sacrifice a couple reindeer to Cthulhu but the swampy sweaters among us won't forget it.
*Wink* *Wink*

I was just kidding about that blackmail stuff Kris Kringle, but how about helping me out with these five little win/win/wins anyway? You get to look like a champ, riders get better gear, and a few companies get to make a buck.
See you next year!