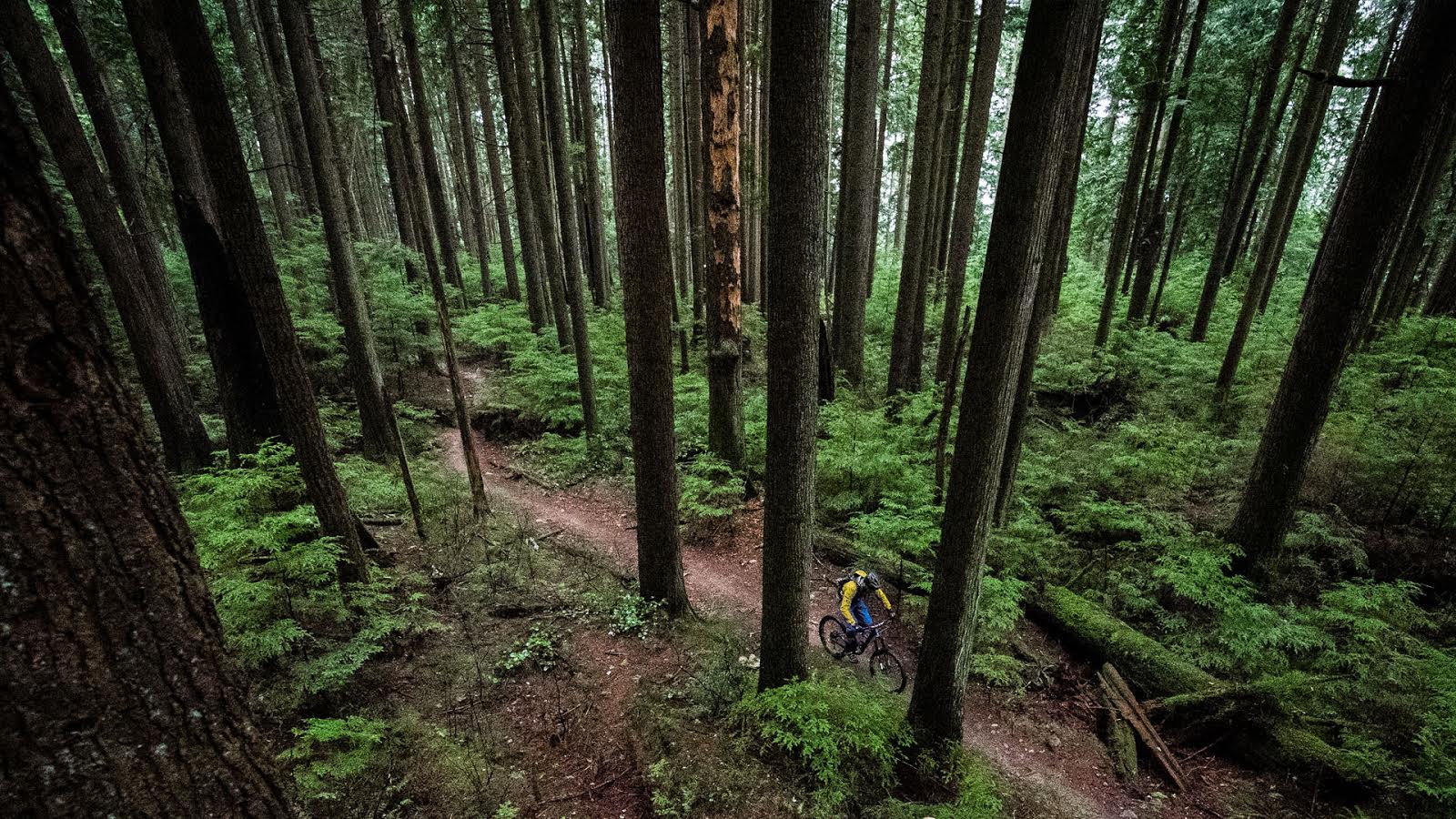 Dear Santa
We left something out of last week's 10 of the Best Mountain Bike Gifts: How To Shop For A Mountain Biker. Specific products. That was intentional – it presented a general approach to what types of products are good to buy as gifts and how to get the right one and avoid unnecessary returns.
Most of us would probably be happy with stockings full of brown pow and other shiny bits, but here are some individual picks from our editors and staff…
---
Santa baby,
It's been pointed out that I'm long in the tooth to be hitting you up but I've been a prince this year. To compensate I'm hoping you can set up a Rob Ford reality show that airs 24/7 so we can witness his latest calamity live. Pardon? That's too much to ask? I didn't realize there were limits. Hmmm… What about a custom wheel size tuned for my height, weight and riding preferences? I'm thinking 674c or so but you'll need to do some research. I'll need carbon rims and a selection of tires so there will be some tooling up involved. What? Really? I'm still over-reaching? Well then how about some stuff for my bike? Okay then. Glad we're finally on the same page.
Since I'm a born-again weight weenie, and a sucker for fine engineering, I'd really, really like some new carbon cranks. I'm currently running XX1 so I only need one chainring (30 or 32 narrow wide). And I'd like them to come in under 550 grams with a BB30 bottom bracket. Whoa! Hang on Santy, I know you're thinking this is another unreasonable request, since there are no MTB cranks that light. Wrong! No tooling up required my chubby friend! RaceFace's 2014 Next SL cranks will suit me just fine.
I'm setting you up to work pretty hard so how about a little something for my stocking? I'd like a wee multi tool for days when I don't want to carry a pack. How about five Allen drivers, a slot-head and Phillips with a T25 Torx to top it off? Small and tidy and about 58 grams and we're done. I'll give you a little shopping tip as well. The thrice-resurrected Syncros brand (now owned by Scott) makes just such an item. They call it the Micro 8.
This third ask is perhaps the most grand of all, but I'm asking anyway. Just hear me out. Could you please, PLEASE put an end to the wheel size hysteria? Don't get me wrong. I'm okay with 29 and 650b (or 27.mi5leading) being around, and I think they can both be worthy options. But for the love of Jeebus (when is his birthday btw?) can we please stop pretending 26" wheels are as dead as Biopace and as functional as cantilever brakes? They still roll just fine.
Thanks – and go easy on those cookies.
Cameron
---
Dear Santa,
I've been relatively good this year (assuming you're going to overlook all the cursing), and have managed to put in some solid time on the bike. I'd really like to find this stuff under the tree on Christmas morning. So hook a brother up, wouldya?
The first thing on my list is a Specialized S-Works Stumpjumper FSR 29. Specialized has always made some pretty sexy looking bikes, but this one takes the cake. The sweeping lines of the full carbon frame, the gold stanchions on the FOX Float CTD Factory fork, the sleek carbon Roval Control Trail SL 29 142+ wheelset and the climbing power from the single-ring S-Works carbon crankset and SRAM XX1 11-speed drivetrain are all killer. If you could just swap out the Formula brakes for some Avid XO Trails and the Specialized Command Post for a RockShox Reverb Stealth, this bike would be perfect!
The second thing I'd like for Christmas is a Garmin Edge 810 bike computer with a heart rate monitor. I'm a bit of a data geek, and I love to see how far I've gone, how long it took me to get there and how hard my heart worked. I also like being able to track my route, the elevation I've gained and lost, and see where in the world I am at any given time. Upload all that stuff to Google Earth and I'm in heaven. The touch screen feature is handy, too!
The last thing on my list is pretty simple, and it will give me a chance to put the first two things to good use: it's a gift certificate from Sacred Rides. These guys are awesome, and I had a lot of fun when I did their Ultimate BC Singletrack trip a few years ago. I'm not sure exactly which trip I'd want to do this time, but I'm leaning towards either the Misty Mountain Hop trip to New Zealand or the Alpen Thrills trip to Switzerland and Italy. Or maybe the Surf and Singletrack trip to Chile. Man, that's a tough call. Maybe you'd better just make it all three, just to be safe.
Oh, and you'll be happy to hear that I've grown out of that whole milk-and-cookies-by-the-chimney thing. I'm guessing you're a scotch man, so I'll leave a nice bottle on the hearth. Enjoy – when you get safely back to the North Pole, of course!
Thanks very much, Santa.
Stuart "Doc" Kernaghan
---
Dear Santa,
It would have been so easy to go big. There are bikes I want – just like every kid – but my wish list has things on it that will make my rides a bit better and more importantly, get me out on my bike more often. A little stoke, a dash of comfort, and some enhanced performance are all covered on my list.
Early ride days were a bigger production than they are now. Every ride was an event. We used to gather at someone's house and load a riding flick into the VCR to get amped before going riding. Rather than web edits dropping daily, we considered it a good year when more than two movies were released between the nights you attached Rudolph to the yoke and followed his nose around. The first movie I ever wore out on VHS was NSX II which I still think is one of Digger's finest. Since then so much has changed, including the fact that I don't get pumped to ride simply by watching film as much as I used to.
But the Coastal Crew boys know a thing or two about getting high on mountain bike movies – in fact sometimes I really hate those jerks because it seems like every day for them is 16 hours worth of pre-ride 'high' and post-ride 'aaahhhh'. Arrival is their latest and it just dropped and I want it. Yes, I'll likely give my money to iTunes anyway, but I'm secretly waiting to see if it ends up in my stocking first. Featuring the regular crew (Norbraten, Dunkerton, Robinson) as well as Stevie 'the Champ' Smith, Logan Peat, and others, plus a kickass segment in Whistler filmed by NSMB's own Matt Dennison… this may be my new pre-ride pump up flick, and if it was on tape, I'd probably wear it out.
These shorts are kinda spendy, and the truth is I want one of almost everything Kitsbow makes, but there's a good reason why I want them. You see, I love merino wool. I have merino socks, jerseys, base layers, sweaters, jackets – even underwear. But all of my riding shorts are made of nylon and spandex. Plastic, basically. I have a little of the roadie in me so my taint appreciates a quality Italian chamois, which these have, but my dirty mountain biker side is usually too busy scouting for a post-ride beer to change right away.
On road trips, I want a pair of shorts that I always reach for on the EPIC day – the ones I'm probably going to be in for 8 hours before the riding is done, when the weather is going to change 4 times and we'll alternate between 100% hammer and 100% goofing off while some jerk changes their flat and everyone else is sweaty and getting chilly. These are those shorts! Plus, they're made right here in Vancouver, so there you go – homey points. I promise to wear them all the time, even when I forget to wash them (but I will always make sure they pass the sniff test first). If you'd rather get me something that'll earn you more credit because it won't be out of sight on every ride, how about the Long Sleeve All Mountain Jersey?
Ok just one last thing and then I'll leave you to stuffing coal in the other guys' stockings. I currently have a Fox DOSS on my AM bike and it works very well, but I'm tempted by the scoot of another…adjustable post. If I could improve on the one I have now and the others I've tried, I would ask for more travel and a cable that doesn't move with the head of the post. And as much as the cable-actuated DOSS has worked well, this cold weather we've had revealed that if a bit of moisture gets into the housing, it freezes up and doesn't work, so I think a sealed system would be rather nice. Plus, infinite adjustability – 3 settings is fine but I want more than fine. So please, Santa, if you have any love left for me, please show it to me with a KS LEV. If little kids dream of sugar plums (who ever ate one of those?) then I'm dreaming of a 6 inch hydraulic dropper post with a cable that stays put.
Stu's got the scotch taken care of, so I'll leave you a glass of port and some stinky cheese – that'll keep you warm for the long haul into the frigid East. Thanks for stopping by, Santa, I always enjoy our little chats.
Pete
---
Dear Santa,
I've got beef – and not the tasty, meaty kind. You see, I've had "It's the Most Wonderful Time of the Year" stuck in my head for the past four days. No matter what I do to flush it out, the tune just keeps coming back. It's not that I hate the music of the season. I do really quite like "Sleigh Ride" and usually rock that on the internal iPod, but I can't seem to fire it up just yet – which brings me to the real point of my letter: I know it's been a while, but I really did like it when you used to bring me gifts based on a list I wrote.
1. Arc'teryx Atom LT Hoody. I'm a big fan of technical base layers and waterproof breathable outer layers, but there's an obvious hole in my wardrobe. Cotton hoodies have been a mainstay in my wardrobe since I last left cookies and milk for you and carrots for your mules – but in my ever-more-discerning view of everyday apparel I've concluded they are heavy, bulky, and don't deal well with getting wet. It's time for a technical mid-layer and I've heard the Atom LT is like wearing a really comfy sleeping bag around town and out on the trails. That sounds nice. It's also super lightweight and packable so it won't take up much room in your sack of goodies.
2. InReach SE Two-Way Satellite Communicator. Whether it's a solo night ride or a backcountry adventure with friends, I've begun to see value in having a reliable way (read: cell phones are not reliable) to communicate with the outside world. This isn't a need to be connected, but a matter of comfort for both myself and those who want to know that I'm safe out in the woods.
In the past there were one-way personal locator beacons that would send "I'm OK" and "SOS" status messages with your location, but the new SE from InReach will both send and receive 160 character text messages from the outside world in addition to the preset status messages. If you also get one for yourself, we can text each other while you're cruising around in your sleigh!
2.5. First Aid Certification. New projects in 2014 will see me needing First Aid training for certain, but it's the same part of me that wants a satellite communication device that wants to know that I'm better prepared to deal with emergencies that may arise. I guess I want my friends to get this one too – is that too much to ask?
3. FOX Digital Shock Pump. In your years of knowing me, Santa, you've probably realized I've got just a bit of OCD. You must understand my frustration with the basic standard for shock pumps, which are used everywhere between 60 psi and the mid-200s, and yet run on tiny little gradations of 5 psi on a dial gauge. You would also understand my joy when I found out FOX now makes a digital shock pump for public consumption. Half-psi incrememts up to 100 and one psi increments above – perfect!
Now, I know what you're thinking. How could a pump even be that sensitive, let alone accurate – and why do I need this? Well, I will say that even the standard dial shock pumps vary in their accuracy from piece to piece – but they are generally dependable in giving you the same reading time after time and this underscores the importance of using the same shock pump. While 0.5 psi may be overkill, I'd very much be happy to have a gauge that reads at even a fifth of the existing 5 psi increments.
Now, back to that beef about holiday music. If you could find a way to put some "Sleigh Ride" in your sleigh ride this year and get rid of that other song for good, that would be awesome. I'll have the milk and cookies ready and some carrots for your hooven beasts.
Thanks!
Morgan
---
What did you ask for in your letter to Santa?