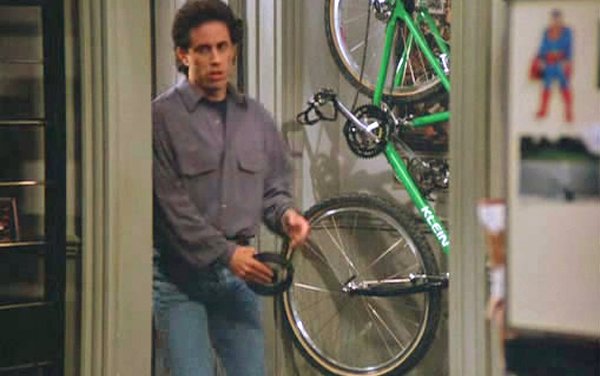 Beggars Would Ride
Darwin's Platinum Card
There's Min-Maxing, as defined by Andrew Major; the concept of tapping into the best given performance per dollar possible and using shrewd options and lateral thinking to stretch the functional range and usable lifespan of a given bike well beyond the standard "two seasons and bin it" upgradeitis that is the common consumerist default at the heart of the entire outdoor industry. And then there's the booby-trapped opposite end of the bike building ethos, where there is no upper limit to the outflow of cash for gains that cannot be easily quantified even in the short term, but that are guaranteed to be nothing but heartache down the line. For the sake of discussion, let's call it Max-Minning.
There were nylon bolts holding Ben's watterbottle cage on to his frame. It took me a long while to get my head around it, but yep, there they were. White nylon bolts that had probably been scrounged from the aisles of Orchard Supply Hardware, intended originally for use in curtain runners or maybe to hold decorative plastic trim in place. Noticing my horrified glance, Ben beamed proudly.
"Dude, check it out. They weigh less than a gram apiece. I saved TWELVE grams on just my waterbottle cage bolts alone! They're so awesome!"
Ben was fond of referring to the abovementioned late, great hardware store chain as Orchard Supply Aerospace, and he loved to seek out the edge of things, especially when it came to shaving weight from his bike. So I shouldn't have been at all surprised that he was using nylon screws to hold his waterbottle cages onto his frame.
"They're totally fine," he continued. "The worst that'll happen is I might jettison a bottle somewhere. I'm more concerned about these; gotta be light on the brakes but I saved a ton of weight here," he said, gesturing toward his rear brake rotor. I bent down and took a closer look, and sure enough, every other rotor bolt was conspicuously absent. And the remaining three were kind of strangely colored.
"I know what you're thinking! I'm not that far gone. Don't worry, they're not aluminum. That'd be stupid! They're titaaaaaanium! Both wheels!"
Ben was not stupid. He knew he was flirting with disaster and he was willing to play around with the existential sharp edges that float like bright shards of razor wire in the rarified air that only the bravest of weight weenies will breathe. He wasn't advocating other people chase his vision; his wax wings were crafted by his own hands and if by chance he flew a little too close to the sun, well, the damage would be his and his alone to suffer. Or his, and the legions of likeminded souls out there who gleefully throw vast sums of money at their bikes in the pursuit of gains that are marginal at best, and that almost always come at the cost of reliability, rideability and performance when measured with anything other than a gram scale.
This memory was dredged up as I scrolled the comments on Andrew's latest NSB crank review, where the relative worth of an expensive upgrade that had no tangible performative advantage was being brought up for discussion. Personally, I have no problem spending money on things that don't make me faster and don't make my bike lighter, but do bring me aesthetic pleasure, just so long as they don't make my bike ride worse. Aesthetics matter.
So does performance, but performance is a relative thing. These days I am willing to forsake the perceived bleeding edge of performance for reliability, nine times out of ten. Reliability is a performance vector, too, and one that I have overlooked more than I care to admit.
And boy howdy, when it comes to throwing cash at bikes chasing after some intangible sense of "better" only to end up broke and confused, I've spent some time down in that spiral of doom where money and reason have long jumped ship and let me tell you, it is an ugly place. So here is my advisory of how to avoid the Max-Min trap. Most of it should be pretty self-explanatory.
One.
If it weighs less, it'll probably break sooner. See? Totally self-explanatory. Sure, there are some lightweight components out there that are as strong and as durable as things that weigh twice as much, but they will cost a fortune and probably require a ton more maintenance. As a general rule of thumb, whenever you attempt to shed a lot of mass from a bike the only thing you are really making reliably lighter is your wallet. Cheap, light, strong; pick any two. Someone said that once. It is still true.
Two.
More pivots means more work. Again, not really rocket surgery here. While the leverage rate magic and kinematic tweaking employed on modern suspension designs can lead to some pretty damn impressive ride characteristics, more parts is more parts. And sooner or later, everything needs maintenance. More pivots equals more axles and more bearings. More axles and axle interfaces create more opportunity for creaks and knocks, more bearings offer more opportunity for things to get crunchy or seized, more bolts mean more bolts, and eventually that magic carpet, sweetly progressive performance advantage will get eroded by the parts that need service and/or replacing. Things are soooooo much better now than they were back in the bad old days (I'm looking at you, Outland VPP!), but still, the more moving parts you add to a suspension design, the more of a problem it will be for you or your mechanic somewhere down the line.
Three.
Exotic metals are a great way to empty your wallet faster than you can say "Galvanic Corrosion." I don't care whether we are talking about titanium seatposts or aluminum chainring bolts, there are certain things that should be avoided if you want to live a trouble free mountain biking life. Those things include, but are not strictly limited to; titanium bottom bracket spindles, aluminum bolts anywhere, titanium bolts most places, titanium spokes and alloy nipples, alloy spoke nipples on any wheelset you want to ride hard and have last for more than a couple seasons, and any full suspension frame that is made from titanium. It may sound like I am teeing off on titanium here. For the record, I LOVE that grey wondermetal. On hardtails. When someone else already took care of any drilling, cutting and facing that needed to be done. I will, however, stand by this Max-Min maxim – there is no surer way to spend huge wads of cash for absolutely no tangible benefit than to buy stuff made from titanium. Fine, it doesn't rust. But neither does much else these days. If anyone feels attacked by this paragraph, come yell at me in the comments. At least I didn't bring up magnesium or beryllium.
Four.
Batteries. Since it is official "stab at the sacred cattle day," I'll put batteries right up there above lots of pivots as a place for the metaphorical crows of down the line misery to come home to roost. Whether it is powering a shifter, a suspension component, or a motor, a battery is a failure waiting to happen. Now before you go and say that a cable is also a failure waiting to happen, stop. Admittedly, more gears means more maintenance, and tired old cables and housings are sure as shit going to degrade shifting performance, but come on. In the case of shifting, the best justification for adding batteries to bicycles is that it is a great way to add in expense for benefits that are negligible, even though I can totally get behind the aesthetic of ditching those cables. From a performance standpoint, can you really say that the shifting is really that much better? I am firmly unconvinced. Suspension, likewise. Ebikes, well, that's a different kettle of fish, but I don't envision that there is going to be a thriving vintage ebike movement a decade or so from now because so many of those bikes are going to be completely useless, or landfill. Toxic landfill.
Five.
Laborious craftsmanship does not necessarily mean "better." I am probably going to bum out a lot of personal friends with this one, but sinking a huge chunk of coin into a handbuilt frame or a pile of really small batch CNC machined stuff shouldn't be viewed from a performance standpoint. When you buy a handbuilt frame, you are buying a rolling piece of art, a functional kinetic sculpture. You are supporting a craftsman. You are helping keep a community alive. You are Sticking It To The Man. These are all very noble, worthy things. But you are not buying a definitively better mousetrap.
Actually, scratch that last one. I will always say that it is worth every penny to dump stupid amounts of coin on good handbuilt frames, and there is no way that they diminish the quality of my riding experience. So, in terms of where this article started – the idea of spending money on stuff that will actually make your ride worse, I can't say that handbuilt frames qualify. Unless they are handbuilt titanium full suspension frames, in which case we go back to square 3 and start again.
To bring this full circle, back to the SLX to NSB dollar value standoff, this whole mountain bike jive is nowhere near as easily defined as "you get what you pay for." I was riding up the arroyo this morning outside of Loreto, aboard my carbon framed, plus-tired, slim-fat arroyobike, and I got spun up on then promptly dropped by a local kid aboard a big-box store GT hardtail, with the fork installed backward. His entire bike probably cost a lot less than my front wheel, and his damn fork was on backward, as in, brake rotor on the right side, and negative axle offset. I tried to chase him down and tell him his fork was backward, help him out, flip the damn thing around so he could rail turns without dying, but he was gone, dropped me like a rock down a well, nothing but a plume of dust.
Hell, I dunno. Maybe the bike handled better that way, for him. Maybe he was next level min-maxing. I'd lay good money that he wasn't using plastic water bottle bolts though, and if any rotor bolts were missing, it probably wasn't intentional.