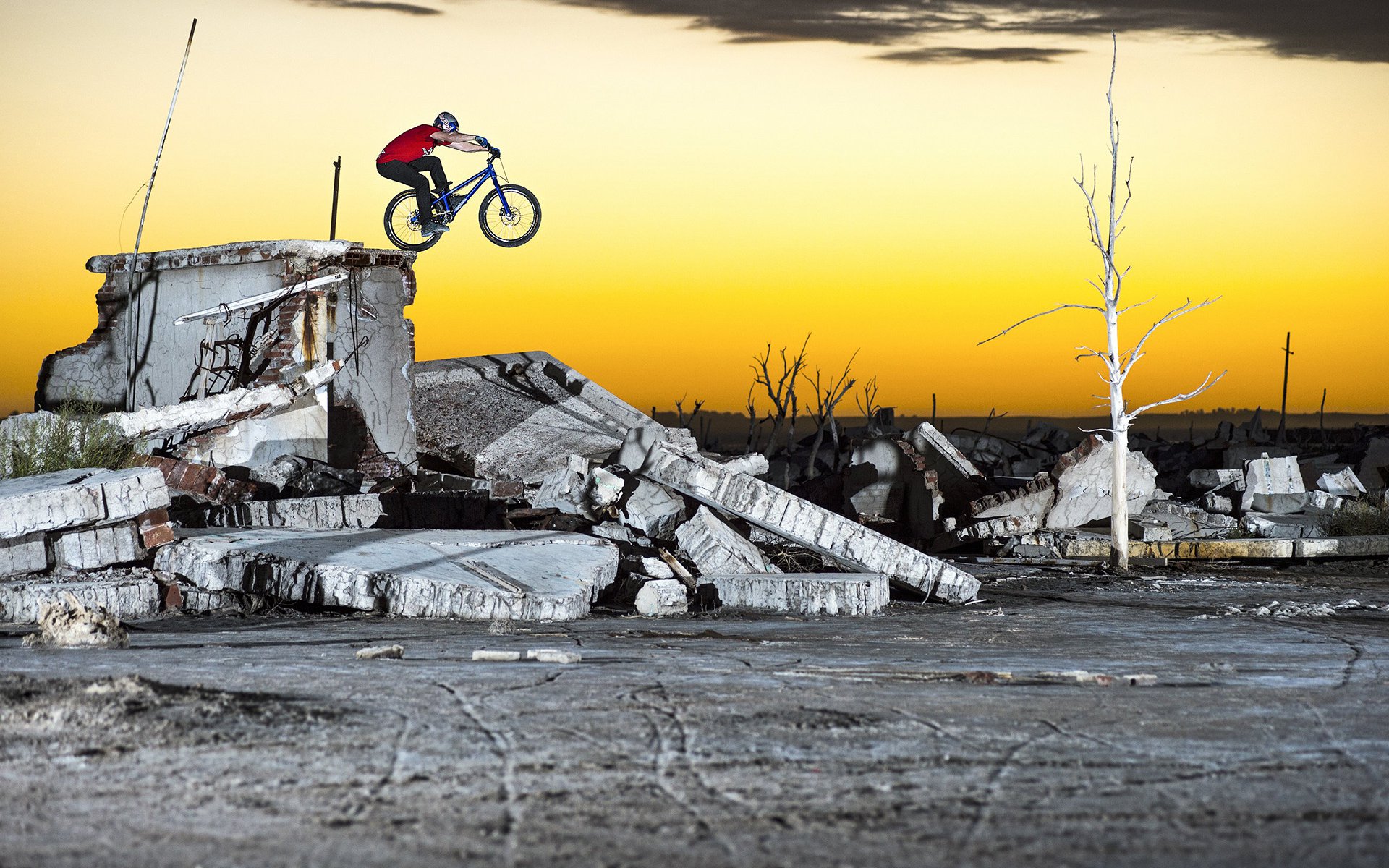 Getting Looped on a Road Bike
Danny MacAskill Interview Part II
Click here for Part I if you missed it.
Danny's not the first MacAskill to make a big mark on the world. Danny's ancestor Angus Mòr MacAskill was a Scottish-born giant who is listed in the Guinness book as the tallest non-pathological giant who ever lived, standing 7'9". Angus was renowned as a strongman who could walk with a 350lb barrel under each arm. Today Danny's father Peter manages the Giant MacAskill museum in Dunvegan, but it's likely many visitors today come to get a look at Danny's father and the bikes that 5'9" tall Danny keeps in the museum, as much as they do to see his 7'9" forebear.
My conversation with Danny continues with talk about his viral success, Martyn Ashton, looping road bikes and riding sweet dirt in California. 

Cam McRae - Have you been surprised by the public reaction to your videos?
Danny MacAskill - Massively. I never had a goal to be a professional rider. Especially the film in Aviemore was just to document it. It was the same feeling when we were making it in 2009. It was basically just what's the best riding. I'd been living there for three years, I'd found a few things I wouldn't dare do unless I had someone like Dave Serby going to put them all together in a clip.
CM - Like on top of the fence.
Danny -  Yeah, that kind of stuff. I really set this bar like what can I do on my bike. I've got this amazing opportunity to film with Dave, I'm going to try my hardest to do some good stuff. We made it completely for ourselves, it was never going to be like a sponsor me kind of video. I never sent any emails off to any sponsors to try to get parts. I was kind of the belief that if you're good enough at something the right people would take notice and it would probably work out, and that's kind of how it's worked for me.
CM - You never sought out anything, it just came to you.
Danny - It came to me in a big way after that video. It was like holy shit, all these different brands coming in. You're like whoa. I just let it kind of simmer for eight months or something like that, then I kind of took the management and all this stuff because I needed it to deal with all it.
The video was always a big surprise, especially that first one. We were like, it was cool because we put a lot of effort in. It wasn't like it was a fail video that we made. We worked hard on it, and I felt and I'm sure Dave felt that we did as good as we could. It was quite cool that people appreciated that but we just sort of made it for ourselves.
Since then it's been interesting. I'm always surprised each time. The next video we made Way Back Home, and if I'm honest I set this bar. I had this opportunity, I set this bar ridiculously high. Looking back I had these insane plans. Some of them, some of which I've actually been able to go back and do. It's funny how the ideas keep coming back around. You don't do it one year, you might do it two years later. I had plans to jump off a 41-meter bridge into the sea.
CM - And that's something you've done now.
Danny - No, I've not done it yet.
CM - But you did it in Cascadia.
Danny - Yeah, no, but that was a small version. The other was like three times higher than that.
CM - Really?
Danny: Yeah, it would have been three times higher.
CM - Oh, my God.
Danny - It would have been massive. One day. It's basically Skye Bridge. It's the bridge going to the island I'm from. I've spoken to a stunt guy that's jumped about the same height as that, he's been fine. One day.
Anyway, it is always interesting what ...
CM - Communicates with people?

Danny - Yeah. It's a funny one. It's a funny one with the videos.
CM - Which of your videos would you say is the most memorable, or you're most proud of?
Danny - It's a really tough one. They've all been ... I don't know. Thinking back about it now it's been a really surreal few years doing this stuff. It's all generally been with friends. It's not always Dave that's been filming. I've done a few with him, and then my friend Stu Thompson, and then other friends Dave and Robbie. I'd say the one that's been probably the biggest surprise since Inspired Bicycles has to be the Ridge. It was something I wanted to do with some smaller kind of sponsors. I'd kind of made a film with Red Bull earlier that year, and I wanted to go back to Skye and do something to show off the island.
CM - And on a different kind of bike, as well.
Danny -  Yes, and on a mountain bike, which I was wanting to be quite careful to not tread on... Another rider who has influenced me massively over the years is Chris Akrigg his riding, and trials on the mountain bike is his thing. I don't know, you don't want to tread on toes. I've got massive respect for him.
CM - You wanted to make it your own.

 Danny -  Yeah. I thought I'll go up into the hills in Skye. I actually talked to Chris about it first before I did it. We just wanted to make a little video, we had basically no real expectations. I'd never been up to the top of the mountains there before, although I could see them from my house. It's quite a full on mountain range, so you don't really go wandering there as a kid.
We kind of just filmed for seven days, which is a very short amount of time for one of my kind of films. To our surprise, it's probably been the most surprising video that we've done. It's actually sort of been the biggest viral in terms of numbers to time that I've done. It was on Stu's YouTube channel (currently just shy of 49m views), I had no push from the bigger partners that I've got. It was cool.
CM - There's spectacular landscapes, and going up to the peak filming ...
Danny - Yeah. It's very slow, if you think about it. Often the videos of those kind of views on the internet are cat videos, quite quick, or fail videos. It's weird because it's very slow. It's got me bloody ruined for a few minutes in the start. It worked, but it's an interesting one.
CM - So the most surprising in terms of the way the response was so unexpected.
Danny - Yeah, for sure. The riding level wasn't that high either, from a crowd's point of view. Basically we're just going up, and then I was just riding some trails down. My friends would do the fancy work with the drone. Climbing with my bike compared with slogging three hundred takes over a little tech trick, this is like pretty easy going. We were left at the end of it, we had the thing finished and cut, and we were like is it any good? We showed it to some friends and they're like it's all right. It was really unexpected.
CM - I wanted to ask you about stepping in to help out with the Road Bike Party video.

Danny - It was I suppose in 2013, obviously the news came in Martyn had had an accident doing a show at the Moto GP, which is pretty hard news, probably some of the hardest news I've actually sort of had in my life. He's been a massive part of my riding, and how I kind of ended up doing it for a living now. It was a kind of bittersweet thing that he asked us, myself and Chris (Akrigg), to help finish Road Bike Party Two, which he'd been working on. Of course on one hand it was amazing to be able to help Martyn at the time but of course, I'd rather, much, much, much rather watch him complete the whole video.
It was kind of as soon as I got asked I was like well, what could I kind of bring to the table. He'd already filmed about half of it, and I knew with Chris we'd make sure to keep things on a really high level. I think I filmed for about five days. Chris had finished his part. The first time I'd ridden this bloody road bike was off of a bridge. I remember getting on the bike for the first time. I'd driven all the way down to Wales. The night before, Martyn asked me to shave my legs. I'm like well, I'll do anything. If he asked me to shave my head or whatever I'll be there doing it no problem at all, but I made a bit of a botched job of doing it. I hacked them to pieces.
The first day of filming on the road bike was on top of this bridge down in Wales. I was feeling very uncomfortable with these sort of hacked shaven legs and shorts in October, so it was very cold at this point. Here I was riding this road bike I'd seen both Martyn and Chris put through its paces. It was still the same bike, same frame, same wheels, same everything.
CM - You're wondering if it's going to be falling apart.
Danny - It's one thing riding on something if you trust your equipment, but I was on this thing. I was under the impression that basically something was going to snap and I was going to fall to my doom. It was all right, and I started slowly building up some confidence. One thing I really wanted to try was this loop the loop on the road bike. I'd kind of come off Imaginate earlier that year, and I've probably done more loop the loops on a bike than most folk. I'd hit this loop in Imaginate probably 200 times or something. I used to do it to warm up in the morning. I'd flip the stepdown, and once I'd learned this thing I'd just go round it and round it and round it because it's so much fun to ride.
I was like well, I'm pretty sure I could probably try to loop on this road bike. It was I'd say one of the most gnarly things I've ever done on any bike, bar anything, because there's no practicing it. It's not like you can fill the thing full of mats. It was like three degrees in November when I came down to doing it, in my Lycra, with nothing, a concrete pipe bigger than anything I'd ever done. It was a weird one because it wasn't for my project. Because it was for Martyn, I just, I don't know, it was like I didn't ... Because normally I would have what you'd call bitch runs, you'd run in and like no, no, no. But I was like well, I've been thinking about this for the last few weeks, and I'm not going way from that day without doing it, so I actually just sort of got myself together, and just took a run up.
The first time, to my surprise, much to my surprise, I went round it. I was so surprised I made it round the top of the loop and back to the bottom in one piece. I put my feet down. I was in shock. I was just like there is no way that I actually made it around, but I'd obviously ruined the shot. I was just like damn it, afterwards. I had to go back there and do it again. The second time I went in I went and carved way too hard, and so hard in fact that my tires that were 130 PSI rolled off the bead. You G-out, the tires would go flat, you'd feel like you're on the rims going around it. They rolled off the front and jammed in the forks, so I went over the handlebars upside down. Luckily I caught some transition on the other side and slid down. The bike, the front wheel kind of popped out of the dropouts, but other than that it was fine. I cracked my helmet doing that, as well. Then the third time I got it done.
It was one of the most satisfying things I've ever done on any bike, I think. It wasn't for me. It really was I wasn't doing it because ... It was just purely kind of for Martyn. It was a nice feeling to help him finish that. I think in the early days of his injury it was quite a big motivation for him, something that probably took his mind away from what was going on at the time.
CM - He's continued to be an inspiration.

Danny - Yeah, of course. Massively. It's hard to say even more so, the way that he's dealt with his injury and stayed motivated. Last year with Mojo he had built up a bike with a seat, and we actually managed to go riding again in Wales, again with Martyn and Chris and Blake Samson helping out, made a wee video of him down in Wales. That was definitely one of the coolest, again one of the sort of coolest days I've ever had probably in my life, not just on my bike.
CM - So many smiles.
Danny - Yeah, exactly. It was just a great time. I hope to be doing more of that with him this year.

CM - Can you tell me what you've been riding here in Santa Cruz and lately?
Danny - Yeah, the most recent steed that I've been riding in Santa Cruz 5010, size medium, which has been a good... It's been a really fun bike. I've had, I'm mostly known for riding the Bronson and I've had a Nomad, but I've been really enjoying the slightly shorter travel, and the trails, I've been really enjoying it. It's like a lot of, I feel like a four cross champion when riding the corners.
You're insiding on everything, and just drifting everywhere. I've also been, back at Scotland, and have a trials bike. I was waiting for some new ones to come in. I've been out riding the streets on the 5010, it's been a lot of fun, but the sort of bashing, it has been taking quite beating as I've been trying to learn how to go up different walls and rails, and things like that. It's been fun, really fun, it's just different, you know?
CM - Could you tell me, how much time do you spend when you're just, you've got a free day, or a number of free days, how much time do you spend riding trails and how much time do you spend just riding trials or practicing?

Danny - If was back in Glasgow, say if I was back for five days, which is quite rare. Then, I would probably ride street at least four of those days. Then, the chance that I probably would ride my mountain bike on two of those days. It depends who's around.
I would say my mountain bike for me, is more of a social, it's more social. I ride with my friends. They are part of my motivation to get out on that when they're free. Then the trials bike for me is just if I'm at home in the flat, then I'll just fire a bunch of new music on my Spotify that I've been looking for videos. Then, I go riding to that for a few hours thing. I'd usually, I ride by myself. I live in a flat with four friends who ride, seven guys all together, but four of them ...
 CM - There's seven of you living in a flat?
Danny - Yeah, it's like two flats kind of joined together. We all go riding separately. It's funny, two of the guys, one of them runs Drop and Roll with me, and the other one rides for Drop and Roll, and we never ride together. It's just, riding trials for me it's sort of an individual thing. That's just the way it's worked.
CM - Thanks very much for taking the time Danny!
Danny is a gem. Can't wait for his next production.