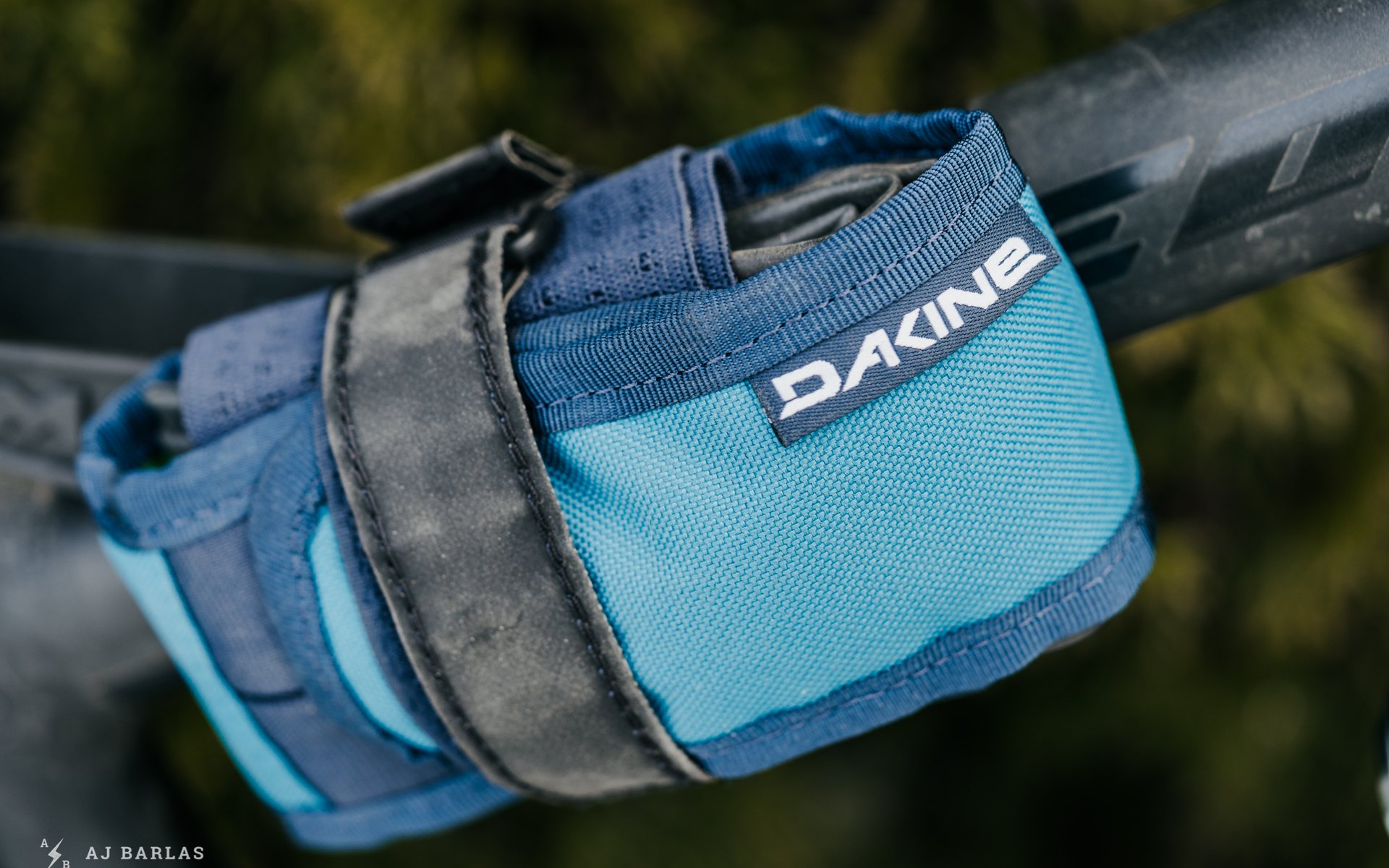 Two-Minute Review
Dakine Hot Laps Gripper Storage Solution
The way mountain bicyclists carry spares or tools can be divided into two distinct philosophies. One is firmly against strapping bits and pieces to their beautifully designed bike. This camp generally relies on a hip or backpack to carry their spares and can't stand messing up the look of their fine steed. The second group despises having anything aside from the clothes on their back hanging off them. Instead this group straps tubes, tools, you name it, to their bike. I fall squarely into the latter group and accessories like the Dakine Hot Laps Gripper are an excellent implement if you to prefer this method.
Features:
Stores a tube, tire levers and space for two C02 cartridges

Straps beneath your seat or to the frame

Textured surface between frame and bag to prevent excessive movement

Limited Lifetime Warranty

MSRP: 22 USD

Note the above mention for Dakine's limited lifetime warranty. Similar to my experience with Dakine packs, the Hot Laps Gripper is well built and made with robust materials. Dakine back it up with a solid warranty, should you encounter a problem. The main compartment comfortably fits a tube and the elasticized sides include slots for tire levers. Under the closing flap are two narrow pockets for C02 cartridges. Any or all are open to individual interpretation as well…



It's similar to the Race Face Stash Tool Wrap or the minimalist options from Backcountry Research. A benefit I found with the Dakine option is the loop-back velcro strap. It allows the bag to be tightened down very firmly. It's also constructed to remain enclosed, where the RF option can open out flat. This can make loading it up a bit trickier, as the open design of the Race Face wrap makes for easy access. However, with the Dakine wrap there's less chance the contents will fall out. It could still happen, especially on the sides, but it held everything in place for me.

Being able to tighten down the strap firmly thanks to the loop-back strap helped keep my spares in place. There's also a texturized rubber area to butt against your frame, further increasing hold. Unfortunately, the only location I could place the wrap was under the top tube and during rough descents, it would edge toward the head tube. It never moved more than a few inches but it's worth noting that it won't stay completely still when mounted like this.


Success with a strap like this remaining in place comes down to where it's placed. Ideally, that's in a location like the down tube x seat tube or head tube junction. Also worth noting is that this solution can be stowed under the seat using the seat rails. Most important, the Dakine Hot Laps Gripper held onto the contents securely and kept most of the dirt and grime away. Without a self-contained system—things like the Backcountry Systems or OneUp EDC straps—your spares are subject to every bit of dirt the trail can dish out. A problem for some, while others could not care less.

At 22 USD it's built to last and comes with a solid warranty.
Visit the Dakine website for more information or to purchase online.