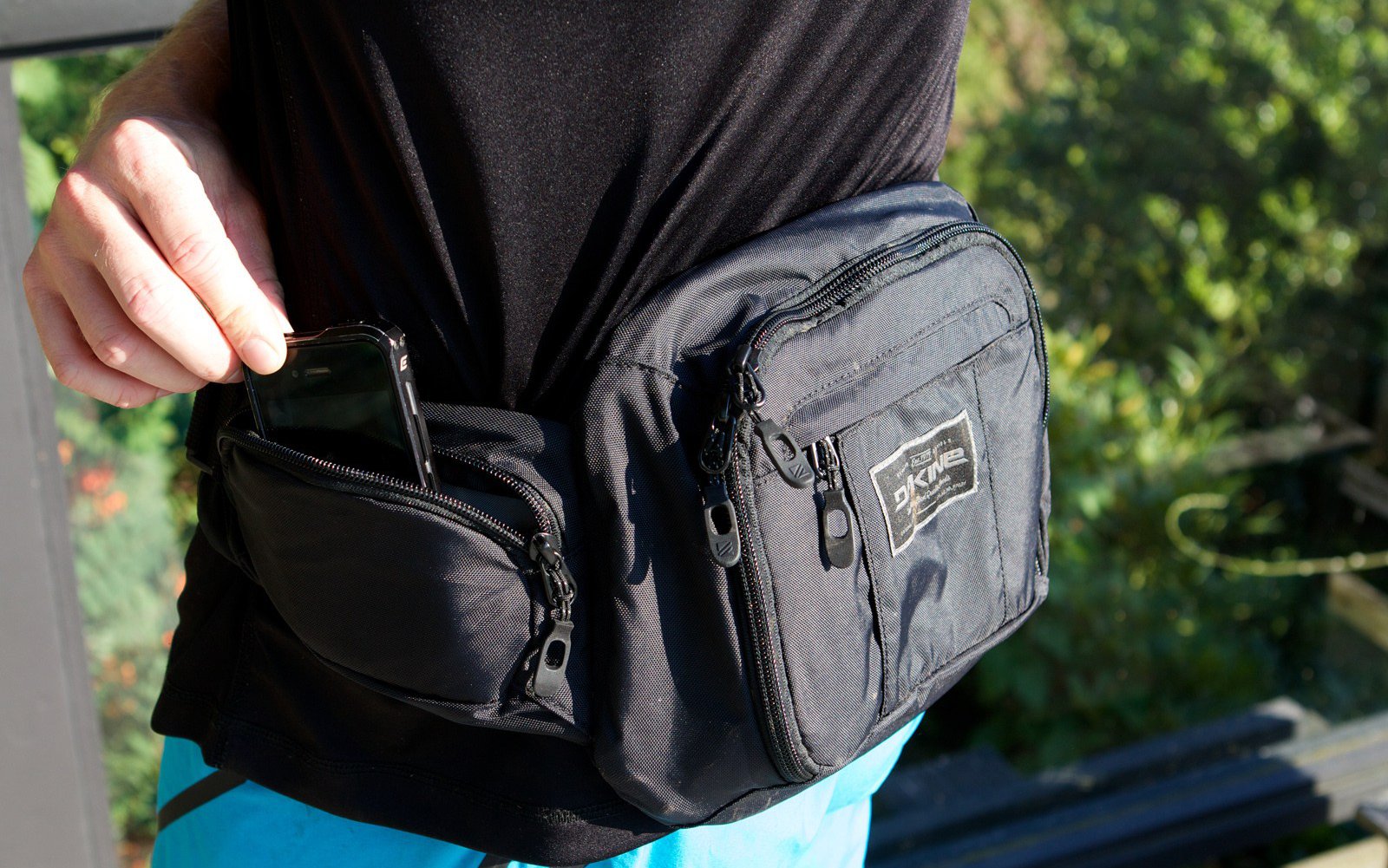 Dakine Enduro Hip Pack: Defended
Music with too much synth. High-waisted jeans. Neon. Terrible haircuts. Fanny packs. If you added rollerblading in spandex, we'd be talking about the 80s, but it's 2014 and you could throw your old Pet Rock down any busy street and hit someone flaunting all of those things, oblivious to their many crimes.
Except that we've learned a thing or two from our layer-haired precursors of 30 years ago. Music is probably no more timeless, although neon is used more discriminately. High-waisted jeans? Women of the world, please just stop doing that to yourselves. But the fanny pack is back, and before we go further, we're going to stop calling it that. And by we I don't mean 'we' in the weird way that writers refer to themselves in the 2nd person, but rather me, you, and everyone else. Do you even know what a fanny is? Let's forever after refer to it as a Hip Pack.
So hip packs have come to mountain biking. At first I wanted to make it rain with insults falling on anyone wearing one, but I decided to bite my tongue and save my energy for tearing down hipster hairstyles instead. Then Dakine sent us their Enduro Hip Pack 9L and I was no longer able to stay on the sidelines.
It may seem a stretch to claim that this pack can carry 9 litres of cargo, but I believe it. The main compartment is ample and contains two elasticized pouch-style pockets, a velcro loop for a pump (not shown – I went with CO2 on this ride instead), and a large zip pocket – it's easy to keep things organized. Photo: Pete Roggeman
Like most of you I'd rather not have to wear a pack when riding but didn't feel I had much choice in the past. Fancy ventilation or not, your back will get sweaty, it will shift around especially as the trail drops away from you, and who wouldn't prefer to ride without shoulder straps tugging at them? For most of the year in the PNW you need a jacket with you, and for the other 2 weeks it's hot and you'll want a lot of water along, at least for any ride over 2 hours.
True, there are rides where a pack is simply the right tool: lots of liquid, extra gloves, two tubes…whatever you feel you need. The thing is that a lot of my rides are 2 hours or less, I often wear a jacket the whole time or bring a compact one just in case, and if I'm not dehydrated to start with, one bottle is good enough since I usually slam one before the ride starts. And I'd wager a mix tape of 80s hair band classics that most of you are the same.
Ironically, what kept me from using the Dakine Enduro Hip Pack more often is that it wouldn't play nice with my roof-mounted bike rack, which grabs the down tube right where a bottle cage would sit. Thanks to a rack change, the hip pack is back in play and I'm really happy about it. You could fit a regular 12 oz. bottle in the main pocket but it wouldn't be easy enough to access, although a spare bottle in there would be fair game for longer or hotter rides.
The waist strap is wide and snugs down with two straps that face forward, so you can cinch it while pedaling if needed – but if you get it sitting right before you start your ride, you'll never have to touch it again. And while a bit of sweat will build up behind it, it's a much smaller backprint than the smallest hydration pack, so go ahead and enjoy the wind flowing through your jersey, and the lack of straps on your shoulders. Five stars for fit.
Two hip pockets are my favourite feature, putting a multi-tool, phone, and a gel within easy reach while on the bike. The outer main zip pocket is perfect for a wallet or extra food – you could squeeze a sandwich in there if you needed to. Photo: Cam McRae
As modeled by Nathan Riddle: even when full, the Dakine Enduro Hip Pack stays in place and doesn't swing around. Yes, you can fit a compact jacket in there. Or your goggles, EnduroBoy. Photo: Morgan Taylor
The Dakine Enduro Hip Pack 9l is available in Black, Hood (with subtle topo detail of Mt. Hood from Dakine's home state of Oregon), and Camo.
The Dakine Enduro Hip Pack 9L retails for $54.95 CAD / $50.00 USD
---
Fanny packs Hip Packs: Yay or Nay?