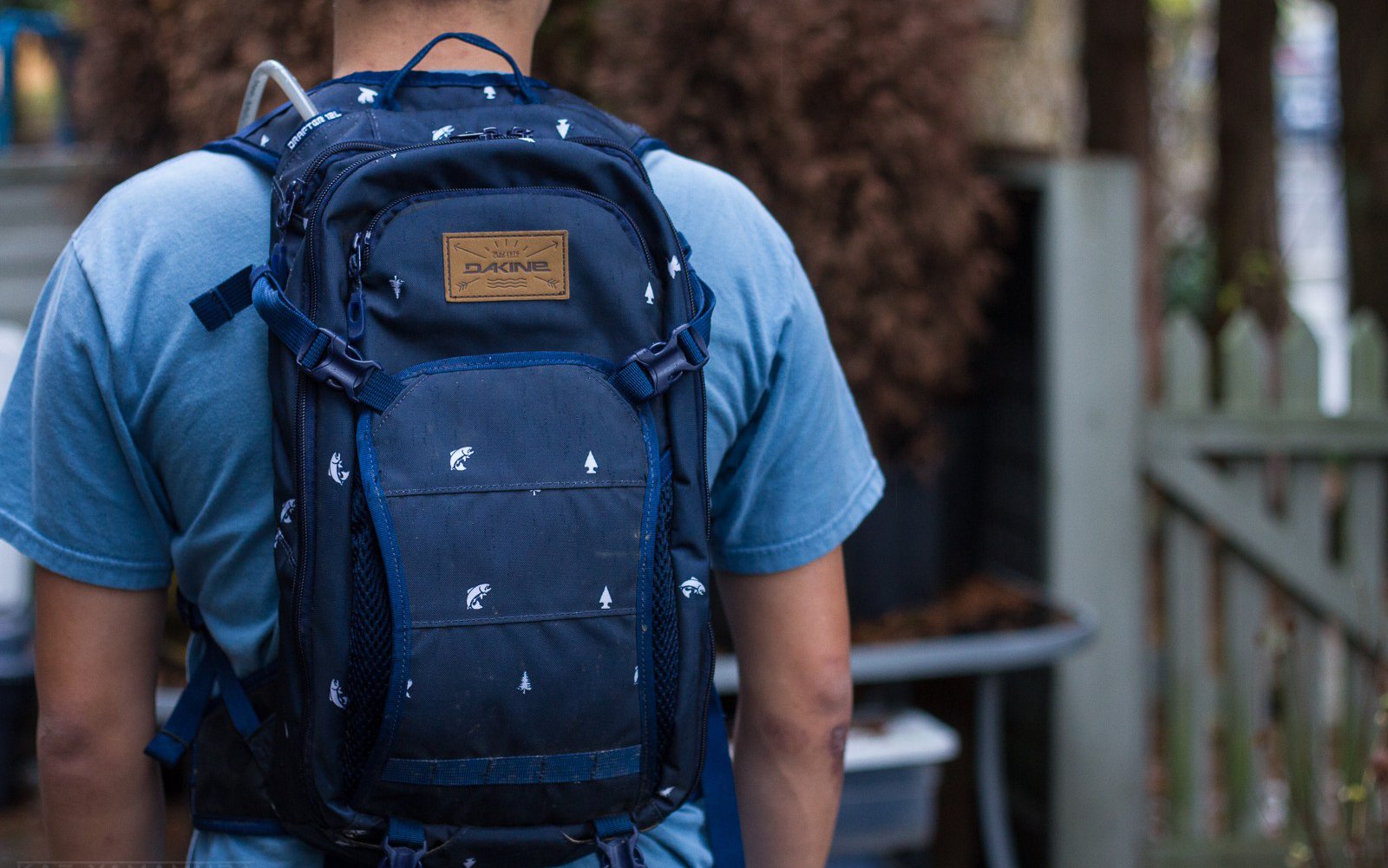 Dakine Drafter 12L Pack
Riding packs are as varied as the riders who wear them. Some carry enough gear to rebuild your wheels and build shelter for the night, others carry as little as possible. Lately I've been riding with the Dakine Drafter 12L pack, which sits somewhere in the middle.
The air mesh back panel separates your back from the back of the bag, aiding with fit and comfort.
The Drafter packs a full day's worth of water and has enough space for size large adventures as well. The first thing I noticed with the pack was the "Air Mesh suspended back panel." The panel separates the back of the bag from your back, allowing air flow to keep you cool. The mesh doesn't absorb moisture so if you remove the pack mid ride it won't feel like a wet dog when you put it back on. Once I put the bag on, the back panel was very comfortable and fit the curve of my back nicely. The pack comes with a 3L/100 oz Shape-Loc reservoir, equipped with a quick release for easy removal.
A magnetic clip attaches the hose to the strap, keeping it from swinging like a barn door.
With 12L of storage capacity there's enough room for me to stuff in what I need for a ride but the curved back panel makes fitting larger items a challenge. I am able to fit a shock pump, my camera, one lens and my flash and still have some emergency space. The zipper goes all the way down the sides, so that accessing items in the bottom of the bag is a breeze.
Armour straps on the bottom of the pack let you concentrate solely on the climb rather than soggy joints. The fish designs/prints on the bag are reflective for safety.
I'm liking the Shape-Loc reservoir, the sliding closure keeps it secure but easy to open.
Enough space in the external pouch for a half-shell helmet, and with a little creativity I was able to fit my full face helmet on the bag without it being too loose.
The zipper goes all the way down on both sides, allowing the bag to open like a tongue. This made it very easy to grab things out of the bag. Internal organizers also help with storage, keeping things in place.
The Dakine Drafter pack works well for me, with enough room to fit in all my essentials for riding as well as enough camera gear to take a few shots during the ride.
The Drafter pack is my new go-to. Being able to bring all my riding essentials and my camera is a big plus for me, and the hydration system works as advertised. The Drafter comes in at $115CAD, and the blue colourway shown will be available for 2015.
---
Have you forsaken the pack or do you still carry enough gear to justify it?