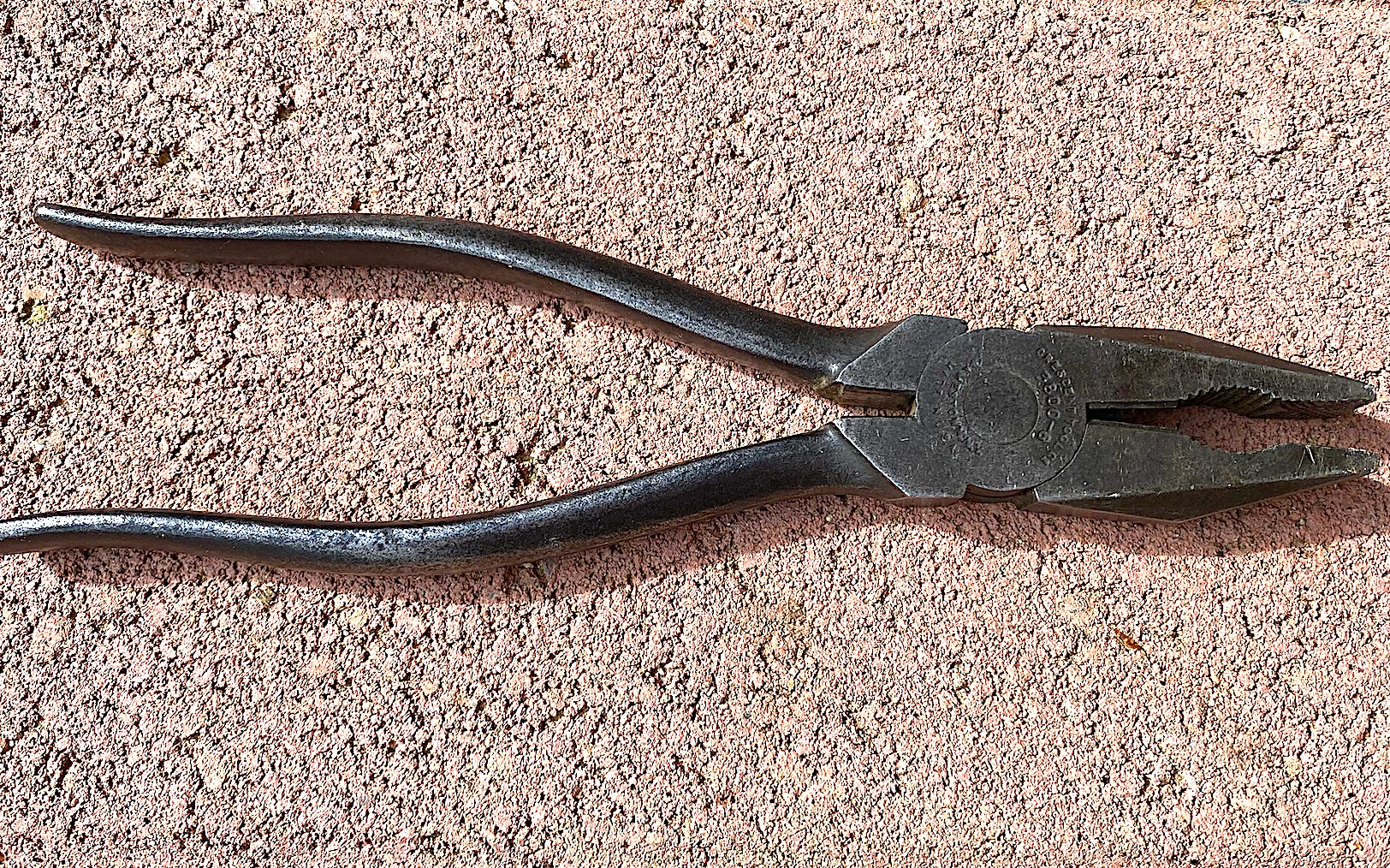 Beggars Would Ride
Dad's Pliers
I have known this pair of pliers since before I could remember. One piece of an extensive and well-kept tool collection that my dad carted from the USA to New Zealand in 1970, when he decided that was where he wanted to raise his family, I'm not sure if these pliers were his favorite; he wasn't given to sentimentality and didn't imbue tools or motorcycles with any mysticism or totemic value beyond practicality. But I remember them in his gnarled hands all the time; pulling fence staples, twisting safety wire, prying coked-up baffles out of ratty old two stroke exhausts. They lived in the top tray of a well-used old grey Craftsman tool box. The top tray of that box was reserved for the tools that got used the most. So, in spite of Fred Ferrentino being a stickler about using the correct tool for a job (and woe betide any kid dumb enough to use an adjustable wrench when a socket would fit the bolt, or pulling a flat-head screwdriver into duty as a drift or a pry lever), the top tray of that old toolbox invariably housed this pair of pliers, a 20oz ball-peen hammer, an assortment of files, a dental pick and a pry bar. And a tire patch kit.
These pliers were some of the first tools my dad ever let me lay my hands on, and I still clearly recall my shock and pain at the brutal pinched blood blister they raised the very first time I slipped while trying to grip something, clamping my finger in the bottom end of the jaws. There's a blood blister on my right index finger right now, in exactly the same place as every other of the countless pinches I've given myself from these things during the past 55 or so years.
They are heavy, too heavy to get included in the backpack for any sort of ride mission. The plier head is hefty enough that the tool feels off-balance in my hands, and the slippery handles – I never recall there ever being plastic insulation – renders them tricky to use in wet weather and on hot days. But the jaws aren't sloppy, even after all these years. The cutter still cuts, the gripper serrations still do their job, and the pliers are holding up well enough to be around when I die and hopefully get passed along to someone else. They are almost useless for almost any bicycle related application, but somehow they are always there, close to hand, so to speak. And they end up getting used, inappropriately, more often than not, with regard to bicycles.
"Crescent Tool Co. 3800-8. Jamestown, NY. Made in USA." You can still get a Crescent 3800 8" lineman plier, for about $27. It's made in Vietnam now, though. I inherited this one with some of my dad's belongings after he died in 2012, and they have been living in the top tray of my tool box ever since.
There's an irony at work here. My dad was concerned enough about being able to get "decent" tools down in New Zealand in 1970 that he boxed up and shipped his entire extensive tool collection to the Land Of The Long White Cloud. It was because of this tool, and others in my father's tool set, that I think I developed my own tool fetish, and this is why I try to purchase tools that are of a quality that will hopefully see them last for generations. I moved back to the states in 1984, and somewhere between then and 2012 my dad either wore out or discarded almost all the tools I grew up with, replacing them with the cheapest possible pieces of shit that he could source from the local hardware store dollar bins. By the time I was back in New Zealand in 2012, he was pretending he didn't have pancreatic cancer and was happily laying down the ugliest welds I have ever seen with a $100 inverter welder that looked like it had been stolen from a prison factory in North Korea. I hadn't banked on my father's widely known penchant for frugality overwhelming his tool quality sensibilities. When I pointed out to him that inheriting a shed full of pot-metal garbage he'd bought on sale (including not one, but TWO incredibly dodgy Chinese benchtop lathes he'd purchased in the grips of what he referred to as "chemo brain fog") was the worst cancer consolation prize ever, he just laughed and said; "You know, it's a poor workman who blames the tool."
Touché, Fred. The pot metal tool bonanza, and the janky rolling toolbox that they were randomly filling, got donated to his Kiwi gearhead friends, who were left to figure out for themselves if they received a gift or a curse. But I kept these pliers, some of the only survivors of a lifetime spent building and fixing things.
I am an absolute high dollar nerd when it comes to the quality of my box end wrenches, my socket sets, my screwdrivers, my measuring tools, my seal drivers, my truing stands and spoke wrenches and tensiometers. I'm fickle and weird about tools. When it comes to adjustable wrenches (which everyone knows are almost always a poor substitute for whatever correct tool should be used in a given instance) I prefer Crescent or Klein brand spud wrenches because I like the way the slim conical handle feels compared to a "regular" adjustable wrench. For spoke wrenches, even though I built hundreds of wheels just fine with Park SW-0 wrenches over the years, I only want to use DT butterfly wrenches at home, and I may be one of the only people on earth who purchased DT's over the top expensive truing stand for home use. I have knelt before the Snap-On shrine and emptied my wallet many, many times. Never let it be said that I am smart with money. But with pliers, it's as if my dad is haunting me.
Wrenching on bicycles, something I have been doing since the mid-1980s, very rarely involves 8" lineman pilers. I've got snap-ring pliers, two different length needle-nose pliers, side cutters, end cutters, crimpers, cable cutters, and a few different variations on much smaller, more maneuverable, lineman pliers. None of them are of very good quality though. For whatever reason, pliers seem to fall into some blind spot in my tool-purchasing decision matrix, and therefore they end up getting bought randomly from the sale bin at Harbor Freight with an accompanying surge of hypocrisy-based shame.
A couple years ago, Ryan Palmer turned me onto Knipex adjustable wrenches. He was mortified that I hadn't heard of them, and after using his a few times, I was similarly aghast that I had lived so long without owning some. They are expensive and German, right up my alley. So, I found some online, and "only" needed to buy a little something extra to get my purchase price past the $75 free shipping threshold. Obviously this was my opportunity to up my plier game. But looking at dad's pliers, sitting there in the top tray of the toolbox, almost invisible, still in perfect working order, just waiting to pinch a new blister on my right index finger, I couldn't do it. I bought a Knipex 73-71-180 side cutter instead, a wire cutter so expensive when compared to the assorted Chinese junkshow in my toolkit that I am afraid to use the damn thing.
The frugal late-life ghost of my dad is probably muttering "what a dumbass." Hopefully the ghost of the younger version of him is there as well, to talk the crochety old ghost down off his shoddily-made, bargain-bin, mail-order afterlife high horse. Meanwhile, I was installing some CushCore Plus inserts last week, and I couldn't find that handy tool CushCore makes to help ram the tire bead down under the insert into the bed of the rim. Turns out the smooth handle of some 60 year old Crescent lineman pliers does the job juuuust fine. Thanks dad, they still got some miles in them.