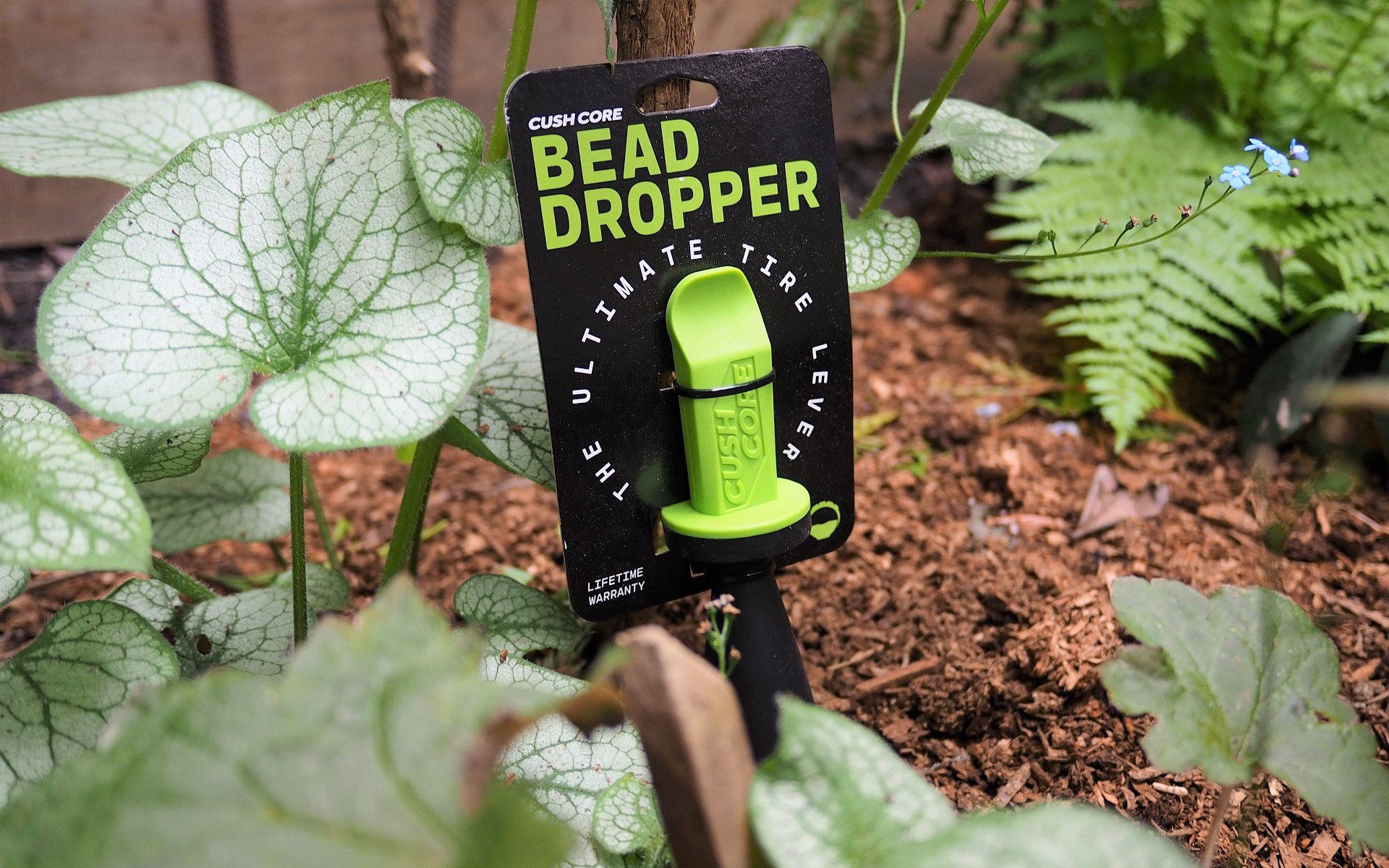 REVIEW
CushCore Bead Dropper Tire Lever
Level-Up Lever
I apologize in advance that this review is going to be a snoozer. I don't have a single gnat-sized complaint about CushCore's new Bead Dropper tire lever. The big green tire shank fully institutionalizes the process of installing and removing tires with CushCore inserts and it won't take more than a couple of sessions for the average installer to justify the 20 USD price tag. Hell, I know some blue barking bastards that will save that in payments to the family swear jar on the first wheel.
It's not just for inserts either. As part of this process, one of my 2-ply 2.8" DH tires decided to form an impenetrable bond with my Gorilla tape rim liner. The Bead Dropper is easily stiff enough to handle the separation, using the same technique as forcing the tire under the insert, and the most ergonomic tool I've tried for the normally tedious job.

The stabbing action encouraged by its ergonomics actually makes the best CushCore installation and removal technique intuitive
If you're already a tire-installation wizard, the Bead Dropper is still a damn nice tool to use on stubborn tire beads. If you're already a CushCore wizard, the Bead Dropper is still going to up your speed and comfort. Especially if you're doing regular install and removals. The 'thumb flange' and rubberized handle save my hands over all the other tools and techniques I've tried. In a shop doing regular installs & removals, this would be a comfort must-have for me. However, in all these situations it certainly isn't a required purchase.
Where the Bead Dropper is a next level tool is for the apprentice. If you're not really confident getting tight tires onto rims to begin with, and downright nervous about installing inserts, the Bead Dropper is more than a tool, it's a technique upgrade. The stabbing action encouraged by its ergonomics actually makes the best CushCore installation and removal technique intuitive. Push, push, push, the tire bead under the insert all around on both sides and it replaces mechanic's purgatory with a process.
So how good is the Bead Dropper really? I was totally overconfident after using it one time. After a single semi-greasy Shore ride without my front CushCore insert, I was more than ready to put it back in. It turns out 120mm travel isn't that much, go figure, and the CushCore insert makes a massive difference. Previously when I've swapped the 29+ insert between wheels I've been very diligent about installing fresh Gorilla Tape on my rim and triple-checking that my tire was oriented the correct way. Anyways, this latest go around it really wasn't a big deal to mount my tire thrice.
Twenty bucks US is a hefty sum compared to buying three crappy levers for a fiver, but it's on par with shop quality DH tire levers and the Bead Dropper is carbon rim friendly to boot. It also carries a lifetime warranty. Actually, it's a LIFETIME WARRANTY in bold and all-caps with its own bullet point, so reef away, ham-fisted friend!
CushCore has a limited supply available here on their site with more inventory stocking dealers in May.