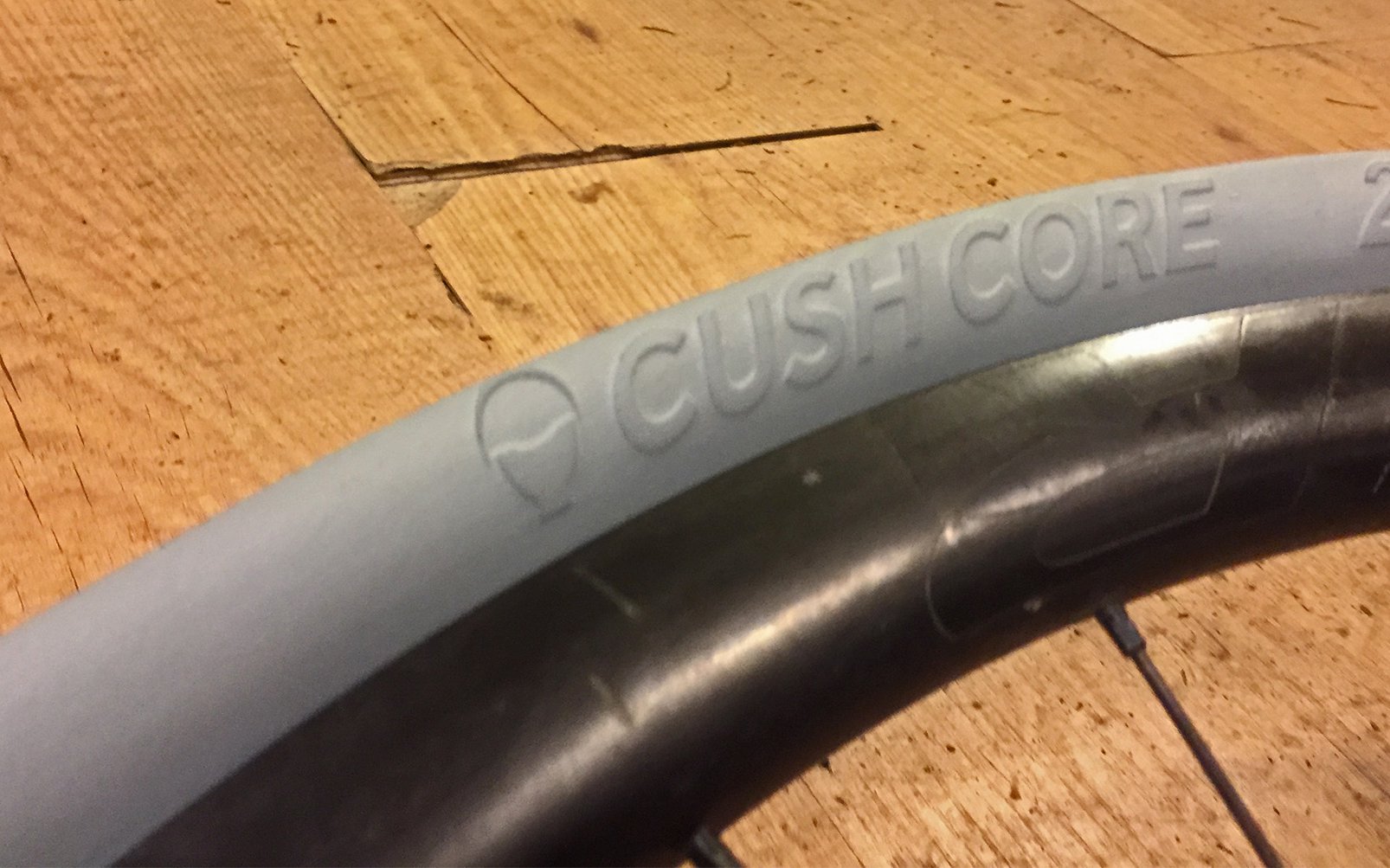 Protection from Dings and Flats
Cushcore - Another Ding and Flat Solution
Similar to other foam inserts like Flat Tire Defender, Huck Norris and Schwalbe's ProCore pneumatic insert, Cushcore is designed to prevent flats and protect your rim. Cushcore's claims go next level though and the product is said to improve sidewall support, vibration damping and probably to turn baby heads into loam. Cushcore's claim chart is below. We haven't yet had enough time on any of these products (aside from ProCore) to back up or shoot down any of these.
It was going to be a long night. I finally worked up the nerve to install Cushcore inserts into my tightest fitting rims and things went immediately sideways. I've mounted a few different tires onto our Bontrager Line XXX carbon test wheels and they are certainly tougher than most, but when a tube is required they become vicious. The inner channel is a little narrow and Bontrager uses their own TLR rim strips rather than messy tape to seal the spoke holes. These strips are a little thicker than tape and they have a built up area around the valve hole, further reducing the circumference and width of the channel. And this area was turning into a problem before I even started to install the insert, let alone the tire.
Cushcore, like Flat Tire Defender, requires a proprietary valve stem so the insert doesn't block air or fluid entry. This stem isn't very long (35mm) and the Bontrager rims have a deep cross section. I reasoned that if I could chop away the built up plastic area around the valve hole I might be able to use these wheels for my Cushcore test. I started by cutting with a knife and I made some progress, but not enough. I had a beer and some dinner and decided this was a job for power tools. Without measuring I grabbed the largest drill bit that was close at hand. I wanted to shave away some material but not go right through and compromise the seal. Everything was going fine... and then I pushed right through the valve hole. I figured I had destroyed the rims because that's the sort of thing I do with alarming regularity. Alas - I managed to get just enough extra space for the valve stem to fit and it seems that I didn't enlarge the valve hole. (Note - Cushcore has 55mm stems on the way. Ed.)
And now the main event. It was time for me to mount the inserts and then get in the ring with a 29 x 2.3 Maxxis Minion DHR II. The first step is to mount the Cushcore around the rim. This was easy enough but I knew the fun was yet to come. Then the trick is to wrap the tire around the insert so that it is surrounded by unmounted tire. This was a bit of a chore but again, not too bad.
The next step is to install one side of the bead. Getting started was a little tricky and after that, the process involved driving the bead as deep into the space between the insert and the rim as possible and working both sides around to get a little more space. That last bit was tough and if I two-handed one side the other side would slip off. After about ten minutes of massaging, I got it. Starting the second side was actually much easier than the first with the tire having some shape, but the last 8 inch gap was a battle royale using the same procedure as the first side. In total, I got 'er done in about 30 minutes for the first wheel - including adding sealant through the valve hole.
As usual with these solutions, this is a good news-bad news proposition. Our examples weigh 260g apiece in 29 and 250g in 27. Adding over a pound of rolling weight to your bike is nobody's idea of a performance advantage, but Cushcore suggest that you are able to use lighter tires and rims because of the protection the product offers so that in the end you may even be able to save weight. We'll call that part 2 of the test. For now I'm using the same rims and tires.
Price
US$149 for 2 valves and two inserts
COMPATIBILITY
CushCore is only compatible with current tubeless tires and rims
Fits tire widths 2.1 - 2.5"
Fits rims with internal width 23 - 35mm
Sealant is recommended

WEIGHT
29" insert - 260 grams
27.5" insert - 250 grams
Potential weight reduction offset by using lighter tires and rims: 100-700 grams
More good news is that, barring catastrophic events, it shouldn't be necessary to swap these out on the trail. It seems to me that these will hold their shape and ride well without any air pressure at all and I intend to try that out.
Cushcore is a small Bend Oregon company. Check them out at Cushcore.com.