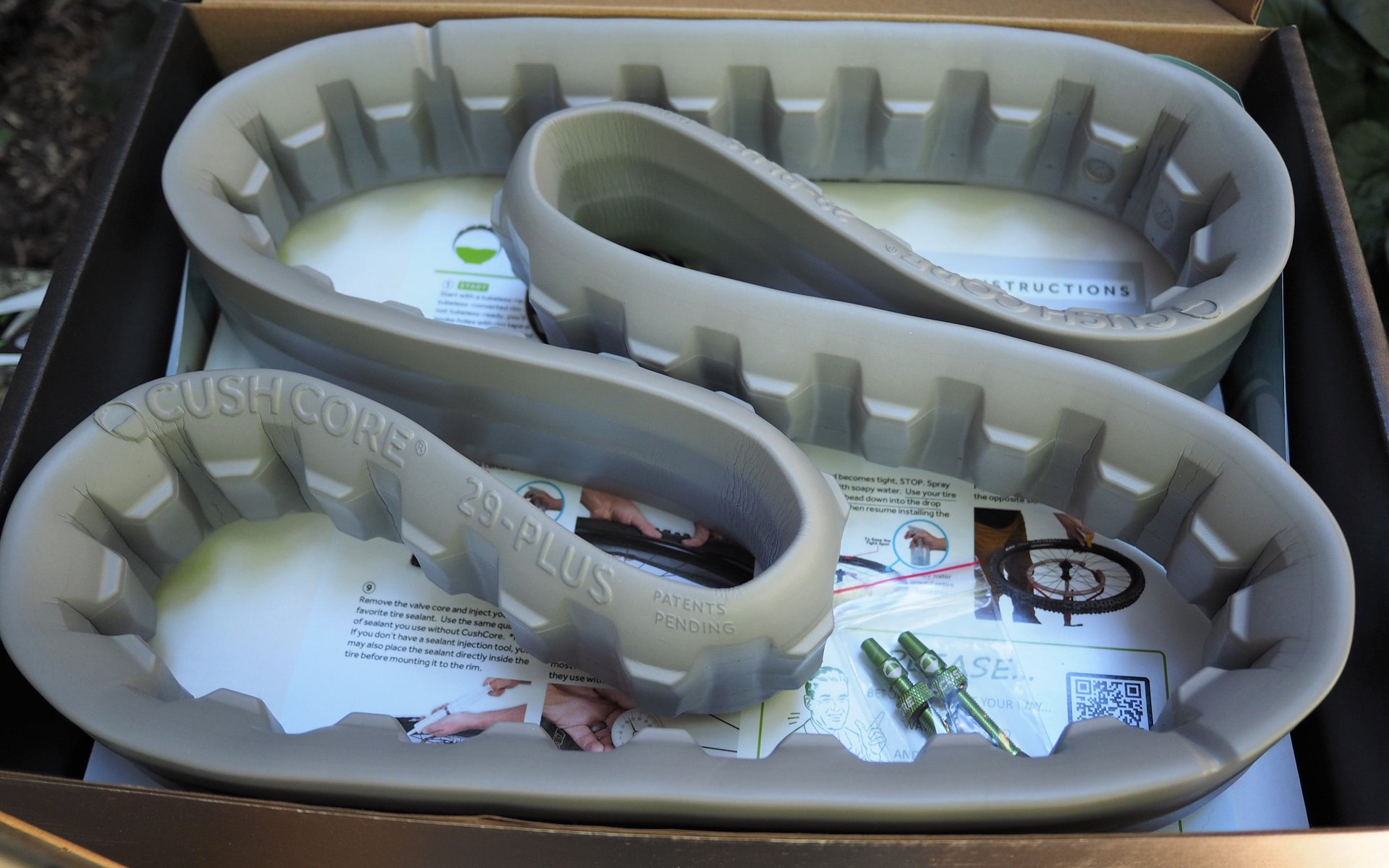 Installation | First Impressions
CushCore 29 PLUS Inserts Ridden
Inserted
I'm holding the 334 gram CushCore 29 Plus insert in one hand. In the other, my 1354 gram WTB Vigilante 29 x 2.8" tire with the heavy duty dual-ply Tough Casing. I'm no weight weenie; that's what I keep telling myself as I'm installing the beastly combo onto this well and truly battered, 675 gram, i39 Velocity Dually rim.
I'll be testing CushCore's super-sized inserts on my full suspension bike as well but, coming off Schwalbe's ProCore and right before that Huck Norris, I felt that my rigid Waltworks was the optimum starting point. For all my proselytizing I've managed to convert exactly zero riders to rigid forks but still I think it's an excellent tool for isolating product differences - in addition to being ridiculously fun on technical trails.
I've started off by running the big CushCore up front to get a direct comparison to my ProCore setup. I will be installing the big bulwark out back as well to take advantage of the extra traction for the greasy winter conditions that are right around the corner.
As I noted in my Velocity Dually review, for the first time in years I've really felt my riding progressing and with that has come a proclivity to hack, jam, slam, and cram my rims into all manner of rock shapes and the pursuant damage one would expect. I'm hoping that CushCore will provide traction and comfort this winter and I'm not bothered about added weight or slower rolling for the shorter 'off-season' rides I'll be doing.
Follow The Instructions
When I first glimpsed the Plus version of CushCore sweating the small stuff at Crankworx this year, their booth featured some poor bastard working his way through what was undoubtedly his umpteenth install demonstration of the week - without a beer in sight. I almost reported these unsafe working conditions.
I've installed a couple of CushCore inserts and my approach with Plus version was similar. I allow myself more time than I think it's going to take, I make sure to have a couple wobbly pops ready to go, turn my patience up to 11, and I read the f***ing instructions. Yes, again.
Instead of soapy water I use tubeless sealant to lube the tire and bead, it's a 'well duh' technique I picked up from my friend Sven years ago, but otherwise I follow the instructions to the letter. The most important thing to remember is to stuff the bead in under the insert all the way around with a tire lever. Otherwise the tire will be much too tight to force into place when I'm trying to pop-in the last of the bead.
No special bike mechanic magic is required and I truly believe anyone with patience can install CushCore. It just takes a bit of time to stuff that bead in all the way around on both sides.
First Rides
One key instruction I failed to follow, to my initial peril, relates to tire pressure. I already run the front tire as soft as I can while still preventing excessive squirm and rim damage, so the idea I could ditch another five psi seemed hilarious. Except it really isn't. As with any plus size setup, the perfect psi zone is more about feel than a gauge reading, but I found it simple to find the right pressure with the reduced volume and added sidewall support of CushCore.
The pressure setting that feels a touch squirrely out of the saddle on the loosest climbs has the best combination of traction and support on the way down. The CushCore insert takes up significant volume so the tire ramps up much faster and firmer than a regular tubeless setup.
I'm still experimenting with pressures and will use the Accu-Gauges Cam tested to provide my usable range for the full review. To give an idea, on my most recent ride down some of the rockiest and rootiest trails on Mt Seymour I was running about 12psi up front in the dual-ply 2.8 Vigilante and about 13psi in the 2.6 SE5 out back. This provided excellent traction up and down with no squirminess in corners but I did hard bottom the inserts a few times.
I really don't notice the extra weight up front and with a couple rides under my belt I'm enjoying the damped combination of the dual-ply sidewall and the CushCore insert. Since the CushCore 'tire suspension' insert is already quite damped I'd imagine lighter riders would be happy paring down to a more forgiving sidewall like WTB's lighter casing, Maxxis' EXO, or the Bontrager SE casing I'm running for my rear tire. I find the extra support leaning my bike over is immediately noticeable and, with no loss of small bump isolation, it's easy to imagine this becoming a prime setup for me.
I've now installed the rear insert as well and I'm a bit paranoid that it will feel significantly slower turning over the back wheel up steep local climbs. Especially combined with the knobby Bontrager SE5 I've been loving. Balanced against extra traction and the number of dents in both the wheels I run on the back of my hardtail, I'm really hoping it's something I can ignore or overcome.
The new Plus-sized CushCore systems are already available at dealers and online for 150 USD. I'm happy to answer any questions below and I'll have a full review once I'm satisfied I've abused them adequately.