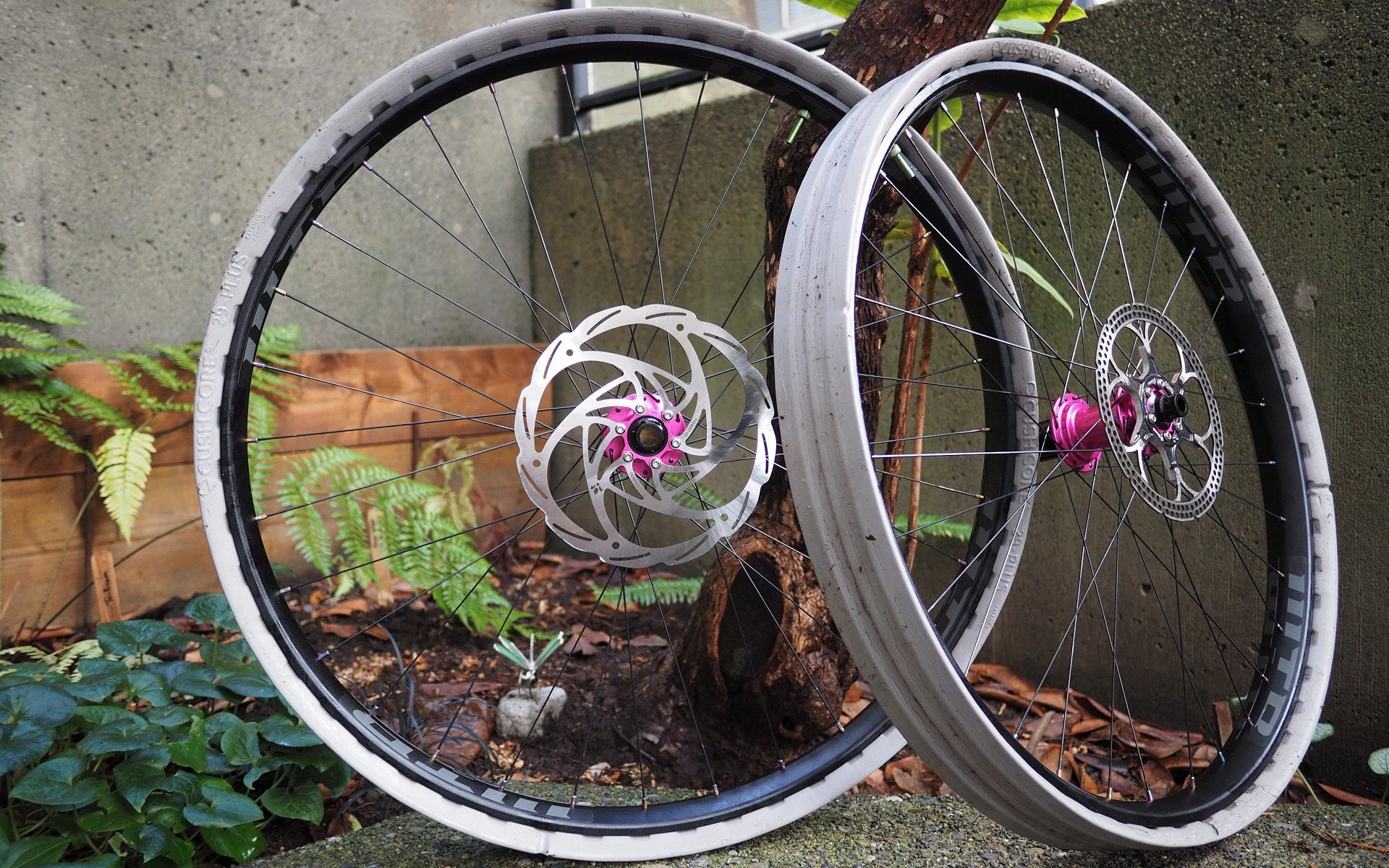 REVIEW
CushCore 29 Plus Inserts - Much More Of A Good Thing?
The CushCore Install Myth
There's this myth that it's hard to install CushCore inserts. It's not. Read the instructions, watch the videos, be systematic, but really all you need to know is to tuck that tire bead as far under the insert as possible all the way around and it will go together without an abundance of cursing. Once you've done it a few times it's still a task, but not an undertaking. It's made even easier for those riders who are managing weight gain by ditching their downhill tires for more pliable single-ply versions.
Removal can be another story. My new favourite game on the trail is to watch for those telltale green valve stems and then sneakily check if either of the rider's tires are on backward. If you're wondering, yes I've come across a few. I'm a big fan of Gorilla tape and the guarantee my rim is sealed but I'll tell you when my DH tires bonded to my rim tape with the MEGA-sized Plus-version of CushCore installed it took four beers over two days to get two wheels sorted. So, so frustrating.
I highlight this fact because every day of the week I'll gladly manage that occasional PITA at tire-swap-time to run CushCore. It's totally worth it. Every day. Every tech-gnar Shore trail. Especially on the back wheel.
I've done multiple installs and removals. I've run the inserts with 3" Bontrager SE4 tires and 2.6" SE5 tires, which are the lightest sidewall I'd consider these days, and also mainly with WTB's Tough Casing Vigilantes in 29 x 2.8 and 2.6. I've run these setups on Velocity's Dually 29 rims, RaceFace ARC 40 rims, and most recently on WTB's KOM rims with the Heavy Duty option in the rear and the Lighter option up front. All these setups have a 39mm or 40mm internal rim width and all the rims are fairly shallow. All of these rims are aluminum.
CushCore may be a great equalizer, particularly running low pressures with the Plus setup. I couldn't tell any difference between various wheel stiffnesses with CushCore installed, whereas without it, Dually rims are closer to carbon rim stiffness compared to the others. All these wheels were laced by my friend Dumpster Bear so the build variable is removed.
In terms of bikes, I've run the system fully rigid on my V1 and V2 Waltworks, with a 100mm fork on the V2, and both front & rear and rear only on my Marin Alpine Trail with 150mm rear travel and 160mm and 180mm front travel. In the same time period, I've run all of these setups without CushCore as well for comparison's sake. I would have loved to try the CushCore inserts on the upgraded Trek Stache to compare with less aggressive geometry, shorter wheelbase, and less plow-style riding.
With CushCore Plus installed I've also had to ride out with a flat rear (slashed sidewall) and my bike was surprisingly controllable and rideable. On the front, any less than 10psi starts to feel squirrelly even with the insert. Generally, I'm running the 2.8" Vigilantes with 12psi front & rear and without I run the same tires with 17psi front and rear, although I do more-than-occasionally kiss rims when riding without CushCore on rigid setups and the rear rim on the hardtail.
I talked more about installing the system in my first look, and I've done it a few times since. I'm more than happy to answer any questions in the comments.
So Damped...
Why does CushCore Plus have to feel so awesome on the descents? I love the support when I lean my bike over when running 12psi in 2.8" rubber. The already traction-endowed tires grip even better on greasy-green rock and wood. The damping, especially noticeable on a fully rigid bike, is essentially suspension. On the hardtail, my legs feel less beat up on any bumpy descent and I notice myself putting together longer sections of trail without taking a break. Plus tires on hardtails, now that they're available with real sidewalls, offer a larger margin of error choosing lines and braking points down steep greasy trails and CushCore increases that margin by an order of magnitude.
Why's that a problem? I'm the number one fan of that damped ride feel down and across but accelerating 1688 grams of rubber per wheel (tires and inserts combined) is an exercise in patience going up the trail. Once the wheels are rolling it's not a huge deal to maintain momentum but technical climbing moves require some extra muscle. The inspired traction out back does make up some of the difference, especially when rolling up arresting roots in a big gear.
CushCore sells all their inserts as singles now for those that just want to save on rear rims and get a traction and comfort boost in the rear of their hardtail, but after trying both setups I'm a strong advocate of running it front and rear on the semi-rigid setup where front-wheel traction is so important on aggressive trails. The extra mass is much less noticeable front v. rear when climbing and it's a great idea to rotate the tire inserts when swapping out to fresh rubber.
On my full suspension bike, there are no returns uphill as I have 150mm of coil-sprung travel and plenty of traction from big sticky rubber. When riding down technical terrain traction isn't at the same premium either, so I can run a bit more pressure in the rear to resist rim strikes. Lean-over traction isn't as noticeable either through a combination of extra air pressure and the fact I'm already running really supportive sidewalls.
The combination of factors means that I'd choose to run either big rubber with air support only, or smaller rubber with CushCore on the long(er) travel full suspension platform. The more I'm relying on the tires for traction, support, and suspension comfort, the more I'm recommending CushCore combined with Plus tires.
I haven't ridden a recent 27+ platform but it would be at the top of my list to ride a short travel one with aggressive geometry and CushCore+. I'm thinking of the latest generation of Tallboy, Stumpjumper ST, Marin's newest Rift Zone, and whatever the next generation Kona Hei Hei looks like assuming it allows for 27 x 2.8" rubber.
To sum all that up, where I live I wouldn't ride my rigid mountain bike without CushCore Plus and Plus-sized rubber and I also feel like it's invaluable on my hardtail. I'm beyond curious to ride it on a short-travel full-suspension platform with 29+ or 27+ rubber but when it comes to a longer travel full suspension bike I'll either take CushCore in smaller rubber or I'll run air only in my Plus-sized rubber with real sidewalls.
How good is Plus-sized CushCore for the applications I'll run it in? It's amazing. It's worth every dollar of the 150 USD per set, notwithstanding the combined 668 grams of rotating mass. It pays for every little bit of effort getting the wheels uphill and you won't see me riding aggressive trails on my hardtail without inserts. The difference in ride quality, comfort, traction, and support provides a great return on investment - both money and effort.
I know plenty of riders who are on CushCore and CushCore XC these days with generally rave feedback. Is there anyone reading who's put miles on the Plus version?