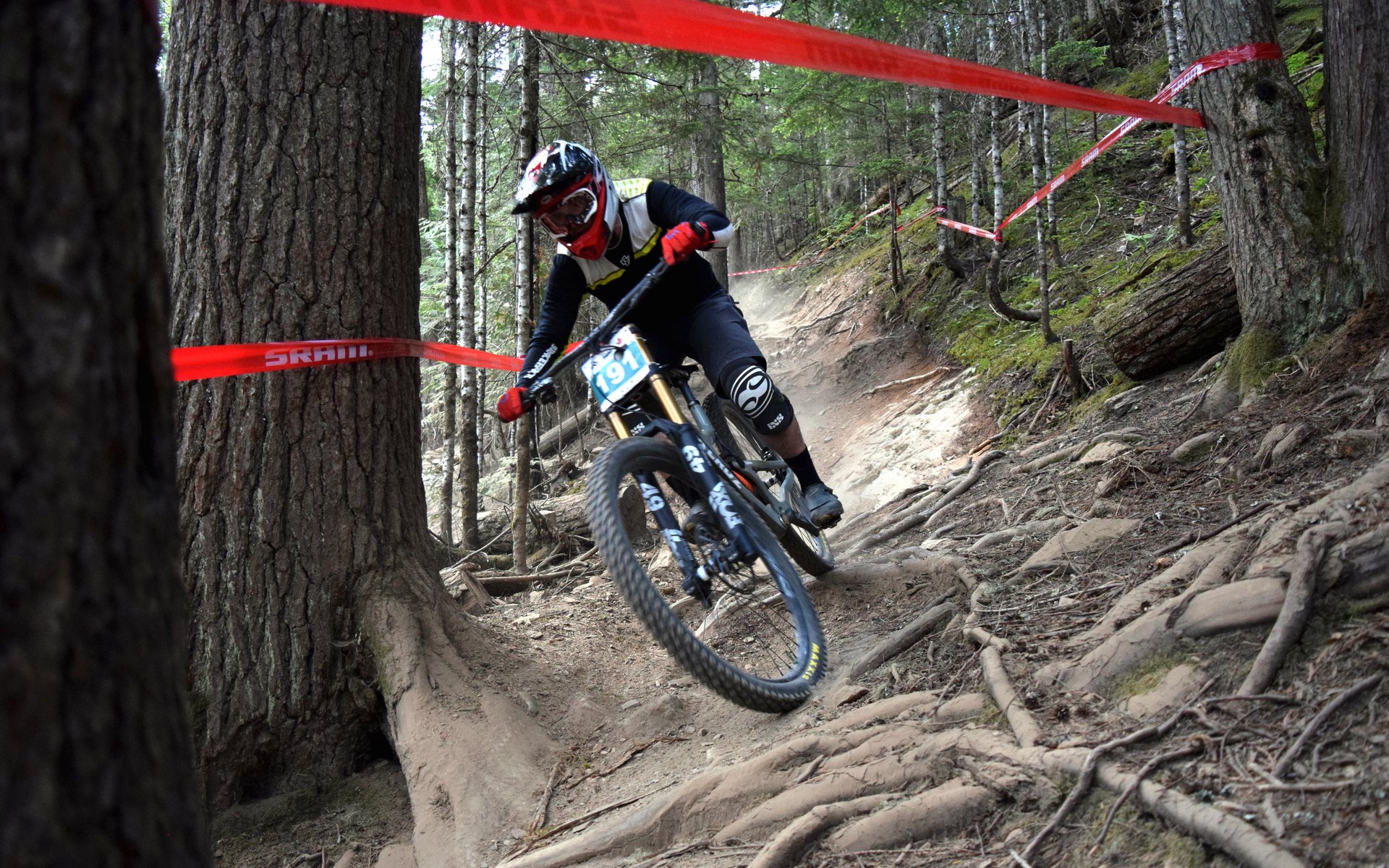 Coming Out of Retirement
Cush Core and a Return to Downhill Racing (V10 Style!)
When Mt Ste Anne was announced as the venue for the 2019 MTB World Championships, Tim Coleman started feeling the pull of gravity, and couldn't resist the opportunity to chase a rainbow jersey (Masters 35-39 category) on Canadian soil. Over the course of the summer, he's going to keep us updated as he prepares his body and mind for the ordeal. And, of course, he'll also get nerdy about the Santa Cruz V10 he'll be riding as he chases glory on August 22nd. Today's article is the second instalment in the series. You can catch the first article where he introduces the V10 here.
The Santa Cruz V10 and I got off to a rocky start. First day on the bike and I was giddy with fresh bike jitters. I'd also been up at a silly hour to drop the wife at the airport for 5 am. I boosted up to Whistler, met with Seb from Santa Cruz at 7 am, grabbed the V10, quick bike check, and into the Whistler Bike Park. With Aja following me I had a big off on Schleyer that sent me flying back first, horizontally into a pine tree. I was winded, making that awful wheezing noise, while pinned under the V10 and between two trees. Luckily Aja extracted me and the bike, and double luckily I took all the impact. The V10 was covered in pine sap, but not a scratch on her. Phew!
Besides being a bit stiff I got away with the scare on Schleyer. I still don't really know what went wrong. Since then I've been building speed, and pushing my limits. I say pushing my limits because the limits of the V10 are terrifying. It's taking time to get comfortable with just how fast and capable the V10 is, especially in the rough stuff. As the speed continued to build I thought I should probably do a race or two before the big event in August. I hadn't done a downhill race for at least 5 years. After a quick check of the Cycling BC calendar, I'd signed up for the Whistler BC Cup and the Silver Star BC Cup / Canada Cup.
I show up to Whistler for the BC Cup on the Friday night, and do a couple laps of the race course. I stop to watch some riders go through a couple of key sections. Oh my, f*ck, is that how fast everyone is going these days?! My hands grew sweaty and I had a serious think about what I'd gotten myself in for. The speed and commitment was jaw dropping. I was instantly humbled. Maybe I was tired from racing the SUPER serious Fiver World Series the night before. I mean, I felt great riding the V10, but I wasn't sure I could hang. I went to bed thinking about how I was going to turn up my speed in the morning.
Saturday morning had closed course practice from 10 am to 2 pm. This didn't sound like a lot of time to me, so I was eager to be on the first chair. I got in four quick runs, had my lines dialed, and was feeling comfy on the track. My speed was building and I was having a ton of fun on the course. I took a break, did two runs of Dirt Merchant, and then a final practice run to see how the course was changing. I created a Strava segment afterwards out of interest to see how my times improved through the day. Not super accurate, but I was hoping it would show some trends.
Run 1: 3 minutes 29 seconds (wooohooohoohoo, this bike is so fast)
Run 2: Looked at some lines
Run 3: 3 minutes 21 seconds (could have been a race run! Smooth and fast, but the speed is scary)
Run 4: Looked at some lines
Run 5: Caught a slower rider (but pace was consistent with the 3:21 on Run 3 before and after stopping)
In the name of science I thought this would be a great chance to install CushCore at lunch. Get back out on the track at 6 pm, and see if there is a difference. This is for you, dear reader, because making big setup changes like this part way through the day before a race is usually a poor idea. But I figure it was the best time to test if CushCore is all it's made out to be; on a proper DH bike, on a proper DH track. Before the CushCore install the Maxxis Assegai tires were inflated to 23 psi front and 29 psi rear. I was just denting the rear rim at these pressures, but hadn't had a flat yet.
Making the switch to CushCore
CushCore claims to provide a 12% smoother ride, 3% reduction in rolling resistance, 35% more sidewall stability, improves suspension performance by 16% and reduces impact force from big hits by 50%. I'm going to be honest here and say this all sounds like the work of some marketing wankateer to me. I'd love to know how CushCore substantiates these claims. That said, some local rippers swear by them, and some mighty fast guys on the World Cup DH / EWS use them. So let's give 'em a whirl.
Installing CushCore proved to be a one beer job. Said beer was a Coast Mountain Brewing Juice Box Sour Wit and it's SO good. Re-inflating the tires with CushCore is generally easier than without. The tires were inflated to 19 psi front and 25 psi rear. Installation laps were: Dirt Merchant, then a full A-Line, then a Ninja Cougar lap, and then a partial race course lap. The course reopened fully with enough time for two full laps. This made for a total of 13 laps in the bike park that Saturday practice day ... whoops.
Run 6: 3 minutes 21 seconds (out of bed and flying)
Run 7: 3 minutes 17 seconds (now I'm really scaring myself, but I think there's more)
Huh. Even though the course was getting a bit chewed up with a number of critical corners getting slower and I was fatigued after a long day on the bike, my times were faster on the CushCore than without. I was feeling less fatigued by the bottom of the run, the bike produced more grip, AND I was going faster. I think the main benefit of Cush Core for me is having the tire's sidewall be supportive while also being able to run lower tire pressure to improve grip, and reduce shock to the hands. Many of the other inserts don't support the sidewall as well, and for me that doesn't provide the main benefit of the CushCore. The rim protection is almost secondary for me. I've played around with some really low tire pressures that would be borderline unrideable for me, but felt supportive enough with CushCore. I'm still figuring out the optimal tire pressures, but Cush Core will be staying in for tomorrow.
On to race day for the BC Cup. Bike was checked from front to back, tire pressure checked to be the same as Saturday. Morning practice was only 2 hours, and there were a ton of racers on the track. I got in three runs as follows:
Run 8: Caught a slower rider
Run 9: Caught a slower rider
Run 10: 3 minutes 18 seconds. (Caught a slower rider but made a tidy pass)
Waiting at the top of the course I got to meet the other guys racing in the Masters 30-39 category. All the guys were class acts and they looked fit and fast. Gulp. I wished them all a fast, fun and clean race. I was the last of the category down the track. I thanked the volunteers and course workers. Beep, beep, beep, beep, beeeeeeep!
The Whistler BC Cup downhill course might be the best roller coaster around. What a rush. I had a great race run with only a few small mistakes. I rode a run without much risk, but was comfortable sliding the bike at the limit through a number of corners. I pedaled where I could, and just had an absolute blast down the hill. For a sheer rush I don't think you can beat a downhill bike, on a proper downhill track, during a race run. The week-end builds to this crescendo, and I couldn't help but bellow with laughter after crossing the finish line. I had a great run, and moments later heard I'd taken the win with a time of 3 minutes 16 seconds (my Strava segment said 3 minutes 15 seconds). Whaaattt!? Stoked.
Coming out of retirement was a great success. I'm excited to walk away with a win after an awesome weekend of fun aboard the Santa Cruz V10. I'm really gelling with the bike, and can't say enough good things about it. More than anything, I had so much fun, and was happy with my riding. The CushCore experiment was successful, and I think it improved my times on the race course. CushCore will be staying in the wheels. The install and removal is a bit of a pain, but given the on trail performance, Cush Core gets a thumbs up from me. Also downhill racing is awesome. What a rush! I can't wait till the next one, which is the Silver Star BC Cup / Canada Cup.