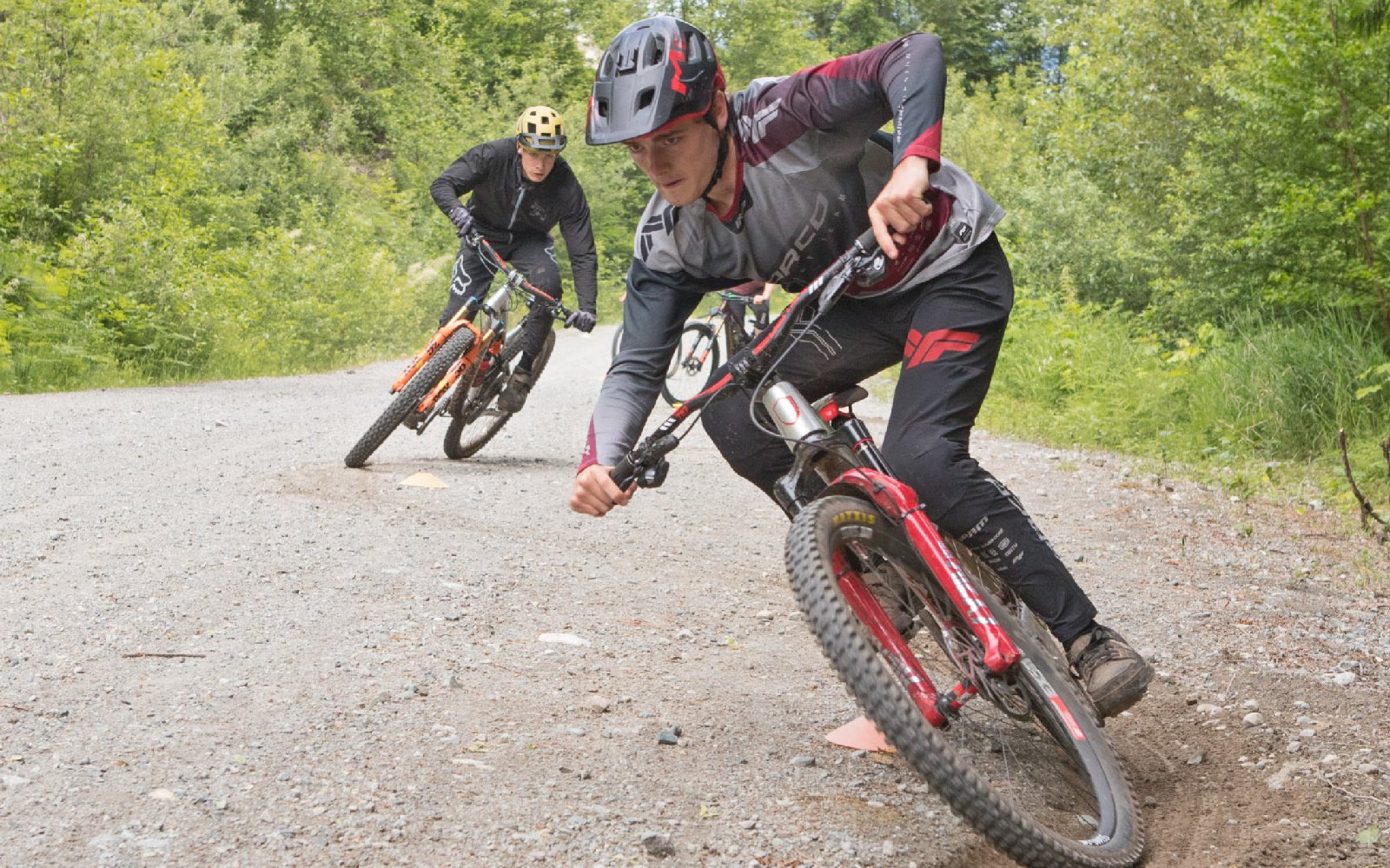 Part 2 of Posture from 2006
Cure Your "2006 Posture" with Cone Training
What does riding through cones on a dodgy gravel road have to do with riding a mountain bike on singletrack? In the words of Kasper Wooley, "mountain biking is cornering." Despite this endorsement I was a little skeptical. Even after watching some of the best young gravity riders in B.C. spend 90 minutes riding their bike around 10 cones laid out on a section of Mamquam road in Squamish I wasn't sure how it would translate.
That was step one. To observe, listen, and get clear about how Joel Harwood's (of Blueprint Athlete Development in Squamish B.C.) carefully ordered suggestions are meant to be executed. I had already been benefitting from a third hand interpretation of his riding posture philosophy, which I had interpreted poorly, as laid out in my first article on this subject. The good news was that my riding took a monumental step forward while messing most of it up, so I was keen to pluck some fully-ripened fruit from that vine.
We met in an inauspicious location. The lower portion of Mamquam road in Squamish is now closed to vehicles, and its surface is marbley and dusty making it ripe for the activity Joel had in mind. The idea is simple; ride flat corners mimicking the worst possible trail conditions to teach riders how to generate grip and speed. If you can do it when the conditions suck, you'll be able to go faster with more confidence everywhere else, like skiing gates in eastern Canada on icy slopes. I was glad to only be holding my camera for this session.
Joel's approach is to layer on elements of focus. This layering happens slowly so that you have a little time to assimilate each one, no longer needing to think much about the last once the next one is added. At least in theory. Riders would run through the cones multiple times before anything new was added. Joel uses Freelap timing in a clinical way so riders can easily determine what is working.
I was struck by how simple Joel's instructions were, even to riders like Kasper, who may corner better than anyone in B.C. These tips were aimed at weighting the front wheel and having a strong body position. Mamquam road is hard from years of use but these youthful bruisers quickly dug deep ruts with their vicious schralping.
What did I learn from watching this session?
You'll be lost without starting your corner wide and early
Weight on your hands is essential
It's impossible to weight your hands without standing tall in the pedals
I will never be able to corner like these young superstars
I heard a little more than that but those were the most important points. After spectating, it was time to put on my riding gear with a few buddies and get the pro treatment from Joel. We met at the bottom of Cypress where there was a ball-bearing covered road with just enough length and slope for ten cones. Joel set up the course and gave us our first things to think about, which were similar to the above but here they are in Joel's words.
Eyes up and wide opening corners sooner, carry corners before/beyond cone so you're set up better for the next - in general, wider entry is better until the distance travelled is too great that time is impacted
Shoulders - over bars, chest low, heavy hands (eventually outside hand)
These were layered as well so we didn't talk about shoulders and hands until we had done a few laps of the cones working on our line selection. Getting heavy on the hands, or at least low and over the bars, was something we were used to but there was an essential element missing. Most of us old dogs were riding with our legs too bent, rather than standing tall in the saddle. We probably felt better with a lower centre of gravity but we weren't doing ourselves any favours. It's very difficult to weight your hands if the rest of your body is crunched down low. This may have made more sense in the age of 69º head angles and 26" wheels, but on 29ers with long front centres and 65º or slacker angles up front this was no longer necessary.
We were wearing FreeLap watches and our first runs felt slow, and they were. I was over 11 seconds through the cones the first couple of times. With Joel's guidance I began to break 10 seconds consistently and kept going down to 9.46 then 9.21 and finally to 9.06. It was felt great and I was astounding to have improved by more than 2 seconds over such a short course.
Mike Wallace and I both went down twice. Hard. It felt like falling on a cat track on your first day snowboarding. But on hard gravel. I managed to shred my right side and had a nice raspberry on top of my bruised elbow. Mike tore his brand new Raceface pants. Definitely wear some knee and even elbow pads and don't wear long pants if you care about them.
Joel's first cue for standing tall was to push our heels down. This is almost impossible to do with bent legs and it was a tactile focus that allowed us to change the bad habits we had taken years to develop. Another cue that was particularly helpful to me was to add a forward pelvic tilt. We moved the cones up the hill for a slightly steeper and more challenging route through the cones. I started out faster and continued to improve until I stalled at about 9.6 seconds. Joel gave me one more tip before what was to be my final roll through; angle the bike before you reach the corner. This small change gave me another half a second!
Standing tall, as Greg Minnaar does, has been a revelation to my riding. I was out today after a two week working-holiday with too much beer and food and no riding and I expected to shit the bed regularly. Instead, focusing on these few elements got me quickly into the game and I had an amazing ride.
Here's Finn Iles and Kasper Wooley doing cone training with Joel Harwood of Blueprint Athlete which starts at 2:16 but there is some great riding before that
Here's Finn Iles and Kasper Wooley doing cone training with Joel Harwood of Blueprint Athlete which starts at 2:16 but there is some great riding before that
The next step in this process was to see if I could use what I had learned from Joel to coach a few of my friends. Clearly I am not an MTB instructor but I have coached other sports since high school and I thought it would solidify my understanding and help me determine whether I had understood correctly. The most helpful part was watching other riders of my level to notice their postural limitations, allowing me to identify my own. The other riders seemed to benefit as well, or so they said.
Whenever I have spent a little time improving my shape on the bike and practicing skills it has paid huge dividends, but for some reason I do it about once every 15 years. If you are in a rut or simply keen to learn and be able to ride faster and have more fun, I highly recommend doing something like this. The next step for me is to procure 10 or 20 cones so I can do this with some regularity so it becomes a habit.
Joel works with mortal riders like you and I as well as with pros, and the process is identical. Improved riding posture has helped me ride everything from berms and gaps to steeps and drops with more confidence, control and speed and I'm having as much fun on the bike as I've ever had. Do yourself a favour and instead of buying that purple stem to save 15 grams, book some time with a certified mountain bike coach in your area so you can schralp with the best of them.
Resources
There are more details that Joel talked about, and while trying to think about too many at once will mess you up, you may want to hear them for reference. Weighting the outside hand when cornering is important, as is 'steering' with your hips. Another one to think about is leading with your outside elbow.
This article by Chris Kilmurray goes into some of the subtleties of what he calls Prime Posture and references this episode of Fox Dialed.
Of course you can learn some of this on your own but key elements are range of motion and strength, particularly in order to get a good hip hinge. Joel sent us this video to try and to show the kind of training pro riders do to improve their body shape on the bike, but everyone will benefit from this sort of training.
I find this stuff fascinating and hope to continue diving deeper. Please share any helpful resources or tips you've found below.