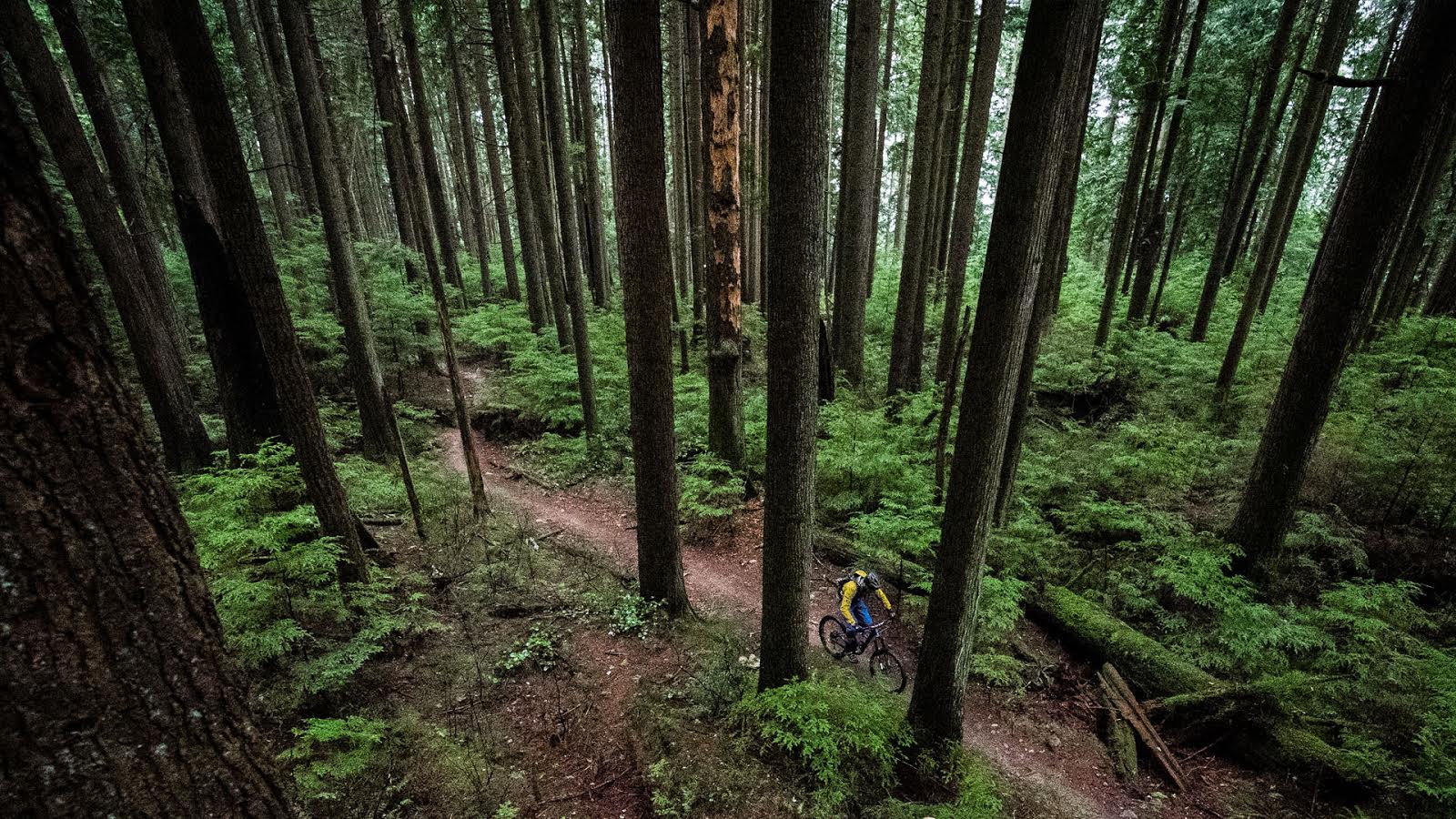 Crushing and Being Crushed
Saddling up an unfamiliar and over-sprung bike, I was expecting little from the day. In the interest of disclosure I confess I was on a sweet carbon Demo – but it wasn't mine. Downhill bikes had become my kryptonite and I'd avoided them for almost a year after bashing my noggin. I was full-faced, goggled and as confident as a pimply teen boy meeting Rihanna. There was snow at the trailhead and, as usual, the group included riders who school me regularly.
But things didn't go as expected. Despite my nerves, the unfamiliar bicycle and the nasty conditions, obstacles seemed to soften and comply on contact with my front tire and the bike telepathically went where I wanted. I launched a couple of jumps I normally ride around and surprised myself by keeping up. My pimples cleared up and I pictured Sam Hill splattered by the mud and snow spraying from my rear wheel (Rihanna cheering me on from behind the tape).
My super powers hit the next level on lap two. The line was only a few hundred metres from our first trail but the conditions were much worse. The snow had melted and re-frozen and the trail had become a luge track. This left the others scrambling but somehow I managed to keep things pointed down and mostly upright. It was one of the worst trail conditions I'd experienced and I was loving it.
Lower down my buddy Mike calmly launched a rock drop marking the end of the trail. Easy for many, it had confounded me since I first saw it years ago. On this day it was as though the ground below it had been raised and upholstered just for me. It hadn't changed but my brain was processing it differently. I blinked a few times to confirm my new vision and then dropped it as though I'd done it fifty times.
Mid way through lap three Clark Kent returned as Cypress gnarl ran my batteries low. After the ride, feeling pleased but puzzled, I tried to decipher what had inspired my performance. I'd had other good rides recently but no pattern emerged. Was I sleeping better? Eating better? What was for me a Floyd Landis-like performance was accomplished without a testosterone patch on my scrotum. I was stumped.
And then I was spanked. We drove to Sea Otter this year and decided to stop in Ashland Oregon for a pedal. Will Ockleton from Santa Cruz Bikes hooked us up with Nathan Riddle who teaches at United Bicycle Institute. We were surprised to see a bubble gum blue 2015 Nomad leaning against the porch railing when we arrived at UBI. We didn't know Nathan so we thought maybe he did product development for Santa Cruz. Once we were dressed Nathan appeared in a full race kit that looked a lot like those worn by the Syndicate. After 10 hours in the truck this made my knees weak.
Bikini-clad sunbathers and kids and dogs playing in the park made the first section of the climb disappear. Summer had come early to Ashland but there was a storm on my horizon.
The pace was reasonable but I seemed to be dragging Will Ferrell along the dirt. I couldn't keep contact and the gap stretched from two bike lengths to ten. My heart throbbed in my ears at a shocking frequency and my legs were leaden. I was riding a Scott Genius – one of the best climbers I'd ridden – but I was just barely able to make it move. Scenarios began to propagate in my unhappy brain. I was pretty sure these were the early signs of some terrible disease. Maybe Ebola but probably cancer. Definitely cancer. Morgan and Pete were doing fine on heavier bikes and Nathan seemed to be coasting uphill.
And then the cramps came. We'd been climbing for what felt like 90 minutes and the succession of false summits crushed my will. My hamstrings and quads were trying to ball up in concert so I tried to focus on my breath. I managed to stop the onset of cramps so this pathetic performance had a silver lining. I kept turning slow clumsy circles as my entire body screamed at me to stop.
We reached a landing where Nathan suggested another ten minutes up for some cherry summit lines, but I let the others go. I sat in the sun, ate a bar and tried in vain to figure out why my body was letting me down.
After fifteen minutes the boys returned unable to conceal their grins and together we continued on some other worldly single track to the bottom. I enjoyed the descent despite my feeble condition. Nathan flashed a few lines none of us thought possible leaving us in awe of his skills.
Any time we ask our bodies to perform we are reminded of our frail humanity. The complexity of our inner workings and our fickle mental abilities lead to wide variations in performance. Racers, Strava freaks and golfers can quantify these high and low points but each of us is aware of our personal range. Good days and bad days happen. And sometimes we have days beyond our normal range. Amazing performances that seem effortless and, sadly, horrendous, spirit destroying days.
When hangovers, the common cold or insomnia spoil a performance it's pretty clear, but pinning down what makes us go fast can be near impossible. While that which we can't identify can't be repeated, enough experience and attention can shed some light – and it's those glimmers that keep us striving. And it keeps me poking around in the dark, looking for my personal ball sack patch.
---
What's your secret to having a superhero day?