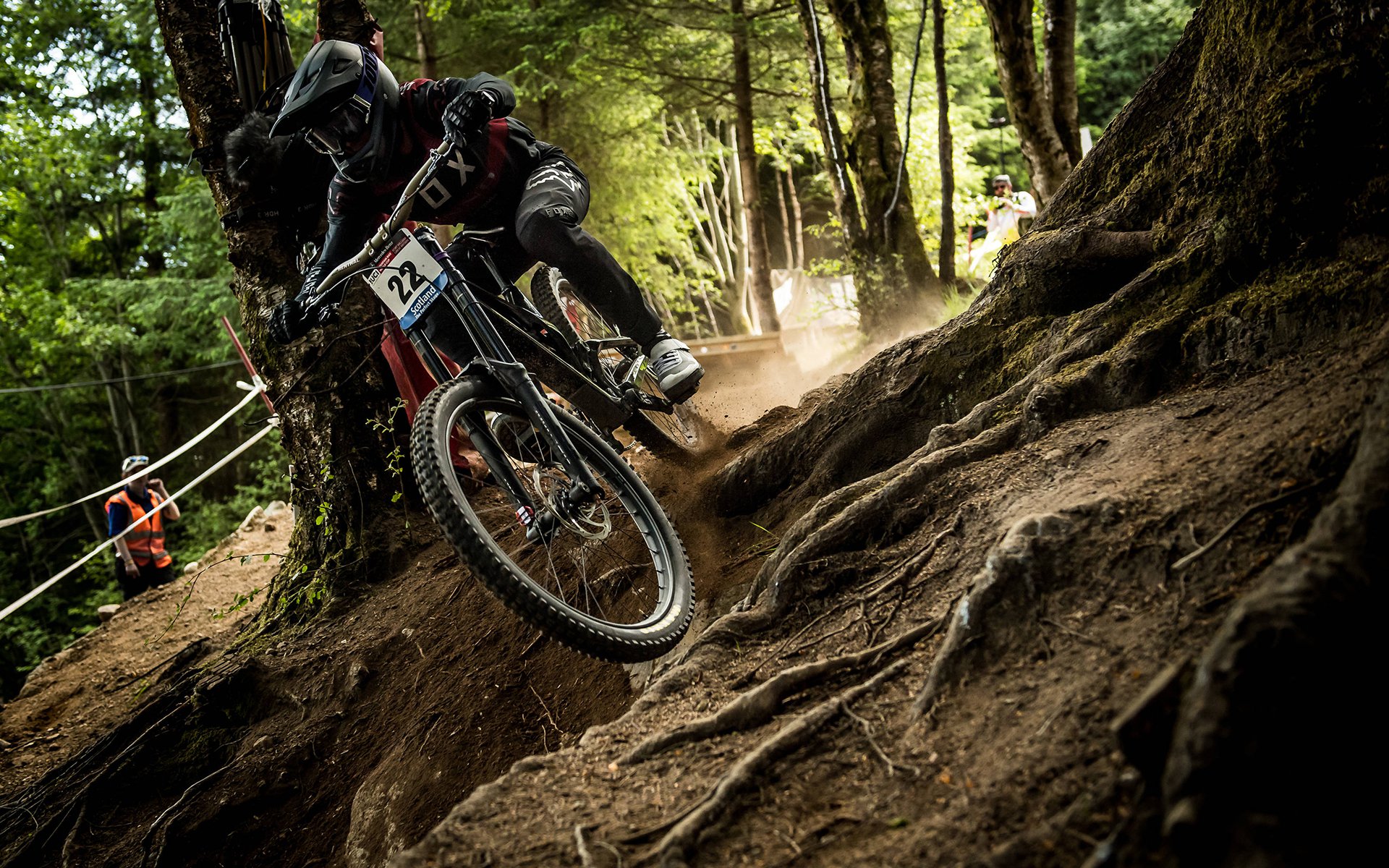 Product Intro, Teardown and Review
Crankbrothers Synthesis Wheels - A Reboot
Crankbrothers?
Crankbrothers doesn't have a stellar reputation in the wheel world. Early versions had freehub issues and parts were hard to come by. Later variants cleaned up some of these problems but riders were left with very unique wheels with proprietary parts. At the time it wasn't possible to order small parts directly from CB* so it meant marching into your bike shop who had to go through a distributor who may or may not have had what you needed in stock. A royal pain in the ass.
*The current system involves sending a small parts support request.
They weren't all bad though. If you could find a spoke, you could replace a broken one without removing tire, rotor or cassette, and the unique design allowed for a non-perforated rim, ideal for tubeless set ups. More recent experiences our testers had on the wheels were positive in terms of durability and ride, but the question asked at the end was, is it all worth it? There were other options on the market with similar price, performance and durability without all the dreaded complexity and proprietary parts, and at a lower price. Iodines or Opiums were great if you wanted your bike to look more trick than your buddy's. Otherwise it seemed like too far to go.
The Team
Crankbrothers knew all of this. Since Gaspare Licata took over as company CEO, his mission has been to question everything and listen to each critique levelled at the company's products, by consumers or reviewers. Quality, durability and performance are the pillars of his mission. As he put it, "we will only be successful if we make good products." So far his influence seems to be having an impact and recent CB products we've tested, including dropper posts which are notoriously challenging to do right, have been excellent. Licata couldn't do this on his own of course and hiring the right people was essential to changing the company's direction..
SR56
That statement came from Jason Schiers. If that name sounds familiar it's likely because Jason co-founded ENVE in 2005. It may not surprise you that Jason's wheel mantra is all about stiffness. He likes a wheel that goes where you point it and transfers all of your energy into forward motion. If you've ridden early ENVE wheels you know what I'm talking about.
Jason's approach to this project was to offer something you can't get anywhere else: "The product needs to offer a clear advantage to the rider over other products." It was an ambitious goal and one that was pursued with the help of a uniquely named Aussie; Mello Bouwmeester.

"We decided we wanted to create something different and we decided we would let riders lead the way."
Mello, an engineer by training whose last name translates to 'master builder,' also founded a carbon wheel company. Bouwmeester Composites made wheels that were unique in that there was no void. The wheels were laid up, without any need for bladders, in a single layer. You might ask why you'd want to do that. As it turns out, Mello's thing is less about stiffness. His website uses terms like smooth, damping, and lateral compliance. And Mello had one high profile fan. Cedric Gracia loved Bouwmeester wheels and he told Schiers and Licata about them. This lead Jason to tell Mello, after a few drinks at the Vallnord World Cup, "you should come to work with me so you can fuck some shit up."
The Process
It was an easy sell for Bouwmeester and it left the diametrically opposed wheel experts to wrestle over which attribute should be prioritized. The final decision wasn't going to be up to either because, as mentioned earlier, Crankbrothers wanted riders to lead the project. Two types wheelsets were sent out for blind testing with riders of all levels. Pro riders and beginners and everyone in between were put on prototypes and were asked their impressions. We were told that, across the board from top riders to joeys, there was an almost 50/50 split between those who preferred stiff wheels and those who were most keen on compliance. With the deadlock solidified they decided to try something unique.
The next blind test put riders on sets of mix and match wheels; compliant front and stiff rear or vice versa. This time around the results were conclusive. Schiers told us that 100% of riders, of every level, preferred the sets that were stiff in the rear and compliant in the front. Which makes a lot of sense.
Your rear wheel drives your bike forward and supports most of your weight. It trails you during impacts while the front wheel gets pushed into square edges. Most riders put more pressure on rear wheels as a result. In the days of custom wheel builds it used to be much more common to have front wheels with fewer spokes and a different lacing pattern than the rear, so while this knowledge isn't new, it seems to have been forgotten in many quarters. Of course it's cheaper and more efficient to produce one rim and spec it front and rear, but it may not make sense.
The Story Behind Synthesis Wheels
The Product - Rims and Build
To start with the team found a shape that was easily tunable, meaning they could change the feel of the wheel without altering the rim profile. You'll notice Synthesis rims are much lower profile than most carbon rims on the market. The sleek look means the void is reduced and the shape won't impact compliance as much as a triangle, parabola or trapezoid. There is apparently only a 10g rim weight difference front and rear however because the difference in feel comes less from the mass of material used and more from the way the material is aligned.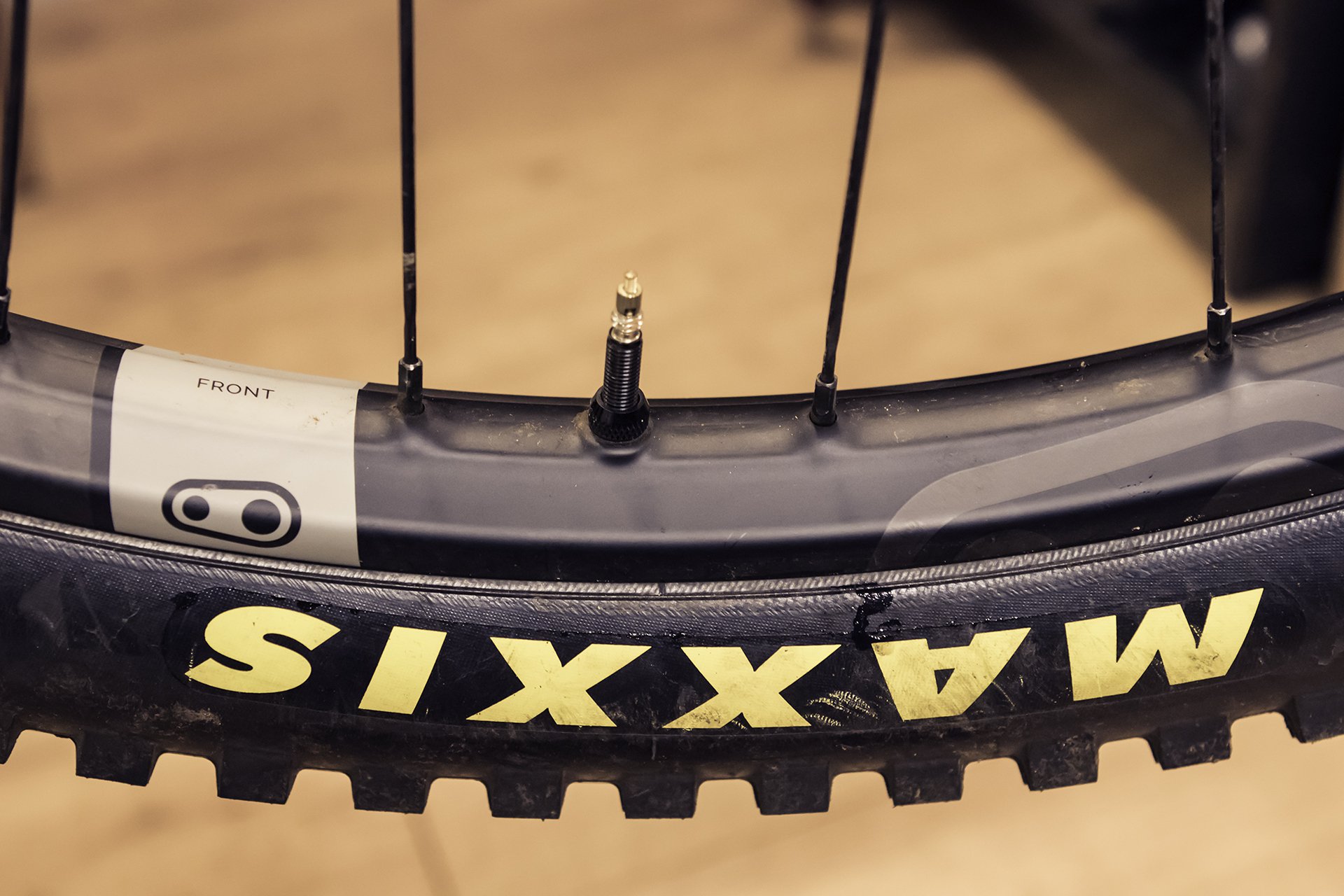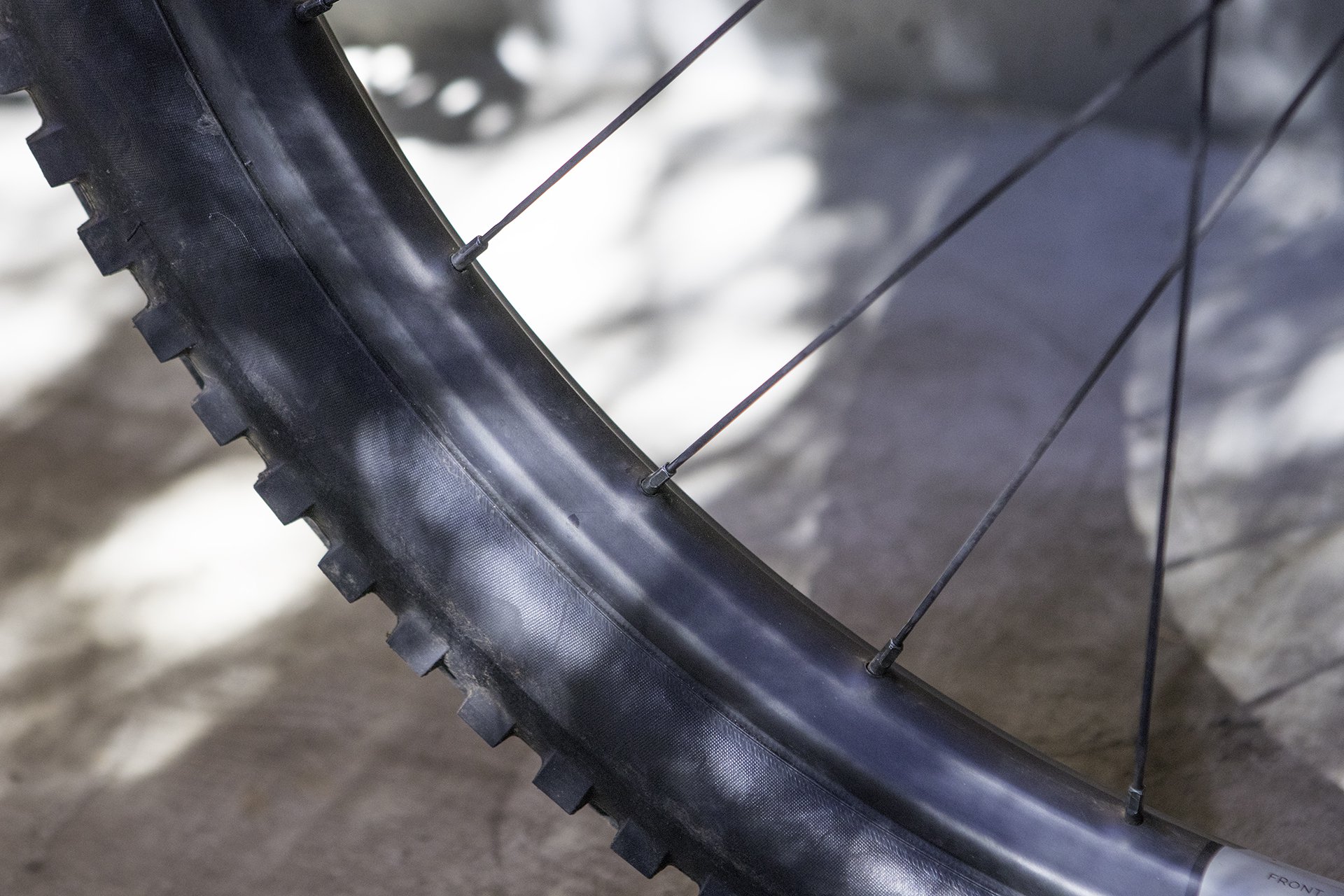 While the rim profiles appear identical in shape, they are not identical in dimension.* The inner width of the front wheels is wider than the rear. For the Synthesis E 11 wheels I've been, riding the difference is 2mm with the front measuring 31.5 and the rear 29.5. CB tells us this is because front wheels often support wider tires and benefit from a rounder tire profile for cornering while a narrower rear rim "sharpens tire edge profile for grip," while reducing rolling resistance.
*DH rims both measure 31.5 internal while XCT rims are 26.5 front and 24.5 rear.
Another difference front and rear is spoke count. The E 11 (for enduro!) wheels are 28 hole front and 32 rear but both are laced 3X. Front spokes are laced at lower tension (110 vs 120), are finer gauge and thus slightly lighter. Fronts are Sapim CX-Ray and rear are Sapim CX-Sprint. The spokes are conventional j-bend.

Hub with Project 321 Internals
Andrew Major has tested and torn down project 321 hubs before but I felt it was worth revisiting the process with Jeff Bryson at Wheelthing. The inner bits for Crankbrothers 11 hubs were identical to the P321 hubs, right down to the EZO Japanese-made bearings.
There are no springs to lose when you pop open a P321 hub because the magnets within the pawls pull themselves toward the drive mechanism. In a conventional hub a spring mechanism pushes the pawls toward the splines. That means for a P321 hub the magnetic forces are highest when the pawls are engaged and lightest when the wheel is spinning, reducing drag, while a spring's push is weakest when it is engaged and strongest while freewheeling.
6 pawls and 144 points mean engagement is a quick 2.5º. P321 hubs can be ordered with loud or quiet pawls and CB chose the latter. If you want to wake the squirrels and scare the Joeys you could order some loud pawls from Project 321 for 75 bones US.
The hubs have been problem free and Jeff used some special sauce - the Purple Drank - to make them a even quieter.
Failure
Everything fails. There is a scenario or a combination of forces that will destroy any frame or rim. I was pleased to hear that Crankbrothers put effort into controlling the failure mode. Jason Schiers reminded us that most people think carbon will fail catastrophically, but he believes good design and testing can prevent that. These wheels are designed to delaminate "in a controlled way.' If this works as advertised it could be the difference between walking and riding out, or the difference between a controlled stop and a chaotic catapult.
We were told there would be a lifetime warranty and a crash replacement opportunity should the need arise.
The Ride
My direct comparison for these wheels was a set of e*thirteen TRs RACE SL wheels. They were the most comfortable, quiet and compliant wheels I'd ridden. Perhaps somewhat less durable than others, but truing a wheel a few times a year is a small price to pay for comfort and traction.
The first thing I noticed about the CB wheels was silence. Not the free hub, although it was pleasantly muted, but the wheels themselves. The e*thirteens are a quiet set of wheels but the difference was dramatic, as though I was riding only on pine needles. Traction and tire support were also excellent, and I have had a great record on some of our most challenging technical climbing sections lately. Pop out of corners, tracking and traction are also excellent. In short; I loved riding these wheels.
I did my best to beat them up, including some time in the Whistler Bike Park and all sorts of bad decisions on the North Shore, but they are without so much as a warble. I have been particularly impressed with how the finish has held up. Without much care and attention at all they continue to look amazing. There are no stickers to peel off and the subtle graphics haven't picked up stains.
At only 165lbs and no longer dropping 7 footers to flat, I'm not the most brutal wheel punisher. Thankfully I had an ace up my sleeve. At the press launch in Whistler, Crankbrothers invited some special guests. They didn't tell us how these riders were vetted, but they had three consumers join us for the presentation and our laps in the Bike Park. One was a longtime and frequent contributor on our bulletin board, who blew us all away by riding his Chromag all day and keeping up with the crew, and another was Dan Murphy from Bellingham, who I had met years ago. Dan is a great wheel tester because he rides hard and very well and the man is built like a mountain. Just the guy I needed.

I'm 41, 6'5" and about 230lbs in riding gear.
Big Dan's Impressions
I'm 41, 6'5" and about 230lbs in riding gear. I've been riding mountain bikes since 1988 and worked in the service department of a large Seattle bike shop for many years. I have been a resident of Washington State since 1996, and presently reside in Bellingham. After two seasons on a Trek Remedy 29, I picked up a Slash 9.7 in April of this year.

I've put these wheels through 22 rides so far in all kinds of terrain and conditions; Top of the World, Creekside, trail riding and jump lines on Galbraith, steep rides on Fromme and Lookout Mtns, and a lap at Post Canyon. Last weekend I smashed another 9 laps in the Whistler Bike Park.

I put a lot of leverage on bikes, especially wheels. Right off, I think they hit the mark with the 31.5-29.5mm inside rim width. I no longer experience the squirrelly feeling of recent wheelsets I've been on. Burping beads and folding sidewalls is really uncommon now. For those that wonder about carbon 'feeling' light, they don't spin up any different than my alloy wheels of the past. It's important to me to keep in mind that these were built to be strong, not just light. Would wider be even better? I don't know but I am going to try some 40mm width 28H carbon wheels very soon.
I don't think I can say the 28H front wheel feels 'compliant' per se. That makes it sound soft or flexible, but in comparison to the laterally stiff rear wheel, yeah, it's 'different,' and it rides really well. Could they have built the front wheel with 32 spokes and still had a performer? Some might argue that configuration would be too stiff. (there are others who say 'too stiff' is impossible). The rear wheel is just solid, predictable, DEPENDABLE from a traction and stability standpoint. Thirty two spokes out back makes a lot of sense for riders over 100kg AND aboard bikes with a lot of travel AND riding the terrain that's available in the PNW. Your mileage may vary.
Any downsides? Some folks might want more flashiness for wheels that cost this much. Perhaps a decal pack could be available for those that are into that kind of (ENVE) thing. The Project 321 hubs have worked really well and I appreciate that they're almost silent and engage very rapidly but I have experienced a 2-3 occasions where the pawls appear to engage loudly/violently. This has been, surprisingly, when I am not putting down full power, but instead while throwing in a quick but sorta half-power pedal stroke. I've had this same experience on my Mavic wheels in the past, and when I had torn those down I found the pawls were chipped. I hope that's not the case here.

All in all these are a massive upgrade for my Slash. I can ride with a lot more confidence and stability with these wheels. i think that if retailers can effectively convey the benefits of and reasons for the unique build of the front and rear wheel, customers will give these a chance and come away impressed. The wheels are dead true so far without any attention from me.
Thanks Dan!
You may have been waiting on the bad news. I can say that its' not entirely bad, and there are more reasonably priced versions of the XCT wheels and the E series wheels, but the ones we've been talking about here will set you back 2400 USD/€, or 500 USD under the starting price for ENVE M730s. The 'standard' version, with downgraded hubs and spokes, is a slightly less soul crushing 1700 USD/€. The DH version is only available in the top spec for the top price.
That said, these are thus far the cream of the crop; the best carbon wheels I've ridden. If I had to choose a single set to ride into the sunset on, (assuming the terrain to the west is suitably gnarly) I'd choose the Synthesis E 11s.
Dan and I will keep thrashing these wheels and see how they stand up over time, and maybe even do some back to back testing against some other wheels.
For more on Crankbrothers Synthesis Wheels, click here...