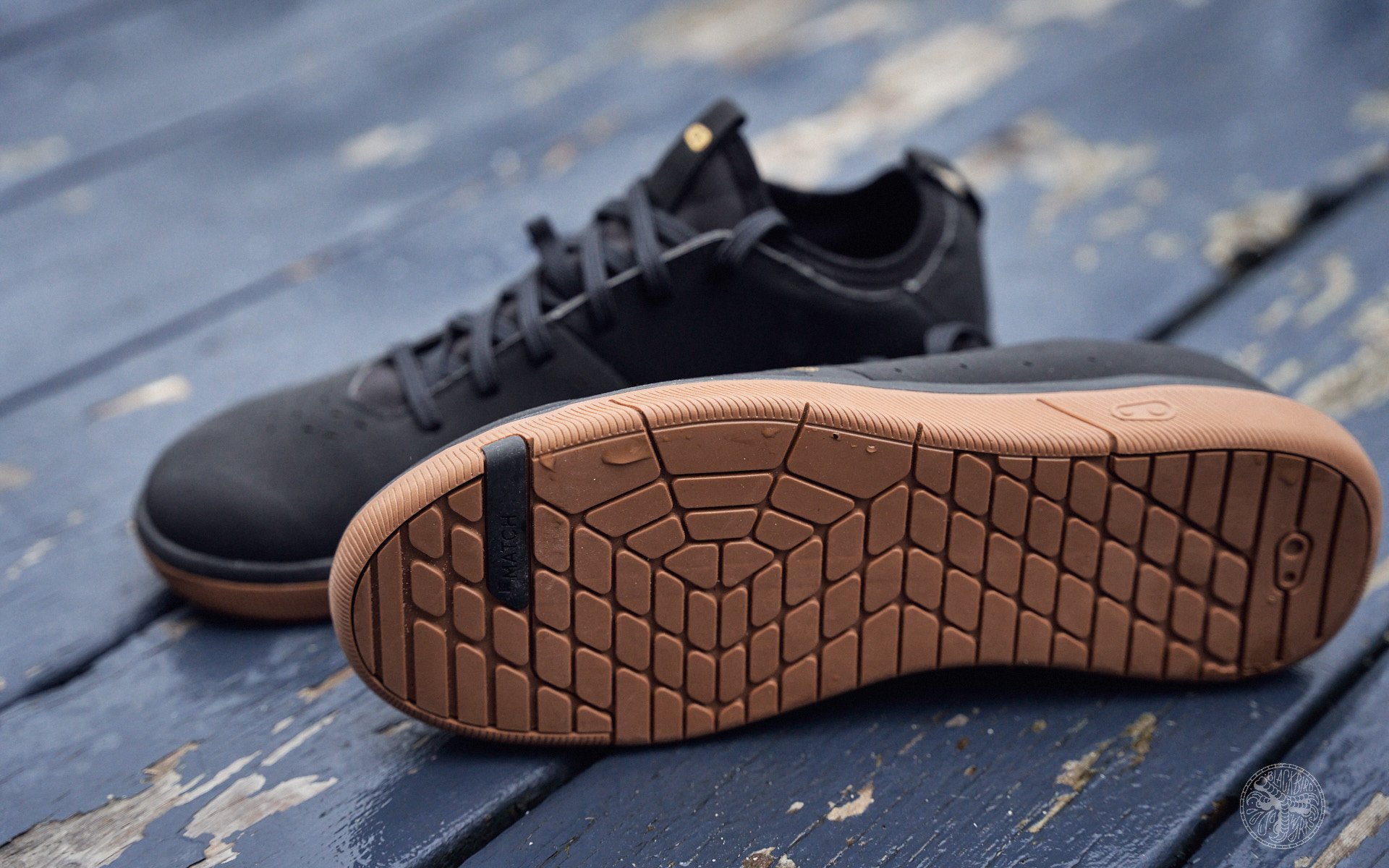 Review & Wilmer Vid
Crankbrothers Stamp Street Wibmer Signature Shoe Review
Deniz's Experience
How much does the terrain you ride change from week to week? Dust to dirt, dirt to mud, mud to snow; the North Shore mountains will throw everything but the kitchen sink at you when it comes to conditions. I will change the pedal and shoe combination depending on the riding menu du jour. Swapping pedals does not take too long and I will check the crank and pedal health regularly while doing so. Time, Crankbrothers, Oneup, all do a rotation on the rig and I best check the bottom of the shoe I am grabbing for the right cleat before tossing in the duffel bag and jumping in the car. The mismatch is more obvious on the rides that start at the house. Apart from slight nuances in bike control, my time on the bike isn't dramatically affected by my footwear choice.
This makes the new Stamp Street a great option for those flat pedal days. The shoe is soft and comfortable and quite easy to get into with two finger tabs and a neoprene sock. The laces are simple to deal with and they tuck away nicely under the tab. It's instantly evident that the shoe is thin in construction but not floppy by any means. The is support is there if you have wider feet or run insoles. My toe was free to wander around in comfort yet safe thanks to the stiff toe piece that was shielding me from stumps and curbs.
The grip is sufficient and it's easy to trust the mechanical traction with the pedal, partly thanks to rubber compound and partly thanks to the wrap around you get with soft soles and flat pedals. The feeling is great on flowy trails with smooth surface or messing around on the dirt jumper. On higher speed trails with bigger compressions, the shoe loses support and fatigues the feet more than a stiffer-soled version. But that's the beauty of the Stamps. There is a more trail-friendly version to choose if you prefer. 130 USD is not terrible for a pair of shoes that are comfortable to wear to the gym as much as they are to the trails. For the Californians among us, it would be the only footwear they would need to pack for their week ahead.
I however put these sunshine state creations to the North Shore snow test and they performed better than I expected. Neither the cold nor the snow bothered my feet and I stayed surprisingly dry through the ride. I brushed them off and wore them to work the next day without a glitch.
I feel like we will get along nicely on and off the bike.
---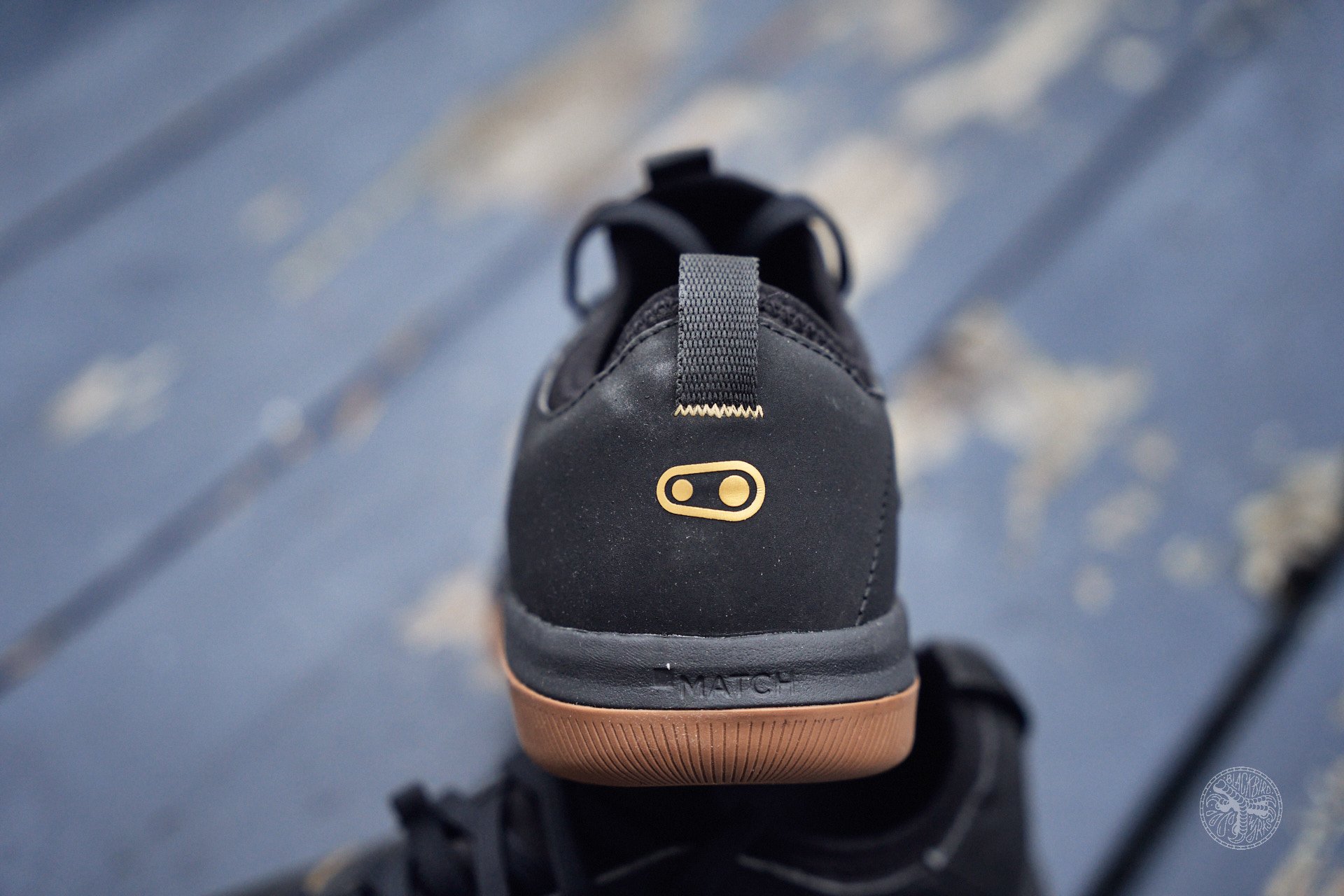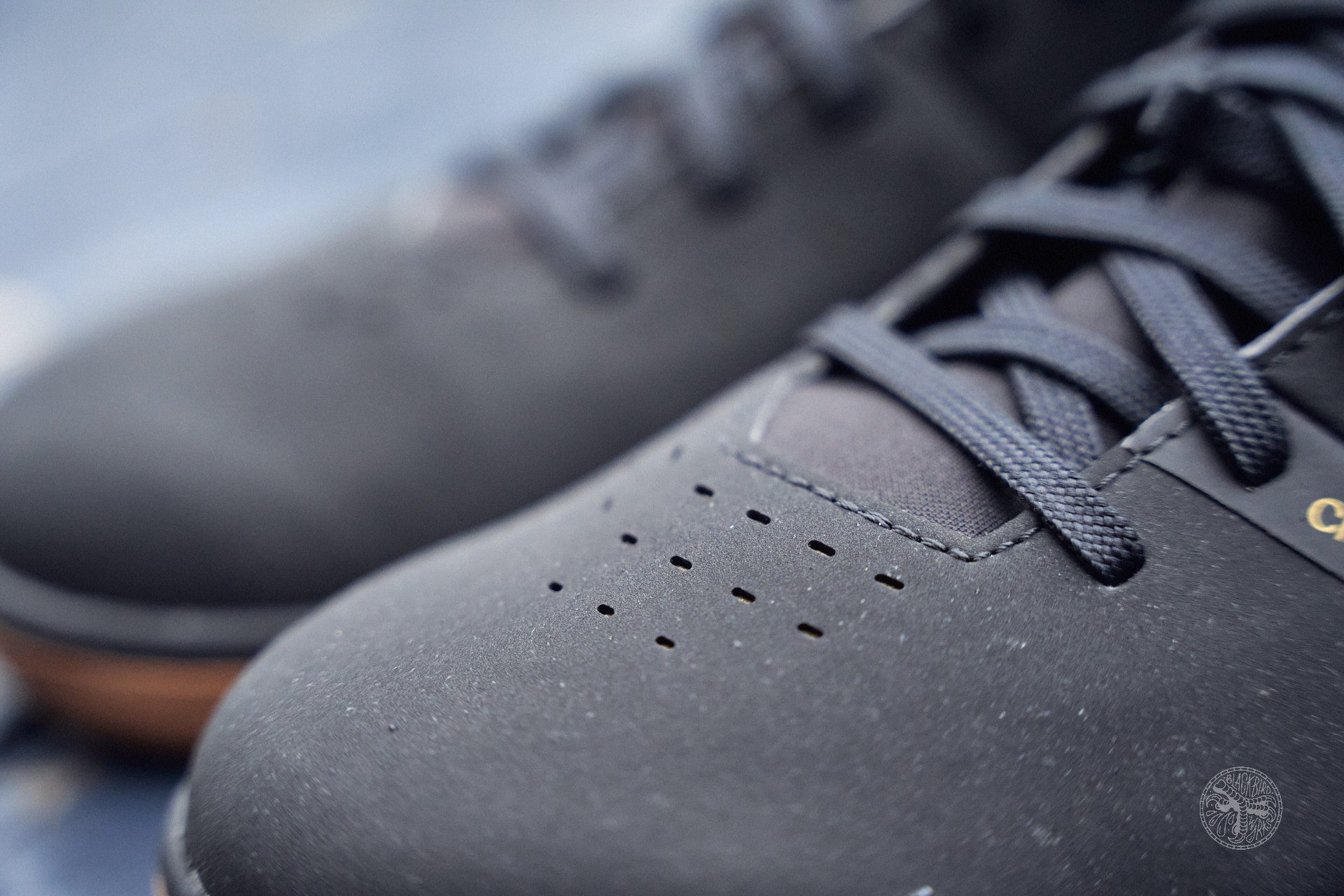 Andrew's Experience
Never have I ever owned a cool pair of shoes. No crisp kicks, no magnificent moccasins, no sweet sneakers, and absolutely zero lust-worthy loafers. I only know this to be true because before these Stamp Streets arrived, I received a lifetime total of zero compliments on my choice of footwear. Since I started wearing the pink-accented purple platforms I've been on the receiving end of an almost uncomfortable number of comments of the "wow," "whoa," or "where did you get those?" variety. And specifically from regular folks, not just mountain bikers. Don't get me wrong, I have a modicum of taste such that I knew they were nice. I just didn't know they were compliment-level awesome.
They're also the most comfortable flat-pedal shoes I've worn just kicking around. I'll attribute that to the neoprene sock-in-shoe construction and increased flexibility in the sole compared to the regular Stamp flat pedal shoes. If I'm riding my commuter bike, walking to the grocery store, driving my car, or even cruising my mountain bike down to the park for an outside beverage with friends I'm reaching for these beauties every time. Trail use is a more complicated calculation and depends on the bike and itinerary.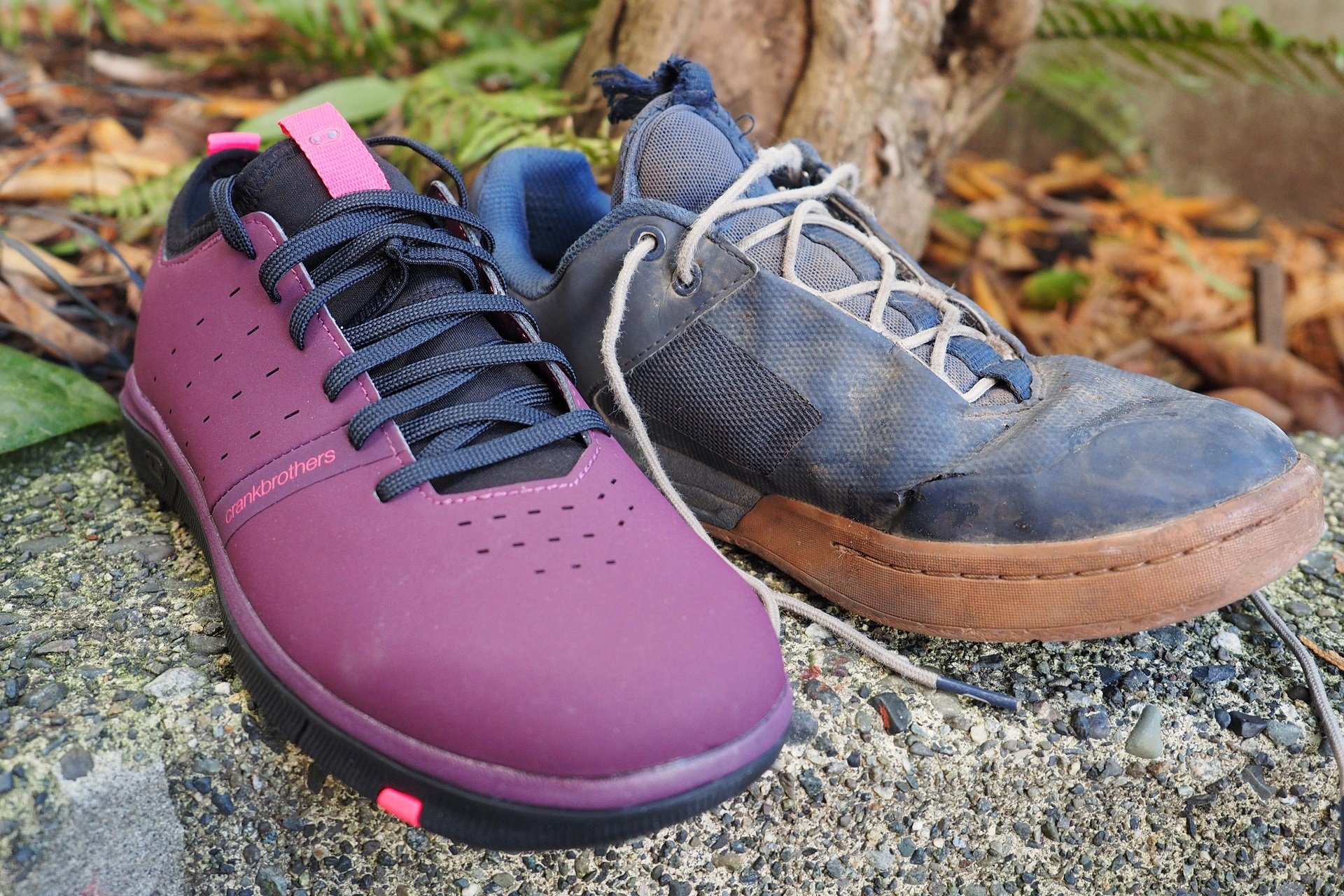 I started riding the Crankbrothers Stamp Lace shoes in 2020 and I'm almost ready to retire my second pair. They're my all-time favourite flat pedal shoes. The Match rubber delivers my perfect blend of tackiness and repositionability with a wide range of pedals. They have the right blend of stiffness and support. Quality and longevity have been excellent across both my pairs. I swap out the stock inserts for one of my well-worn pairs of Esker wool insoles and I find that adds just the right amount of support - not to mention moisture and temperature management - for the amount of time I'm out of the saddle climbing and descending.
After a brief back-to-back spin in my underground parking, I would have told you that the Match rubber on the Stamp Street shoes is strangely tackier than what they're using on the other Stamp shoes, but after more time on the bike, including on the trail, I've realized that's not the case. The Stamp Street feels tackier in some situations because the sole has more flex. Is that good? Not on my hardtail where I'm standing and climbing out of the saddle and I also prefer the stiffer Stamp for hike-a-bike efforts. Riding my full-suspension bike, my bias towards anything purple almost seals the deal but the Street - and yes, it's in the name - is still going to fatigue my feet more on longer rides.
I'm not giving back my purple power shoes. I love the things out riding my sweet ATB/commuter and just living life in general. But despite my heart's desires I'll need to sort out another pair of Stamp Lace shoes for the trails, sadly not in purple, sooner than later.
---
CrankBrothers Stamp Street Fabio Wibmer Edition
From Crankbrothers Press Release
Designed with freeride and trials athlete Fabio Wibmer, our Stamp Street Fabio shoes were created with life on and off the bike in mind. Featuring Match technology for a secure flat pedal connection, a bootie construction for day-long comfort, and a flexible mid-sole design to allow your foot to wrap the pedal for that all-important next bunny hop, the Stamp Street Fabio allows you to enjoy the Street Life, just like Fabio.
MATCH COMPOUND
Crankbrothers Stamp Street Fabio flat shoes use a proprietary outsole rubber designed to create a secure pedal connection. Our high-friction rubber compound (MC2) is optimized for grip and durability. It has optimal grip to stick to the pedal body and low rebound properties to damp vibrations. The lugs are rounded to resist abrasion.
MATCH SYSTEM
Our innovative MATCH System is a design approach that considers the pedal and shoe as a unified system to provide an optimized interface. Crankbrothers Stamp Street Fabio shoes are optimized for our pedals, but work with any MTB flat pedal. Our softer midsole design provides flexibility and pedal feel while tighter lug spacing offers easy foot adjustments to suit the needs of every street rider.
PREMIUM MATERIALS
Crankbrothers Stamp Street Fabio shoes feature a synthetic upper with premium materials for protection and comfort. The Stamp Street Fabio's bootie construction provides a secure and comfortable fit on and off the bike and includes tongue and heel pull tabs for easy entry every time you head out the door. A reinforced TPU inner panel creates added protection from your crank arms while keeping a comfortable fit for all-day wear.
---
Crankbrothers Stamp Street Fabio
129.99 USD

Deniz Merdano
5'8"
162lbs
Playful, lively riding style
Photographer and Story Teller
Lenticular Aesthetician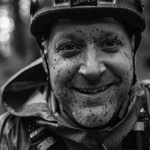 Andrew Major
Height - Steve Buscemi-ish
Wait - Patiently
Ape Index - T-Rex
Age - The same as DOS
Favourite Trail(s) every week - Pipeline (thank you Ken!) to Lower Crippler (thank you Andy!)
Favourite Song(s) this week - I'm Your Man. Nick Cave (covering Leonard Cohen)
Favourite Colour - Cosmic Lilac
Bar Width - It depends
Reach & Stack & ETT - It depends
Crank Length - 175mm except when it's 170mm
Wheel Size - Hot For Mullets