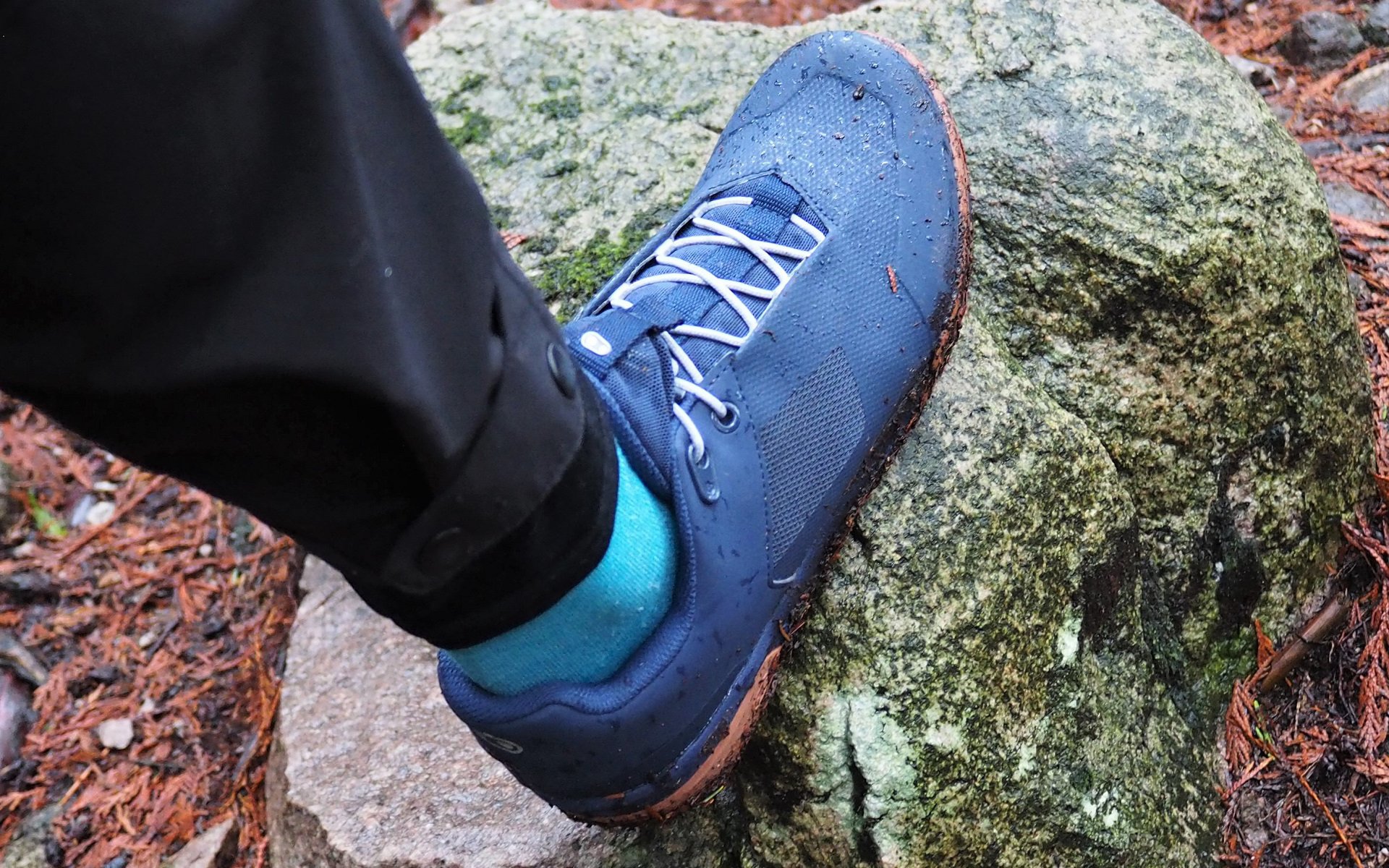 FIRST IMPRESSIONS | PRODUCT LAUNCH
Crankbrothers Stamp Flat Pedal Shoes
Stamp & Mallet
Today the mountain-bike-internet will be well saturated with information about Crankbrothers' new footwear program. It's a tidy release consisting of three flat-pedal shoes in the 'Stamp' line and three clip-in pedal shoes in the 'Mallet' line. Within the two categories, the shoes are differentiated only by their lacing systems. A single BOA adjuster and velcro strap for the premium, a speed-lace setup with a velcro strap for the mid-level, and a lace-system for the least expensive.
I prefer laces over any other retention system, so the fact that I can get the same premium rubber compound - the high-friction, low rebound MC2 Match rubber in the case of all the flat pedal shoes - rather than a cheaper overall package is a big win for me. I'm currently testing the basic Stamp Lace and it's excellent.
I've been predominantly riding flat pedals on all my bikes for many months now, but when I go back to spending some time clipping-in the Mallet or Mallet E - same shoes, different styles - strike me as clip-in shoes I'd get along with. I always slam my cleats to the very back of the pocket and with Crankbrothers' very-rearward cleat track I may actually have a usable range of adjustment to work with. Likewise, I've had to modify many a shoe to work with my preferred Mallet DH pedals, so it would be interesting to experience a design optimized around their product.
I was surprised, and then not surprised, that Crankbrothers requires a shim under the cleat to use their own pedals with their own shoes. The shoes even come with Crankbrothers cleats pre-installed. But at the end of the day, Crankbrothers recognizes that most riders run Shimano pedals and they have ensured that the SPD compatible crowd can take solid advantage of their footwear.

I'm also curious to check out the rubber compound used with the clip-in shoes - which Crankbrothers calls MATCH MC1. It's a 'mid-friction' compound so that it won't interfere too much with pedal release. The MC2 compound being used with the Stamp flat pedal shoe is the stickiest option I've tried besides Five Ten's Stealth - wet or dry.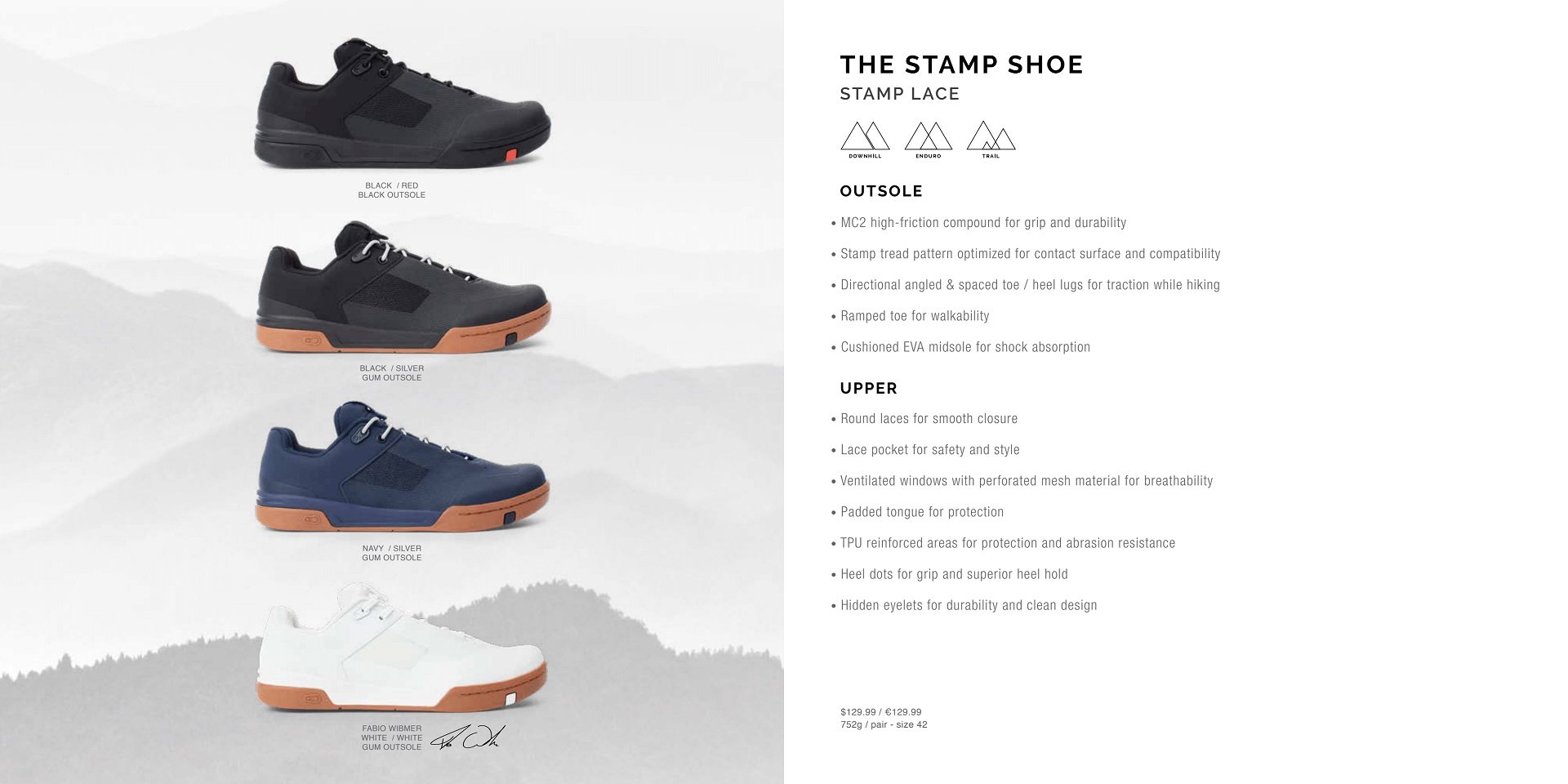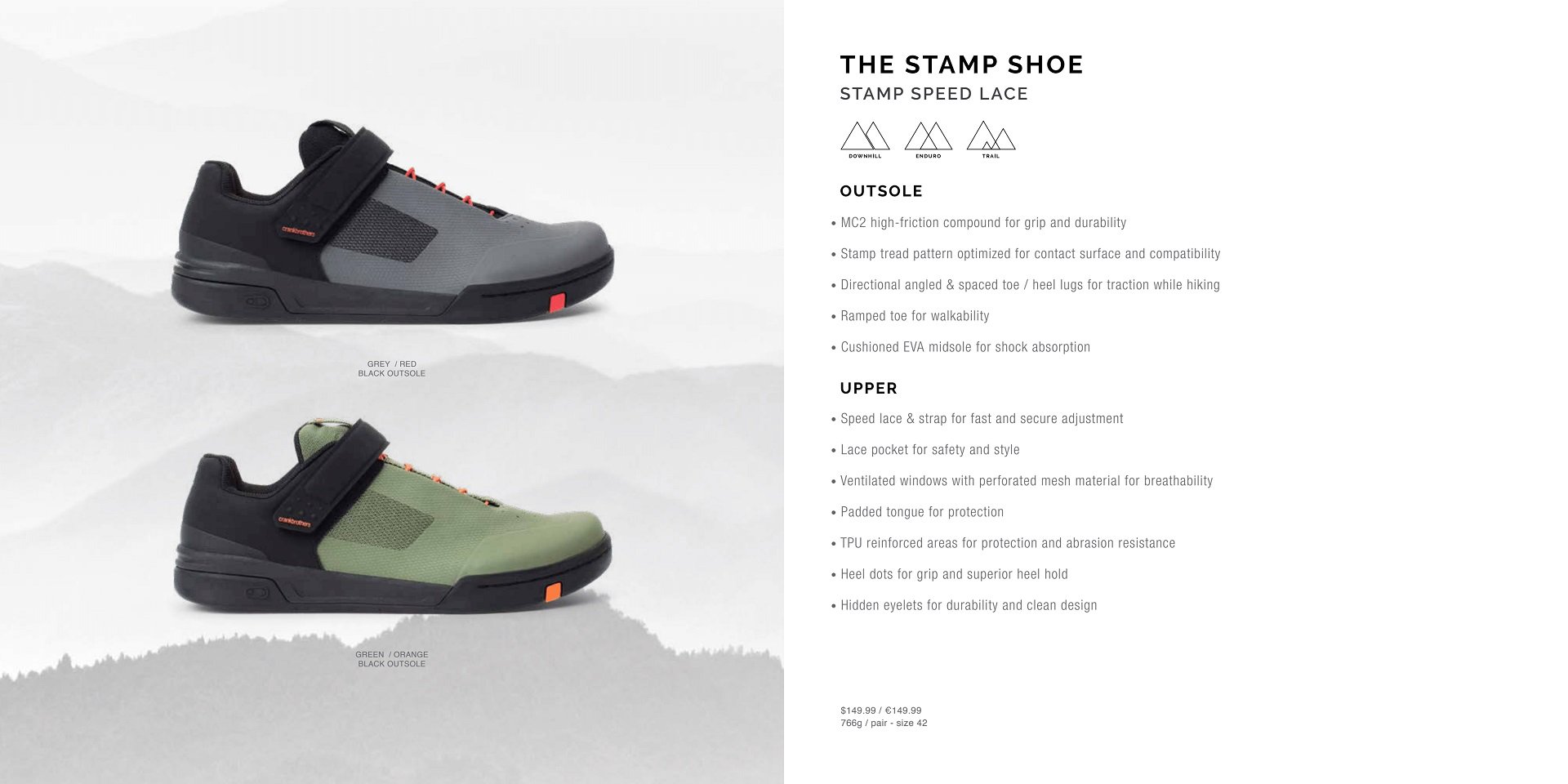 Working On Their Fizik
Developing a shoe line is a no-brainer for Crankbrothers. First-off, some SPD-compatible shoes don't work very well with Crankbrothers pedals without some modifications, and I find their pedals work best with a more rearward cleat position compared to where I run Shimano cleats. I also find that their caged pedals, especially my preferred Mallet DH, work best with a shoe that's a bit less stiff. To date, the best clip-in shoe I've found to run with the Mallet is Bontrager's Rally. I've come across plenty of clip-in shoes where I felt extensive modifications were necessary. Hopefully, that isn't the case with Mallet shoes, having been designed and thoroughly tested to provide the ultimate Crankbrothers' pedal interface.
Additionally, there's the 'because they can' factor. Crankbrothers' sister brand Fizik makes fantastic footwear with renowned quality. I know plenty of folks who only ride their road shoes. I haven't used them personally, but I've handled enough pairs to remark that the quality of construction and materials is tops. Taking that design and materials expertise as well as the factory connections and applying it to a mountain bike-specific product makes perfect sense.
Stamp v. DBX 2.0
I'm currently finishing up my review of Leatt's DBX 2.0 shoe. Interestingly, like the Stamp Lace, it's the lowest end option in its respective lineup. The DBX 2.0 gives up the waterproof breathable membrane, sole stiffness, and ankle protection of the more expensive DBX 3.0 and in my experience delivers the new perfect flat pedal shoe at the same time.
I quite enjoy the visual juxtaposition of the Stamp Lace, with the smoothest, narrowest laces I've ever had in a pair of shoes, compared to the DBX 2.0 shoes with the biggest and most tactile. What they share is a simple, casual, style, that doesn't look at all out of place off the bike and sticky rubber soles that deliver tonnes of grip pedaling. The DBX 2.0 has surmounted the Shimano GR7 as the flat pedal shoe I'll be using as my baseline for comparisons and Stamp Lace is up against some less-than-stiff competition.
Stamp Lace
The Crankbrothers Match soles deliver plenty of grip in wet conditions. The materials and construction look and feel excellent. I've already soaked them through and stood in mud up to my ankles, and I've only had them a couple of days, so I'm satisfied that I'll be able to give a full accounting of their durability when it comes time to write the proper review.
For now, I'll be riding a combination of Kona Wah Wah 2 pedals, OneUp composite pedals, and RaceFace Chester composite pedals to give a decent accounting of different sizes and shapes. Those mean OneUp pins are a really good test of sole durability while the less grippy Chester is a great platform to compare different rubber compounds.
The Stamp Lace shoes are 130 USD and come in half sizes from 5-14. Add $20 for the speed-lace version (150 USD) and then another $30 on top of that for the BOA model (180 USD). The clip-in Mallet models add $20 per price point but include a Crankbrothers cleat with the package.
The shoes fit ever-so-slightly big so if you're truly hovering between two options it's probably safest to drop that 1/2 size. They also come in four colours. Well, that is if you count the white-on-white (with a gum sole) Fabio Wibmer model as a mountain bike shoe.
I know a few folks who've been hoping for more technical tightening systems for flat pedal shoes but personally - given that the soles are all the same - the Stamp Lace is the only option on my list. I'll be back with a full review once the shoes are thrashed. In the meantime, there's an abundance of information at Crankbrothers.com and I'd suggest anyone hoping to try a pair on at their local shop plant those seeds now.