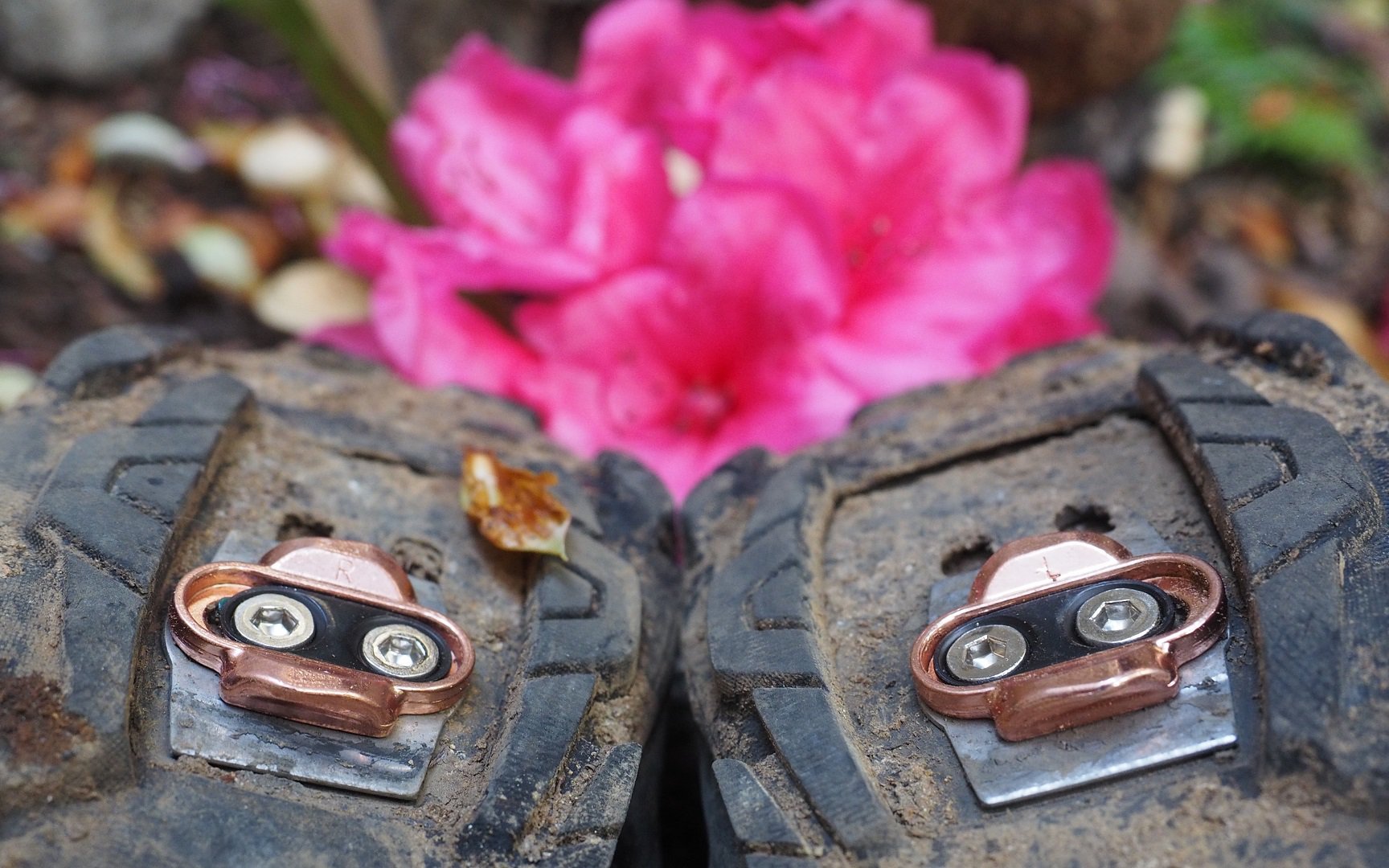 TWO-MINUTE REVIEWS
Crankbrothers Rose Pedal Cleats
Pedaling Pink
These Crankbrothers rose-coloured cleats match the 6° float of their standard gold cleats but cut the release angle from 15° to 10°. To put it plainly, they're equally comfy on my knees but clipping-out takes less motion and feels more positive. Riders who love the amount of body-english input the standard cleats can take without releasing are likely asking why? I think there are two prime customers:
Crankbrothers riders who prefer the rubber-damped release of the Mallet or Candy series of pedals but are running Eggbeater pedals, say for XC or 'cross racing.
SPD riders who are interested in the feel, float, and five-minute-ready rebuild-ability of Crankbrothers pedals but want the more positive release they're used to.
That may just be my bias, as I have an absolute preference for the standard cleats with my Mallet DH pedals but I prefer the rose cleats with the minimalist Eggbeater pedals.
There are actually now four different cleats in the Crankbrothers line. The standard cleats have 6° float and a 15° release, the rose provide 6° float and a 10° release, the bronze with 0° float and a 15° release, and the silver with 0° float and a 10° release.
I asked my knees if we could try the 0° float cleats in the name of an exhaustive review and they told me to ask my foam roller. Foam roller laughed. Luckily for me, Crankbrothers says "XC racers tend to prefer the efficiency and power transfer of 0° float cleats" so my knees are not the target market.
I don't mind the weight of the Mallet DH pedals and I really like the damped release of the standard Crankbrothers cleats (6°/15°) combined with their rubber traction pads. It's great to try different things, and cleats are a relatively cheap swap at 26 USD, but day-to-day a pair of Mallet DH's with the stock cleats are perfect for me.
On the other hand, the Eggbeaters, sans traction pads, feel notably better with the rose cleats (6°/10°) and between their lower weight and best in class snow clearance I can see this setup becoming the stock option with these pedals. Hopefully Crankbrothers will add a version that's stock with the longer DH axles as well.
It's worth noting that the Crankbrothers-curious SPD rider will feel immediately more at home with the rose cleats. The quality of the pedals, ease of service, and availability of service parts make them an excellent choice.
Crankbrothers calls these 'Easy Release' cleats and they are available in either 0º or 6º float. More info here...