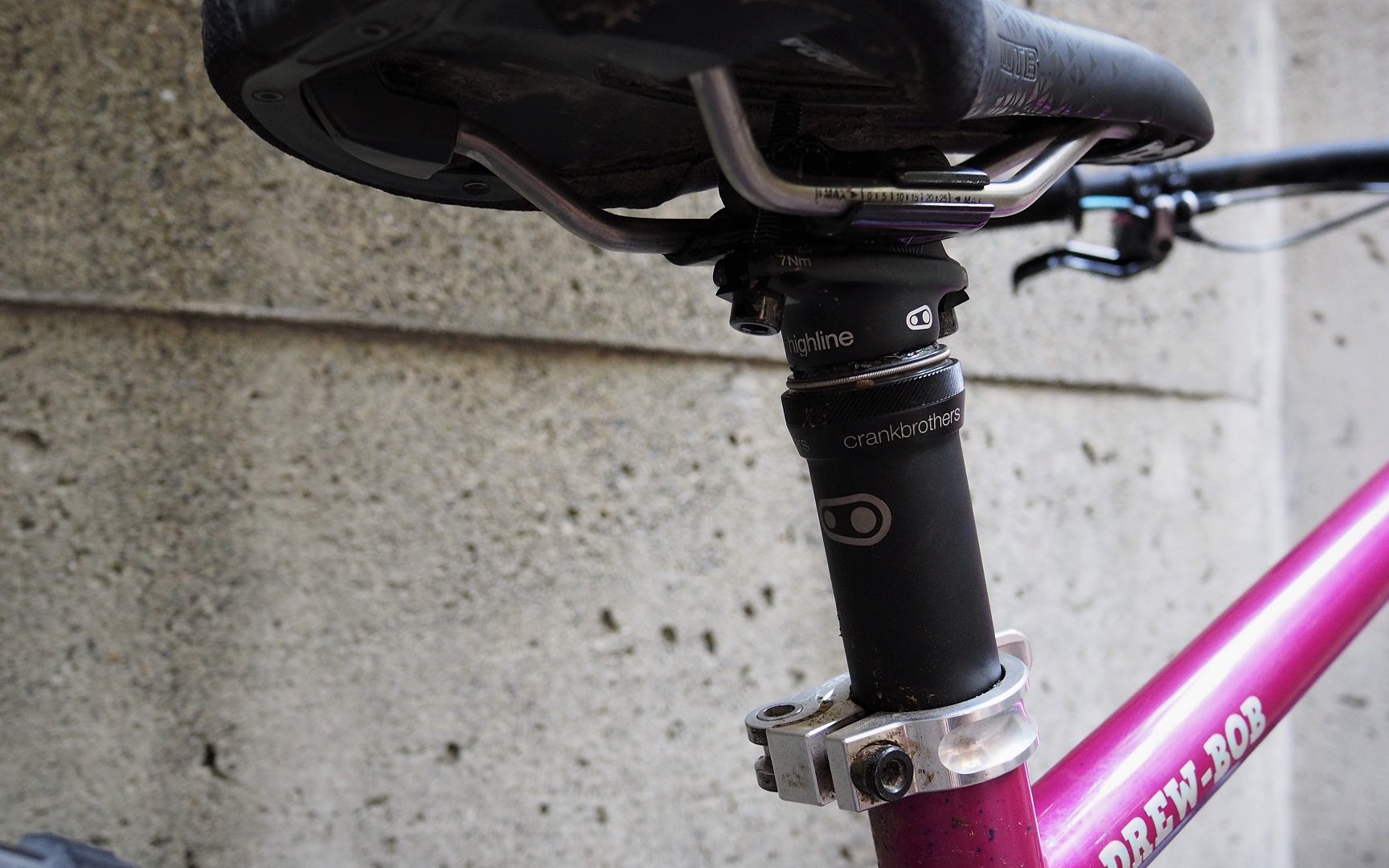 RELEASE | FIRST IMPRESSIONS | TEARDOWN
Crankbrothers Highline 7 Dropper Post Ridden (Plus HL 3)
Faster, Simpler; Four Year Warranty
I have been a fan of the Crankbrothers Highline Dropper Post. I did an extensive review of the 125mm version when it was first released and even purchased a 160mm model when it hit the market. The silky smooth post action, in both travel lengths, coupled with excellent reliability and support made it an easy platform to recommend.
Now Crankbrothers has split the Highline Dropper Post line in two. There's a new basic post, called the Highline 3, using an emulsion system and selling for 200 USD. And, there's this updated version of the excellent Wintek-equipped original Highline, now called the Highline 7, which sells for 300 USD.
All parts carry over from my previous review with the notable exception of the new linear actuator.* I love the sealed plug-and-play swivel system of Gen.1 but from the first push of the remote it's obvious this was a positive change for Crankbrothers. Action is lighter and the post rebounds a bit faster, all without having to increase the charge in the Wintek cartridge. Crankbrothers runs a lower charge than other Wintek posts for improved longevity and the original Highlines have outlasted their expectations, hence the move from a three year warranty to a four year warranty with the new Highline 7.
*Which is the same as other brands of post I've reviewed.
Remote Possibilities
In both cases post pricing is sans remote, which is absolutely my preference. Trying the likes of a PNW Loam Lever and Wolf Tooth ReMote has ruined stock remotes for me anyway. That said, I am inclined to give Crankbrothers a slap on the wrist here. Their remote, which is still available separately, is quite brilliantly adjustable and with the addition of a cartridge bearing pivot and a slightly longer actuating lever I think it could would be a top contender. So while I appreciate that the posts come as choose-your-own-remote, it's clear Crankbrothers has the imagination and engineering background to make a top shelf remote that could compete with the best on the market at a similar price.
Teardown
The teardown procedure remains among the easiest in the business. Adjustable wrench, 3mm hex-key, Slickoleum, and strap wrench are all that's needed. Don't own a strap wrench? Try a rubberized work glove or a bicycle repair stand clamp - it doesn't take very much force to get the actuator off. The absence of the plug in swivel-drive actuator actually makes it a bit easier to work on than the first generation post. Please check out my teardown of the original for the comparison.
The clamp assembly carries over as well - which is mostly great. As I noted in my first look of the original I don't see why the half-barrel washers need to have pointy corners but I know a lot of folks with this post who've never had an issue and, after being bitten once with the original post, I didn't bother to modify them on my 160mm. Big bolts and quality hardware has meant the slotted back clamp has caused no issues.
Speaking of hardware, Crankbrothers makes four different cleats for their pedals. They get customized fit. I look at the head of the Highline post series and I think there is great potential to do both forward and rear offset seat clamp options. Forward offset for all the mountain bikers looking for a steeper effective saddle position over the bottom bracket. Rear offset because for shorter travel, and 27.2mm, versions of the Highline for XC and gravel bikes customers will be looking to aim fit at efficient application of max power - not just coaxing long travel FS bikes up steep climbs - and some folks have long, long, femurs.
First Rides
What you get here is the same silky smooth sliding with lighter action at the remote and a bit faster return. My first dozen days of riding on the Highline 7 have been excellent. Where I'm normally a bit over-cautious about taking new test product on the road, my experience with the previous Highline meant I had no doubts about this post joining me for a four day riding trip to Cumberland. Four year warranty aside, I am a bit skeptical whether the new actuator will be as impervious to the elements as the older swivel model so I'm looking forward to riding it all winter as a comparison. It is indeed early days. As it stands now, as cool as the swivel-actuator is, I have to say the new post is a moderate but notable improvement.
I'm looking forward to spending the, hopefully rainy, winter months putting all the abuse I can to the Highline 7. I'll be following up after I have enough hours on the post to truly compare it to the past Highline and others.
In the meantime, based on my past experience, I think it's absolutely worthy of consideration for a 170mm, or less, travel dropper post.
All sizes, 30.9, 31.6, 34.9 and soon 27.2, and travel options are 300 USD. For more information please check out Crankbrothers.com.
---
Highline 3
The Highline 3 is equipped with an emulsification cartridge, a 2-bolt head, alloy quill and comes with a 2-year warranty.MSRP is 199.99 USD.