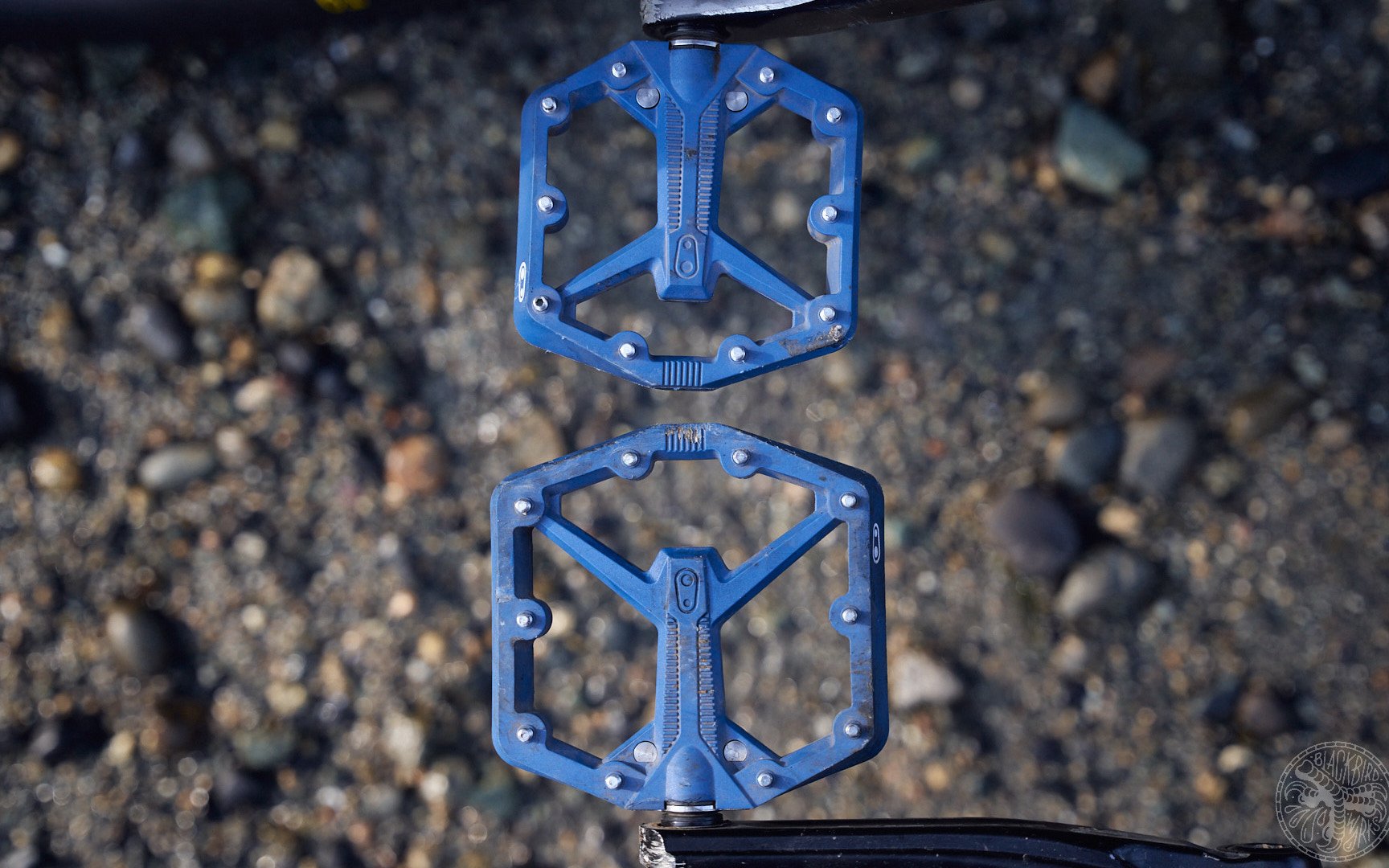 Review
Crankbrothers' New Stamp 1 Pedal
I don't remember how long I rode on the original Stamp 1 pedals from Crankbrothers, but I'd be surprised if it was more than a single ride. I was quite sure that they weren't going to work out for me because they had a fatal flaw but I still gave them an honest shot.
If you ride flat pedals, grip is everything. You may or may not want the maximum grip you can derive from a shoe/pedal combo, but you undoubtedly need your own personal sweet spot. Anything less and everything may as well go in the bin. Or maybe on your grocery getter. I don't remember where mine ended up, but I definitely didn't give them to a serious mountain biker.
Bring on Gen. 2
The flaw was in the design of the central housing that holds the axle, as well as any bearings or bushings. Crankbrothers decided to attempt a composite pedal that shared internals with some of their aluminum pedals which meant they needed to accommodate a cartridge bearing of a significant diameter. A composite pedal requires a thicker bearing seat than an aluminum one, which is what caused the bulge.
In practice, the bulge puts a large portion of your weight on a slippery surface and doesn't allow the centre pins to dig into your shoes. Worse still, it leaves less force pushing into the other pins. This one-two combo clearly didn't work for a significant amount of riders, sending CB back to the DB.
The higher end Stamp 7 and Stamp 11 pedals spin entirely on Igus bushings and the 7s have been durable and smooth running. The bushings are also serviceable and replaceable and the Gen. 2 Stamp 1s include the same bushings. In the press release from CB we were told these bushings are "fully serviceable" but I have since received word that the bushings are indeed replaceable.
A specific Stamp 1 Gen. 2 service kit will be made available shortly but until that time, as long as you are able to reuse your bolts (which seems likely), the kit for the Stamp 7 and 11 will work perfectly. This is in the unlikely event you need to service your pedals in the first weeks of use.
The Gen 2s take a unique approach to pin placement. CB tells us that there are 10 pins per side but in actual fact, there are 10 pins per pedal, because they thread directly through one side and out the other, until the point where they extend equally out of each side. Only one of the two sides of each pin accepts a hex key but in the event of any damage, there should be lots to grip on from one side or the other. A benefit of this is that rather than having a short threaded section in the pedal, it extends through the entire thickness of the pedal body which should make them more robust and resistant to bending, or being pulled out. So far these have been flawless in that regard.
The 180 Second Teardown
I'm guessing it took me that long, but maybe even less time. The axle is held in place by two bolts that thread into steel inserts that drop into recesses in the pedal body. The bolts press a plate against the side of the pedal, which holds the axle firmly in place. Once you remove the two bolts with a 3mm hex key, the axle pulls out easily. Unless your bushings are worn, all there is to do is clean, re-lube, and slap it back together. It couldn't be easier.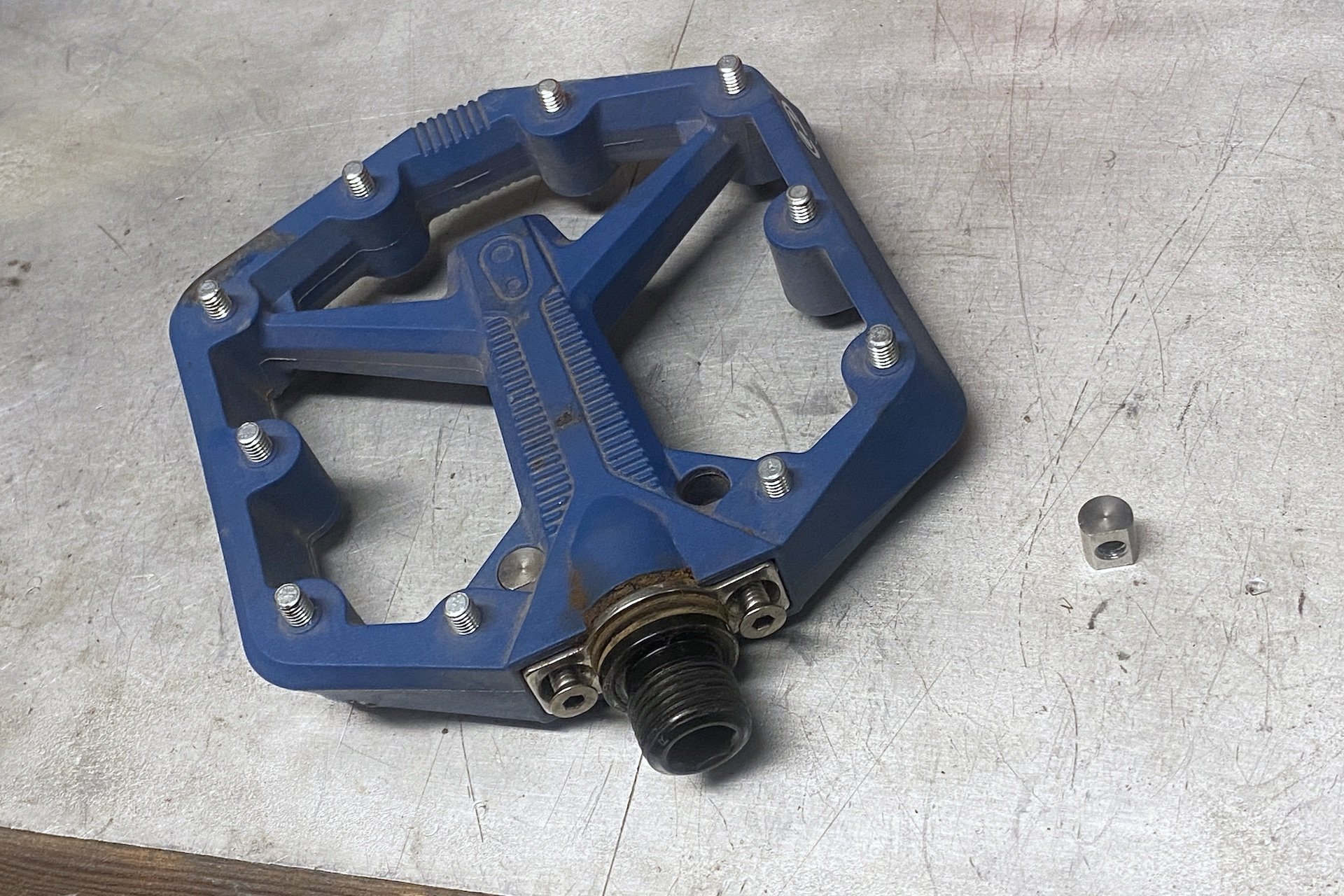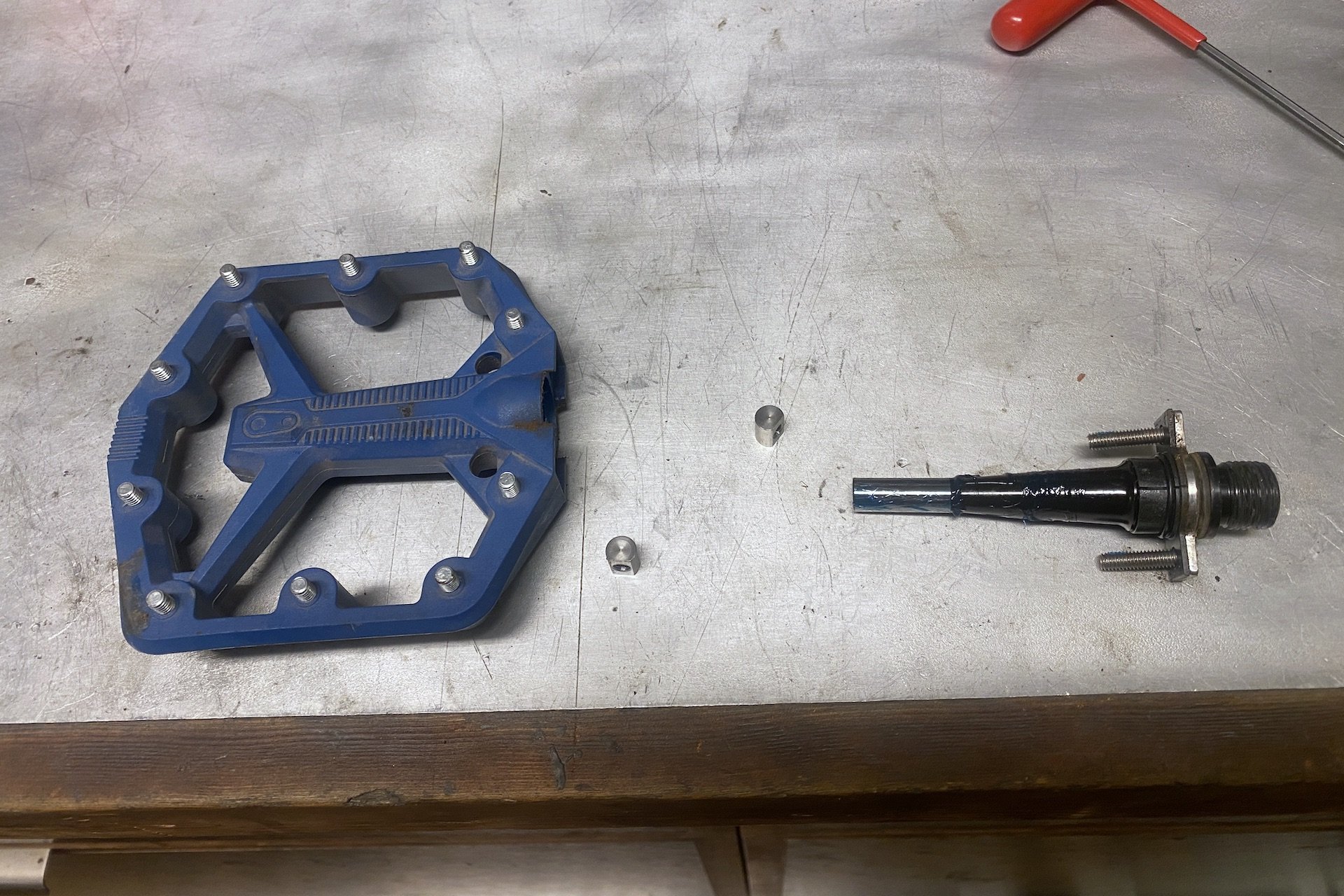 Sizing Up: Large or Small?
The first time I tried a set of large pedals - Stamp 3s I believe - I expected to be impressed, considering I wear size 11/44.5 shoes. Instead I was deflated. Because I ride downhill with my heels pushed a little forward rather than placing the ball of my foot directly over the spindle, my ideal pedal allows me to drape over the pins. With a large platform that is either flat or concave, this wasn't possible despite my flippers. As soon as I tried the smalls, I was in business so that's what I chose to test here.
Trail Time (Grip)
The long single pin extends beyond the pedal body significantly in both directions, giving your shoes a lot to dig into. I easily found my descending sweet spot and it remained easy to get to every time. Grip was very good indeed. In fact, if these were the only pedals I could ride for the rest of my days, I'd be okay with that.
I normally prefer a slightly grippier shoe than Crankbrothers sells with larger diameter pins like these. On OneUp or Look's new aluminum pedal, both of which feature thinner pins, CB Stamp shoes work great for me, while my Specialized 2FO Roosts become too sticky so I can't move my foot if it shifts during some rough play. With the Stamp 1s, I can happily ride either shoe and have sufficient grip, but without getting stuck in one place.
The combination of long pins with a larger diameter works a treat for me. Obviously I need to see how they are after some time on the bike, particularly to determine the longevity of the igus bushings but also to see how the pins take a hit. So far they are keeping me pretty happy.
Trevor Hansen's Thoughts (Size Large)
The Crankbrothers Stamp 1s are my new favourite pedals. The combination of the larger platform, the grippy feel created by the concave design, the light weight and the price make these the best pedals in my quiver (OneUp alloy and Race Face Atlas are the others). I like the spacious platform on the large model that I tested. Measuring in at 114 x 111mm, this extra space allows my size 9.5 shoe to hit several sweet spots on the pedal without having to adjust while riding. When I did not hit the sweet spots, most adjustments required me to unweight to move my shoe to a better position. This could also be because the grip from the SlipNot compound on my Specialized 2FO DH shoes is so tacky.
The replaceable pins survived the 22-ride test period without any breaks or bends. The pins are wide enough and dull enough to avoid major leg gashing while still providing major grip. The Stamp 1 design looks like it will make maintenance a simple task when the time comes.
The Stamp 1's 15mm height is slightly more than my other pedals but I did not notice any more pedal strikes than with my OneUps or Race Face Atlas pedals.
-TH
To Composite or To Alloy?
Composite pedals have some distinct advantages over aluminum. Even when they get a little bit clapped out, the material dulls the sound of loose bearings or bushings, while aluminum pedals can sometimes be mistaken for nickels and dimes banging around inside a tin can. That same advantage applies to pedal strikes as well, where a dull thud is more often heard than a sickening clack. There is also a significant price advantage, and pedals take so much abuse they can almost be considered a wear item, rather than a long term investment, depending on the terrain you ride.
A big downside to plastic platforms can be that once a pin pulls out it is often impossible to replace. More pedals now come with some steel insert or nut that makes for a replaceable and sturdy interface, but not all. Crankbrothers' solution to this, with large(er) diameter pins that thread all the way through the composite body, may turn out to be a revelation. It seems these will be very sturdy indeed.
Add heaps o' grip, two sizes, 320-350 grams per pair, quality igus bushings, a good shape and a slick servicing procedure and it seems to me these will be a winner, all for 60 USD.