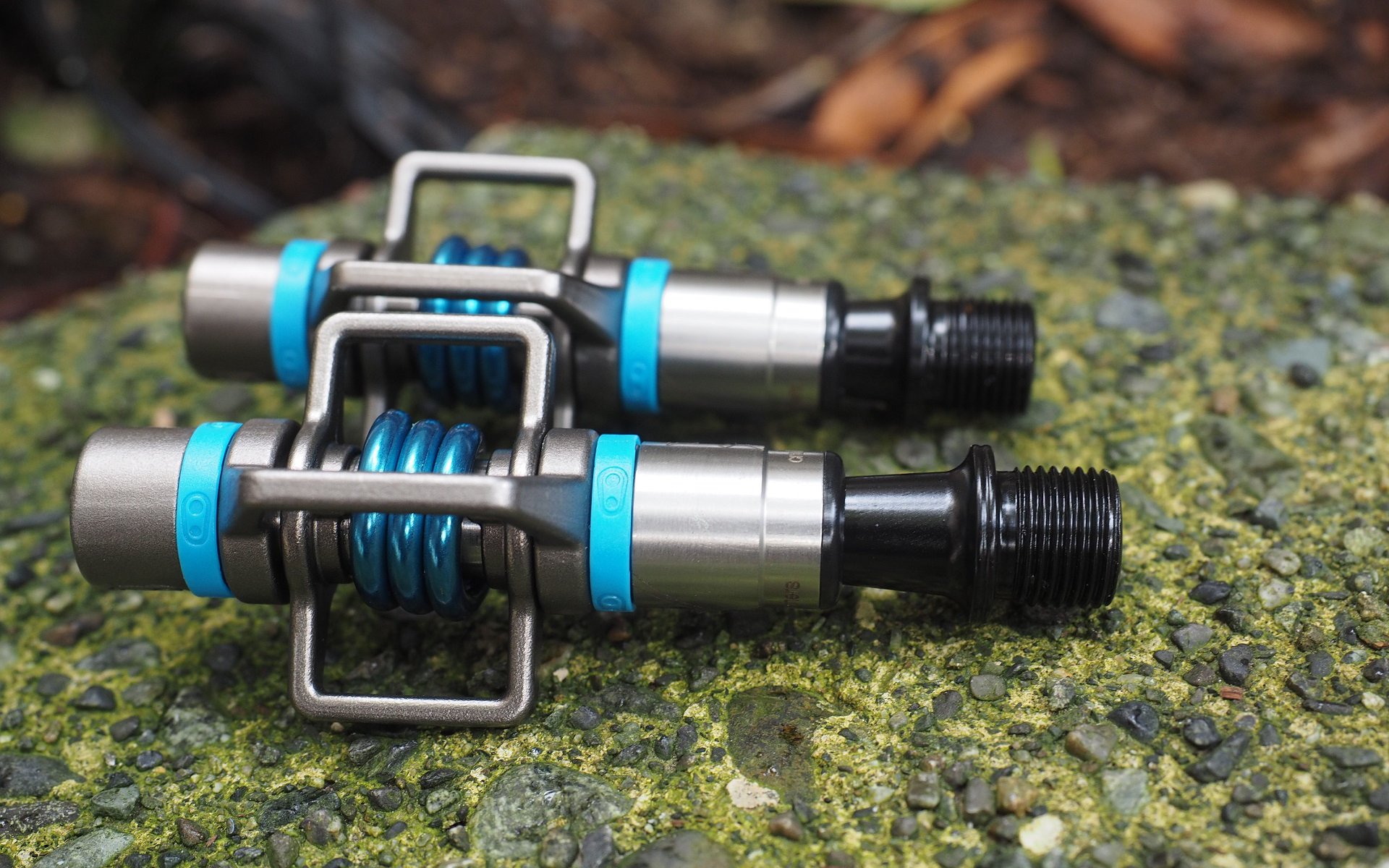 REVIEW | EDITORIAL
Crankbrothers Eggbeater Pedals - Enhanced Stance
Stance
I was installing a refresh kit in my Crankbrothers Mallet DH pedals - a five-minute, 25 USD job - when I had a bit of an epiphany. The Mallet DH has been my pedal of choice since I tested them in 2017, which runs counter to my general pedal preference. When clipping in I've long opted for smaller 'XC' bodies and here I was riding one of the biggest pedals in the business.
I've thought for some time that Shimano 'Trail' pedals are silly, always opting for the same support and smaller body of the XC models. I really like the Look X-Track but I'm unimpressed by their larger-body, En-Rage model given the impressive contact area of the X-Track. Why then aren't I riding the Crankbrothers Candy or even the original Eggbeater design?
The answer, as I alluded to when talking about the Look X-Track in my Dear Santa article, is that the Mallet DH has a much wider stance than any of the other pedals in my shop. For the quantifier, they have a 57mm Q-Factor where Mallet-E, Candy, and Eggbeater are all running 52mm. Five millimeters per side doesn't sound like a lot but on a long ride with a lot of climbing my hips feel better with the slightly wider stance and I also vastly prefer it while descending.
The good news is that in addition to now offering four different cleat options, Crankbrothers sells the wider LS (long spindle) axles separately for folks looking to customize their fit. This is the same spindle that comes stock with the Mallet DH and with the Mallet-E LS*.
*Mallet-E is available stock with the standard spindle and the LS
With fresh pedals, the axle swap takes less than five minutes to do both sides. And you might as well fill that pedal body with grease while you're at it. the Crankbrothers seals do a good job of holding in excess waterproof bearing grease.
It takes a bit longer if installing fresh bearings and bushings at the same time. Maybe ten minutes total to do both sides. In addition to getting great life out of the new Crankbrothers internals, their pedals are by far the quickest and easiest to service.
With the long spindle kit installed the Eggbeaters immediately feel better to me. They have the same audible click as the Mallets when a cleat is inserted and the same effortless but obvious release. There is one big difference, which is that the Eggbeaters have less restricted float since there is no shoe-vs-pedal contact.
One of the things I like about the Mallet DH, other than the wider stance, is the ability to use body-English without release compared to other clipless pedals and that's even more true with the Eggbeaters. For this will take some getting used to.
On the other hand, absolutely nothing clears snow like the original Eggbeater design. That's not a general Crankbrothers endorsement - I'm specifically talking about these pedals. No matter how snow-packed the shoes, it's all snapping in and smooth exits without concern.
My only Eggbeater worry was shoe stiffness with the reduced contact area and that has proved unfounded. I've been mainly riding them with the Scott MTB Comp Lace and Bontrager JFW Winter, neither of which is a particularly stiff shoe, and I'm thoroughly satisfied. I do hit my shoes more often than with the Mallet DH so the latter would still be my first choice for fast DH runs on rocky trails.
Is a 5mm wider Q-Factor worth the cost of the long spindle kit? Any rider who has their cleats slammed inboard in order to push their feet out, or who is dealing with knee or hip pain from their feet being forced inboard should certainly give some thought to pedals with a wider stance.
Riders happy with the big body of the Mallet DH or Mallet-E LS can already buy that wider Q as a stock option. Riders who prefer a more diminutive clip-in pedal but want the wider position can upgrade any Candy or Eggbeater model with a Long Spindle Kit. That includes everything in the 25 USD refresh kit and two tool steel axles for a total of 50 USD.