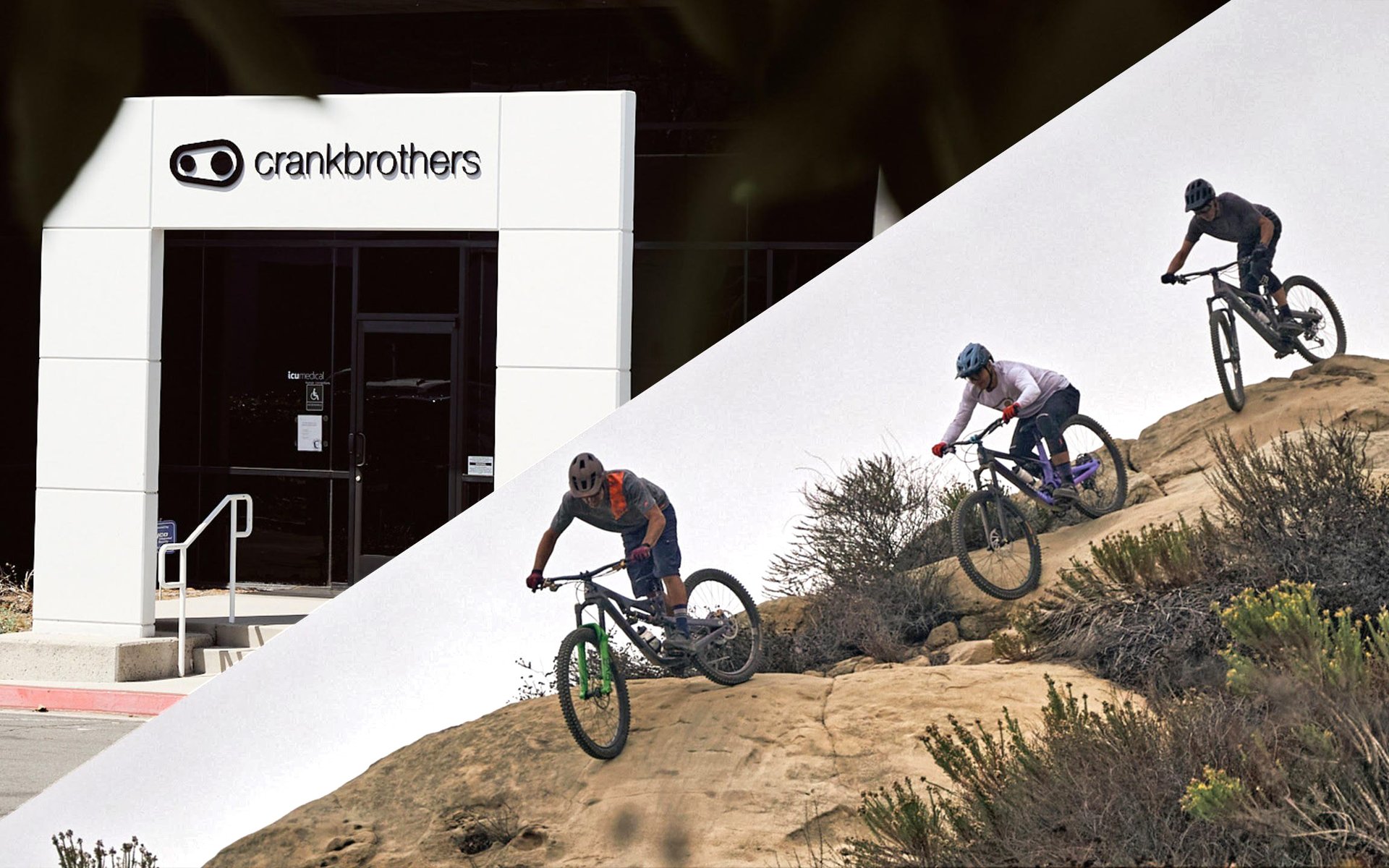 Behind the Brand
Crankbrothers - 25 Years on the Trail
"Cam, can I ask you a question?" Gaspare Licata, the Crankbrothers CEO, is always asking questions. This time it was while he was sweating out a tough road climb on his Forbidden Dreadnought, complete with Conti DH rubber in the rear. Gas was having an uncharacteristically tough day. His road background made the climbing element of his mountain biking transition easy. The other half, considering the challenging and steep descents around Laguna, has been harder won, but it's clear he's made huge gains in just a few years.
Because I was recovering from injury, I chose to ride an eMTB from Forestal. It was a light one with a small battery and modest power, but an eMTB nonetheless. The extra watts gave me the juice to loop back to finish the climb with Gaspare and, as is always the case with him, I was rewarded with an interesting conversation.
"We have a little problem with one of our products."* Gaspare speaks excellent English, with the deliberate cadence of a non-native speaker. His first language is Italian but Gas also speaks Spanish and French. The first time I met him, years ago at Interbike's Dirt Demo, he thanked me sincerely for our negative reviews of some Crankbrothers products. That had never happened before in this industry and hasn't since. All feedback is good feedback to Gaspare, and that is surprisingly rare in the mountain bike industry.
*I've been asked not to name the product in question at this time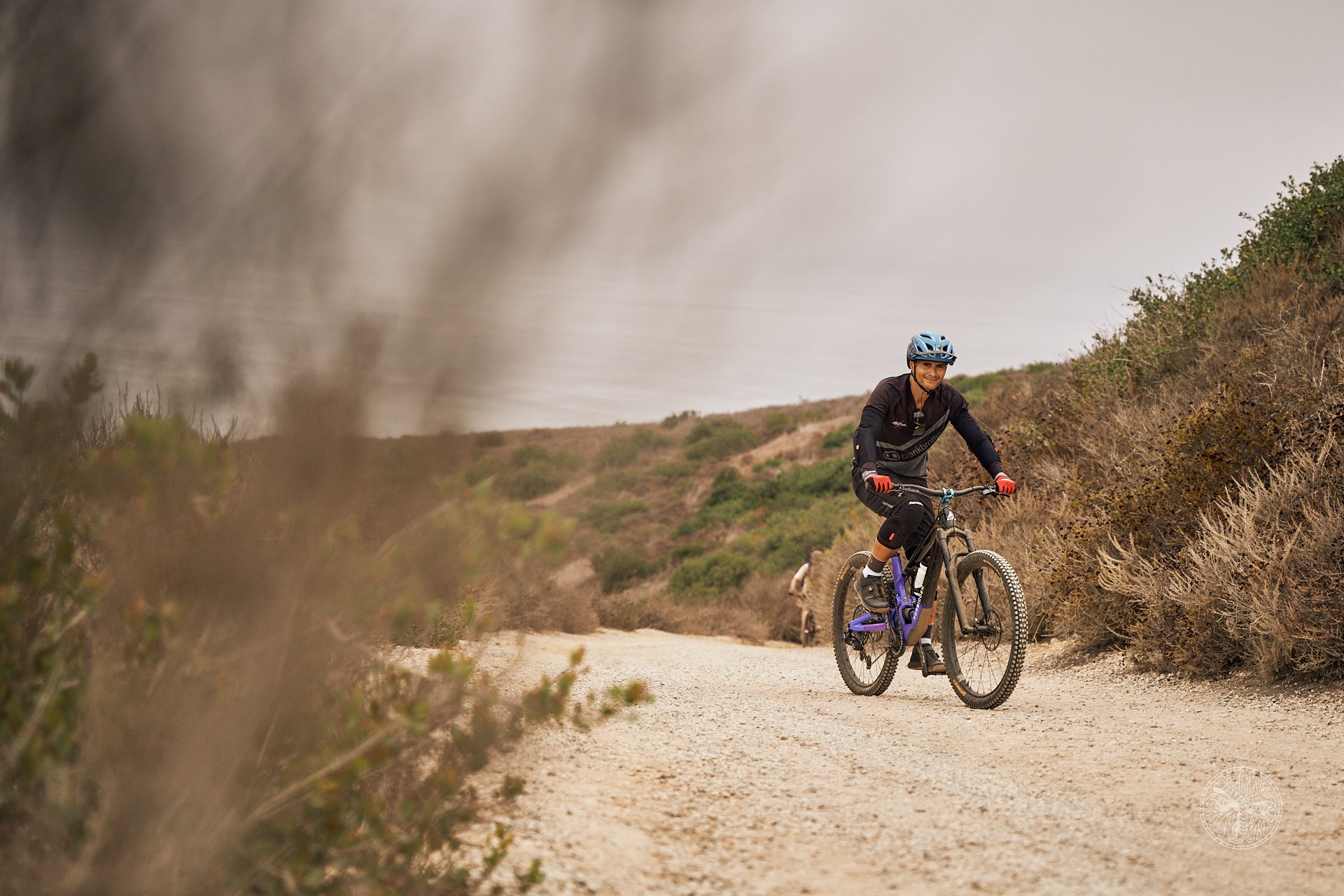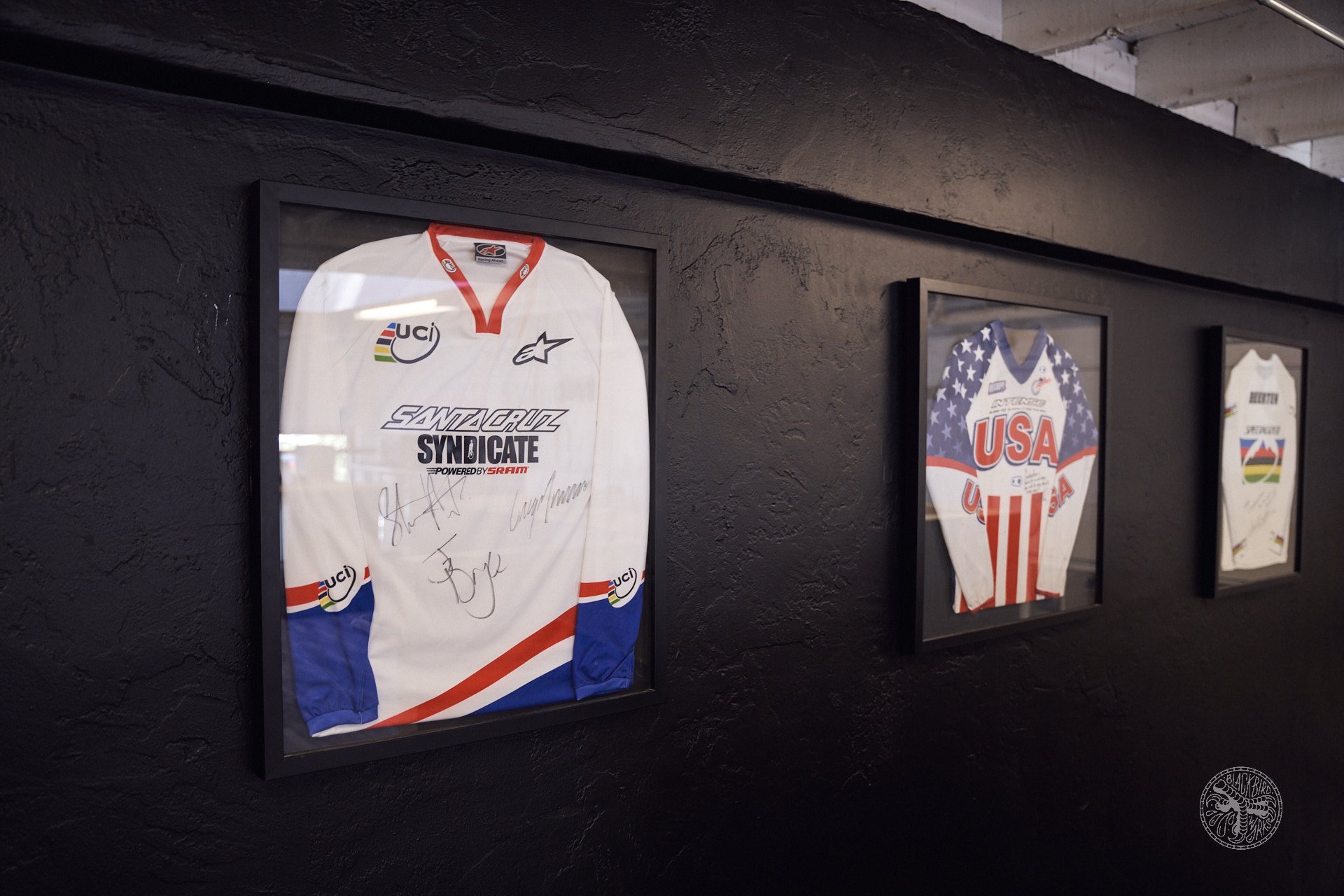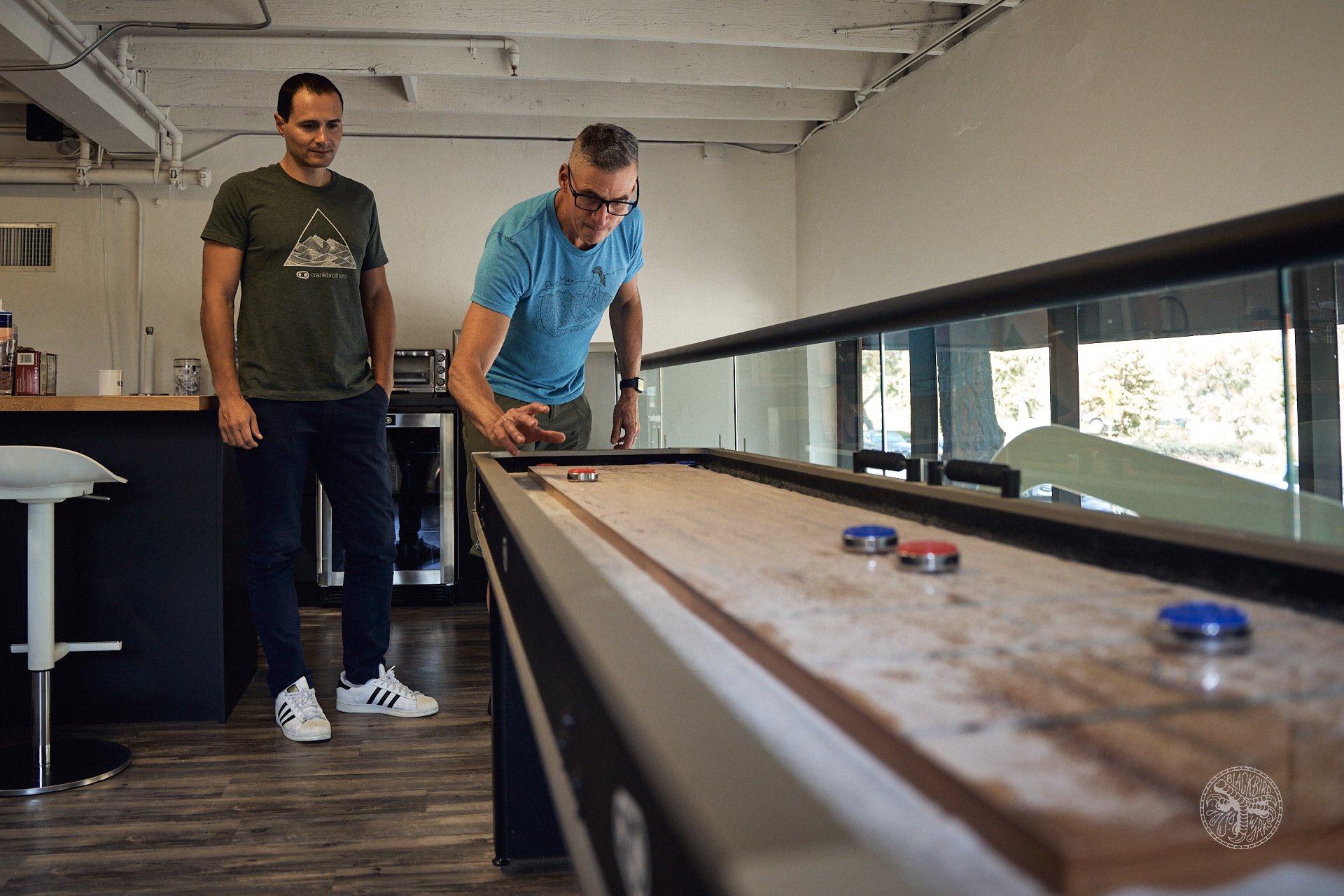 The problem with the product wouldn't actually be a problem for a lot of companies, but Crankbrothers doesn't fit that description, at least not under Gaspare Licata's watch. The product in question is designed around some specific settings that must be adhered to so everything works as it should. Testing has indicated the product is robust and durable if these settings are adhered to but when they are not, an element can fail. Crankbrothers has had a low but non-zero failure percentage. In fact, it's probably an acceptable number for many companies, and certainly for something that only breaks when recommended settings are ignored. The challenge is, some sales will be lost if a change is made to deal with the set up issue. That conundrum was top of mind for Gas, despite the heat and his long-chained, DH-tired beast.
The Elephant
Deniz Merdano and I had ventured down the coast to Laguna Beach to look under the hood at Crankbrothers, a company we'd never visited before. Beyond sampling Laguna's renowned Singletrack, I was particularly interested in why the brand, which after a strong start, struggled for many years to make reliable products. The posts have been replaced by the reliable and smooth-actuating Highline Dropper, and the bearing problems have long been solved, but for many riders, their experiences with some Crankrothers products had left a bitter aftertaste. There was a point when the company's reputation among serious riders was in the dumpster, and it was Gaspare's mission to win back even the most jaded and cynical former customers. The approach relied on many pillars but what he hoped customers would notice was excellent after sales service and products that are excellent performers and, more importantly, strong and durable.

There was a point for me where it was really a battle and I was afraid to come to work. In the last 6 or 7 years it's been a pleasure. It's great to be able to come to this job and know we are building good product. We're not just putting it in a fancy box. – Tim Young Global Warranty and Tech Manager (etc!) 12 years at Crankbrothers
Crankbrothers is in a good spot at the moment. After releasing several well-received products that have proved to be reliable and robust, including the Highline post, Stamp pedals, Synthesis wheels, new Mallet pedals, and an entire line of shoes, their long term strategy, to win back riders and to have their posts and wheels spec'ed on quality brands' bikes, is starting to pay off. Something kept niggling at me however. The loudest complaints from the previous era were related to both the Joplin and Kronolog posts, and bearings in most of the brand's pedals. These were also some of the biggest gripes mentioned in 2016s Pinkbike Ask Me Anything when, at the urging of Gaspare, staff threw themselves to the wolves to answer complaints and questions from real riders. The failing bearings was puzzling to me considering how long Crankbrothers had been successfully making Egg Beater earlier.
As I spoke to the Crankbrothers team, both long term employees and more recent hires, I wanted to know why, under previous management, there were serious issues with durability, and sometimes product quality, that seemed to be avoidable. Even more interesting to me however, was how a ship that was slowly sinking was transformed into a water-tight and smooth-sailing vessel.
A Brief History of Crankbrothers
1997 - Crankbrothers' first product, the Speedier Lever, was designed by company founders, Engineer, Frank Hermansen and industrial designer, Carl Winefordner.
2001 - The brothers from other mothers followed this up with their first real home run; the Eggbeater clip-in pedal, designed with as few parts as possible.
2002 - As the business grew Frank and Carl had less time to spend on doing what they loved; designing products so they brought on Andrew Herrick, a co-founder of Pedro's tools who was also on the board of directors of Selle Royal Group.
2008 - Crankbrothers is sold to the Selle Royal Group, an Italian concern founded in 1956 when Riccardo Bigolin began producing saddles in a shop near Vicenza, Italy (home to Campagnolo). Management is left in place after the purchase and the problems with reliability continued, which led to warranty challenges and some very angry customers.
2008 - The Joplin dropper post is introduced but is plagued with sealing issues and tends to seize.
2012 - The Kronolog dropper arrives to replace the Joplin. It's not much better and has issues both staying up and staying down. Responses from Crankbrothers often blame the issues on improper use or poor installation.
2013 - Andy Palmer replaces Andrew Herrick as CEO
2015 - Gaspare Licata takes the reins as CEO.
2015 - All internal components upgraded, including IGUS bushings Enduro Bearings and double seal systems.
2016 - Stamp flat pedals introduced and are available in two different platform sizes
2016 - Highline dropper post introduced and is well-received
2018 - Synthesis Wheels introduced with different layups for front and rear rims
2020 - Mallet and Stamp shoes released to considerable acclaim
2022 - Crankbrothers 25th anniversary sees the company staff at 55 with offices in Laguna Beach and San Clemente CA, and Taiwan.

Now it's like therapy, especially when you ride the steeps. You can't think about, you gotta get home and pick up the kid or whatever is bothering you cause then you're gonna crash. - Crankbrothers co-founder Frank Hermansen
The Brothers Crank
A few things surprised me about Crankbrothers, but the biggest shock for me was the presence of the 'Brothers' themselves. I had assumed they had left when the company was sold but he founders are still there, tucked away in a corner of their Laguna Beach offices, conjuring up innovative products and then designing them. Engineer, Frank Hermansen and industrial designer, Carl Winefordner worked together at U.S. Divers, designing products for scuba and snorkelling before they set out on their own in the bike business. "Frankly scuba diving wasn't something we had any real passion for," Carl told me, "especially here where it's so cold - but cycling is what we love."
Before starting our interview, I made sure I had their names straight, unwittingly demonstrating how the company name came to be; "especially when riding our bikes with helmets and sunglasses, our friends would say, is that Carl? They would get us mixed up all the time and at some point one of our friends said, just call both of them Crank and get it over with," Frank told me.
"When we were doing scuba, we had a living room full of buckets and buckets of snorkels and masks and fins," Frank added. "We were looking at it and going, 'can you imagine if that was bike parts instead' and that was the moment when we said, 'we gotta switch... just so we can get some free bike stuff.'" They had some early success putting their experience making things water tight to use, but for keeping water in, designing bladders for hydration packs. Carl and Frank's bladders, which they licensed to the company that became Hydrapak, were the first to incorporate screw top closures and urethane hoses, both of which are still used today, over 25 years later. The idea came about because the flow from early hydration packs was poor and the closures were too small and could burst open in a crash. Their approach to design has always been about solving problems.
"Our first product was the Speed Lever, and we almost called ourselves that, since it was our only product." The quick release was alive and well for many mountain bikers in the mid 90s. The telescoping Speed Lever connected to the QR and then rotated around that axis, peeling off the tire. The product was launched at Interbike 1996 in Anaheim. Frank described the experience; "We were in the basement where they put all the oddballs and we brought 4000 Speed Levers to give away. People were walking all over the show with them and they made this noise, 'zzzzt, zzzzt zest' when you opened and closed it and soon we were swamped. We had 100 different distributors from all over the world clambering to represent us." Those eager distributors were key; "Once we had that the next product, it was relatively easy to get them to carry it."
Things really started to happen for Crankbrothers when the first Egg Beater was launched but, according to Frank, there was no master plan. "We just kind of made whatever came into our head. And so the pedal just happened because we were on a muddy ride and we kept falling over and we were like, there's gotta be a better way. And it was literally like that." Much of the company's ethos is on display with the Egg Beater, both in terms of design, packaging, and graphic presentation. As Carl put it, "That was an exercise in simplicity. Yeah. Not really anything else. How few parts could we use? And started off as a three-sided pedal, but then it was like, Oh, it's simpler to go four because then you only have two moving parts.
Frank told me they tried to figure out a way to manufacture the pedals stateside; "looking at local manufacturers I mean, it would've been thousand dollars pedals. Taiwan was their best option, but that wasn't easy either. "this was before, you know, computers and Skype and stuff. So we were doing it by fax back and forth, and I don't know how it ever happened." The pair made some trips to Taiwan but, "as few as possible," and remarkably the pedals are still made in the same facility today.
The Phantom Logo
Crankbrothers' Logo is one of the most recognizable in the business. What it represents is clear to any mountain biker. But it turns to have been a happy accident., according to the remarkable story Carl told me; "actually that came from an outside graphic design firm that Andrew hired and that design firm knew othing about cycling. And he had no idea that it looked like the chain rings." Frank jumped in with his own recollection; "we were like, 'hey! it's a crank.' and he's like, 'what?.' It's me and Carl as the two dots, and then the ring was Andrew holding everything together." I asked Frank if they are different sizes. "Believe me, that has come up many, many times over the years about who's who." The mystery of who represents the big cog remains unsolved.

And, and then shortly after we had a graphic designer who was here for a long time and he really owned that, I think the color identity. Yeah. We were, again, all the other mountain bike companies were just like, very bro and all this. And our color at the time was baby blue. It was very feminine kind of as, it was again, Apple-esque and we were often compared to Apple, which we took as a compliment."
The Lipstick Brake
I asked Carl and Frank about a product they dreamed up that never made it to market. They told me about their lipstick brake pad idea. When rim brakes were still the default devices to slow your bike, Carl and Frank dreamed up a brake pad that could be pushed out as it wore like a tube of lipstick. Part of the inspiration for this idea was related to a property of physics that kind of blew my mind, until I thought about it a little more. Carl explained it like this; "first of all, friction has nothing to do with with area. That's not in the formula. Friction is normal force times coefficient of friction, and that's it."* (at this point Frank points his thumb at Carl and says, "he's an engineer!"). "Why," Carl continued, "does a brake have to be that big? What if we could make it a lot smaller, then you could just, you know, dial it out like a chapstick as it wore."
*At this point I was a little dumbfounded. But what about F1 tires? It turns out that wider tires are used because they generate less heat from deflection and they allow rubber with a higher coefficient of friction to be used.
Unfortunately for Carl and Frank, the lipstick brake never panned out. "It couldn't have been worse timing. Just as we were getting the product better and better the industry moved away from rim brakes. It wasn't that the product didn't work," Frank told me, "it was just the wrong time."
The Brothers Ride
There are certain times, Tuesdays and Thursdays in particular, when the whole company knows Frank and Carl are going to be out riding. Frank summed it up for us. "Now it's like therapy, especially when you ride the steeps. You can't think about, you gotta get home and pick up the kid, or whatever is bothering you, cause then you're gonna crash. So it's kind of like a mental vacation as you're riding. I still feel like I can get better. It's probably that bike's got better but I give myself credit all the time. If you want to keep challenging and keep growing, then you gotta push. It"

Carl has scaled back his ambitions some. "We used to ride at same level for a long time and two things happened. I hurt my back at some point, which I recovered from, but it made me think slightly differently about some of the dumb stuff we were doing. And then I had my first kid and that makes you re-evaluate risks that you take. I went more normal and he went really, really heinous."
People and Culture
Gaspare may have been a roadie but he worked in the bike industry and apparently kept an eye on mountain bike brands from Italy. For him Specialized and Santa Cruz really stood out. "Culturally. I've always liked Santa Cruz more," he told me. A friend introduced Gas to Rob Roskopp, the former pro skateboarder who founded Santa Cruz Bikes. "So I went to lunch with him and I said, 'I need two things. I need someone to help us change the culture in the development team and I need an athlete that can ride and help develop most of our products and help give us a cool image.' Because back then we had a lot of downhillers riding the pedals but they were racing all the time. They loved the pedals but we weren't very close to them."
Rob told Gaspare that he should meet ENVE founder Jason Schiers to talk about product development, and Cedric Gracia on the athlete side. Later that evening they were at the Santa Cruz Christmas party. "Then I met Cedric at the party and Jason, and both of them... they were not very keen to do anything with us." Gaspare however, is a very persistent and charismatic Italian gentleman. Gradually he established a relationship with both of them and each began to trust his desire to pursue a new direction for the company.
When they both came on board, this led to an improvement in internal morale as well. Cedric was invited to the office in Laguna Beach to check things out. "When Cedric came and spent two or three days here, I saw the people inside the building start feeling, 'okay, if Cedric Gracia is giving us attention and he feels he's one of us, okay. Maybe something is changing.'"

I serviced 30 seat posts in a day on Joplins and we had tons and tons of boxes of pedals coming in a day. Now it's a couple of pedals a day and if a Highline needs service it's five minutes to replace a cartridge or bushing. - Nick Mackie - Wheel Builder and Warranty Tech. 12 years at Crankbrothers
Jason Schiers turned out to be an inspired choice as well. Having sold his stake in ENVE, Jason was looking for a new challenge and Crankbrothers was looking to develop a carbon wheel program. With Jason able to empower the engineering team, strong financial operations, and other capable department heads, things started to change. It wasn't always smooth though; "we had many more arguments. The volume in the company became louder - and not just because there were couple of Italians, but because we had more fights. But with the fights honesty was coming out," Gaspare told me.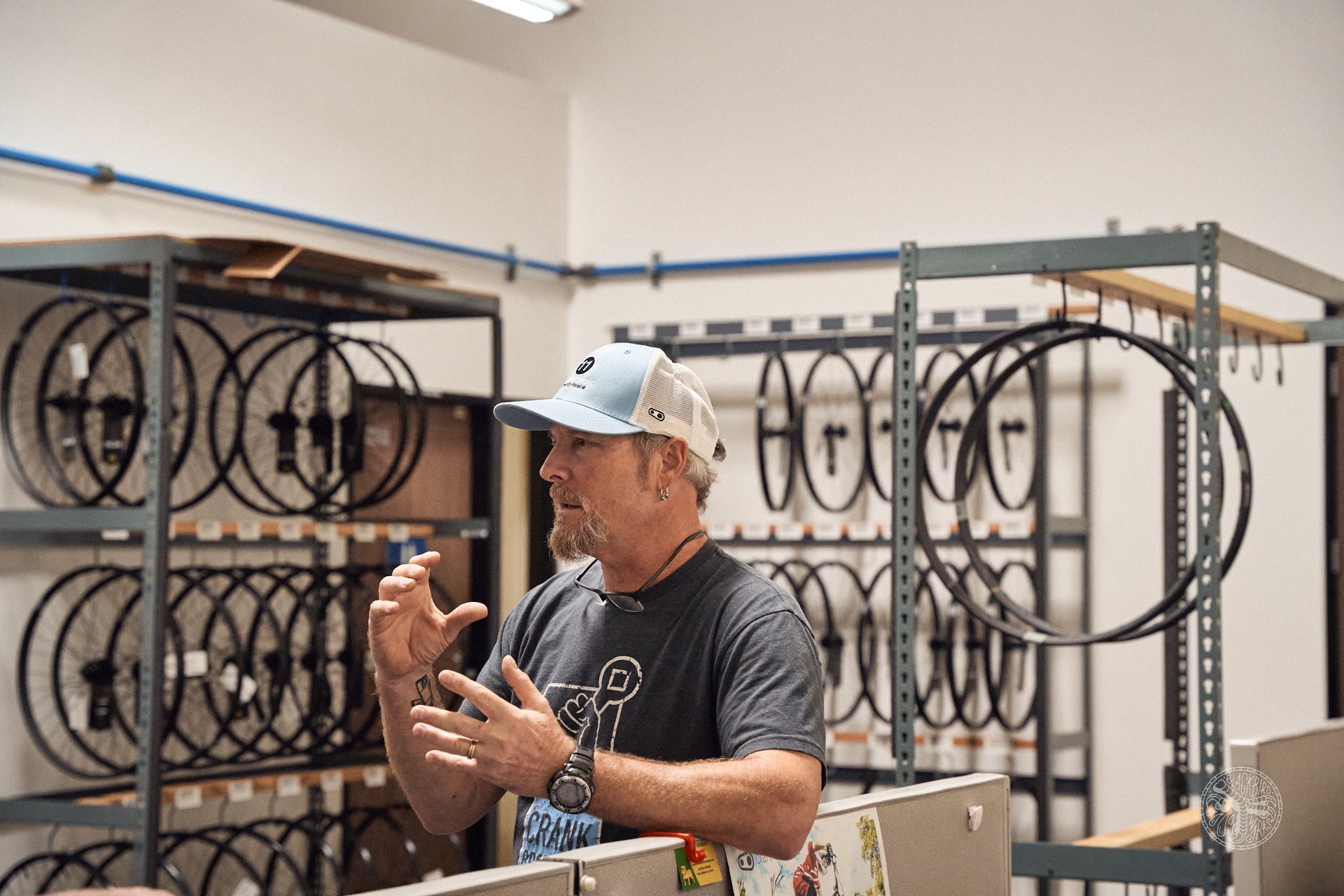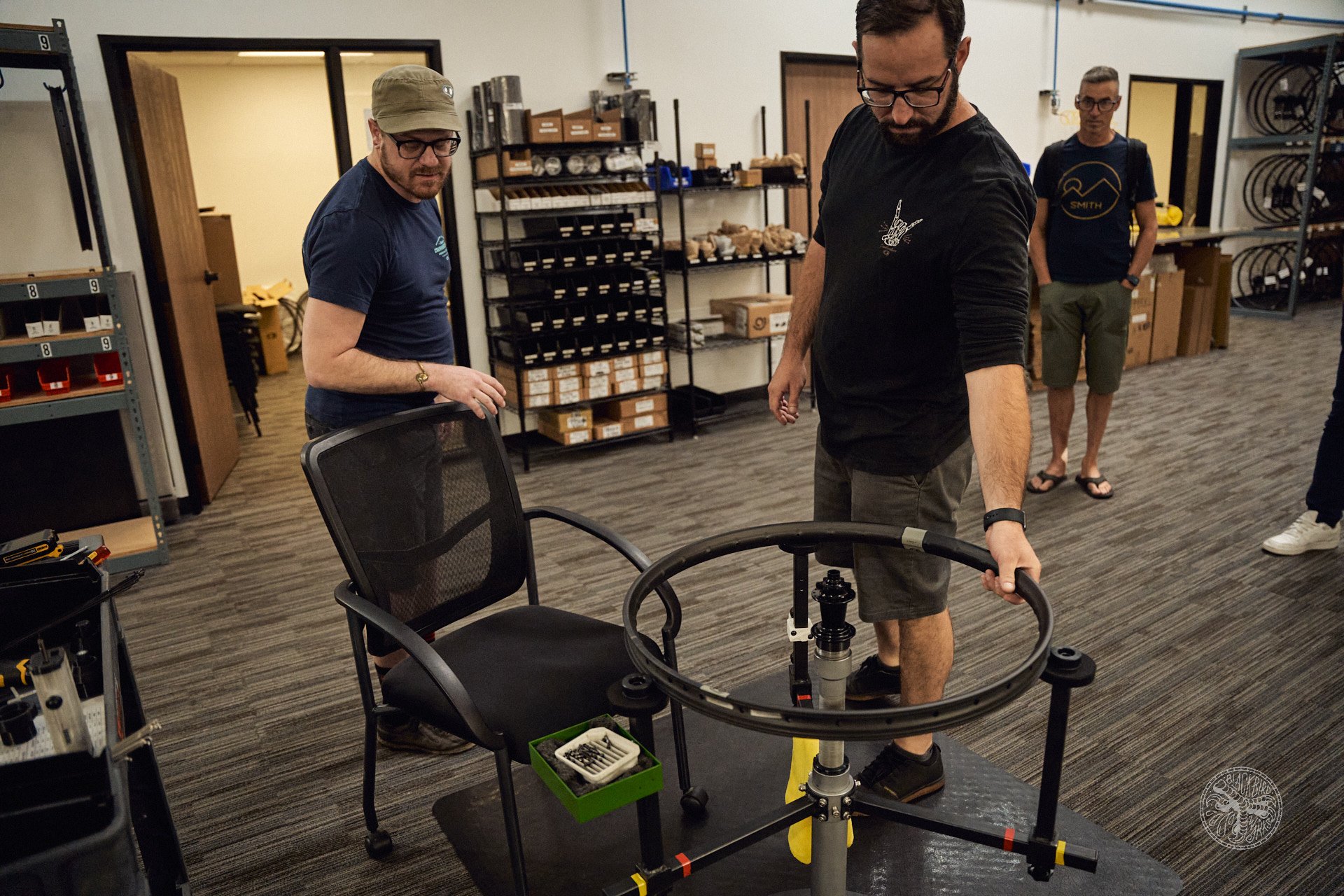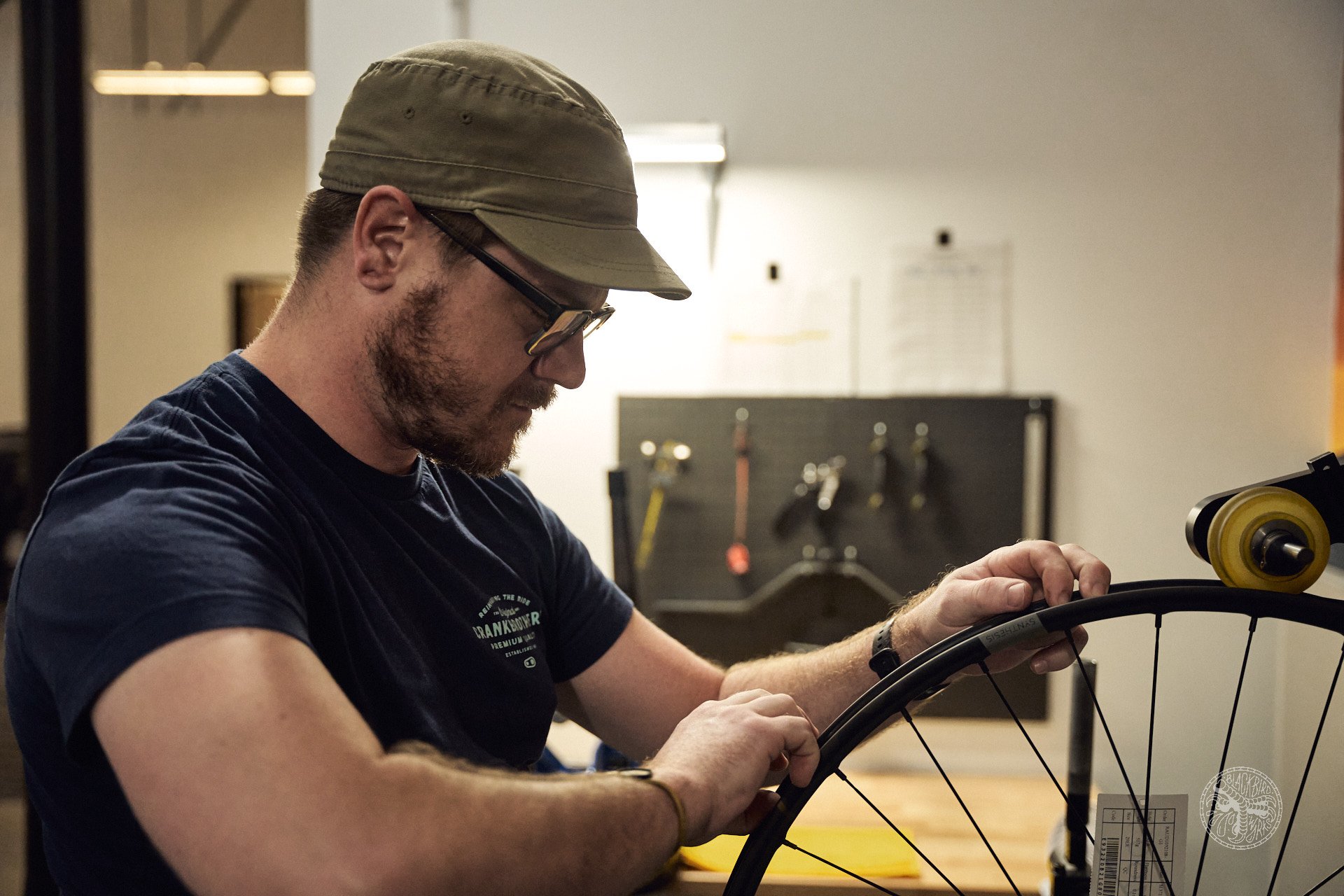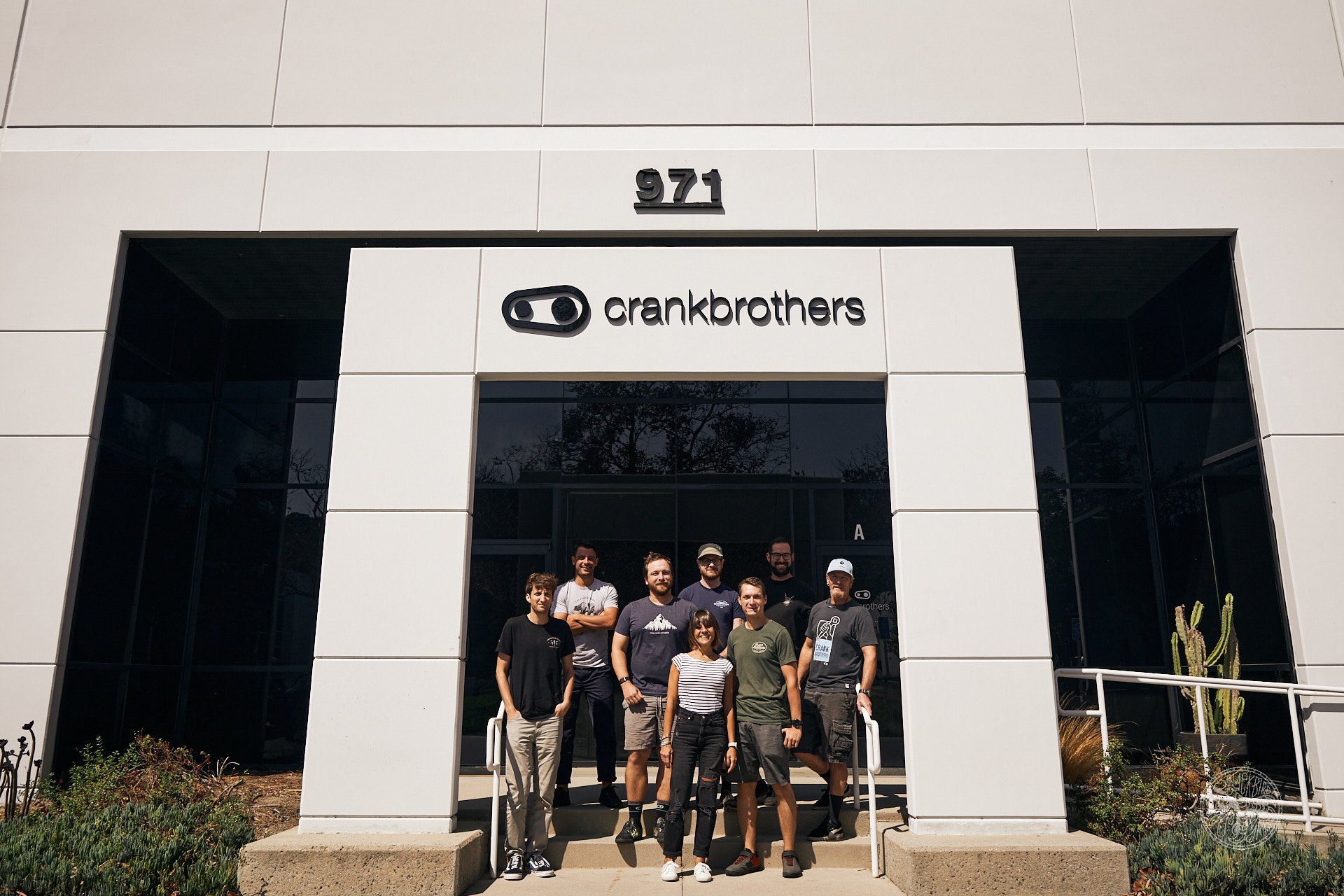 "The other person I wanted to have aboard was Danny MacAskill. So through friends I tried to get his contact, but he never answered. Then I was able to get to know his agent and he said, 'sorry, but Danny, he knows about the issues you have and he's not sure about associating his image with you.'" A year later Gaspare received an email from Danny, possibly related to the AMA on Pinkbike, and he was interested in working with Crankbrothers and riding the Stamp pedals. Since then the bond has grown and Danny is an engaged member of the Crankbrothers team.
Luisa Grappone, an aerospace engineer, is a new addition to the Crankbrothers staff and she'll be heading up the Synthesis wheel program as well as expanding testing capabilities in San Clemente after stints with 3T, Campagnolo and more recently, Hunt Wheels in the U.K.
Product
I asked Gaspare about the first product that embodied the changes that were happening at Crankbrothers and represented the kind of gear they wanted to be known for, and he responded with two:
"I remember a lot of enduro riders back then were telling us they wanted the Mallet pedal to be much smaller. Anneke Beerten was one, and Cedric. So we said, 'let's listen to them.' Jeremy and Jason, our engineering team, they tested different bearings, different sealing systems and we developed the Mallet E, which was a smaller Mallet DH. Instead of private label bearings we went to Enduro bearings and developed a new double seal system. And that's when could see the distributors, even the media, they start saying, 'okay, they're not doing marketing, they're really investing into the product to make it better and better for the long term."
"What was great about the Highline was, it was the product of determination. The product of a team that was brave enough to go after the same category where we failed previously, and make it right. 'Let's show everyone, first of all ourselves, that we can make a great product.' So to me these were the key products from a cultural standpoint,. From a business standpoint, I would answer maybe the Stamp pedals, but from a cultural standpoint, these were the most important."
How to Float a Sinking Ship
It's one thing to recognize problems and have the desire to solve them; executing these tasks is a much larger issue. Gaspare got busy determining the substance of Crank Brother's issues by talking to department heads. He put his feelings at the time like this; "if we don't change we lose, if we try to change maybe we can win. Maybe."
Crankbrothers' current strategy sees success as a long term goal, rather than one to be judged by quarterly earnings. It seems that previously corners were cut to reduce costs and improve profits, possibly because of financial performance objectives linked to compensation.* One season of bad bearings is a hiccup, several years of bad bearings (or seat posts) suggests a systemic problem, and one that isn't easily remedied.
*Gaspare wasn't keen to go down this road and was unwilling to throw anyone under the bus but after many conversations with long term Crankbrothers employees, this theme continued to arise.
Money was no longer the problem at that point. The financial backing of Selle Royal had already given Crankbrothers the opportunity to invest in engineering and tooling for new products. There were problems with reputation, durability, consumer confidence, product execution, along with warranty and customer service, at least in part because these departments were overwhelmed.
Gas told me a story that for him illustrated the depth of the issues at Crankbrothers. The company was over-stocked with wheels, so it seemed to make sense to do some kind of promotion. He asked how many wheels were in stock at the time and the answer he received was, "that depends." Gaspare's response was, "what does it mean 'it depends?'" It turned out that the computer had one number and the physical count showed a different number, and there seemed to be little interest in fixing the problem. That's just the way it was.
A lot of problems were identified out of that soul-searching process. One of the reasons products failed once they left Laguna's dry landscape was that there wasn't enough testing done in other climates. Crankbrothers enlisted their UK Distributor to see what could survive the soggy isles (Crankbrothers now does testing in many countries). That made the team realize the importance of diversity in helping to understand what mountain biking is like in other places, in terms of climate and culture. In Gaspare's words; "The more you interact with people that use their bike in a different way, in different countries, the more you realize what you've got to do to make great products."
Customer service had a massive role to play in the transformation of Crankbrothers, particularly in the beginning. It's quite possible some long time employees, like Tim Young, had the toughest jobs in the bike industry at one point. Today, if you make a call to customer service at Crankbrothers, a real human answers the phone and will address your concerns, and do everything they can to make sure you are satisfied. When Gaspare was just ramping up however, this was a bigger problem because many of the less reliable parts were still out in the market.
"At the beginning it was very important because we had a lot of customer returns. What we tried to do back then was, 'okay, let's upgrade the customer to better internals, if you have an issue let's try to make them happier, whatever it costs. And honestly, the guys, even before I joined, they were always very professional, understanding, and always available on the phone."*
*Gaspare noted that Crankbrothers doesn't yet have weekend or 24-7 customer service, but they plan to in order to be able to help customers in all time zones

Gaspare really understands the value of quality whereas before we were looking for all kinds of ways to cut corners, 'how can we save 10 cents here or 20 cents there,' and that came to bite us in the tail and we ended up producing some not so great product that I'm not really proud of. Gaspare is looking to improve the quality of the brand by putting in top quality seals and the best bearings we can find. Instead of cutting corners he's looking at ways to be the best. – Tim Young Global Warranty and Tech Manager (etc!)
How do you Judge a Company?
Unlike your kids when your boss visits, employees are on their best behaviour when media come calling. It's possible that everything in the office and the nearby facility in San Clemente, is as tidy as Crankbrothers' packaging and graphics every single day, but I suspect things were cleaned up a little before our arrival. As much as my conversations with Gaspare, Carl, Frank, and other employees, felt candid and truthful, it's also likely there was some sugar-coating going on or possibly some omissions. The only way to know exactly how a company functions, just like a family, is to be a part of it, which is impossible for someone pretending to be a journalist. For me, the solution to this is to watch out of the corner of my eye and notice little things, like how employees interact with each other, and to try and get a read on the general mood of the organization. It's also about listening beyond the words people are saying to get a sense of how they feel. Everyone can be fooled but collecting enough data through these conversations, with all levels of a company, can give you a pretty good idea about what's really going on.
Beyond the glossy showroom in the middle of Laguna, with the sweet lunch room (where I lost to Gaspare at shuffle board*) the friendly conversations and brilliant bike rides, I feel like I picked up enough information to get a decent sense of how things work at Crankbrothers. One thing I noticed is the obvious pride employees take in the products Crankbrothers produces. When I asked co-founder Carl Winefordner what his favourite part about the reincarnation of the company was, with Gaspare at the helm, his response was telling; "I'm happiest about the fact that everyone who works here now rides bikes." From the wheel builders, the warranty chief, the graphic designers, all the way to the founders and the CEO, it's obvious these employees are happy to be able to tell people they work for Crankbrothers and to use the wheels, shoes, tools and other products, stuff they helped get to market, on their own bikes.
*thankfully he didn't have time to beat me at foosball
One of the elements this highlights for me is the importance of culture. Crankbrothers' location, in a mountain biking hotspot with excellent trails and one of the oldest mountain bike pedigrees in the world, is a big part of this. The office is in the valley that separates two sweet riding areas. You can start your climb to the first descent minutes from the office, and many of the best trails end even closer. Working in the industry is a dream for some riders, but many get stuck in places where there is little or no mountain biking; a soul-crushing compromise. Happy workers make better products.
In the end, the question I wanted resolved was answered. In all corners of the concern that is Crankbrothers, I found integrity, honesty, and accountability. There is also an intense drive that has led to creativity and excellence. Most of all though, the company ethos now revolves around respect for customers and a desire to make the sorts of products we all want; those that help you perform better on your bike and, perhaps more importantly, products that won't let you down on the trail and will continue to perform strongly long after they are new. And that product that had the very small failure rate based on set up instructions being missed? Gaspare and the product team decided that sales numbers are less important than building products for the long haul, and certainly less important than continuing to prove to riders that Crankbrothers is committed to quality, durability, and keeping a smile on riders' faces.
Doubters will remain, because mountain bikers have very long memories, but it's pretty clear that Crankbrothers' second 25 years is poised to be even better than the first.