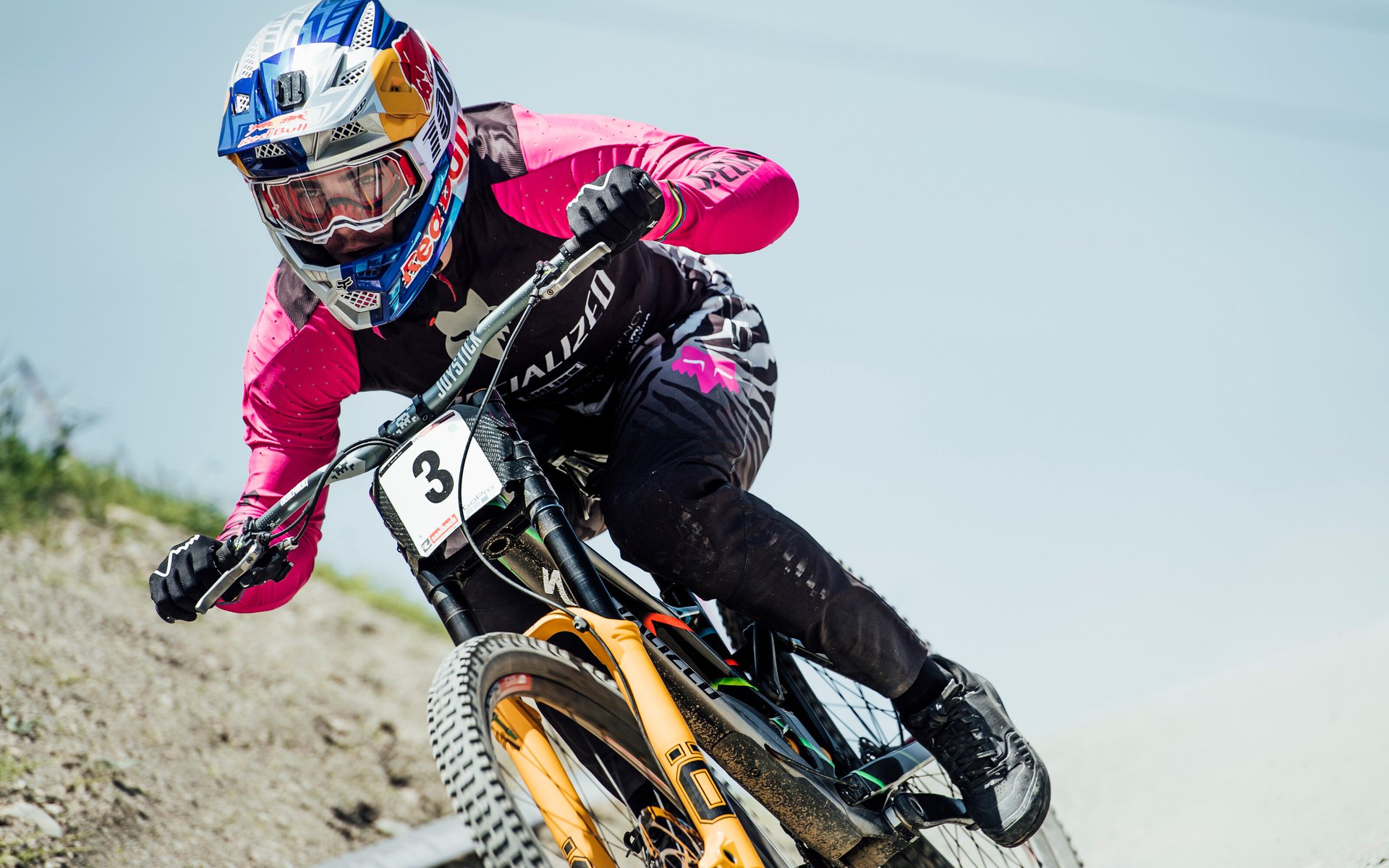 RACE NEWS/EDITORIAL
COVID DH World Championships – Leogang, Austria
There hasn't been a single World Cup downhill race this year thanks to a little something called COVID and yet the most anticipated race on the calendar, the World Championships, is set to go ahead. Many questions surround the 2020 World Champs and I've been mulling over what may happen for months now. What can we expect to see? Will everyone make it there? Will it truly count? How big of an asterisk will this event have next to it? Will it happen at all!?
Earlier in the year, it seemed quite possible that racers from a few key nations wouldn't be able to attend, notably the U.S.A. With the E.U. ban on U.S. citizens entering, it looked like Aaron Gwin would have to set his sights further out before another dig at the elusive World Champs gold medal. In recent weeks things have changed and U.S. riders, media personnel, and techs have been steadily descending on Europe. Jordi and the 'Dialed' film crew arrived a week ago and shared some of their challenges with the process in the latest few episodes of the series (latest at the time of writing, below).
But for some Australian racers remaining at home has been the tough choice made. A couple of weeks ago, Connor Fearon announced he'd decided to remain in South Australia and Dean Lucas will remain in Victoria, mentioning that he'd already experienced the challenges abroad earlier in the year. Add the tough Australian regulations surrounding getting back into the country – which includes a compulsory 3,000 AUD, two-week hotel quarantine – and you'd be hard-pressed to find someone who sees a problem with their decisions to stay put.
For Europeans, it's not as difficult to get to the races but it doesn't mean things are easy. There's been a series of races, particularly in France, for riders to get back between the tape and shake off the cobwebs. Those races haven't been without some COVID issues, with some athletes testing positive. The most notable was 2019 MSA Bronze medalist, Marine Cabirou, who tested positive for COVID after the French National Championships. She noticed issues with her recovery from the weekend and sought a test to be sure. Marine is back on the bike preparing for World Champs and looks forward to racing in Leogang. Will she be 100% come race week or will the ongoing fatigue she's been dealing with continue?
With some racers choosing to remain home or unable to attend, will the 2020 World Championships be a legitimate race? If at least the top 20 from last year are in attendance and fighting fit, my feeling is yes, but then there's the issue with the lack of racing this year. Mountain biking and World Cup DH isn't without its challenges – more adaptable athletes always rise to the top. But where do you draw the line? With minimal racing under the belt of every participant, the majority are in the same boat. I believe the French have an advantage this year thanks to the level of local racing they've been fortunate to take part in. Planned by the French Cycling Federation? Quite possibly. They are a country rich in cycling history and from what I hear, French World Cup racers have great support from their national cycling body.
Even without the benefit of a strong series of competitive national races, the French are tough to beat on the race track these days. They've been steadily building their dominance in downhill for the past few years and have always had a representative pushing the sharp end of the results. One look at the EWS results from this year's three races removes any doubt about the talent and speed coming from the nation. They're going to be tough to beat regardless of a global pandemic but perhaps even tougher because of it.
While there's a high chance podiums will be filled with racers who have been, well, racing in 2020, others may rise to the top. The G.O.A.T, Greg Minnaar is always a threat and he's won twice in Leogang before, including the 2012 World Champs held there. However, that was the last time he was victorious at this venue and there's been a DH World Cup here every year since. His best result since winning the last World Champs at the venue was a second in 2014 (behind then-teammate, Josh 'Ratboy' Bryceland), and again in 2019, behind the current World Champ and World Cup Overall winner, Loïc Bruni.
Loïc is capable of a repeat as he's shown before. He ended last season – one of the most competitive to date – with the overall and a gold medal but admits the long break has made it feel weird getting back between the tape. As Bruni's worked on getting comfortable, he's been beaten by French EWS speedster, Adrien Dailly at a small local race in the South of France and again by Benoit Coulanges for the French title, a title Bruni surely would have liked.
We can't forget one of the most dominant racers to suit up either, Aaron Gwin. Aaron has a new bike that he's been putting plenty of miles on to get ready but is yet to race it against the world's fastest. Testing at home is never quite the same as racing a World Cup and you can bet there'll be some final adjustments made during the week in Leogang. But he has won here four times in the past, and once without a damn chain. If Gwin can get the bike feeling good under him and avoid the wretched mechanicals that have plagued him at World Champs, you can bet he'll be at the sharp end of the results sheet and maybe even the top.
In the women's race, it seems like most of the top competitors are set for the week. Other than Marine recovering from COVID, everyone seems fit though I have no idea if Rachel Atherton has healed enough (I asked but hadn't heard back before publishing) from the Achilles tendon rupture she suffered last year in Les Gets. Rachel commented earlier this year that her sights were on the first World Cup round in Lousã, Portugal as a return event. Tracey Hannah has left the shores of Australia and has been preparing in Europe for a few weeks, even getting herself between the tape, and more recently riding in Leogang.
Myriam Nicole, the recently crowned 2020 French Downhill Champion, will be hard to beat though. She's been racing and looks fast, even comfortable, where many are admitting to feeling less than natural on course at the moment. She's also the reigning World Champ and secured it despite coming back from injury and not racing for most of last season. Myriam's close friend and one of her toughest rivals for the title, Tahnee Seagrave, has been preparing for Worlds too but hasn't been against the clock since the Snowshoe World Cup that closed the 2019 season.
There's another female racer who could blow the field wide open. She's a local to the area and would no doubt be over the moon to win at a venue she considers her home race. Vali Höll hasn't raced in the elite women's field yet – she was set to embark on that journey this year. But more than once, her times as a junior placed her within the top five of the elite category and her 2019 Les Gets World Cup run was the fastest of all women that day. Vali humbly admits that things will be different moving to the elite category in 2020 but she shouldn't be counted out of medal contention, especially with the year we've had; it's anyone's race to have.
As if the current global situation isn't challenging enough, it looks like ol' man winter is showing himself early this year. Riders preparing in Schladming and Leogang (and probably elsewhere too) have been dealing with snow or cold and very wet conditions at the closing of September. Jordi Cortes and I briefly chatted about the possibility of a snow race and when the last one was. Neither of us could remember exactly, so I went on the hunt. The videos I watched the most back then were Headliners, Sprung 3, and Transcontinental (a.k.a. Headliners 2). I had a hunch it was Headliners and stumbled across a snow race at Big Bear. I'm not clear on the year but it seems like it was either '97 or '98. Whether it was a World Cup or a N.O.R.B.A. wasn't clear but it was a wild time on the top portion of the track. If we were to see something like that in Leogang next week it wouldn't be shocking given the year so far. It would firmly stamp the 2020 World Champs into the history books as one heck of a wild race though.
Who have you got for this year's World Champs? And how do you feel about the event given the current state of things?