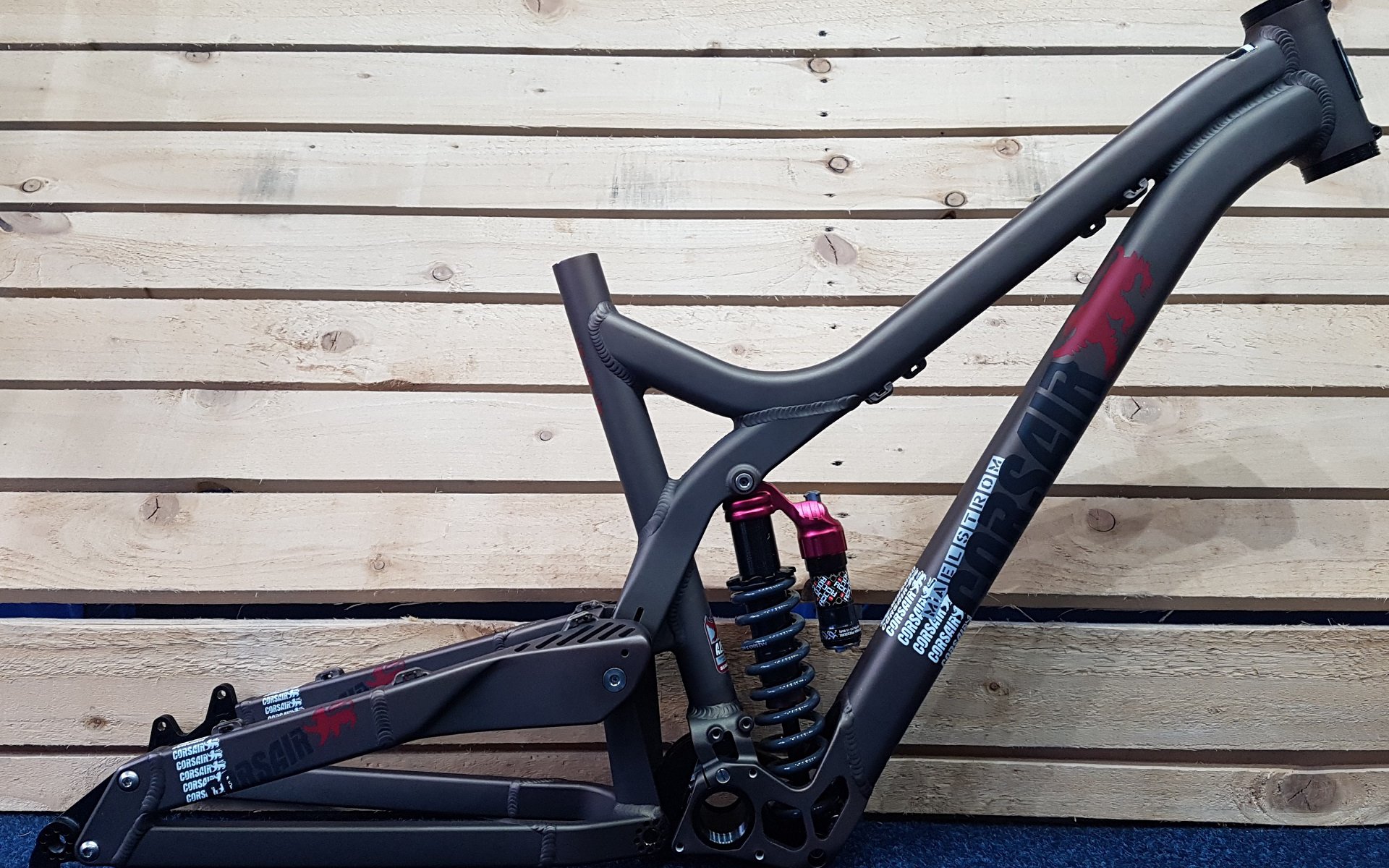 EDITORIAL
Corsair Was High Pivot AND Pedaling, In 2007
Idling High Pivots
Balfa BB7 this, Brooklyn Machine Works that... The only reason I know the Devinci Big Bang isn't vapourware is that I saw one in 1999. It doesn't look anything like the HPSP (high pivot, split pivot) bikes they're teasing today. Lahar earns shout-outs, the Zerode G-1 comes up, and there was even a BB7 before-and-after with the Nouveau Riche and Appalache Real. V-Process of course and then credit to Commencal for leading the comeback. Even a mention or two of the Dark Cycles Scarab. Great and interesting machines, all.
And do you know what every single one of those historic high pivot full-suspension bikes that has come up here-there-and-everywhere in the last week or so has in common? They're all DH rigs. And do you know what every bike they're being brought up in reference to - Cannondale Jekyl, Devinci Spartan HPSP, Norco Range, Forbidden Dreadnought, etc., has in common? They're all bikes intended to be pedaled back up to the top.
And it shits me to tears that obscure small-batch DH rigs get a nostalgic waxing while a true predecessor to the pedalable Enduro high pivot + idler bikes was readily available, to anyone who wanted to own one, back in 2007/2008. As far as I can tell it's basically gone unmentioned by anyone talking about these complicated new super-sleds. I am referring to the Corsair Maelstrom.
(Nb. Cover shot: NRG Cycles UK)
Corsair Maelstrom
This was before clutch derailleurs, when 36t was a big-ass low-cog, and any bike marketed for pedaling had to work with a front derailleur. This was so long ago that 27" wheels were called 650B and 29'ers were only for XC racing. When beers from Granville Island Brewing were 'fancy' and Kokanee, Old Style, Bud, and Canadian were what mountain bikers drank. Heck, when Marzocchi forks and shocks were still being made in Italy, even! Way back in 2007, or so, there were two gents named Doug Stuart and Pablo Tafoya.
Anywhere you went that was a bicycle function, from Interbike to Crankworx, Doug and Pablo were there too. Pablo, the engineer & designer, would answer questions ad nauseum about how much drag the upper pulley created, and how the lower linkage drove the shock, and why the added complexity of the adjustable head tube angle. I remember vividly that Pablo had a relentless, absolutist, passion for his designs. I hope that whatever he's up to these days he gets some joy, credited or otherwise, seeing companies 'discover' what he was on about.
As co-owner, Doug's job was to bring to Corsair what most of the smaller designer-owned brands were missing - industry connections and experience. He was president of Full Speed Ahead for the first half of the noughties, he'd spent the nineties running Marin Bikes, and in the 80's he worked in distribution at Specialized.
Maelstrom frames were very nicely made, and a quick search will bring you to a number of old forum pages with exuberant owners raving about how they rode. All the things you would expect to hear from the owner of a high pivot Enduro bike today; fast, stable, eats square-edged hits, feels like it has more travel than claimed. These raves are followed by, "but it's worth it" apologies related to noise, drag, and complexity from the idler and mile-long chain.
The geometry, from head angle to wheelbase, is what we'd expect to see on a 140mm bike today but at the time it was very modern and it's always important to remember that high single pivot bikes have a decent amount of initial chainstay growth. Try as I did, I didn't manage to track down a geo chart for the Maelstrom to include in this piece.
One of the most interesting features is the low, low 2:1 leverage ratio. This was contemporary to Foes DHS Mono and its massive, custom, Curnutt coil shock but in the case of Corsair's 180mm travel it was just possible to achieve with the largest stock shock size on the market, a 10.5" x 3.5". I was trying to think of other bikes that used the huge shock and all I came up with the Trek Session 10 and 2010+ Devinci Wilson. Needless to say, it was a rare spec choice.
Swirled
The Maelstrom's manufacturing quality was excellent. The designer had by all ride accounts a winning platform. The co-owner had tonnes of experience bringing mountain bike products to market and amongst bike-nerds there was a general buzz about the Maelstrom, so why isn't the bike front-of-consciousness for folks currently writing about high pivot + idler bikes designed to pedal?
One major factor was the release date. The long-travel bike nerd game made a massive shift around the end of the decade with a powerful pull towards weight weenie-ism. Riders ditched reliable staples like the Mavic 729 rim in favour of riding the first Stan's Flows on their DH bikes - with alloy nipples and Hope hubs. A truly weight-conscious, high-dollar build on a Maelstrom was still going to deliver a 38lb bike. Normal builds would be pedaling closer to 42lbs.
There was also the market saturation of the 180mm travel bike game. Riders hitting the park all the time were still buying true DH rigs and as 6" travel bikes became more capable most riders hitting aggressive trails gravitated towards them. Just think, 2007 was the release for the first Specialized Enduro SL frames. If you keep an eye open you'll still see them, and their direct trickle-down model the Pitch, in use on North Shore trails today. Even simpler, lighter, contemporary machines like the Specialized SX Trail II, Santa Cruz Driver 8, and Giant Faith were having their lunches eaten by those companies shorter, much lighter, and still uber capable bikes the Enduro, Nomad, and Reign.
Finally, there's the added drag, noise, weight, and complexity for a questionable performance return for the average rider. Even true fans who put down cash for Corsairs were chasing ways to reduce noise and drag. If the high-pivot + idler Maelstrom was even a few percent faster than the equivalent non-idler multi-pivot bike through the gnar, were the trade-offs worth it to the average buyer of a long travel bike? Most riders pedaling these bikes with friends weren't going to be well served giving up efficiency on the climbs to gain a race-winning half-a-second on a long descent.
If I was big on shuttling, or better yet able to log a bunch of bike park miles every year, I'm positive I'd own a Commencal Supreme DH mullet. I had an unmatched passionate lust for the Balfa BB7, though I never owned one and there's a tie in there I want to note. Like Balfa twenty years ago, Commencal is synonymous with high pivot + idler DH bikes, and also like Balfa, their trail and Enduro bikes do not use high pivot + idler layouts though it's well proven that brands have a lot to gain from a unified suspension story through their line. Well, Commencal did have their very short-lived blip in the somewhat Maelstrom-esque Supreme SX model. Where Balfa got busy inventing Niner's patented suspension design, and I did truly love my Balfa 2-Step, Commencal uses a fairly standard 'faux bar' layout for their very fast Meta bikes.
I bring up the champions of high pivot DH bikes choosing different setups for pedaling because I think the Maelstrom is cut from the other side of the same cautionary tale. There's room for some boutique high pivot + idler bikes on the market, but there are also only so many riders that are going to accept the trade-off of extra noise and complexity and drag and weight. There appears to be room for some 38-42 pound Enduro bikes with full Gucci builds and no real room for weight savings. But what percentage of potential purchasers are going to be better served by a new Devinci Spartan HPSP over the already very capable and much simpler Spartan?
What is best for the top pro racing Enduro is not necessarily best for the top bro or sis riding Enduro and it will be fascinating to see that played out in the sales, and future re-sales, of the crush of pedalable high pivot + idler bikes hitting the market. And I come full circle and can't help but wonder if the Corsair Maelstrom fails to draw mention in all these recent articles because it was by all metrics - from design to execution - an excellent example of a high pivot + idler mountain bike that was also a commercial failure.