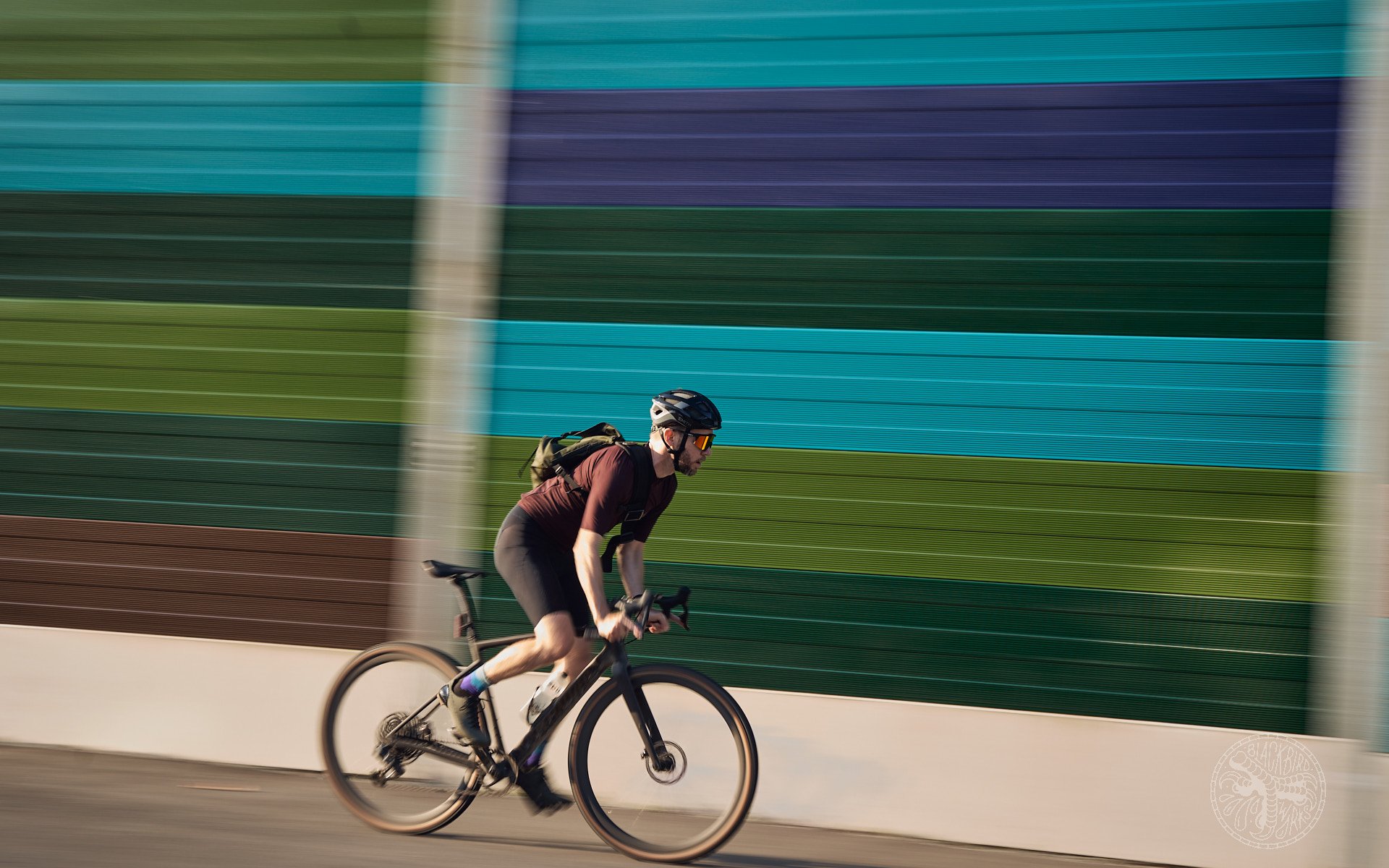 Prepping for the BCBR Gravel Explorer
Cooper Goes (back to) Racing
I grew up racing. A little bit of bike racing, nothing really of note. I was a mediocre downhiller, getting smoked by guys with last names like Strait and Zink were dominating the Jr. X class at NORBA Nationals races. Greg Minnaar was racing World Cups, on his way to winning his first World title. This makes us both old, but it only makes one of us the GOAT.
Mostly though, I was an alpine ski racer. And I wasn't half bad at it - my first trip to Whistler was for a big international race representing the USA - the Whistler Cup. A few years later, when selecting a post-secondary institution, I swung through the SFU and UBC campuses on the way home from a trip to Graceland (the Whistler Bike Park). I've been here basically ever since, with my school carefully chosen on that trip using a grueling selection matrix of "what's closest to the best skiing and biking".
Ski racing, or more accurately dry land training, provided what would really be my first 'gravel biking.' A few times each summer, the team would ride (or sometimes run) horrible time trials out on the National Elk Refuge roads outside Jackson, Wyoming. It was terrible, pure suffering, just for the sake of suffering (I mean yes, it was also in the name of getting ski fit but sometimes I think the coaches just liked to watch us struggle out there as they puttered along in the team van with a stopwatch). All of us were on XC-ish bikes of the day, and these 15-ish mile time trials in the Elk Refuge winds were probably the last time a timesheet, myself, a bike, and gravel roads were combined.
Fast forward precisely two decades, and we're going to put the band back together – in the form of five-day stage race. You got it, BCBR. But not the fun one Pete did, with all the "ultimate single track" and "mountain bikes." I've been signed up for the BCBR Gravel Explorer, five days of gravel hammering around Penticton, BC, up long ass hills, probably in the sun. I've heard rumors through the grapevine that feedback from the inaugural event was that it was too much technical singletrack, and the days weren't long enough. If that's true, it means I can't hide behind my (mediocre) technical skills to pass some Cat 2 roadies with limited bike handling when the going gets rough. F*ck. Pure suffering, fitness wins.
Fortunately, I've got years of experience in training, race preparation, and know how to fully prepare myself for something like this (even though I've never done anything like this, specifically). Unfortunately, the constraints of a new job, having an almost two-year-old, and still wanting to enjoy life means I've done almost none of it. I commute ~25 kilometers with ~350 meters of climbing a couple times a week on my gravel bike, I occasionally participate in a Thursday night group ride with the local Landyachtz crew, drink too much beer, and ride a mountain bike* in my meagre ride windows. I joked to Pete we should do something akin to SRAM's Steps to the Top video series which follows their top athlete's preparation and race days, usually ending in said athlete standing atop the podium. Mine would follow me as I sit at a desk, hunch over helping a toddler on his run bike, squeeze a shuttle lap in after his bedtime, and if I'm lucky maybe finish somewhere in the mid-pack. The end credits would read something like, "hey, at least he was out there trying?" Of course, I don't actually have time to film this.
*I do still ride and review those things, stay tuned for a neat one coming up!
Shortening my List of Excuses even further is this – the Specialized Diverge Expert Carbon that I'll be racing on. It's a carbon fiber-framed, carbon fiber-wheeled rocket ship practically designed for the BCBR Gravel Explorer (I'm just going to call it BCBRG from here) with pretty racy geometry, suspension integrated into the steerer tube, SWAT box, and SRAM AXS drivetrain with Rival brifters, brakes, and crankset matched with a GX AXS Eagle derailleur on a 12-speed 11-50 cassette. And we need talk about that cassette. It's NX. It's a boat anchor. But that's not the real problem. Being a product manager is hard; something had to give way to meet a price point and a cassette is a pretty easy place to bury a low spec item, and one that's fairly easy to upgrade. Except when it isn't. SRAM's NX Eagle cassette runs on HG standard freehubs, not XD or XDR, making what should be a simple upgrade to something lighter (GX shaves a significant 178 grams, while the significantly more expensive XO1 Shaves a whopping 250 grams) and the wider range requires a freehub swap as well. This is a big negative to me. I'd much prefer to see a few bucks saved elsewhere (the carbon seatpost and saddle seem easy, and are very often swapped out with the first bike fit on a drop bar bike) and a GX cassette here as it'd save a new freehub down the road, offer the full Eagle gear range, and be lighter. Or charge a bit more.
That niggle aside, the Diverge is well spec'd with money where I'd spend it and some savings that make sense – AXS 1x, a wheelset that won't need upgrades, bar and stem that probably will get replaced, and it all rolls on Pathfinder Pro in 45c which happen to be up there on my list of favorite tires.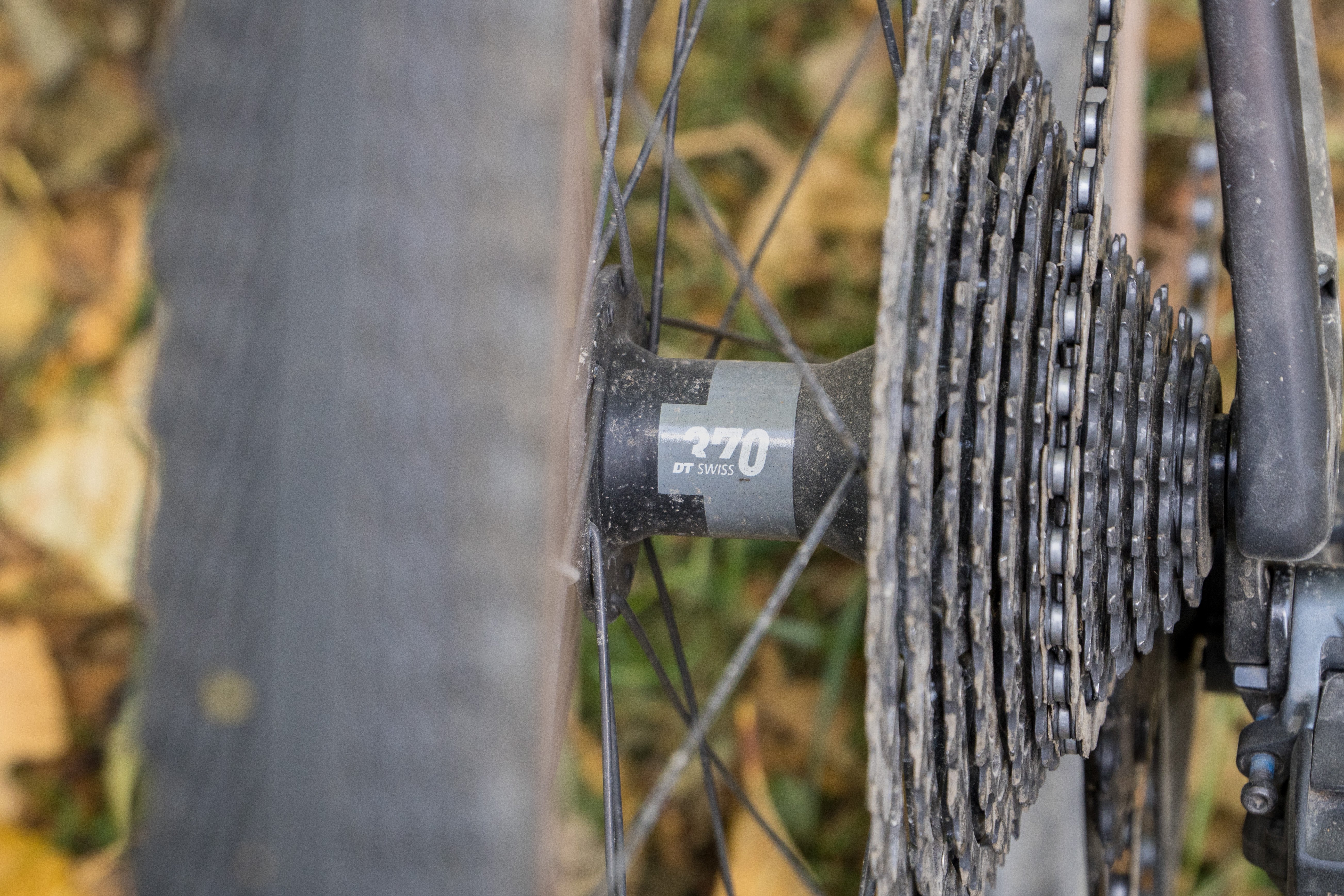 Geometry and Builds
The Diverge geometry draws heavily from road bikes, and while it's slightly more relaxed and adventurous than the Aethos-based Crux, the Diverge has a front center, rear center, and head tube angle which are all significantly different than anything else here on NSMB, even the recently review Canyon Grizl. After all, when was the last time you saw a 100mm stem offroad? There's a SWAT box of course, and lots of provisions to bolt things to your bike and fork to go for adventures if that's your jam. So far, it feels like a good choice to go "racing" on, and the frame weighs somewhere in the neighborhood of 1000g. Yowza.
It comes in 7 sizes, and you can spend less than two grand on one in alloy, or about sixteen thousand bucks Canadian if you go full S-Works. The Expert Carbon here runs 7,599 CAD, and offers a great build kit at a competitive price point. I'd argue it's the best bang for buck in the higher end lineup. There's a flat bar "Evo" variant available as well that has more mountain bike like geo, and flat bars for the no-drop folks. Full geometry and builds are here.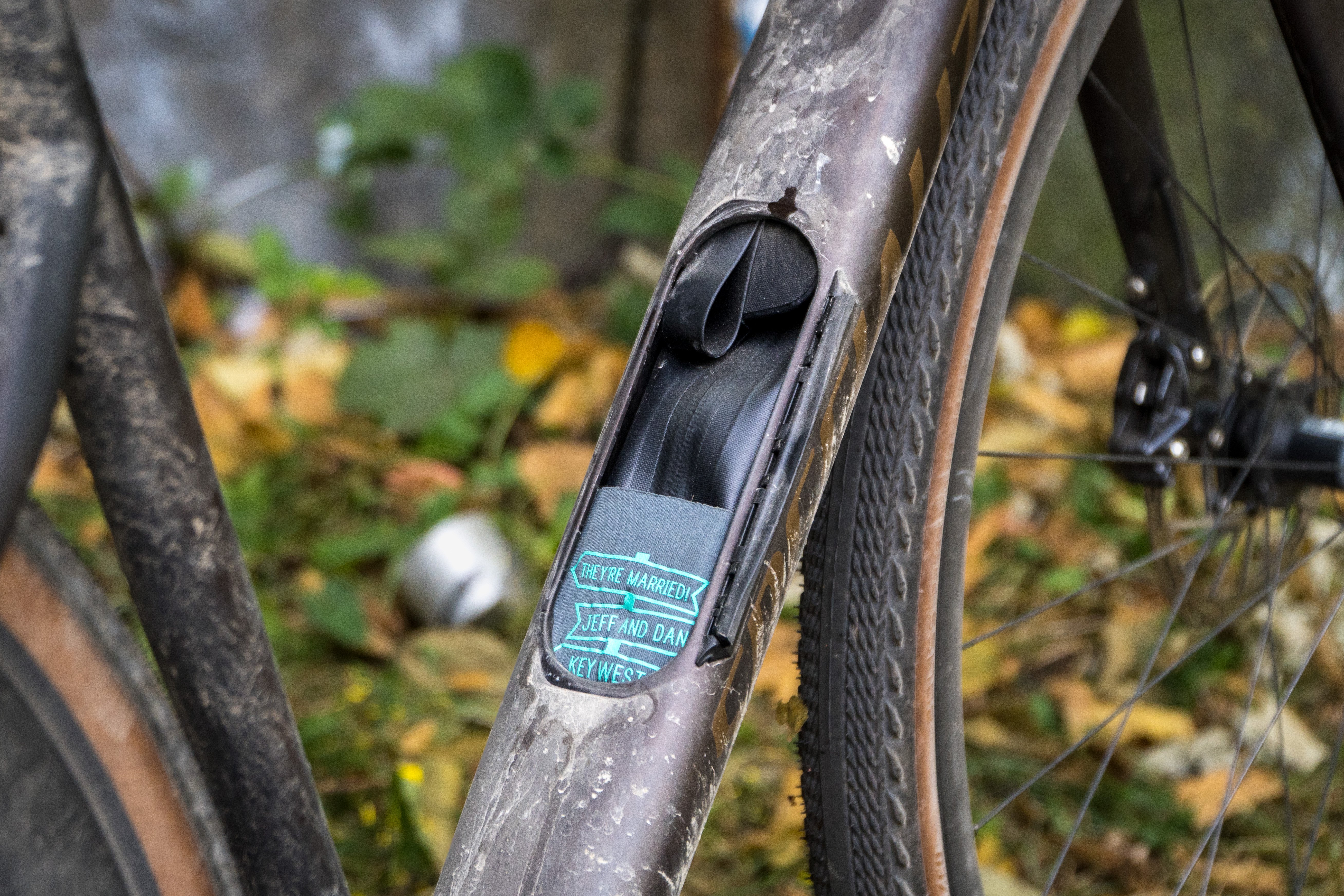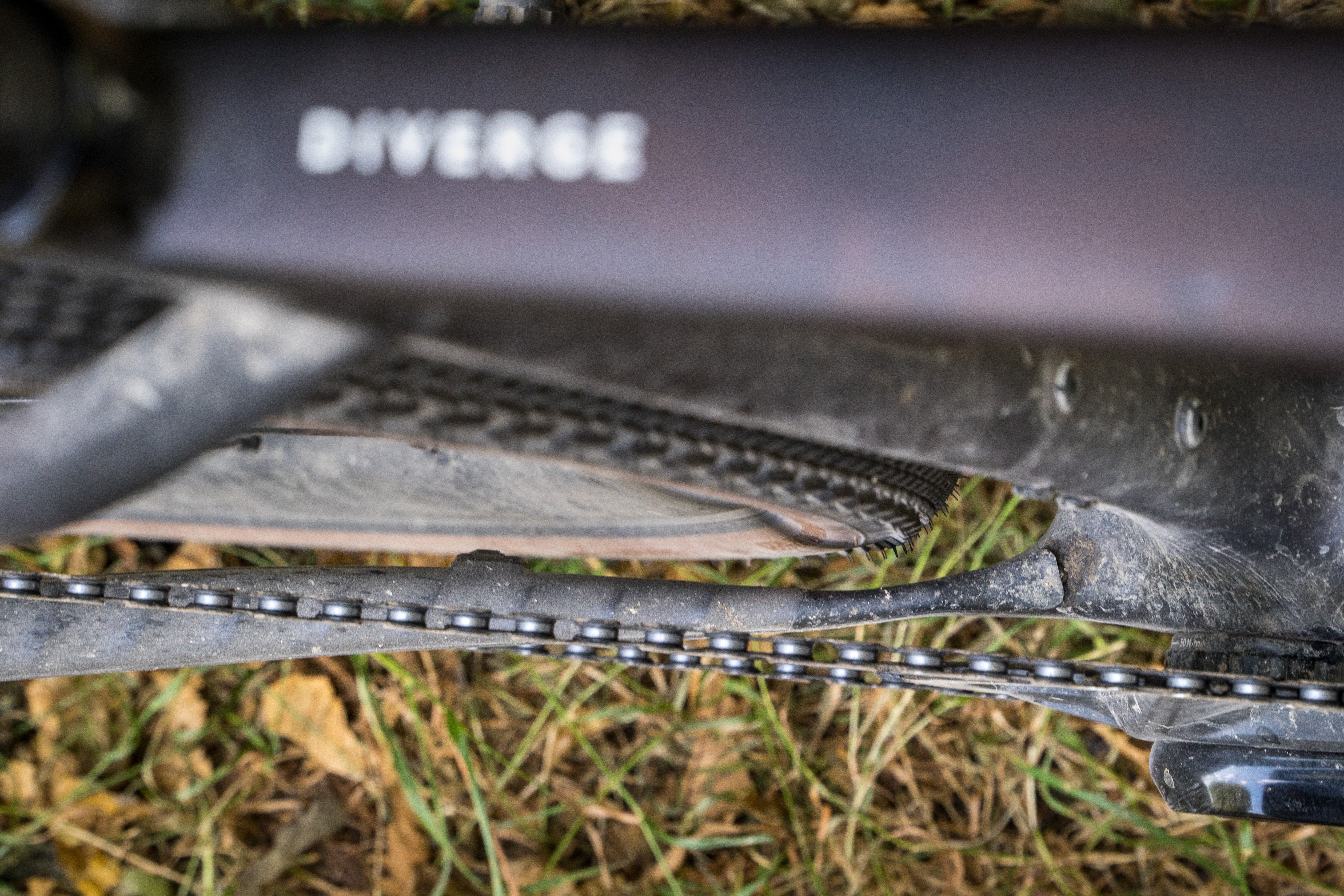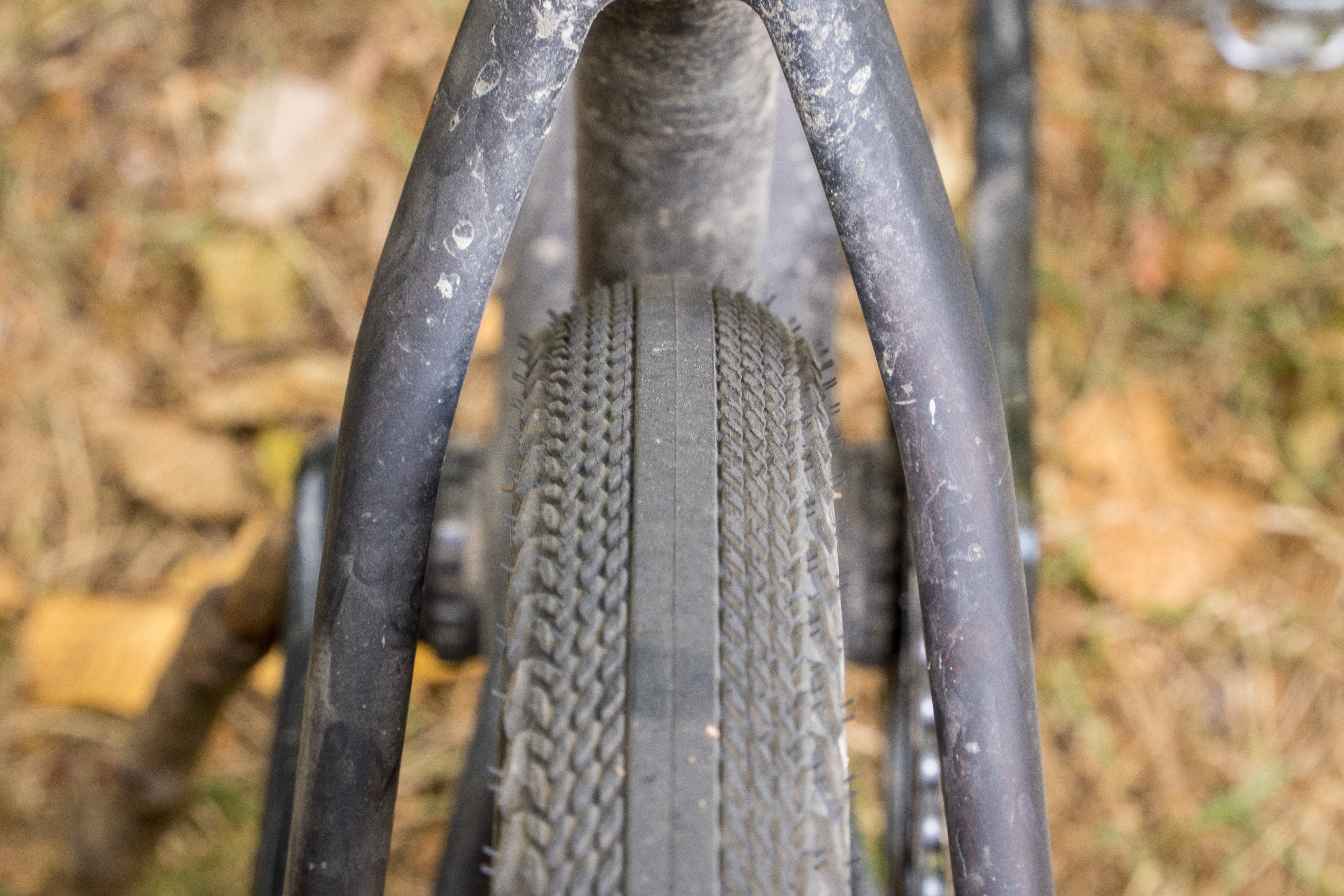 Riding the Diverge
The Diverge will feel more familiar to folks coming from a road background than those from the mountain world, with the main culprits being a short front center, long stem, and steep head tube angle. Personally in the name of a bit more stability I'd stretch the front and rear centers out a touch drop the bb a hair to increase stack, but I won't argue that the Diverge is fast in a gravel world that isn't winch and plummet. You're able to put power down and the positioning is aero enough to be fast but not uncomfortable. I haven't yet pushed it too hard into technical terrain – I'll report back on that when I've got more experience.
So as they say "like and subscribe," I'll keep some content coming here as I get ready for the big day(s), and elaborate on some specific kit and accessory choices. I'm a bit worried, to be honest. I'm confident I have the fitness to finish… but no one wants to just finish. I'm going in with the bold goal of not embarrassing myself – what exactly that entails I think I'll only know once its all over. I know I'm not strong enough to contend for anything at the pointy end of the pack, but I'd like to finish and go "Hey! Alright!" instead of anyone asking "I looked at the results, what happened?" With that in mind, I'm going to crack another training beer to congratulate myself on finishing this article, and once it's posted I'll answer your questions below as best I can.
Oh, and about that "Future Shock 2.0." We'll cover that soon.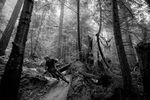 Cooper Quinn
Size medium millennial.
Reformed downhiller, now rides all the bikes.