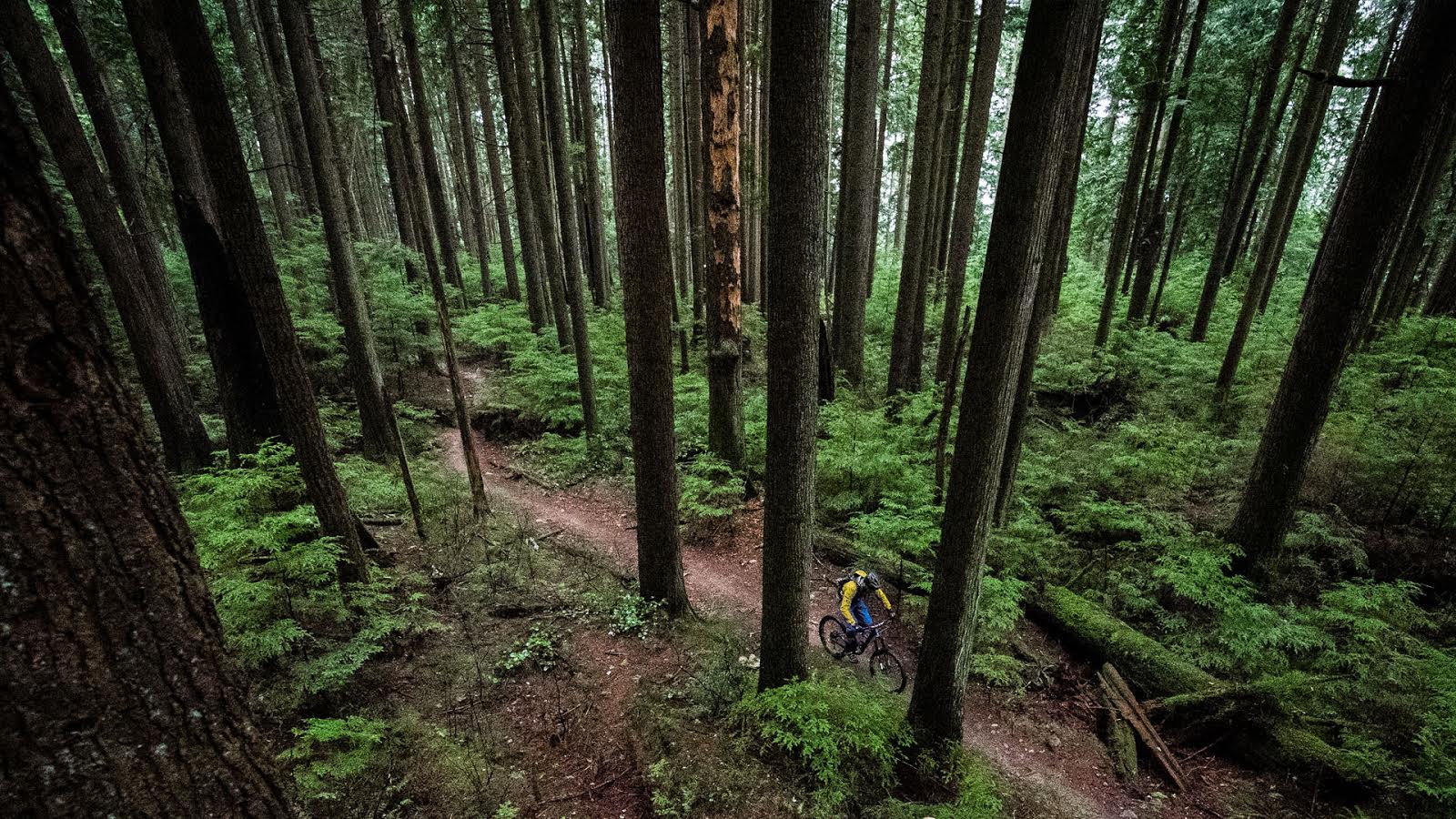 Complaining About Trail Work
Our attachment the trails we ride, and even individual turns, jumps and combinations, becomes shockingly apparent when we ride up and find they have been messed with. Certain sections of trail give us so much elation and satisfaction that they start to feel like old friends. The way our bike floats and achieves a pleasingly familiar rhythm allows us to reach a state of pleasure that is amplified each time we return to these favourite lines. Much of the joy of the ride originates here.
The trails on the North Shore are in a state of flux and many of the lines riders are familiar wth are disappearing. It used to be that change was slow and one or two trails every year would get re-worked, remodelled or altered in some way. The end result was a mixed bag.
If Digger was at the helm the work would be world class and after that the quality would generally filter down. In some cases kids would add some sketchy structures or build dodgy jumps. If there was a public trail day organized by the local trail association then holes would be filled with rocks and mineral soil – and the days would be spread out over five or six of the most clapped out lines. Usually one day per trail.
Before the web and Strava, word would spread organically about which trails had seen some love and then eventually masses of knobbies would rush to leave their imprint. Because there was often no regular maintenance after the one-off sessions, these trails would become more clapped out than they were before the work, pushing riders to other trails which no longer seemed so beaten. This was the cycle until many of our trails were trashed.
And that's how it went until TAP came along. Since 2011, when the local trail association (the nsmbA – not to be confused with our online mag) initiated the Trail Adoption Plan, more work than ever before is being done. And the quality is stunning. Trails that were near death have been revitalised top to bottom and inevitably the character of these lines has changed forever. Whether that has been for positive or negative is a matter of opinion, but most agree that things hook up better than ever.
We at NSMB.com, with support from RockShox, have adopted a trail every year since the beginning of TAP. This year we are tackling two trails; continuing our work on Expresso (not Espresso!) with Rock Shox, and adding Ladies Only, with help from ToyotaBC. Over the last few years we doubled up with MEC for work on Expresso, a trail that was either loved or hated depending on your perspective.
Expresso has had many lives and resurrections but most recently it was a stunt-filled option with skinnies and woodwork much of the way down, except for the barely rideable eroded chutes (which I admit I enjoyed). Whoever built or maintained these structures gave up on it long ago and many were broken and dangerous.
In 2013 word got out that Expresso had been adopted and when we did our first walk through we discovered that someone had left us Sharpied messages on the stunts. Instructions like 'keep this' and 'rebuild this' were written on cedar slats and stringers. The crumbling stunts weren't the worst of it though. The line had become a trench down to bedrock and re-establishing a sustainable trail bed would have required thousands of hours.
With Digger's help we made the decision to re-route much of the trail, knowing that this would dramatically change the trail's character. It went from being a janky balance fest to a flowy berm dance. We left the original line in case someone wanted to bring it back from the dead, but nobody stepped up.
Since the rebuild Expresso has become the most popular trail on the North Shore. At times 3000 riders a month trace the slithery line from the fireroad to the Baden Powell. Most will tell you that both beginners and experts can have a blast on Expresso, but not everyone is happy. The disgruntled include the dude I saw the other day riding a Knolly with Monster Ts and those who love skinnies because they are balance masters. But you'll probably find something that almost everyone is unhappy about, if not on Expresso,then somewhere else on the new North Shore. Myself included. The general complaint is that things are being dumbed down, but that isn't my issue. At least not at this point.
Peter Morin is a local legend. Now well into his 70s, 'Old Man Peter' started by filling mud holes with rocks, eventually graduating to his masterful rebuild of Upper Oil Can. To this day it has stunts that have a little flow and a lot of pucker factor, and it's in solid shape because it was built well in the first place.
Peter is a TAP adopter and he's been working on Kirkford over the last few years. There's a new entrance off the third switch that allows you to get some speed and there are some really nice berms. Some of the original character of the trail remains while some of it has been… modernized. Peter has been working his ass off and that the work is incredible.
One of my favourite sections of the trail used to be a speedy straight line that included a chicane with an option. Instead of going around the chicane you could straightshot a drop over some rocks, followed shortly by another drop. Contrary to popular belief, it's not always easy to find chances to get your wheels off the ground on the Shore and I really liked this one. It never seemed to change or erode and pushing the needle above 5 miles per hour around here is a treat.
Last year a line around this section started to emerge. At first the original route was still open but that is no longer the case. The re-route takes that speed and replaces it with several tight switchbacks. I'm generally a fan of switchbacks, (Angry Pirate is one of my favourite trails on Whistler) even tight technical ones, but these are not that. They are tight without being technical. They force you to slow down because of absence of slope, the tight radius, the lack of space to angle your bike and the lack of berms. I've seen some of the best riders I know roll through and even they sturggle to carry speed. These corners are well built, designed to shed water efficiently and they look great; but they slow riders down seemingly for no reason. And yes, I'm a little pissed about this. (I realize this is only my opinion and that many think these tight little turns are great, beginners in particular but not exclusively. Many of you may wish to point out that my inferior skills are the problem – and you are probably right).
Of course this puts me right where critics of Expresso sit; frustrated about changes to a trail I didn't lift a finger on. The question is what I should do with this information. For most the answer is to complain on the internet, which I guess I've just done. Many of the complainers have never plunged a shovel into dirt (more on that later) and they often get ravaged on our forum and others for their views. The general thrust is that if you don't dig you have no right to be a trail critic.
What strikes me most about these complaints, mine included, is their arrogance; the idea that all trails and trail work should be done in our image as if we are two-wheeled gods. "I don't like this, therefore it shall not be." Well Peter has been honing his skills and working his ass off for decades now and he's earned the right to put his stamp on the trail he's been bleeding into. I can vote with my tires and ride the trail less, which I likely will, but I won't be poking a finger into Peter's chest and telling him, on the internet nor in person, how he should build his trails. And I know many riders, experienced and otherwise, who are loving the evolution of Kirkford.
But where does that leave us? Do we have a right to our opinion, and to share that opinion only if we build and support trails ourselves? Or only if we are working on the trail in question actively? Or not at all? Trail building obviously isn't a democracy, but should it be a dictatorship? Locally we've had town hall meetings once a year, but the choir fills most of the pews making it an intimidating place for dissenters to state their case.
And this is where we find ourselves now. The evolution of our trails had stopped long ago, and now that it's been reignited it's accelerating at the rate of 5000 hours of labour per year. Without hearing the voices of all trail users, (or the haters as some have labelled dissenters) how will the unique character of the trails here and elsewhere be preserved? How can we ensure those who don't have a voice, kids just learning to ride for example, will be well-served? What, if anything, do we owe those who want to come here for a riding vacation? How can the needs of expert riders and beginners be balanced? Is the idea of public consultation on trails blasphemy for the skilled and creative people who build and maintain the trails we ride?
These are tough questions, and it seems to me they are important for riders everywhere. Unfortunately, unlike Alex Trebec, I've got questions but not answers. Trail work criticism for $1000 anyone?
---
Who has the right to complain about trail work, if anyone? If so how and where should it be done?