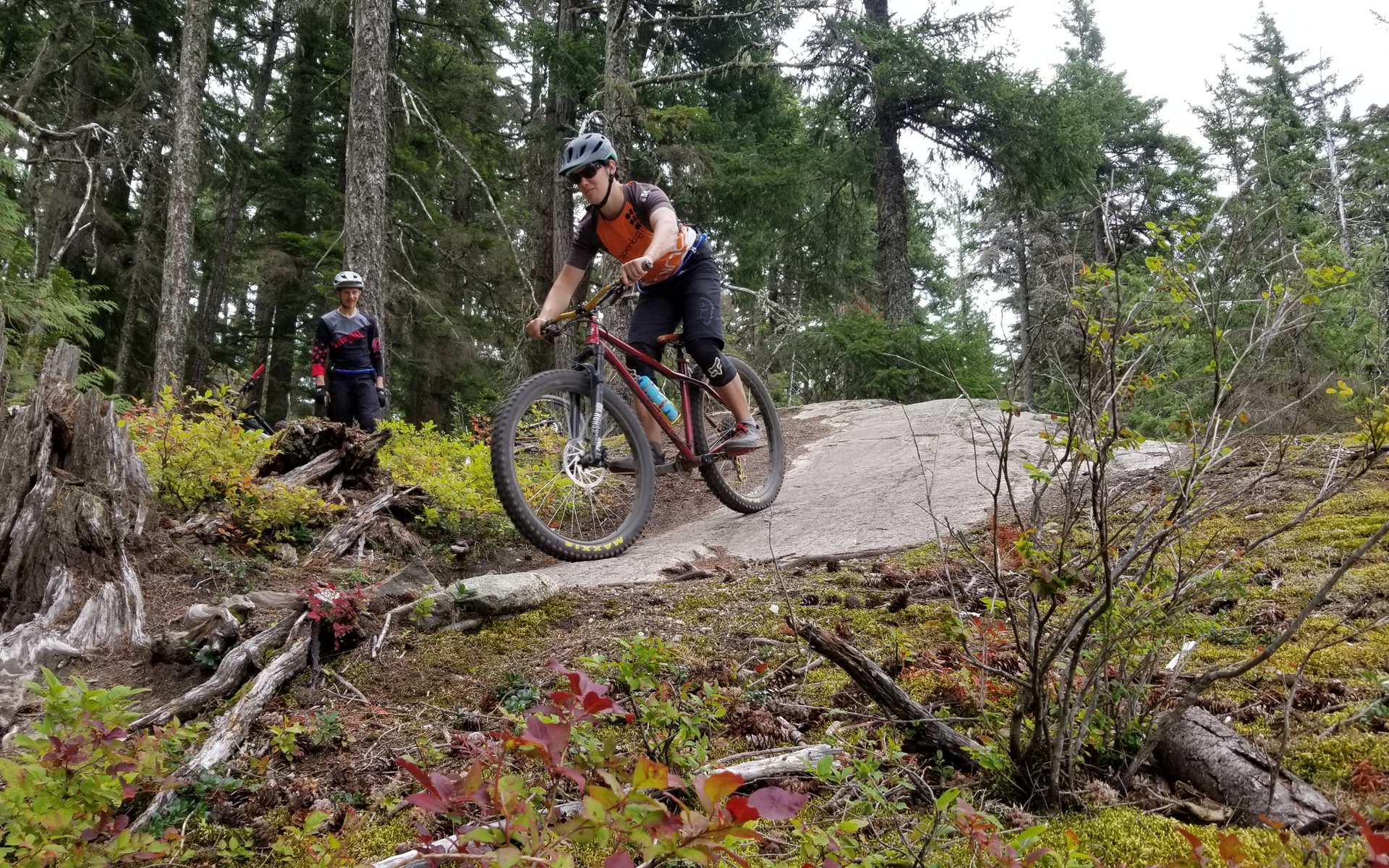 EDITORIAL
Coming OUT On A Ride
We're trying to do more here at NSMB to make riders of all kinds to feel comfortable, understood, and safe. We believe mountain biking is a sport that could use more diversity and representation, and we want to use this platform to allow voices to be heard that aren't always given their due. Thank you to Matt Bradshaw for writing this and sharing with us and all of you. -The NSMB crew
Much like an actual closet, the metaphorical closet is a surprisingly comfortable place to stay in. People leave you be, and you fit within peoples current expectations of you. In an attempt to stretch this metaphor to its limit, the closet is not a place to spend your life. It's impossible to fully live and be happy while you hide parts of yourself from the world. The closet is too cramped to grow in.
Roughly two weeks ago, Corey Walsh publicly came out as gay to the world, and I have an unbelievable amount of respect for him for doing so. Between Corey's announcement, a beautifully written piece by Kris Fox, and another popular MTB media site's comment section I felt it was important to write about the strangely horrifying process of coming out.
I myself am a 24 year old gay man. I realized that I was gay when I was 19. In truth I'd known much earlier, but couldn't admit it to myself until I had built a sense of self after leaving my hometown after high school. As soon as I admitted that to myself I was already in a happier place. Then I had to dismantle the closet doors and come out.
I was fortunate enough to be surrounded by people that were accepting and supportive of me. The first person I came out to was my best friend and roommate Max. I was much too nervous to voice my gayness, so instead I threw a dozen paper airplanes with "I'm Gay" written on them until he read one. I knew Max would accept me, but even still coming out was a terrifying ordeal. Coming out is an unwavering announcement of identity, which when you are leaving the closet is a difficult and terrifying concept. Further, coming out doesn't just happen once, it happens throughout your life as you meet new people.
In an attempt to make this article not entirely about myself I will circle back to Corey Walsh and why his coming out should be applauded. Most people come out to their friends and family, maybe coworkers, strangers at the bar. Corey Walsh had to come out to the world and be one of the first people to do it in cycling. This is significant. Somewhere in the world there is a grom shredding their local trails that feels a bit more comfortable with who they are because someone they relate to is sending Double-McTwist-Broken-Ice-Cream-Machines at the top of the sport. Having representation of yourself in media is a very self-assuring thing for which the majority of mountain bikers (heterosexual, white men) have no context.

The first person I came out to was my best friend and roommate Max. I was much too nervous to voice my gayness, so instead I threw a dozen paper airplanes with "I'm Gay" written on them until he read one.
When Corey Walsh came out a large portion of internet comments were supportive. There was also a large amount of cold indifference. The cold indifference was more upsetting than the vocal bigots. There were a lot of "who cares", "why is this news", and "why is coming out a thing anymore." Comments like these trivialize the emotional difficulty of coming out, and ignore the potential of public figures being role models.
It would be amazing for us to live in a world where coming out isn't a thing, but that's far from reality. The truth is, if I walked up to you in person, you would probably assume I was straight. That's because I don't outwardly project stereotypes and 90% of men are straight. Had I told you I was going on a date, you would probably ask some variation of "tell me about her." I don't expect heteronormativity to go away, it is not a realistic short term goal, but I want to improve allyship.
I wanted to write this article to initiate a conversation on allyship. True, it is a topic too diverse to meaningfully cover here, but I hope you're compelled, and I would encourage those willing to make an effort to support people you care about within the LGBT community. Allyship makes the people around you much more comfortable and requires only very small changes to your life. There are many great online resources for allyship that will explain the topic much better than I can myself.
Insert links here
NSMB: Can you share a bit about your experience as a gay man in the riding community (whether out or not out) - good, bad, or ugly. Have you got any anecdotes or thoughts in that regard that may be of interest to our readers?
Matt Bradshaw: I've been riding mountain bikes for about 8 years now, and the people I started riding with are the people I still ride with. I was a shop grom, I was surrounded with young liberal people, most of my best riding buddies I'd met through shop rides. I haven't felt any exclusion in mountain biking since coming out, bikes have taken me wonderful places alongside some beautiful people. I know some people aren't as lucky, and while I haven't had personal encounters with homophobia in mountainbiking, it does exist, easily noticed on the internet. Don't be a butt online, instead put your butt on a bike.
NSMB: You mention allyship and being a good ally. Are there any resources you could recommend, perhaps for (especially) young people dealing with some of these issues - or anything you think might be useful?
Matt: Funnily enough, I reached out to a couple people in the hunt for resources on allyship and most web resources are all kinda lackluster, the one link I have attached goes a bit past the standard method of just defining allyship, there are also 2 pretty good instagram accounts with a focus on LGBT allyship.
https://thetoolkit.wixsite.com/toolkit/beyond-allyship
https://www.instagram.com/raindovemodel/
https://www.instagram.com/lgbt/