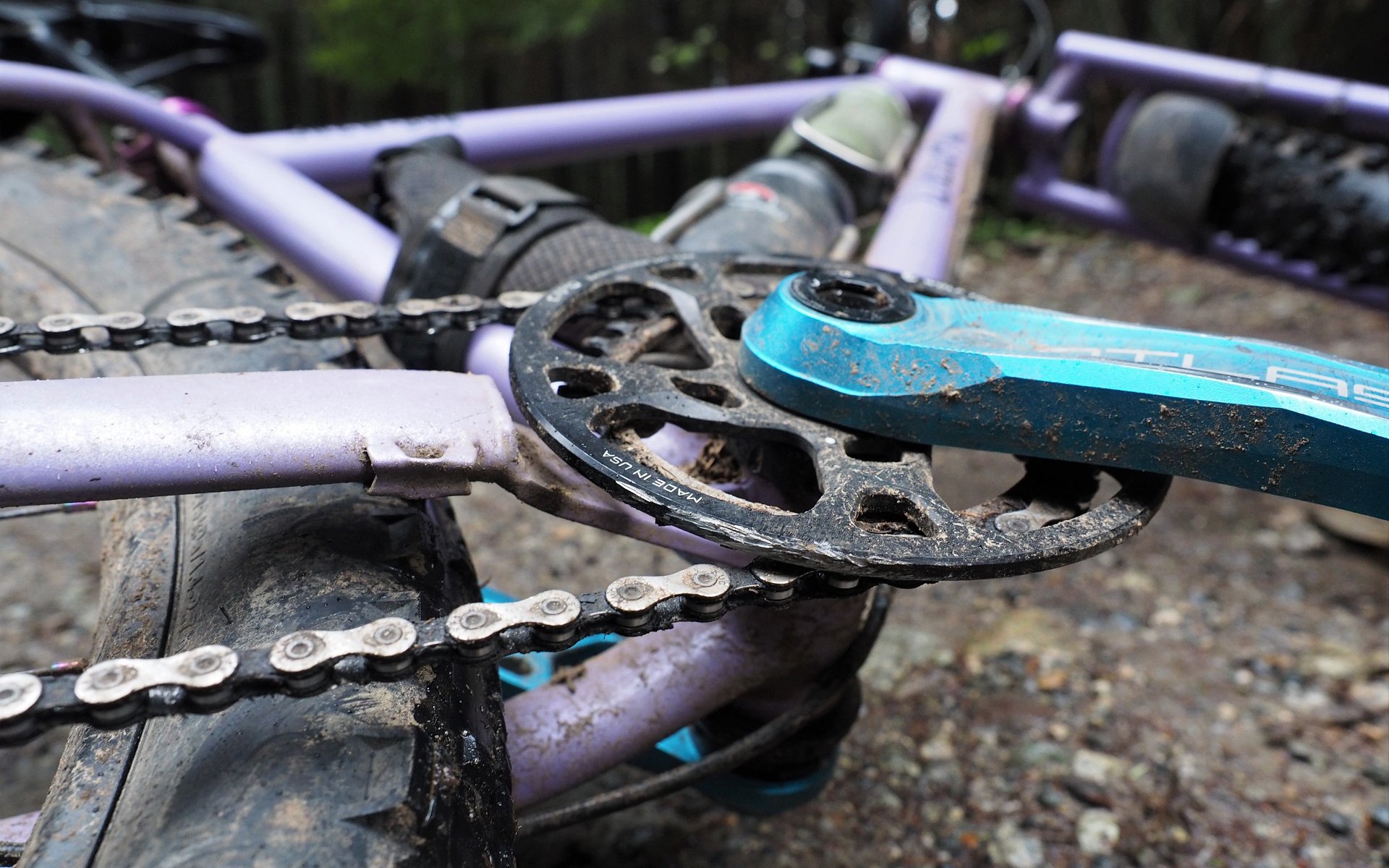 REVIEW | EDITORIAL
Coming Back To Bash Rings (With Wolf Tooth CAMO)
Hold The Tacos
Bikes are getting lower, the average rider is moving faster, and many folks are hitting the trails on aluminum chainrings that are scraping the 100 USD mark. Not to mention the cost of the 12-speed chain that's actually the first point of contact with any vicious rock or other impediment. At the same time, chainrings are growing in size to better complement the manhole covers we're now using for granny-cogs, and riders are putting 165mm cranks on their XXL frames to avoid pedal strikes. All this together means chainring contact is once again becoming a common occurrence. It's a recipe for long walks out of the woods for aggressive riders and premature investments in new drivetrain parts for everyone.
And yet the ISCG 'Taco-style' bash guard is free-falling out of fashion. Is it all the stories of riders breaking their frames due to hard Taco-ings? Is it the way they get hung up on the trail where a crank-mounted bash ring rolls up and over? Maybe it comes down to broken Taco-style bash guards that didn't get replaced? In any event, I didn't bother with having ISCG tabs welded on either of my custom frames and I see fewer and fewer mountain bikers using them on the trails despite ever-increasing reasons to protect drivetrains.
Recently, I've been using Wolf Tooth's new CAMO bash ring with the 30t stainless steel narrow-wide chainring I've been running on my single speed for a couple of years. It combines their 5-bolt chainring system that I've been using for three years now, and it's showing plenty of raw aluminum where the anodizing has been hammered. I appreciate this proof of concept almost as much as the system itself. We've come full circle and I expect to be talking about Race Face, SRAM, and other brands' creative crank-mounted bash solutions in short order.
A week before Wolf Tooth released their CAMO bash ring I had a nearly-catastrophic failure of a standard CAMO spider. Now, I've hit my chainring on plenty of things and if it was in any way a 'JRA moment' I wouldn't have said that the spider owed me anything. I would have absolutely accepted it as fatigue. However, in this case, I was trying to chase Naked-Nick - a former XC racer for Naked Bikes - down some low-angle Shore-XC when I smoked my chainwheel so hard that my bike did an impression of Ryan Leech's best bunny hop. I came down pedaling but my bike had suddenly started creaking with every stroke. A very quick inspection didn't yield any obvious issues so away I went, ignoring the creaking, and riding for another hour or so.
A more thorough inspection at home shined a light on the issue. The two spider arms opposite the impact zone had sheered right off the spider. Amazingly, even after another hour of pedaling, my stainless steel ring was perfectly true and still exactly as oval as I'd expect it to be. I was riding my single speed so there's no rear derailleur cage to rotate forward and give the chain slack. It was one of the hardest ring-to-rock contacts I've had but also a rare situation where running #1FG probably was harder on my drivetrain compared to 12-speeds and brutal chainlines.
In any event, the death of my beautiful gold spider provided an opportunity to test something very old that's brand new again. I was running my CAMO setup on a pair of FSA cranks, which use the Cannondale-FSA direct mount standard, but Wolf Tooth is offering the CAMO Bashspider for SRAM, RaceFace, and Shimano direct mount. That meant cracking a couple of beers, pulling my trusty blue Atlas cranks off the shelf, and rebuilding a very thoroughly abused King BSA 30mm BB. And now we are rolling in style.
On the OE chainring front, both SRAM's Eagle chainrings and Shimano's new direct-mount rings use fairly beefy construction. With less machining and some threaded holes, both companies could likely offer an inverted version of the CAMO BashSpider where the bash guard bolts onto the chainring instead of the chainring bolting on to the bash guard. This isn't a new idea however and street BMX Bikes have been using direct-mount rings with bash plates bolted on to them forever. I could see Race Face doing a Cinch bash-and-ring in the style of White Industries' one-piece ENO Bashring setup.
My experience running a bash guard again has been loaded with 'well, duh' moments to the extent that I'm at a loss to explain how I ever answered the siren's call of direct-mount 4/104 cranksets to begin with. I much prefer the beauty and function of CAMO's five steel T-25 bolts over a classic chainring bolt arrangement but I'm also positive I'd prefer function over form with bash guards on all my bikes.
Specific to Wolf Tooth's system, my 30t oval chainring loses a bit of ground clearance running the 34t Camo BashSpider. It's really not enough to be noticeable, or if it is, the smooth bash guard glides and pedals over obstacles much better than my raw chain.
Aesthetically, the system looks much better with my 32t oval chainring but appearance isn't everything. Between CushCore inserts, tough casing tires, and winter conditions, I'm not up for pushing a bigger gear than I'm currently running. If the BashSpider catches on I'd hope that Wolf Tooth would add a smaller option - to cover my 30t oval - but I won't hold my breath. With the advent of 51t and 52t cassette cogs I've talked to more and more riders switching up to 32t, 34t, and occasionally even larger chainrings on their 29ers, with real rubber.
I also suspect we'll see an increasing number of full suspension bikes that cannot physically run a ring smaller than 30 teeth, without the chain sawing at the chainstay. Not to mention companies providing specifications for recommended chainring size as the bikes are ever further optimized.
Put me in the camp that prefers direct-mount crank systems over bolted systems. I also misses bash rings so desperately that I'd gladly go back to them if that was the choice. The more complicated, more fragile, more expensive, more likely to hang-up, ISCG-mounted 'Taco' style bash guards may have helped sound the death knell of cranksets with 4/104 spiders, but as they appear to be falling out of favour it seems like a great time to go full circle.
A Wolf Tooth BashSpider is 60 USD | 82 CAD for a rider who already owns a CAMO chainring or add 50 USD | 70 CAD for an aluminum ring, 100 USD | 140 CAD for a stainless steel ring, and 6 USD | 7 CAD for bolts. It's certainly an investment but the stainless steel rings I've been running have kept on going for so long on my geared bike, single speed, and commuter I think there's a strong value argument for many regular riders, particularly considering how much some aluminum narrow-wide rings cost these days .
On another level, the fact that the Minneapolis-based manufacturer sees this much demand for a bash ring setup has me surprised that we haven't seen anything from Burnaby, BC-based Race Face, or SRAM with their cadres of talented, PNW-based, staffers, riding bikes all the time. Is it a shot in the dark or will 2021 mark the return of the crank-mounted bash ring?