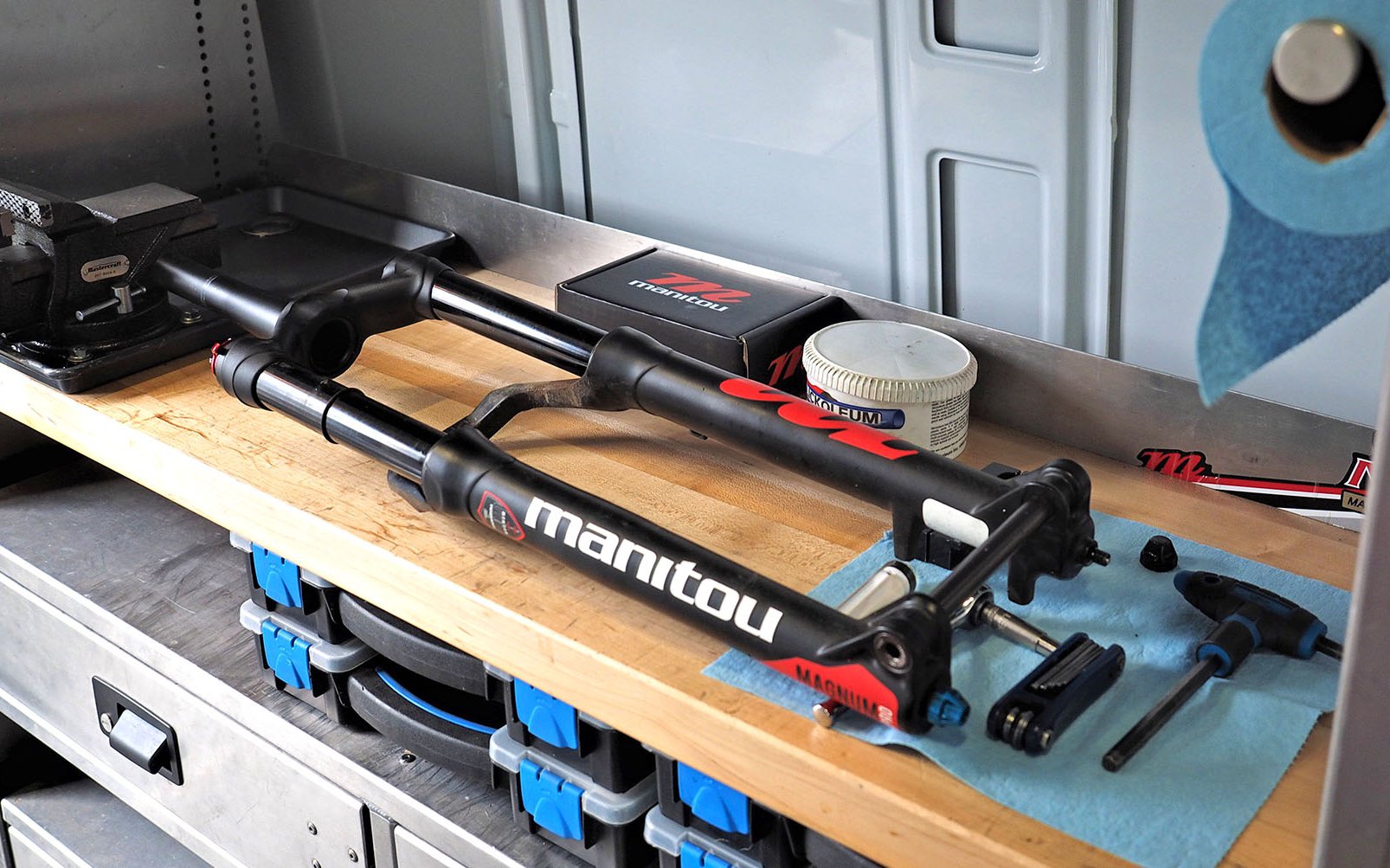 Editorial
Coil Forks VS Manitou IRT Air
More Coil Than Coil
Coil, coil, coil. It seems to be the only thing bike nerds want to talk about these days. I love coil shocks (on bikes that work well with them) but with rare exceptions, like the expensive PUSH ACS3 coil conversion, I'm highly skeptical of the roaring return of coil sprung forks to mountain biking. Frankly, outside of suspension companies taking on a massive inventory expense to offer variable rate springs, which isn't going to happen, I can't think of a 'dry' coil fork I'd buy.
I simply have no desire to ride a linear spring rate after experiencing the easy tuning, support and progressive feel of a good air fork. What about using the damper to tune the performance of a coil sprung fork? Yes, compression damping will hold up a rider during hard braking events but more adept suspension tuners than myself will point out that the damper is just slowing the fork's motion and too much will create a harsh ride and result in a loss of traction.
"But. Moto!" is of course the standard rebuttal. What about moto?
In a coil sprung dirt bike fork, oil height is used to adjust the suspension's mid-stroke rate. Increasing oil volume shrinks the air volume inside a stanchion tube. The oil cannot compress as the fork telescopes so the air volume controls the mid-stroke ramp of the coil spring.

Anyone who has attempted to maximize the performance a classic Marzocchi fork - Shiver, Monster-T, Super-T, Z-1, etc - for aggressive riding has likely played with balancing oil height and spring rate to get the correct mix of small bump, full travel and mid-stroke support.
Ed Kwaterski is Manitou's head suspension engineer and before that he worked for Showa designing, setting up and supporting power sports suspension products. Features like Manitou's adjustable hydraulic bottom-out derive directly from his past experience as does IRT. In layman's terms, the main air spring is the initial spring rate and the IRT spring is the equivalent of changing oil height to adjust the spring's mid-stroke rate.

Ohlins, Formula and now BOS are making air forks with similar systems with adjustable air pressure, self balancing negative air and air adjustable midstroke rate.
40 Reasons For Air Forks
I was working at SuspensionWerx, a suspension service shop, when Fox released the first air-sprung Fox 40 in 2013. The 2014 40 inherited the inverted RC2 damper released in 2012 and had an all new chassis that was lighter and less stiff than the previous nine model years.
Riders were hungry to purchase one. The question I kept hearing was "if I don't like it can I install a coil spring?" and the answer was "easily." Not a single rider chose to go back to coil after riding the air system.
The first generation Fox 40 air used a long coil negative spring (rather than the current self-balancing system) and a token system more similar to Manitou's IVA than the current token system. Most riders started out with their forks set very linear - as "coil like" as possible - and were quickly back to try more progressive settings that are more similar to the performance of a stock 40 today.
Born again coil suspension may be the flavour of the week but considering how good air systems have become, it'll be interesting to see how sweet they taste over the long term.
Following Up
I'm currently reviewing a Manitou Mattoc Pro (originally the Magnum Pro) and running both the set-and-forget IVA and highly tuneable IRT air systems back-to-back in the same chassis.
In the mean time please check out my teardown and Stache followup. Thanks to SmithTech, the local distributor and service center, for the air system swap and setup advice.