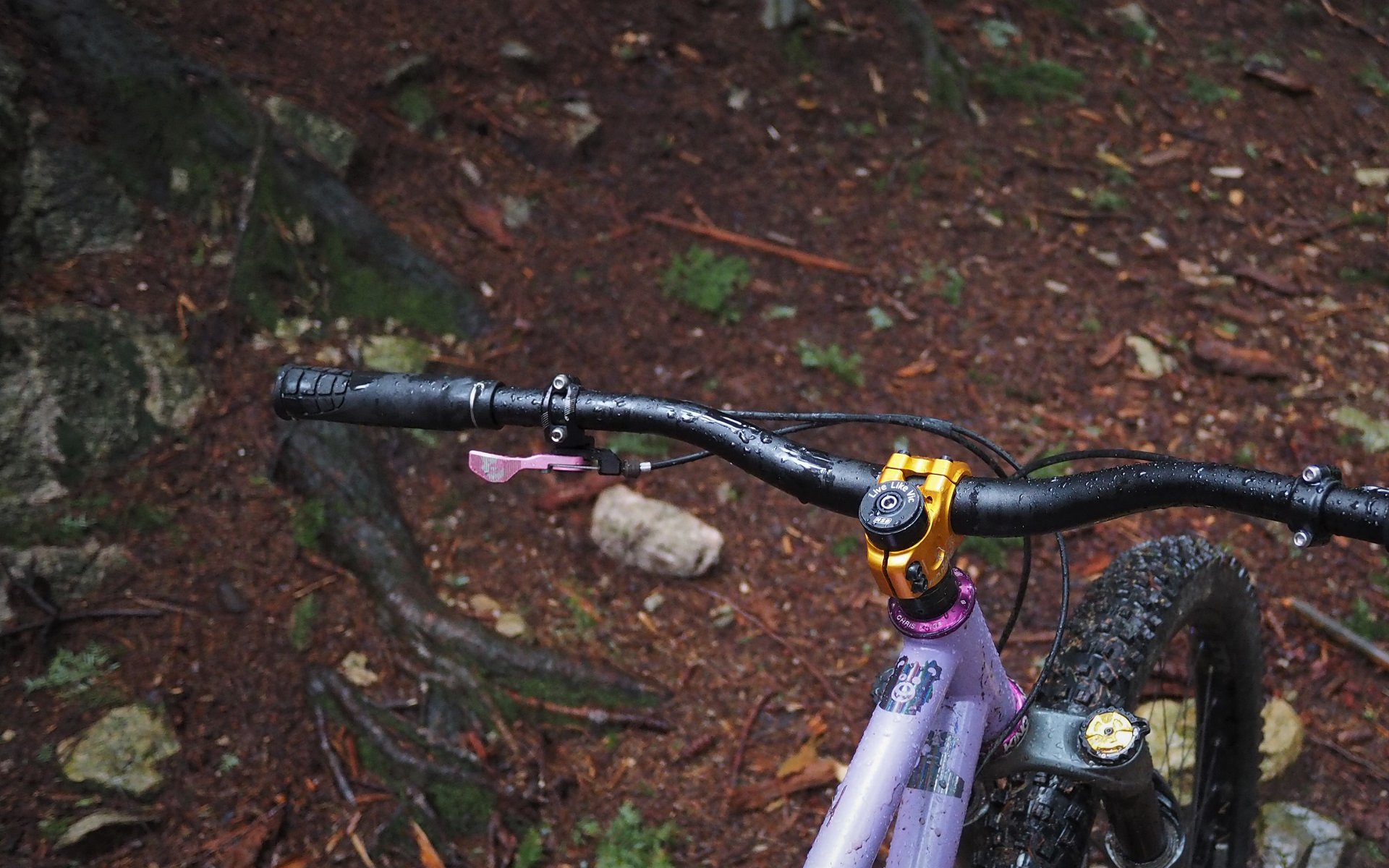 EDITORIAL
Close Your Eyes & Cut Your Bars
Have you ever found that last delicious chocolate easter egg a month after the event, hidden away in some random location and somehow, suddenly, more precious than a five-pound bag of the little treats? I was scrolling through a pile of old NSMB articles looking for inspiration when I came across Cam's 2017 editorial Going to Wide Bars (and back again). In 2018 it was my turn to take a bite out of the 'science' of fit with Handlebar Width & Staying Gracious and then the ripest of bike-fit-fruit went unpicked in 2019!
Now here I am like the lady in the IKEA ad yelling "start the car" as I pull off grand theft editorial, before any of NSMB's other test-writers can get in there, for what should be one of the most often replaced components of a mountain bicycle. I mean, let's face it, we all put our handlebars through hell and you're probably due for a new one anyway! How timely.
Wait just a minute before you fire up Chromag's website to see what colours of FU40 bars they're floating this year. I mean, yes, that FU-Blue is looking sweet-as in a 31.8 clamp and 7000-series aluminum, and if you aren't going to try something with more back-sweep then totally hit it. But, your current bar is probably good for a few more laps around the neighbourhood and you own a tape measure and a hacksaw. Let's experiment first!
A lot of factors that led mountain bikers down the wide bar road initially don't apply to the current crop of bikes with modern geometry. The combination of a long reach, long wheelbase, 64° head tube angle, super short stem, corresponding fork offset, and big wheels combine to make bikes ridiculously stable. Weighting the front wheel is now more behind-than-above in terms of rider positioning but either way, it's much less tied to spreading those arms out and lowering the upper body. Wide flat bars and low stack heights haven't been in vogue for years for a reason.
I'm not trying to say that an 800mm+ wide bar isn't best for a specific rider, but when's the last time you really tried something different? Not on a friend's bike but on your own machine where it's really the case of just changing one variable. I rode 800mm wide bars for a few years and then started cutting them all down to 780mm, where I've been for years now. Then I followed my own advice, chopped an old bar down to 750mm, took it for a few rides, and now I'm eyeing up every steer-stick in the house.
And sure, I'd love for every rider to be able to try a few different back sweeps to find what works best for them, but that costs money. Playing with bar width is basically free in this situation!
Now, don't bother just moving your controls and grips inboard. It's like saying you've tried single speeding because one time you went on a ride and didn't shift for ten minutes. You sound like a goof and it really doesn't work that way. For one, if you live anywhere with trees you're going to be smoking those bare bar ends, but more than that you can't rotate your hands to as many different positions over a ride and the narrower setup won't feel comfortable.
You really have to cut the bar down, ride it a couple of times and then - once you're used to it - decide if you prefer it wider, at that width, or trim it again. For better or worse, I think many riders will be surprised by the difference that 20 or 40mm of handlebar width makes to how their bike rides.
There's no financial risk when it's time to replace a handlebar anyway, and I had a couple that were ready to be up-cycled into gardening stakes or door jams so out came the saw, tape, and cutting guide. My first-gen Park SG-7 has paid for itself a pile of times over between all the bars, posts, steerer tubes, and non-bicycle cuts I've made but if you leave your bar installed on the bike there are plenty of different ways to ensure a straight, or straight-enough, cut for this process.

Now, don't bother just moving your controls and grips inboard. It's like saying you've tried single speeding because one time you went on a ride and didn't shift for ten minutes.
I had no idea how much I wanted to trim at first but when I started thinking about it for some reason I could recall this interview with Mercedes Gonzalez in one of the major mountain bike mags in the 1990s where she said she figured out her ideal bar width by closing her eyes and putting her hands on her bars. So I did that. I landed at about 750mm so that's where I made my cuts. I rode the bar for three rides, loved it and then hacked another centimeter off each side just to be sure and that wasn't nearly as good. Boom, science.
I'm taking it nice and easy on the bikes these days so to keep things entertaining I've been experimenting with tire pressure, handlebar height, saddle position (fore-aft and tilt), cleat position, and anything else that strikes my fancy but thus far nothing as eye-opening as when I chopped my bars down.
Maybe give it a try? After all, as we agreed above, you're probably due for a new one anyway!