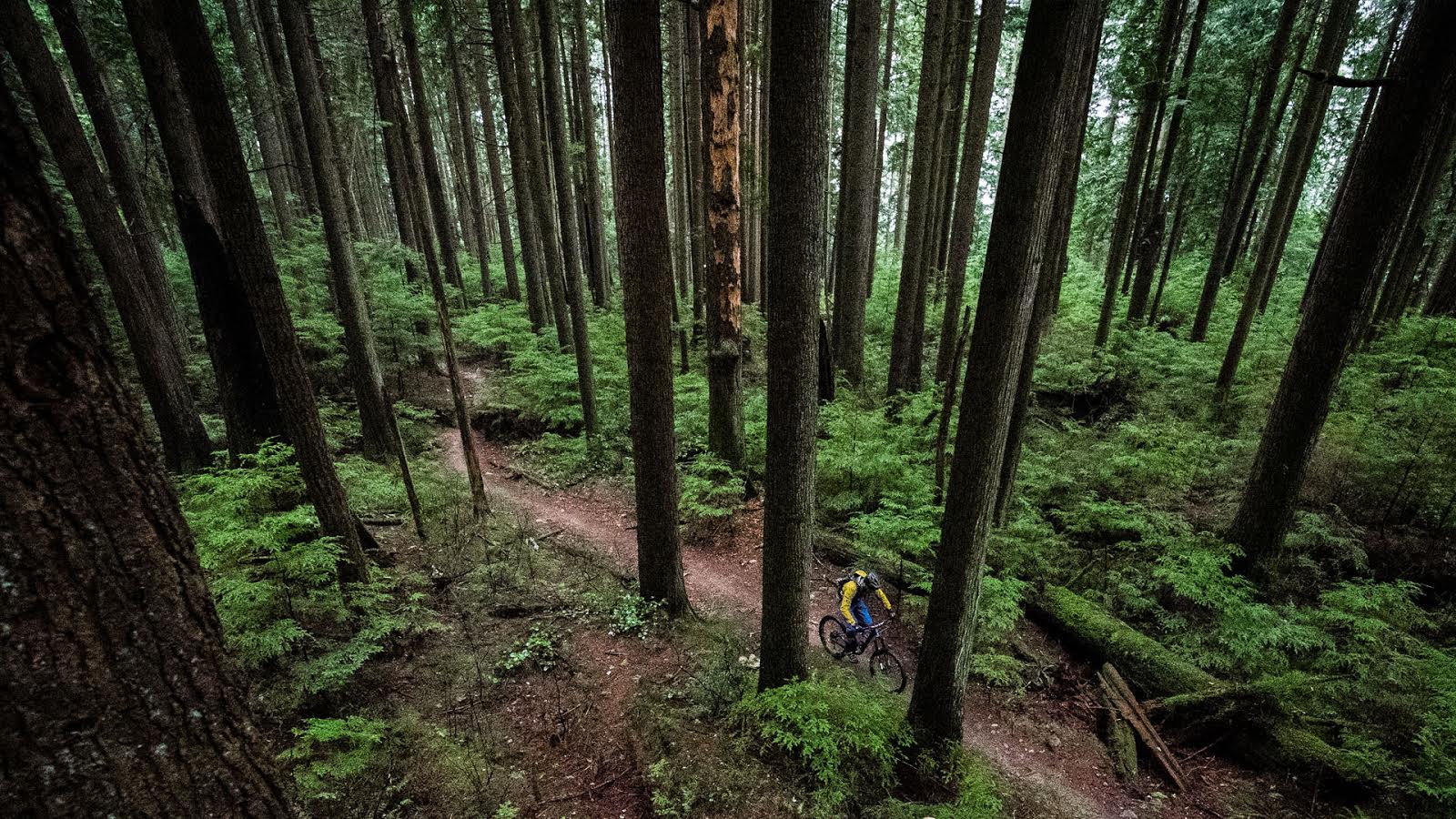 Click to Buy… Your New Bike
Click to buy… a 2016 carbon fibre Enduro(!) mountain bicycle. Are you willing to throw down big cash to purchase this way? Bikes have been one of the last bastions of traditional retail sales. Most bike companies are terrified of having Joe consumer build their bike out of the box, while lawyers lick their lips at the prospect. Can a customer really be blamed if he doesn't attach his bars properly, and then ends up collecting his teeth from the curb? Not in North America – and this seems to have kept the wolves at bay until now.
European brands have been navigating the tricky direct-to-consumer path for years. In the past this sales model was littered with sub-par brands hoping to dupe consumers with shiny derailleurs and bold graphics, all to disguise a crap frame. In the words of Rob Venables of Dunbar Cycles, a strong and well-stocked Vancouver bike shop that also sells online, "you can't tell how good a bike is from the computer screen. You can't see the smallest details and how they impact the overall experience on the bike. You can only compare price, derailleurs and the like. A bike is more than just a list of parts."  
Euro brands like Canyon, YT and Indonesia's Polygon have made great strides in legitimizing this avenue, by selling quality bikes at competitive prices. And they are now pushing even harder by sponsoring some of the best mountain bikers in the world, evidenced by YT's recent signing of Aaron Gwin, Polygon's support of Mick Hannah, Kurt Sorge and Sam Reynolds, and Canyon's sponsorship of Fabien Barel and Darren Berrecloth.
YT and Polygon's entry into the North American market, with Canyon waiting in the wings, has forced the hand of two of the industry's big three. First Trek and now Giant have entered the direct-to-consumer fray, with Specialized rumoured to pull the trigger soon. Each of these brands has an advantage the newcomers can't compete with; vast dealer networks. If you live in Podunk, Montana and your Polygon craps out (all bike brands have occasional problems), it may be hard to get your bike back before your legs begin to wither. Trek, Giant and Specialized have dealers scattered around the world, so hopefully this competition will make them work even harder for you, to demonstrate their advantage.
Patrick Van Horne, Corporate Communications Manager of Giant USA, explained their evolving model this way: "The way consumers buy bikes and gear is rapidly advancing and we want to to help Giant retailers succeed. In order to stay competitive, they must be able to deliver product to consumers who are accustomed to buying online  – and make their margins."
But how to keep these dealers happy? If you order a Trek or a Giant online, it will be shipped to your local dealer, who will take care of assembly and delivery, and provide service afterwards. That local bike shop (LBS) will get a portion their usual margin in return, less a marketing fee, without having to deal with big orders or difficult payment terms. It sounds like everybody can cash in, with some provisos.
James Wilson, a leading voice in the bike industry in Canada, and the owner of Obsession:Bikes on the North Shore, is generally optimistic; "I believe these direct consumer models (like Trek and Giant – Ed.) have some upside for marketing these brands of bikes and if managed properly will have a positive effect on the bike trade." James runs the sort of shop that puts a priority on quality and he's unsure if this new structure is compatible. He continues, "early presentations on the consumer direct model showed a fairly hefty commission being paid to Trek for marketing the sale through the online channel. These charges need to be at a level that permits the store to pay for quality techs and sustain the kind of operations that ensures that quality of work is not compromised. Flashy ad campaigns, expensive pro contracts and online channels are all marketing tools. At the end of the day we ride bikes not marketing tools."
Patrick Van Horne doesn't feel Giant's model should even be labelled 'direct-to-consumer.' In his words, "consumers must pick up their bike purchases from Giant retailers.This helps preserve their relationship to a brick and mortar store. Just as importantly, it helps helps that brick and mortar store succeed in a marketplace that's changing."
Patrick pointed out that Giant's model puts the focus on both the consumer and the retailer; "The consumer chooses the retailer who is to receive and build the purchased bicycle. That retailer gets the margin: 100% if they are a stocking retailer, and 80% if they haven't stocked the bike series in the past 12 months. If a retailer's inventory is sync'd with the SmartE-tailing's 'Where to Buy' program (to which Giant is a subscriber) and the retailer has in his inventory the bike and size the consumer wants — that retailer has quite an advantage when the consumer chooses the receiving store." (I did not receive a response from the Trek representative I was directed to).
Shop owners I have spoken to have also criticized online retailers for cannibalizing their efforts to support cycling locally, and to create new cyclists in the process. Dunbar Cycles supports local races, puts on trail days on the North Shore and sponsors up and coming athletes. YT in particular has put marketing dollars into big name athletes like Cam Zink, Andreu Lacondeguy and Aaron Gwin, but will they support cycling at a grassroots level? (I was in contact with YT representatives several times about this article but they were unable to answer my questions by press time).
Another issue is support for components that require warranty service or replacement. If a Shimano derailleur, Fox fork or SRAM shifter craps out on a bike sold by an online-only brand, will a local distributor or service centre be expected to deal with it, despite having gained nothing from the sale? If they are, costs will rise and these will inevitably reach the consumer (YT has plans for service centres in North America to address these issues).
As a consumer I appreciate choice. Being able to research and compare products online has changed the way I shop for everything from music to Scotch. But I also miss the days when my LBS stocked seven different barend models in different lengths and colours. These days the bike shop often has to order what the consumer needs from their local distributor, killing the immediate purchase pleasure and making it impossible to paw and fawn over the part in question – but bikes have been an exception until recently.
Consumers who are able to build and maintain their own bikes have always had an advantage. Buying used parts and closeouts from shops, building wheels etc. to build or upgrade your machine is a way to get the bike you want for less. Now these riders can buy a complete bike online and perhaps save some money. But riders without the skills required to build and maintain their own bikes are also going to be lured by these brands, and they might find themselves stranded.
What is clear is that the direct to consumer model shouldn't negatively affect the big brands' ability to survive. What is less certain is whether online sales will be another gut punch for your LBS, and what impact that will have on the average consumer.
The biggest question is: will this be good for trails, riders and the sport of mountain biking in the long run? 
---
Is the future looking bright for consumers? For your LBS?